Greek Chicken Meatballs are simple and delicious and something you will come back to again and again! Real ingredients and real flavor! Love that it is Dairy-Free, Paleo, Whole30 and Gluten-Free!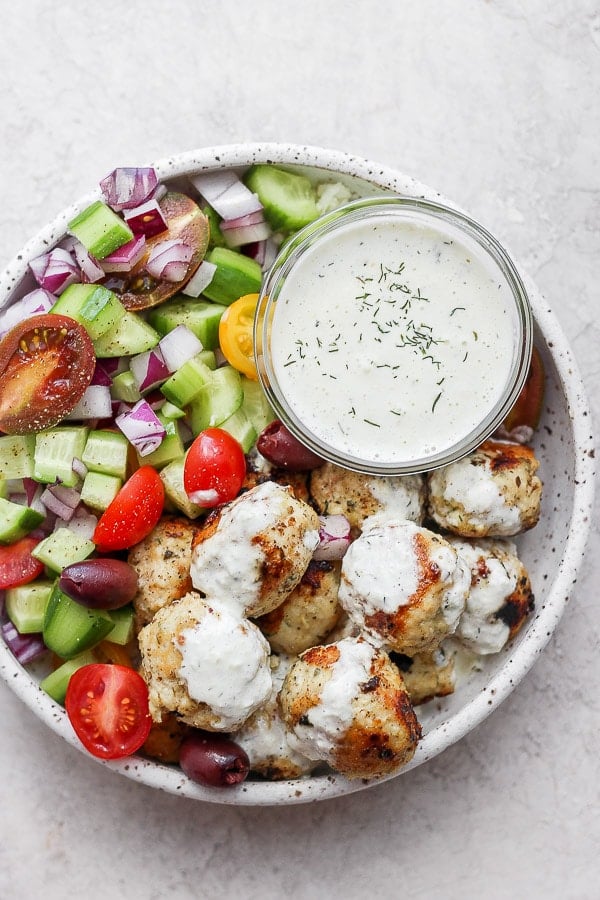 This post is sponsored by Primal Kitchen, but the opinions are my own.
I have always been such a fan of Greek flavors and Greek-inspired meals so I have had this recipe on my list for a while! I love how light this meal is, yet still so full and satisfying! And the flavor is AMAZING! The secret – after the meatballs are cooked you toss them in some Primal Kitchen Greek Vinaigrette and then drizzle some homemade Tzatziki Sauce on top! All Paleo, Whole30, Gluten-Free and Dairy-Free!
What You Will Need for the Greek Meatballs
Ground Chicken
Egg
Almond Flour
Spices: kosher salt, dried oregano, dried basil, onion powder, garlic powder and ground black pepper
1 tablespoon fresh mint, packed and chopped
1/3 cup Primal Kitchen Greek Vinaigrette
(Note: measurements + ingredient list for the Salad and Tzatziki Sauce are below in the recipe card)
Why You Will Love This Recipe
This is such a great recipe because:
Weeknight-Friendly – only 35 minutes and then dinner is ready!
Healthy – made with simple, real ingredients!
Makes Great Leftovers – seriously, make a double batch because you are going to want these for lunch the next day!
Are the Meatballs Meal Prep Friendly
Yes! Make the meatballs ahead of time and then store in an airtight container in refrigerator for up to 4 days!
How to Make Greek Chicken Meatballs
Add greek chicken meatball ingredients to a bowl and mix.
Form into meatballs.
Sear on all sides in hot cast iron skillet and the turn down heat, let continue cooking until internal temp reaches 165 degrees.
Toss with Greek dressing and serve with Greek Salad and Homemade (Dairy-Free) Tzatziki Sauce!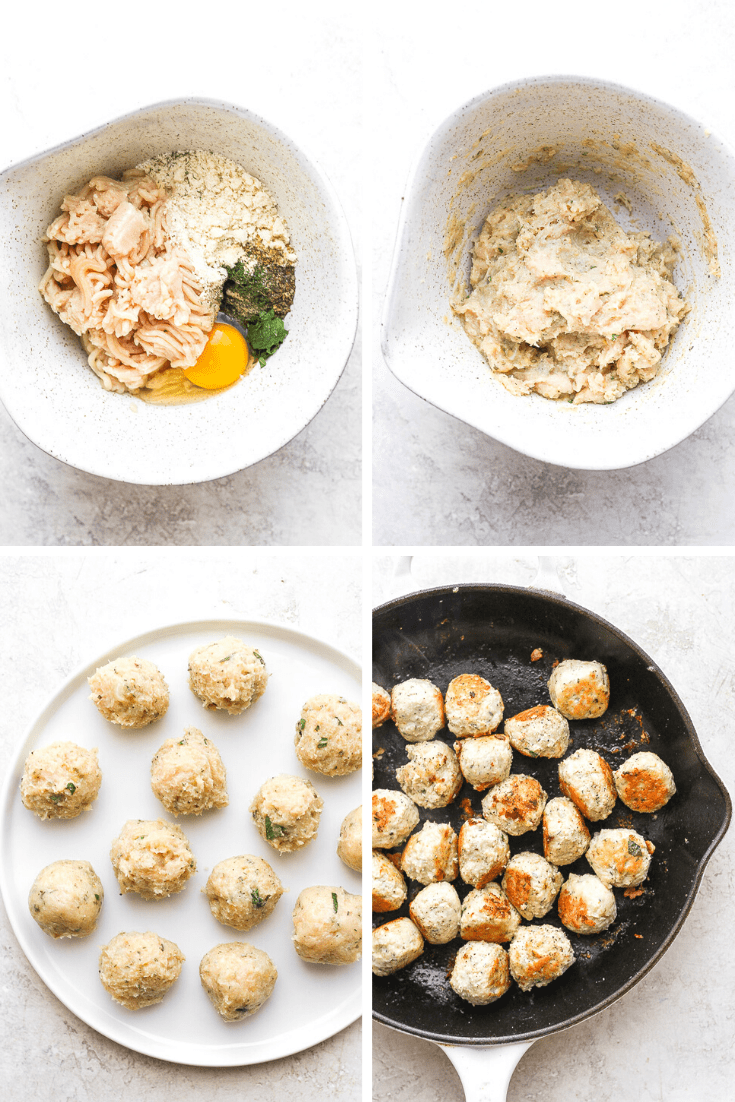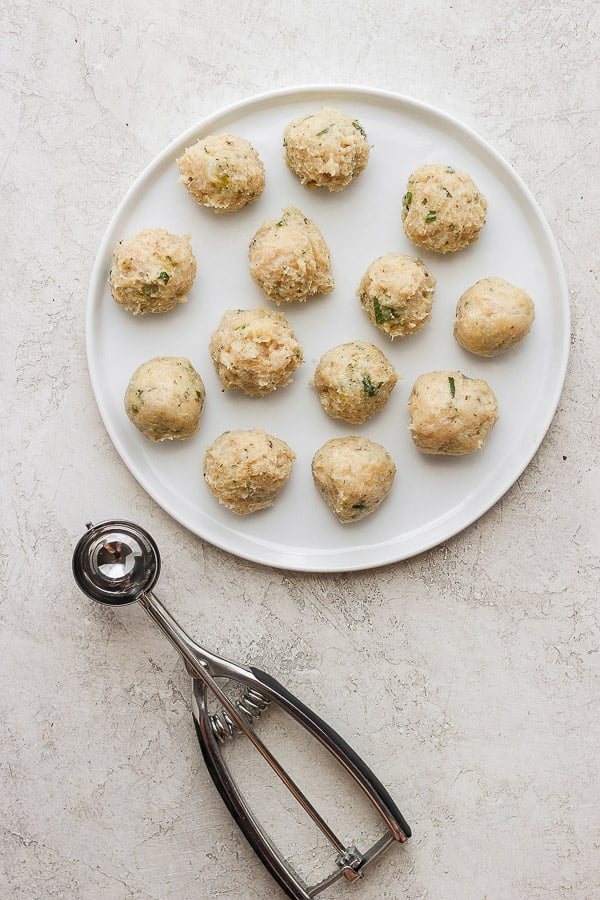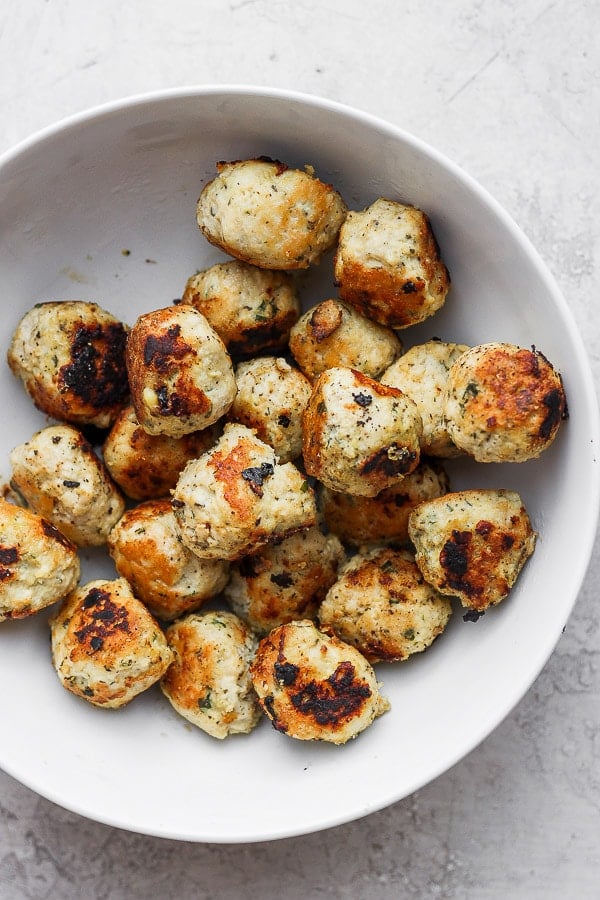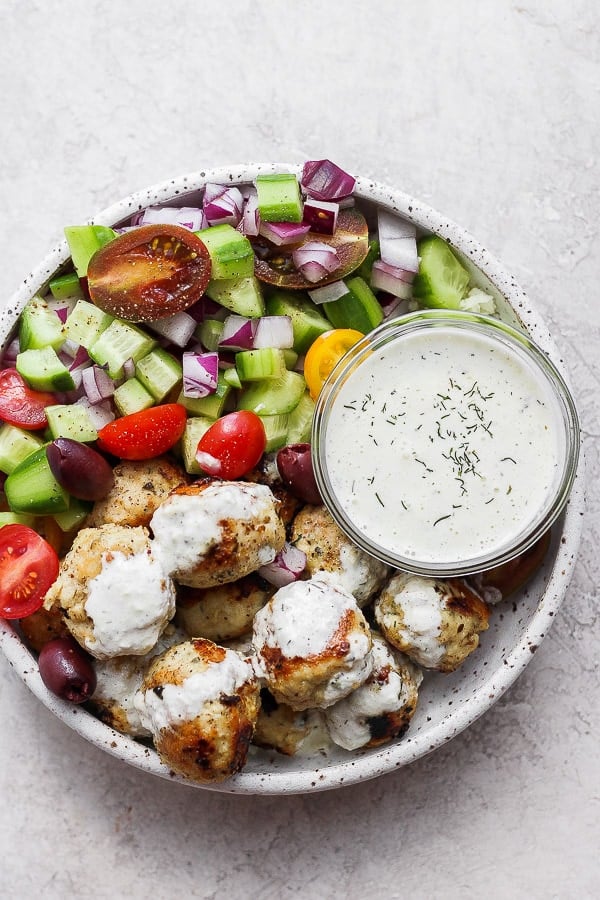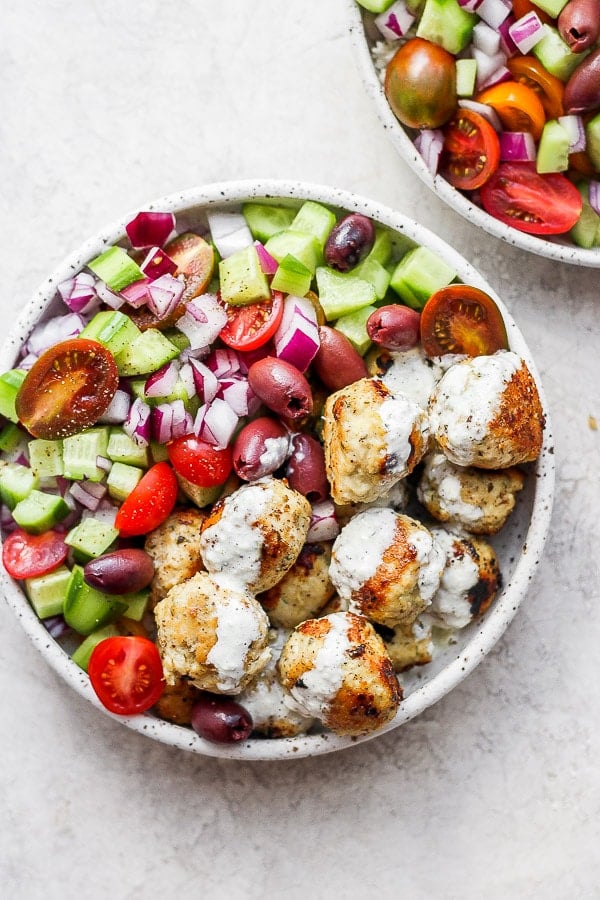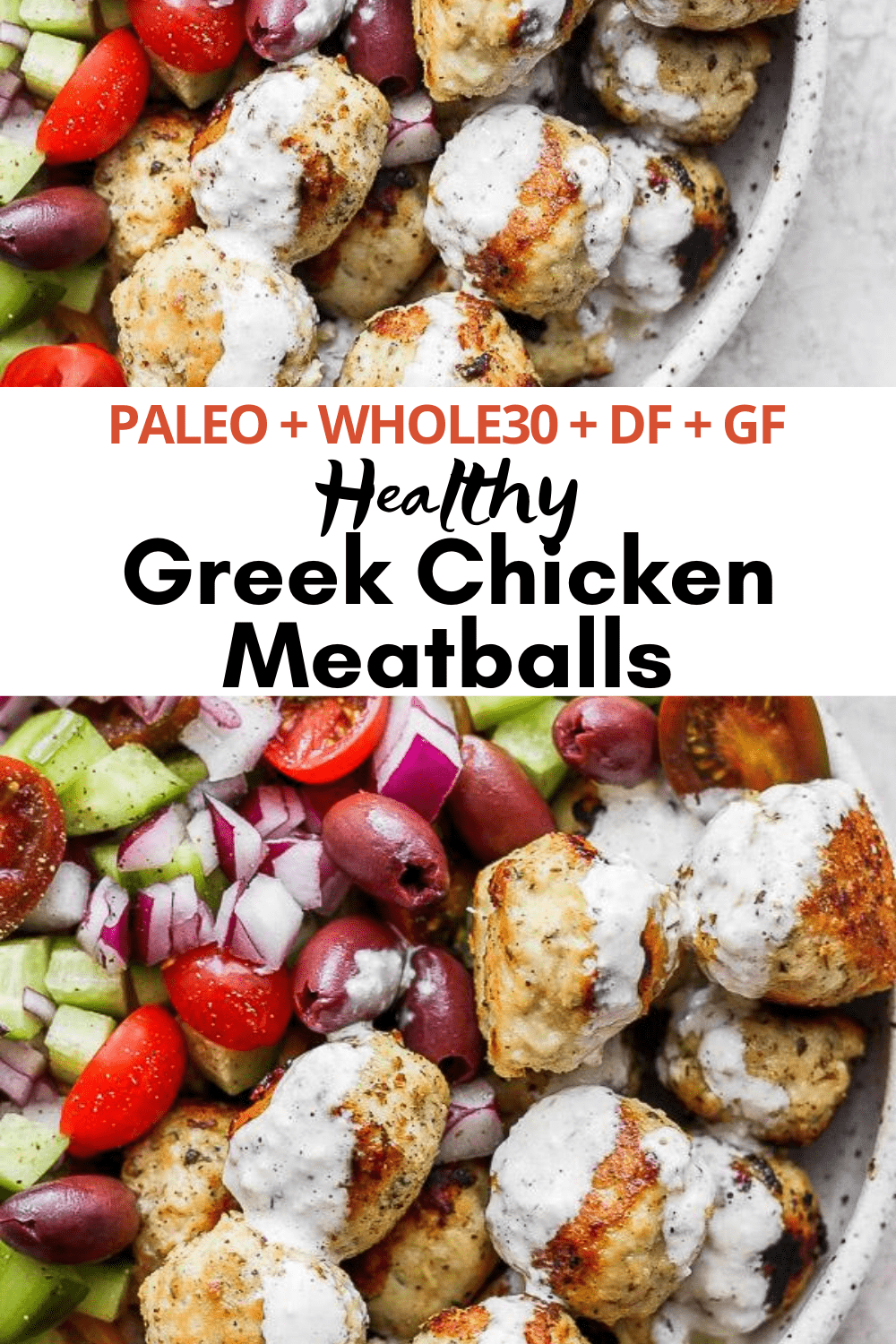 OTHER RECIPES YOU MIGHT LIKE:
Don't forget to check out my Instagram account – Or give me a follow on Facebook or see what I am pinning on Pinterest!
Print
Greek Chicken Meatballs
Author: Erin Jensen
Prep Time: 20 minutes
Cook Time: 15 minutes
Total Time: 35 minutes
Yield: 4 servings 1x
Category: Dinner
Method: Stove Top
Cuisine: Greek
---
Description
Greek Chicken Meatballs – a simple and delicious dinner that is packed with flavor! The creamy Tzatziki Sauce (which is Paleo/Whole30) just brings this whole dish to the next level!
---
Tzatziki Sauce
1 cup Primal Kitchen Mayo*
1 cup cucumber, diced
1 tablespoon fresh lemon juice
1 tablespoon garlic, minced
1/4 teaspoon kosher salt
1/4 teaspoon ground black pepper
1/2 teaspoon dried dill
1 teaspoon fresh mint
Salad
15 cherry tomates, halved
2 cups diced English cucumber
1 cup kalamata olives
1/2 cup red onion, diced
1/4 teaspoon kosher salt
2 tablespoons Primal Kitchen Greek Vinaigrette
Greek Chicken Meatballs
1 lb ground chicken
1 egg
1/2 cup almond flour
1 teaspoon kosher salt
1 teaspoon dried oregano
1 teaspoon dried basil
1 teaspoon dried dill
1/2 teaspoon onion powder
1 teaspoon garlic powder
1/2 teaspoon ground black pepper
1 tablespoon fresh mint, packed and chopped
1/3 cup Primal Kitchen Greek Vinaigrette (note: reserve for after meatballs are cooked)
---
Instructions
Tzatziki Sauce
Combine: Combine ingredients in small food processor.
Pulse: Pulse to combine until smooth.
Taste: Taste and adjust seasoning, as desired.
Refrigerate: Place in the refrigerator.
Salad
Combine: Combine ingredients in medium mixing bowl.
Mix: Add salt and Primal Kitchen Greek Vinaigrette.
Set Aside: Stir to combine and set aside.
Greek Chicken Meatballs
Mix: Combine ground chicken, egg, almond flour, salt, oregano, basil, dill, onion powder, garlic, pepper and mint in a medium mixing bowl. Stir to fully combine.
Scoop: Use a cookie dough scoop to scoop out approx. 1 1/2 tablespoons of meatball mixture, forming a ball, and place on a large plate. Continue until all of the meatball mixture is used. (See Notes)
Skillet: Take large/medium cast iron skillet and bring to medium-high heat. Add a tablespoon of oil and use a spatula to spread evenly to coat the pan. Add chicken meatballs and sear on all sides, about 3 minutes.
Continue Cooking: Turn down heat and continue cooking, about 10-15 minutes or until fully cooked (165 internal temperature – I recommend using a meat thermometer).
Bowl: Place cooked chicken meatballs into a medium/large bowl and pour the Primal Kitchen Greek Vinaigrette on top. Toss to coat.
Serving:
Place salad and meatballs and plate.
Drizzle meatballs with Tzatziki Sauce.
Serve immediately.
Notes
Homemade Greek Vinaigrette: if you prefer making your own here is my Homemade Greek Vinaigrette Dressing recipe!
How Many Meatballs Does it Make: this recipe makes approximately 24 meatballs
Ground Chicken: Ground chicken can be very sticky so it helps to have a little bowl of oil next to you when you are making the chicken meatballs. Get a little oil on your fingers and then rub on the inside of the cookie dough scoop before scooping up the meatball mixture. The place directly onto the plate and just reform as necessary.
Meal Prep: these meatballs would be perfect for meal prep!
Vegan Mayo: I am recommending the Primal Kitchen vegan mayo simply because I love the flavor of it (not necessarily because it is vegan), which is nice and clean and light. Feel free to use the mayo of your choosing, but if you are Paleo/Whole30 just check your labels first!
Can I Bake the Meatballs: YES! Just bake the meatballs on a parchment-lined baking sheet at 375 for about 18-22 minutes (or until internal temp is 165). Then toss them in the sauce. I personally prefer the stove-top version, but if you are more of an oven-baked chicken meatball person I totally get it!
Almond Flour Substitutes: If you are wanting these Whole30/Paleo but can't do the almond flour I would suggest a cassava flour or something similar. If you aren't concerned with Whole30/Paleo you can simply use breadcrumbs in place of the almond flour!
Keywords: greek chicken meatballs