Coconut Cream Cold Brew Latte + Cinnamon and Vanilla – a creamy and delicious way to start your day that is vegan/dairy free!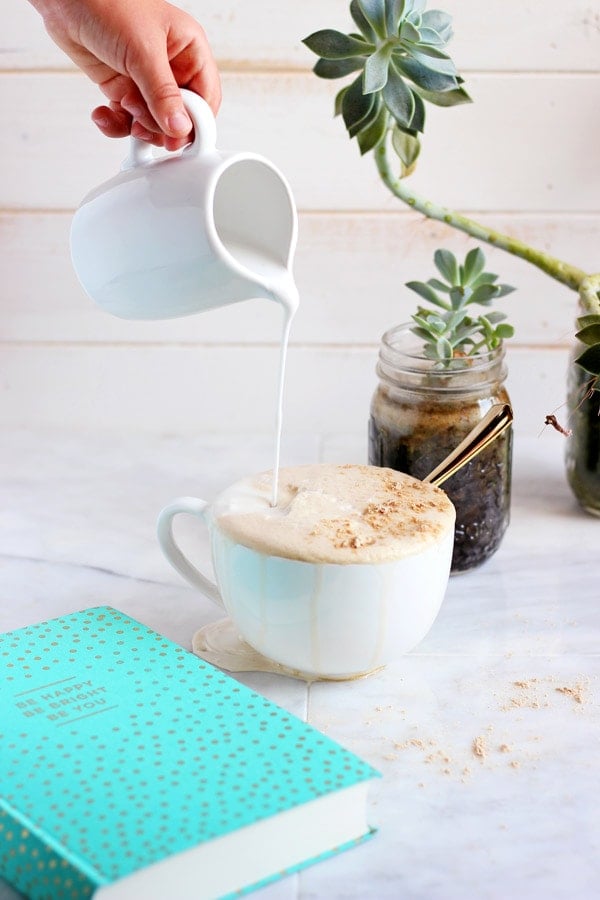 This is going to be a recipe you are going to want to save!!! These creamy and delicious cup of coffee is absolutely delish, you guys! It is creamy and has the perfect flavor of vanilla and cinnamon, without all those unnecessary (and unwanted) sugars! Vegan and Dairy Free!
Okay, you guys know I love, love, love cold brew. For those of you who are new, I made the switch over to cold brew a year ago when I had a horrible acid reflux "episode" (a self-diagnosed ulcer ? ). It is less acidic than regularly brewed coffee, which is brewed with very hot water, and thus much MUCH easier on the stomach. I can't handle tea, but I can handle cold brew. So, really I am just obsessed with coffee, but I just can't drink "regular" coffee anymore – without cold brew I would be coffee-less!
I love coming up with new cold brew concoctions – and this is my latest! I discovered coconut cream a couple months ago and somewhere, somehow, the idea popped into my head to blend it into my cold brew….. new addiction found! The creaminess is unreal and that froth …… cold brew perfection.
I love the combination of cinnamon and vanilla together – it reminds me of fall and the upcoming holiday season!
In the picture, I also sprinkled on a little of Sun Potion's Reishi – I have been trying out a couple of their potions and I really like them – although a couple of them of have a fairly strong taste that wouldn't go well in this particular recipe, the Reishi is pretty tame as far as taste is concerned. I plan on doing a post about the Sun Potions in the coming weeks!
I hope this recipe gives you some cold brew inspiration! This recipe could easily be modified to add different flavors (if you want it sweetened, try some maple syrup or honey)! Get creative!
But if you need some more cold brew inspo – check this Honey Lavender Cold Brew Latte and Irish Cold Brew! Cheers!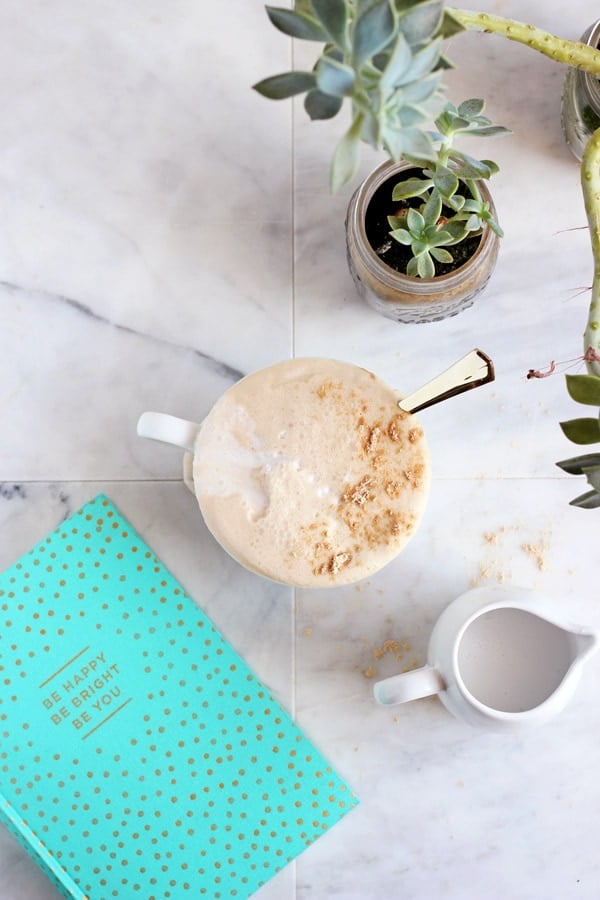 All you need to do is make your coconut cream cold brew latte and curl up with your journal and take some time to just …. be. I hope you guys are having a wonderful week!
Don't forget to check out my Instagram account for some behind-the-scenes action! Or give me a follow on Facebook or see what I am pinning on Pinterest!
Print
Coconut Cream Cold Brew Latte + Cinnamon and Vanilla
Author: Erin Jensen
Prep Time: 5 minutes
Cook Time: 0 minutes
Total Time: 5 minutes
Yield: 1 latte 1x
Category: Coffee/Tea
Method: Blender
Cuisine: American
---
Description
A creamy and delicious way to start your day that is vegan/dairy free!
---
1 1/2 cup cold brew coffee
1/2 – 1/4 cup coconut cream
1/4 Teaspoon vanilla extract
1/2 Teaspoon ground cinnamon
---
Instructions
Combine ingredients in blender.
Blend for approximately 1 minute.
Taste and add additional vanilla or cinnamon, if desired.
Serve immediately.
---