Salmon Rice Bowl – With minimal effort you'll impress a crowd, delight your family, and feel like a bonafide chef after serving up our Soy Ginger Salmon Rice Bowl. Sweet and savory toppings paired with tender salmon, a delicious spicy mayo, marinated cucumbers and fluffy white rice allows each family member to customize the flavors in their bowl and will leave everyone asking when it'll be back on the weeknight menu.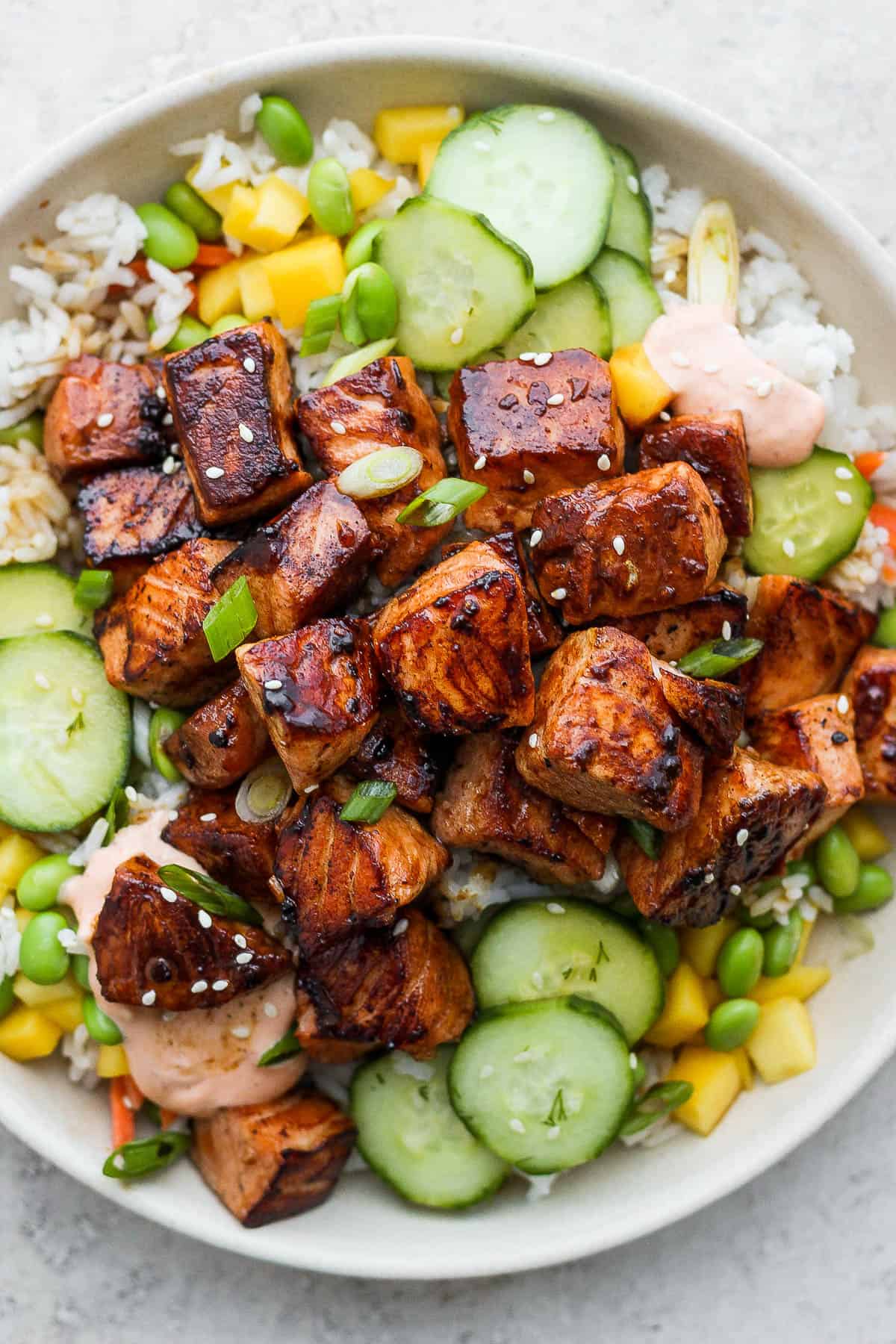 Best EVER Salmon Rice Bowls
This rice bowl has it all; tangy, sweet, sour, savory, spicy, mellow, crunchy, juicy, fluffy. So, as hard as it might be, trust us when we say that this impressive bowl is simple to throw together. A majority of the ingredients belong to the flavorful salmon marinade and the rest can be chopped and prepped ahead of time. And if salmon isn't your thing, try our shrimp rice bowl or fish taco bowl.
What You Will Need
Marinade/Sauce
avocado oil: Olive oil will work here too.
lemon juice and lemon zest: We love adding this simple ingredient to brighten all the flavors.
fish sauce: A little bit goes a long way to add a briny sweetness flavor.
sesame oil: The nutty, earthy flavor helps to round out some of the sharper flavors in this marinade.
rice vinegar :This vinegar is a bit more mild and sweet than your standard white vinegar.
soy sauce: Feel free to use tamari if you're avoiding gluten.
worcestershire sauce: A little bit goes a long way to amp up the flavor profile in this rice bowl.
garlic and ginger: Talk about a powerful pairing! These two pack a powerful punch of spice, pepper, and subtle sweetness.
ground black pepper & kosher salt: Simple but necessary to let all the other seasonings shine their brightest.
chili garlic sauce: Traditionally made up of chili peppers, garlic, rice vinegar, and salt, a little bit of this sauce adds tang and fragrance.
Sriracha Mayo
mayonnaise: Any store bought variety will do, or use our whole30 mayo recipe.
sriracha: Feel free to add more depending on your desired spiciness.
Salmon Bowl
fresh salmon: To pick out the best fresh salmon fillet, look for a cut that looks firm rather than floppy and moist rather than dry. Avoid fillets that have any discoloration on either the meat or the edges of the skin.
avocado oil: This oil has the hottest smoke point of all cooking oils, making it a great option when cooking over high heat.
mango: Your mango is ripe when the skin gives a little when it's pressed and when the skin has changed from green to orange or red.
edamame: You can find shelled edamame in the freezer section of your local grocery store.
green onions: Look for sturdy looking stalks in order to select the freshest bunch.
carrots: Julienned, or matchstick, carrots are our favorite way to evenly distribute this tasty crunchy vegetable throughout our rice bowls.
marinated cucumbers: You can buy these from the store, but we promise that the homemade version is 10X fresher and tastier.
rice: Choose whatever is the most convenient. We like using basmati.
Save Time And Prep Ahead
Do yourself a favor and prep the ingredients ahead of time. You could even prep your veggies a day in advance, which will be a helpful reminder to get your salmon marinading overnight. Washing, slicing, and chopping in advance saves you clean up on the day of and leaves you with just the salmon to cook, which is done in minutes.
Fresh Or Frozen Salmon
Okay, so here's the deal. We're usually pretty flexible when it comes to fresh or frozen options, but this salmon rice bowl recipe shines the brightest when fresh salmon is used. We get that frozen salmon is super convenient, but it also tends to contain more water and can impact the overall dish.
When picking out your fresh salmon, look for firm and vibrant looking meat and shiny, silvery skin. Also, don't be afraid to chat up your local butcher. They usually know their stuff when it comes to what's behind the counter.
How To Make Salmon Rice Bowl
Combine the marinade/sauce ingredients in a mason jar. Place the cap on top and tightly close. Shake to combine all the ingredients and set aside. Note that about half of this sauce will be used to marinate the salmon and the other half will be used to pour over the completed rice bowls.
Recipe Tip
Trust us and double the salmon marinade/sauce. Remember that half of the sauce is used to top the rice bowls at the very end, and it's so good that you might want a little extra to make your bowl extra saucy.
Next, combine the sriracha and mayo in a small bowl and stir to combine. Give yourself permission to add a bit more sriracha if you're looking for a bit more heat.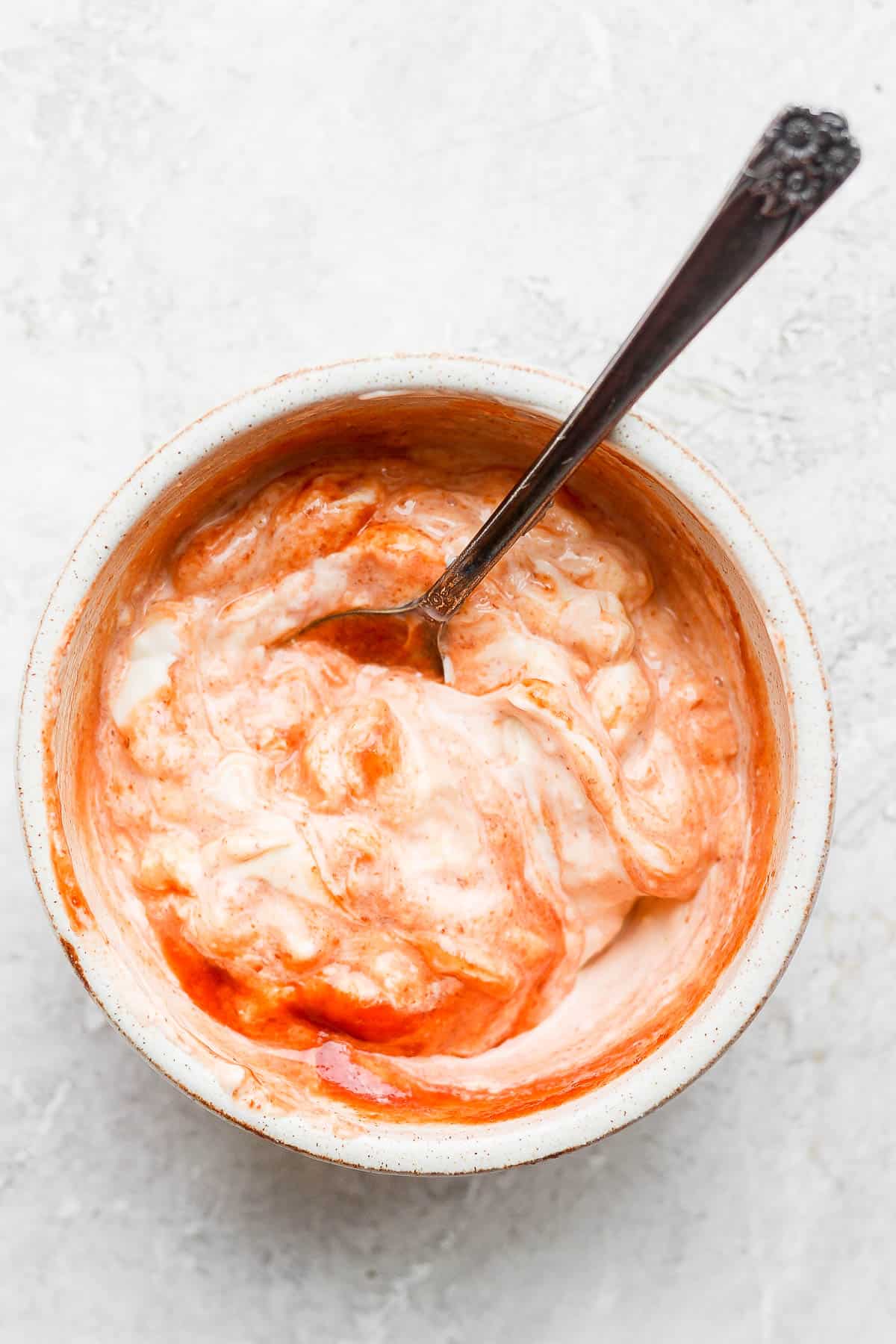 Remove the skin from your salmon with a sharp knife and cut it into 1-inch cubes.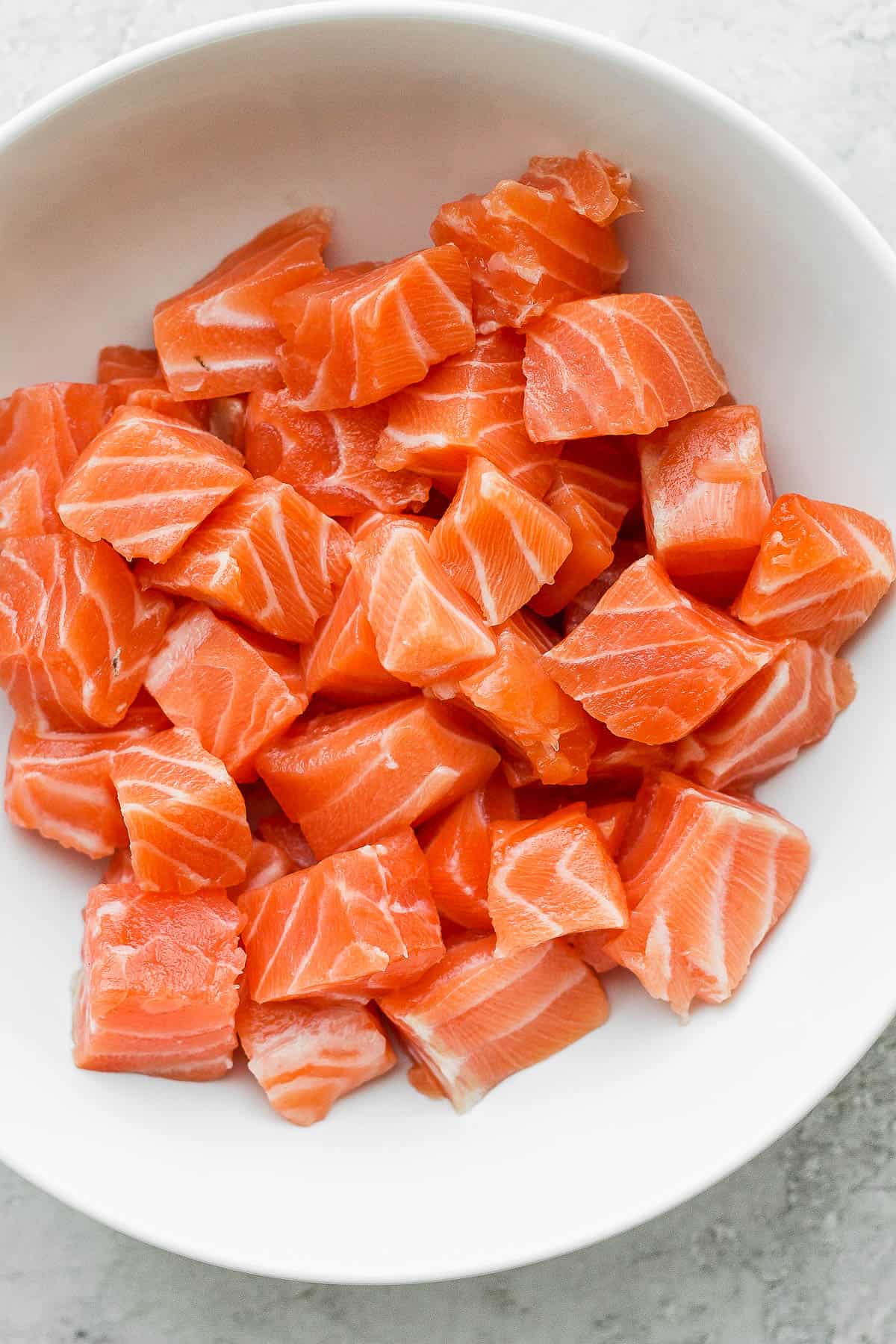 Prep your cubed salmon for marinating by placing it in a medium sized bowl or a reusable silicone bag. Carefully pour a little less than half of your marinade over your salmon and toss, ensuring that all of the salmon is covered in the marinade. Let the salmon marinate in the refrigerator for a minimum of 30 minutes or overnight.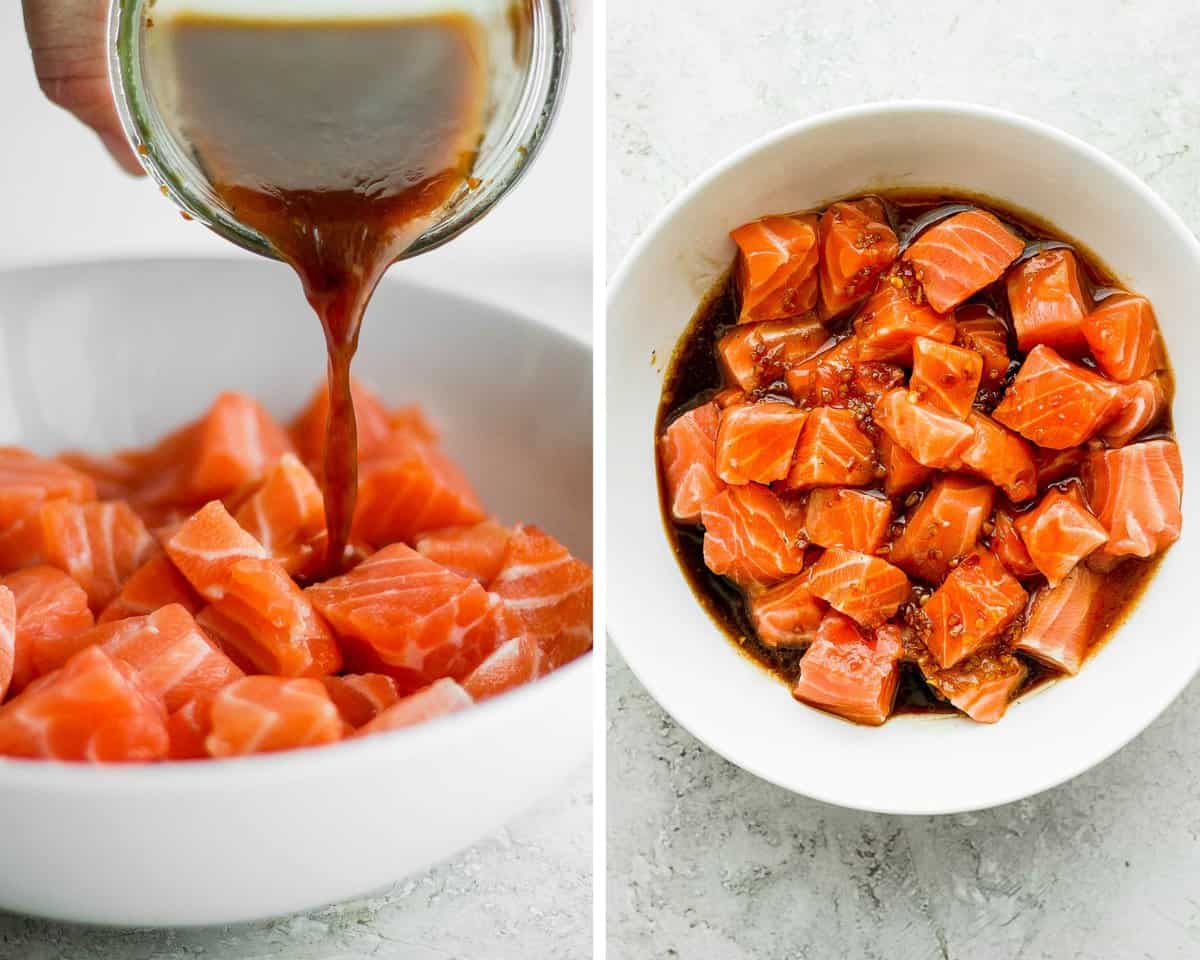 How To Cook Salmon For Rice Bowl
Start by bringing a large cast iron skillet to medium-high heat. Add the avocado oil and swirl it around the skillet, ensuring that it coats the surface. Remove your salmon from the marinade and place the salmon cubes on the skillet in batches, to ensure that the pan doesn't get overcrowded.
Cook the salmon for 3-5 minutes per side or until they're fully cooked. Once you've cooked all of the salmon, remove it to a plate to let rest for about five minutes.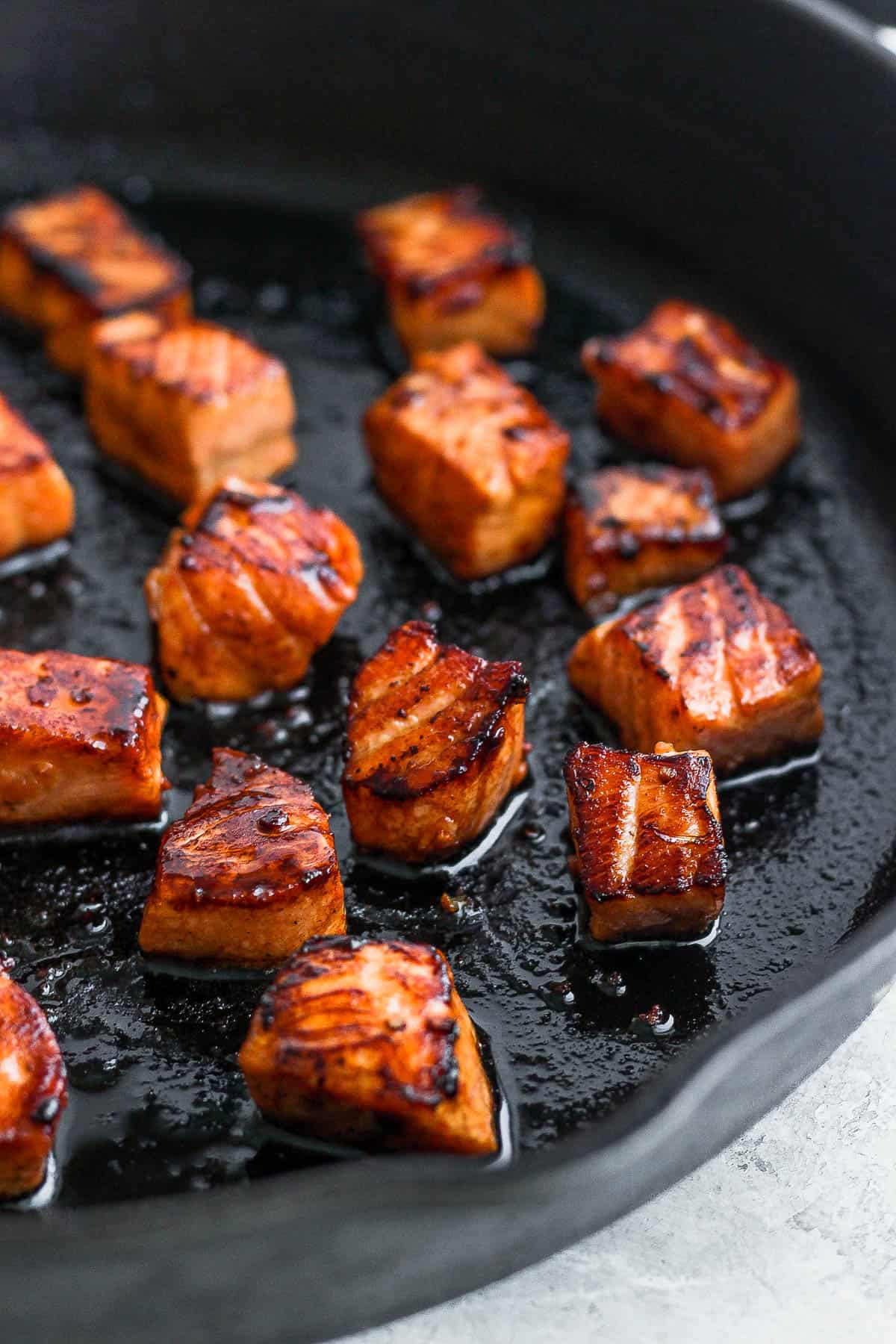 Now it's time for the fun part. Bowl assembly! Divide equal amounts of rice in each bowl and top it with mango, edamame, green onion, cilantro, carrots, marinated cucumbers, cooked salmon, and a dollop of creamy Sriracha mayo.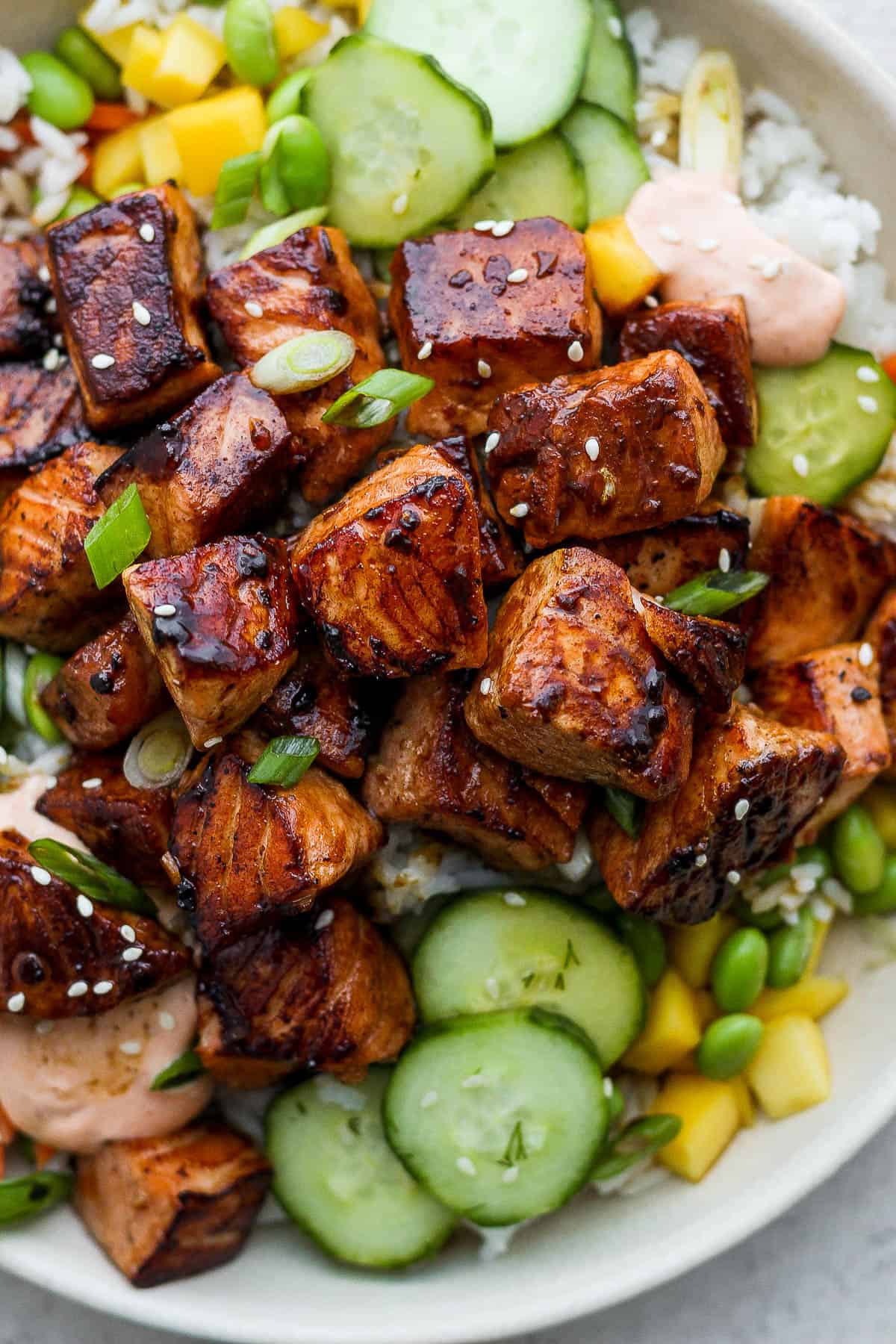 Top it all off by drizzling the remaining marinade over your salmon and rice bowls and sprinkle with some sesame seeds for that finishing touch.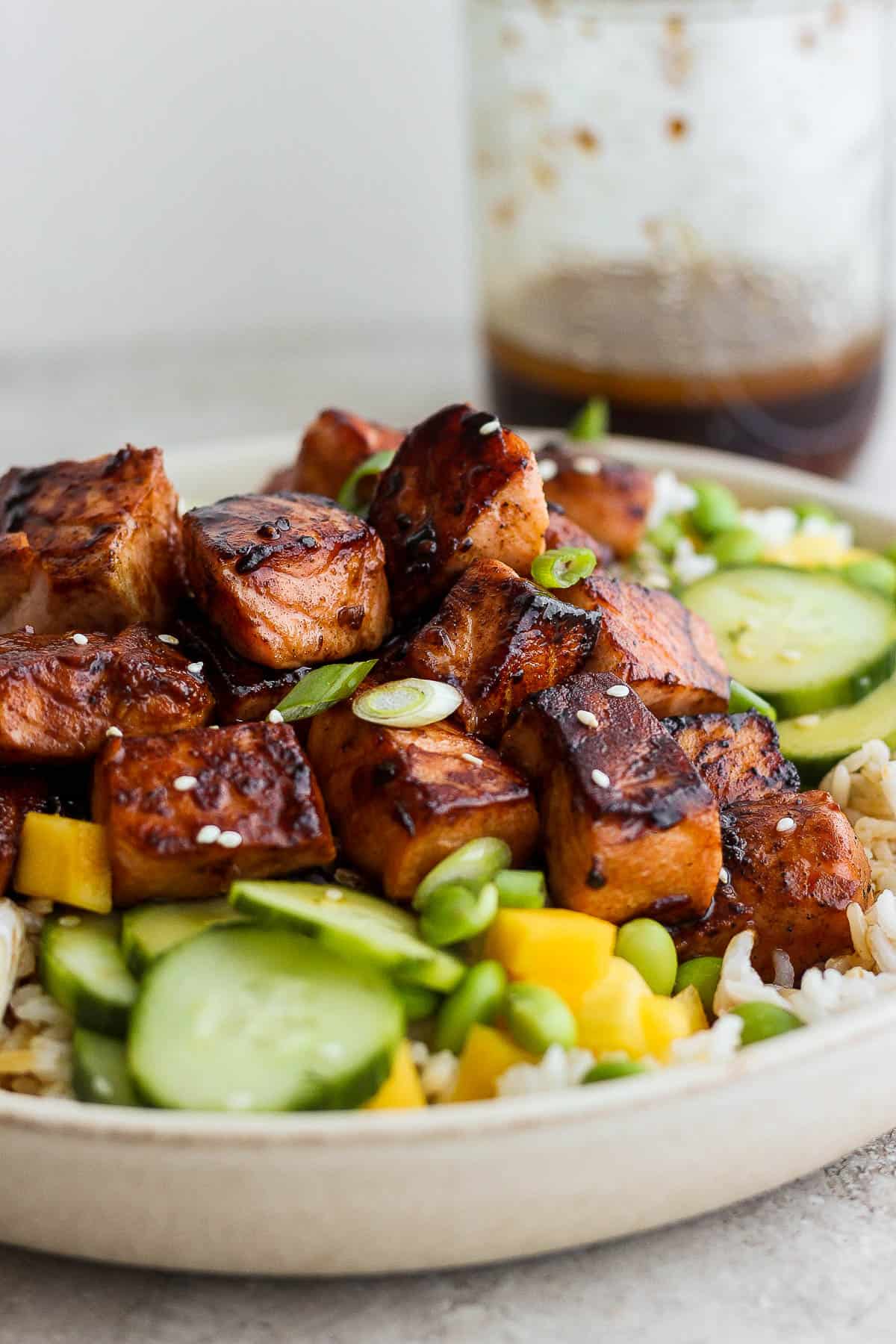 It's so much fun to watch others customize their salmon rice bowls by picking their favorite combinations of toppings and sauces. There's really no wrong way to put together a rice bowl.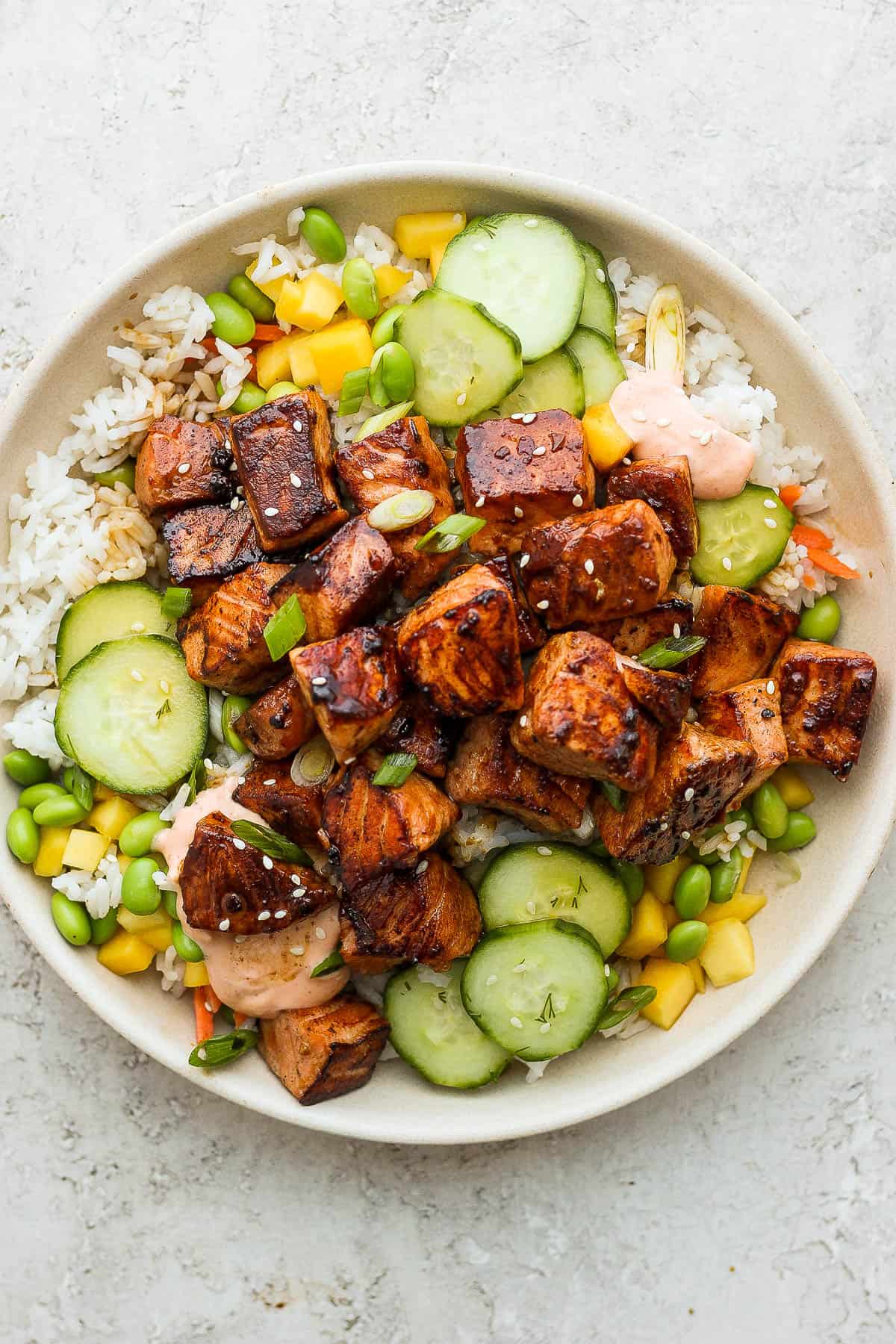 Recipe FAQs
extra saucy: Because this marinade/sauce is that delicious, we like to double the recipe to make our bowls even saucier or to save for our next recipe.
gluten-free: Make this recipe gluten-free by using Tamari instead of soy sauce.
storage: Store leftovers in an airtight container in the refrigerator for up to 3 days.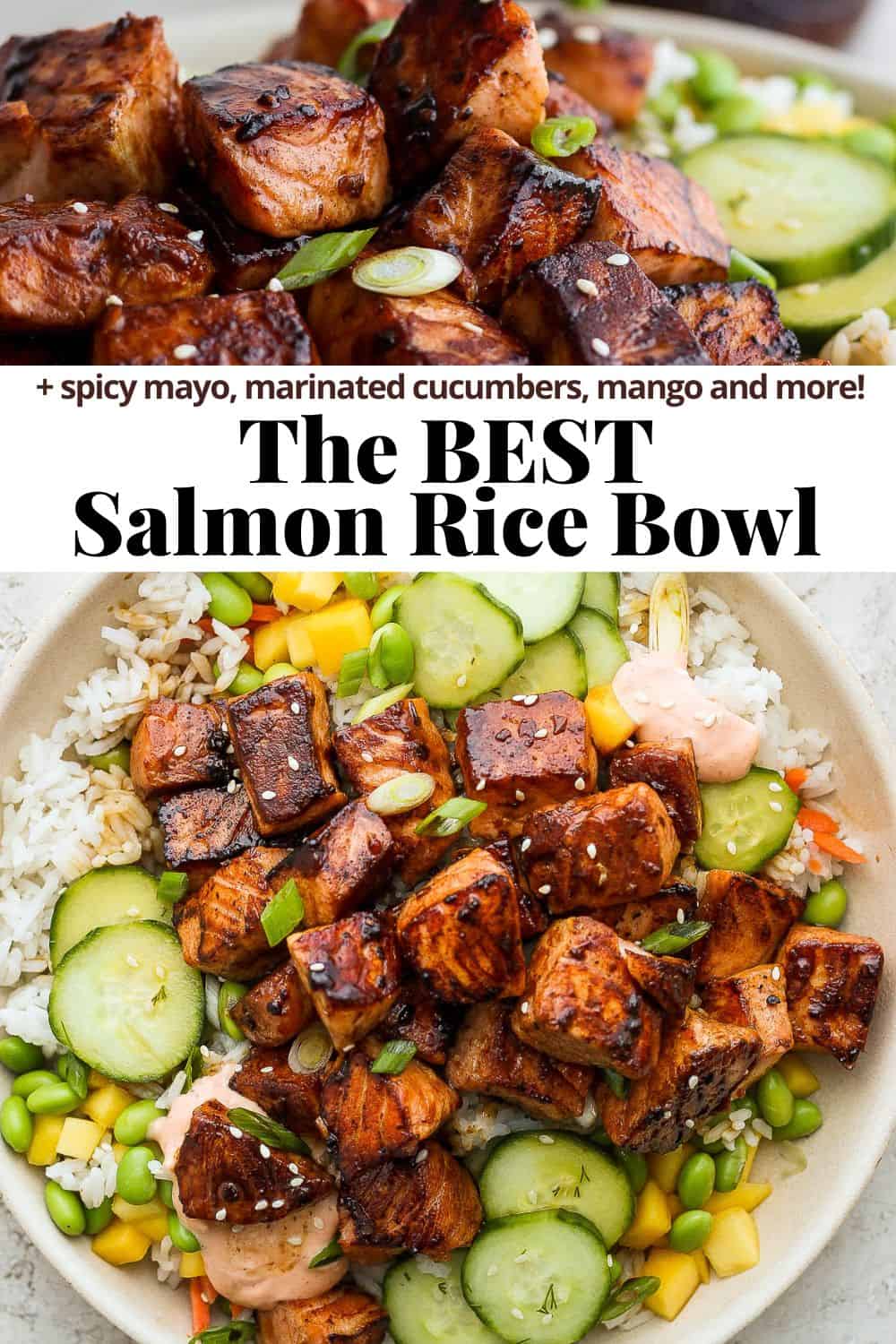 Made this recipe and loved it?! We would love it if you would take a minute and leave a star rating and review – it is also helpful if you made any substitutions or changes to the recipe to share that as well. THANK YOU!
Don't forget to check out my Instagram account for some behind-the-scenes action! Or give me a follow on Facebook or see what I am pinning on Pinterest!
Other Recipes You Might Like
Print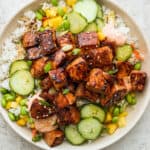 Salmon Rice Bowl
Author: Erin Jensen
Prep Time: 15 minutes
Marinate Time: 30 minutes
Cook Time: 10 minutes
Total Time: 55 minutes
Yield: 4 servings 1x
Category: Dinner/Entree
Method: Stove Top
Cuisine: Asian-Inspired
---
Description
Soy Ginger Salmon Rice Bowl – this salmon rice bowl recipe is packed with flavor and so easy to make! The perfect weeknight dinner!
---
Marinade/Sauce:
2 tablespoons avocado oil (or olive oil)
1 teaspoon lemon juice
1/4 teaspoon fish sauce
1/4 teaspoon sesame oil
1/2 tablespoon rice vinegar
1/4 cup soy sauce (tamari for gluten-free)
1 teaspoon worstershire sauce
2 teaspoons garlic, minced
pinch of ground black pepper
1 teaspoon lemon zest
1/2 teaspoon ginger, grated
1/2 teaspoon chili garlic sauce
pinch of kosher salt
Sriracha Mayo:
1/2 cup mayonnaise
1 tablespoon sriracha (more to taste)
Salmon Bowl:
1 pound fresh salmon, skin off and cut into 1 inch cubes
1 tablespoon avocado oil
2 cups mango, diced
2 cups edamame, shelled
1 cup green onions, sliced
1/4 cup fresh cilantro, chopped
1/2 cup carrots, julienned
1 batch marinated cucumbers
4 cups cooked rice of your choice (I used basmati)*
---
Instructions
Sauce/Marinade: Combine the Marinade/Sauce ingredients in a mason jar. Place the cap on top and tightly close. Shake to combine. Set aside. (Note: about half of this sauce will be used to marinate the salmon, the rest will be used to pour over top the completed bowls).
Marinate Salmon: Place cubed salmon chunks in a medium-sized bowl or reusable silicone bag. Pour a little less than half of the sauce over the salmon – just enough to coat the salmon. Reserve the rest for later. Toss to coat the salmon and place in the refrigerator for a minimum of 30 minutes or overnight.
Sriracha Mayo: Combine the Sriracha Mayo in a small bowl; stir to combine. Taste and add any additional Sriracha, as-desired.
Prep Remaining Ingredients: While the salmon is marinating you can prep the rest of the ingredients: mango, edamame, green onions, cilantro, carrots, marinated cucumbers and rice.
Cook Salmon: Bring a large cast iron skillet to medium-high heat. Add avocado oil; swirl to coat the pan. Working in batches so you don't crowd the pan, add the salmon pieces to the skillet and let cook approx. 2-3 minutes per side or until fully cooked. Remove and set on a plate to rest 5 minutes.
Serve: Divide rice between bowls and top with mango, edamame, green onion, cilantro. carrots, marinated cucumbers and then cooked salmon along with some Sriracha mayo. Top salmon with remaining Marinade/Sauce and sprinkle with some sesame seeds if you want and enjoy!
---
Notes
Salmon: I highly recommend using fresh salmon for this recipe for best results – you can use frozen, but it tends to be very watery and may impact the recipe.
Prep Ahead: this is a great recipe to prep ahead of time! Make the sauce, marinate the salmon, make the marinated cucumbers, rice, etc. When it comes time for dinner you can quickly cook the salmon (which only takes a few minutes) and dinner will be ready in no time!
Extra Saucy: feel free to halve again or double the Sauce/Marinade (it's SO good) if you want extra sauciness at the end!
Gluten-Free: to make this recipe gluten-free use Tamari in place of soy sauce.
Storage: store leftovers in an airtight container in the refrigerator for up to 3 days.
Keywords: salmon rice bowl