If you're getting a bit bored with your standard rice or pasta, our Coconut Quinoa is here to save the day! It's hard to believe that something so tasty can also provide a whole slew of nutrients. This coconut quinoa recipe can be used as a simple side dish or can be the star of the show. Be sure to check out our quinoa bowl recipe to make this into a complete meal.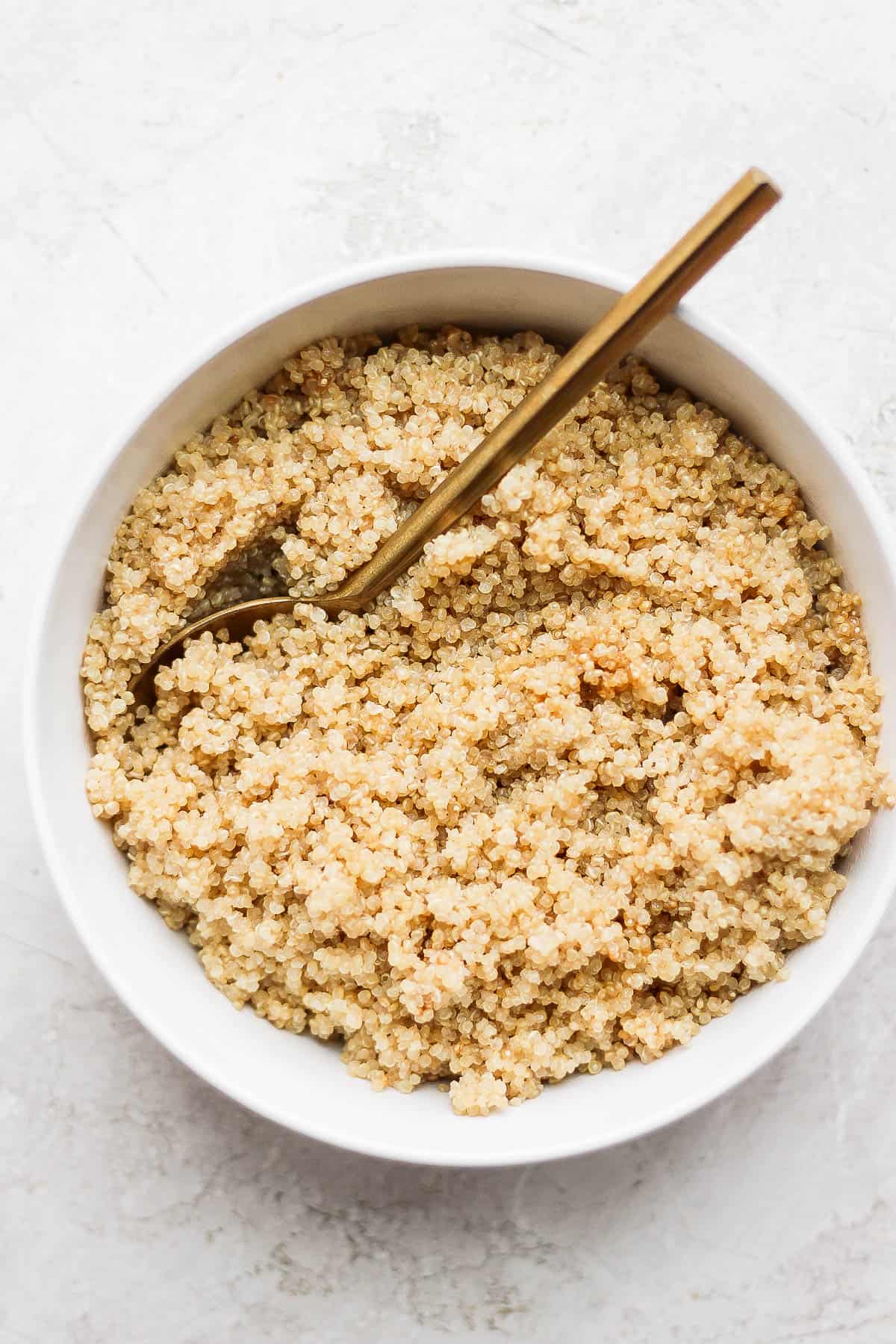 The Best Coconut Quinoa
This recipe is simple, quick, and tasty, which makes it a no brainer to add to our weekly menu (we love using it in these yummy Quinoa Bowls). And if coconut flavor isn't your thing, trust us when we tell you that the flavor of canned coconut is actually quite mild and, due to its healthy fat content, makes your quinoa rich, creamy, and filling. Follow along as we share some simple steps and tips on how to make coconut quinoa.
What You Will Need
quinoa – There are a A LOT of different types of quinoa out there, but white quinoa is our favorite due to its light texture, mild flavor, and versatility.
full fat coconut milk – Be sure to select full fat as this is what will make your quinoa extra creamy.
salt – Just a little bit will do to enhance flavor.
What Is Quinoa
Quinoa is a gluten-free pseudograin, which basically means that it's not technically a grain, but close enough due to the way that its prepared and consumed. Unlike rice or pasta, quinoa is packed with vitamins and minerals and is the only grain that is considered a complete protein due to its long list of amino acids.
All the health benefits aside, quinoa tastes good too! So much so, that people often use it in place of rice or pasta if they're looking for a healthier option. So the next time a family member or friend asks you what that fluffy stuff is on your salad, just tell them that its a delicious little grain that they should try out.
Types Of Quinoa
Just like there are a plethora of rice options, the quinoa industry has followed suit and offers everything from white, red, black, and tri-colored quinoa. We have only tested this recipe with white quinoa, but go ahead and try it with these other varieties if you're feeling adventurous.
white quinoa is our favorite due to its mild flavor and familiar texture.
red and black quinoa have a bit bolder flavor and crunchier texture than white.
tri-colored quinoa is a blend of all three varieties and therefore has a slightly chewier texture.
How To Cook Quinoa With Coconut Milk
Start by measuring and prepping your ingredients. Be sure to rinse your uncooked quinoa in a mesh sieve to rinse away a naturally occurring compound called saponin. This compound has a bitter flavor and will change the flavor of your quinoa if you don't rinse it off.
Bring a medium sauce pan to medium-high heat and add in your coconut milk and pinch of salt.
Next, add in your rinsed quinoa and stir to evenly distribute the quinoa throughout the sauce pan.
Once stirred, cover your sauce pan and let your quinoa and coconut mixture simmer for 15-20 minutes.
Recipe Tip:
To tell when your quinoa is done cooking, look for small thin tail-like curls coming off each quinoa piece. This is actually the germ, or core of the seed, of the quinoa kernel releasing from the quinoa.
After 15-20 minutes, remove your quinoa from the heat and let sit for 5 minutes. Next, remove the lid, fluff your quinoa with a fork, and serve!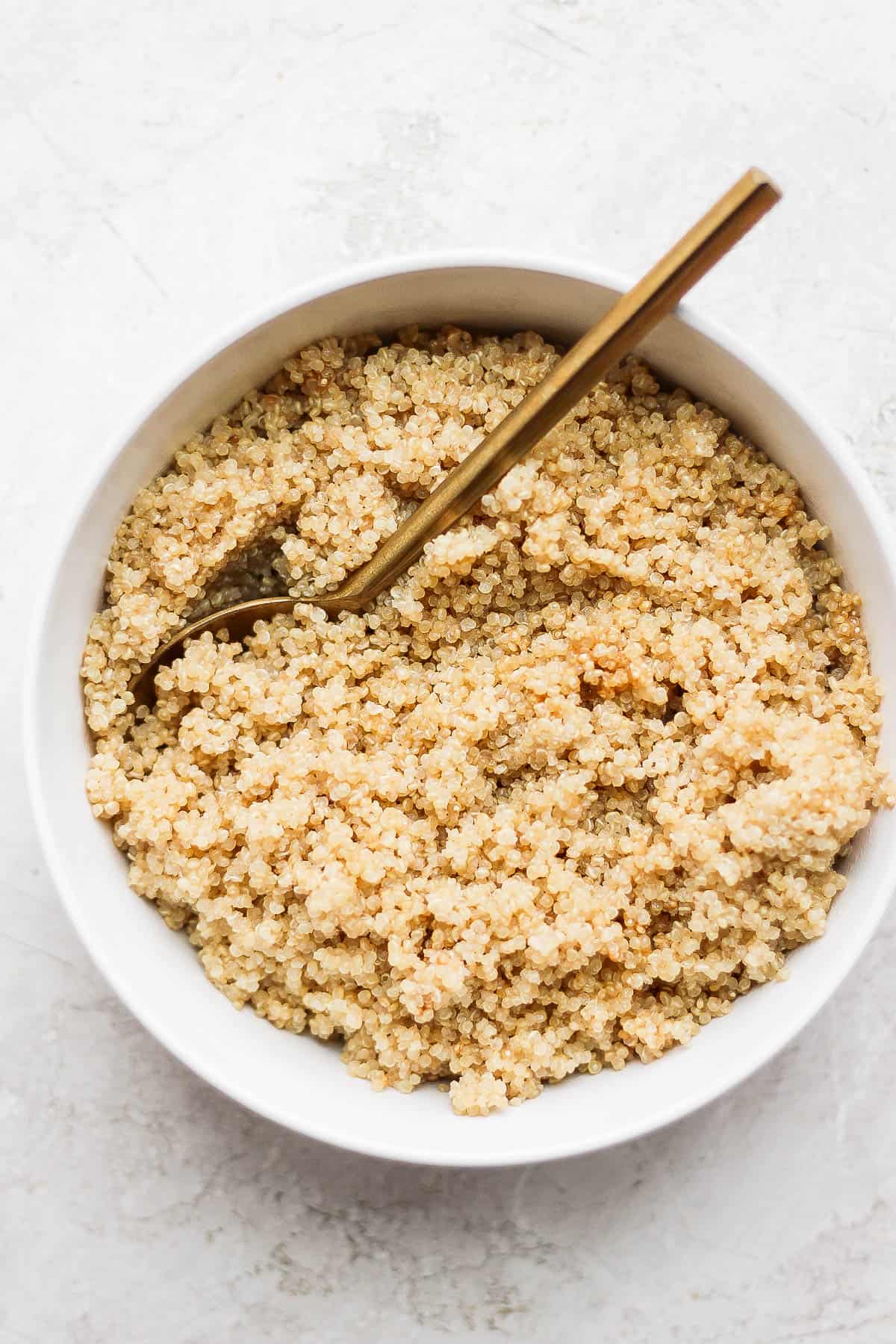 Serve your coconut quinoa as a delicious side dish our make it for the base of our yummy quinoa bowls.
Recipe FAQs
type of quinoa – This recipe was only tested with white quinoa, but other varieties could possibly work yielding a slightly different texture.
sauté quinoa – For a nuttier and richer tasting quinoa, sauté it in a sauce pan prior to adding the coconut milk and salt.
storage – Store your coconut quinoa in an airtight container in the fridge for up to five days.
Made this recipe and loved it?! We would love it if you would take a minute and leave a star rating and review – it is also helpful if you made any substitutions or changes to the recipe to share that as well. THANK YOU!
Don't forget to check out my Instagram account for some behind-the-scenes action! Or give me a follow on Facebook or see what I am pinning on Pinterest!
Print
Coconut Quinoa
Author: Erin Jensen
Prep Time: 5 minutes
Cook Time: 20 minutes
Total Time: 25 minutes
Yield: 6 servings 1x
Category: Side Dish
Method: Stove Top
Cuisine: American
---
Description
Coconut Quinoa – an easy and delicious recipe for coconut quinoa that is extra creamy and so good in any recipe!
---
1 cup quinoa
1 3/4 cup full fat coconut milk
pinch of salt
---
Instructions
Rinse quinoa.
Bring medium-sized saucepan to medium-high heat. Add rinsed quinoa, coconut milk and pinch of salt.
Stir and cover. Let simmer 15-20 minutes.
Remove from heat and let sit 5 minutes. Fluff with fork and serve.
---
Notes
Sauté Quinoa: if you want even more depth of flavor you can sauté your quinoa in the saucepan before adding in the coconut milk and pinch of salt.
Storage: store leftovers in an airtight container in the refrigerator for up too 3 days.