It's true what they say about a colorful plate being a healthy plate. And these Quinoa Bowls are the proof! Enjoy warm and nutty coconut quinoa topped with savory vegetables, hearty chickpeas, and a sweet and savory peanut sauce to create a well-balanced meal for you and those that you love.
What You Will Need
Quinoa Bowl
can of chickpeas – This mild legume adds fiber and protein and provides a nice texture in each bite.
yellow sweet potato – Look for the sweet potato variety with a medium creamy-golden skin and cream colored flesh. It might be labeled as an O'henry or Jersey sweet potato.
orange sweet potato – This is the most common sweet potato with a reddish skin and bright orange flesh. You might find it labeled as beauregard sweet potato.
Brussels sprouts – These little green pops of color cook perfectly to become tender and mild little morsels that melt in your mouth.
red onion – Its sharp flavor counterbalances the creamy sweet potato flavors.
olive oil – Just a bit to help keep the veggies tender during the roasting process.
kosher salt & ground black pepper – Such a basic, but important seasoning duo.
Coconut Quinoa
quinoa – There are a A LOT of different types of quinoa out there, but white quinoa is our favorite due to its light texture, mild flavor, and versatility.
full fat coconut milk – Be sure to select full fat as this is what will make your quinoa extra creamy.
salt – Just a little bit will do to enhance flavor.
Peanut Dressing
drippy peanut butter – All natural peanut butters tend be a bit more runny, making them the perfect variety for this peanut sauce.
real maple syrup – The real stuff tastes better, friends. Pick up an all natural store bought variety. And if at any point you want to try the real thing, check out our tutorial for how to make your own homemade maple syrup.
sesame oil – Only a little bit is needed to infuse sesame flavors throughout.
soy sauce – An especially important ingredient to bring an undeniable umami flavor.
water – This helps to thin out your sauce without adding any unnecessary ingredient.
What To Put In A Quinoa Bowl
Overall, the equation for an out of this world quinoa bowl is simple: Quinoa, veggies, protein if you chose, and a sauce of some sort. After testing this recipe ourselves, we truly think we nailed it with the ingredients as listed, but don't let us hold you back! Try out our Mediterranean Chicken Quinoa Bowl or our Greek Meatball with whipped feta and quinoa for flavor inspiration.
How To Make A Quinoa Bowl
Start by preheating your oven to 400°F. While your oven is heating up, drain and rinse your chickpeas using a mesh sieve.
Next, place your chickpeas and cubed sweet potatoes on a baking sheet lined with parchment paper. Drizzle everything with olive oil and sprinkle with salt and pepper to get the most flavor out of your legumes and veggies.
After that use your hands to massage the oil and salt into the ingredients to make sure everything gets covered. Place the baking sheet in the middle rack of your oven and let roast for 12-15 minutes.
Carefully remove the baking sheet from the oven and add add in the Brussel sprouts and red onion. Top them with olive oil and salt and place everything back in the oven for an additional 12-15 minutes or until everything is soft, but can still hold its shape.
Remove the baking sheet from the oven and let cool for a few minutes while you work on your peanut sauce.
To make your peanut sauce, measure out your peanut butter, maple syrup, sesame oil, soy sauce, and water and place everything in a small mixing bowl. Use a whisk to mix all the ingredients together, knowing that it takes a minute or two to fully mix the water throughout. Add an additional tablespoon of water and whisk to combine again.
Sometimes it's helpful to use warm water to make the mixing process easier. Once it's fully mixed, taste your peanut sauce and adjust the soy sauce and/or maple syrup as needed.
Next up is the quinoa. Be sure to rinse your quinoa in a mesh sieve before cooking to rinse off a naturally occurring compound called saponin, which will give your quinoa a bitter tase if it's not rinsed off. Afterwards, bring a medium sauce pan to medium-high heat and add in your coconut milk and pinch of salt.
Next, add in your rinsed quinoa and stir to evenly distribute the quinoa throughout the sauce pan as can be seen below. Once stirred, cover your sauce pan and let your quinoa and coconut mixture simmer for 15-20 minutes. Remove your quinoa from the heat and let sit for 5 minutes.
Next, remove the lid, fluff your quinoa with a fork, and get ready to assemble your bowls!
Lastly, divide the coconut quinoa between four bowls and top each with the roasted veggies, chickpeas, and peanut sauce!
While these bowls are delicious as is, feel free to sub chickpeas for grilled chicken or add it in addition to everything else. Jut be sure that you use or all time favorite chicken marinade that pairs perfectly with the rest of the flavors in this bowl. Just be sure to give yourself at least 30 minutes to marinate the chicken and additional cooking time.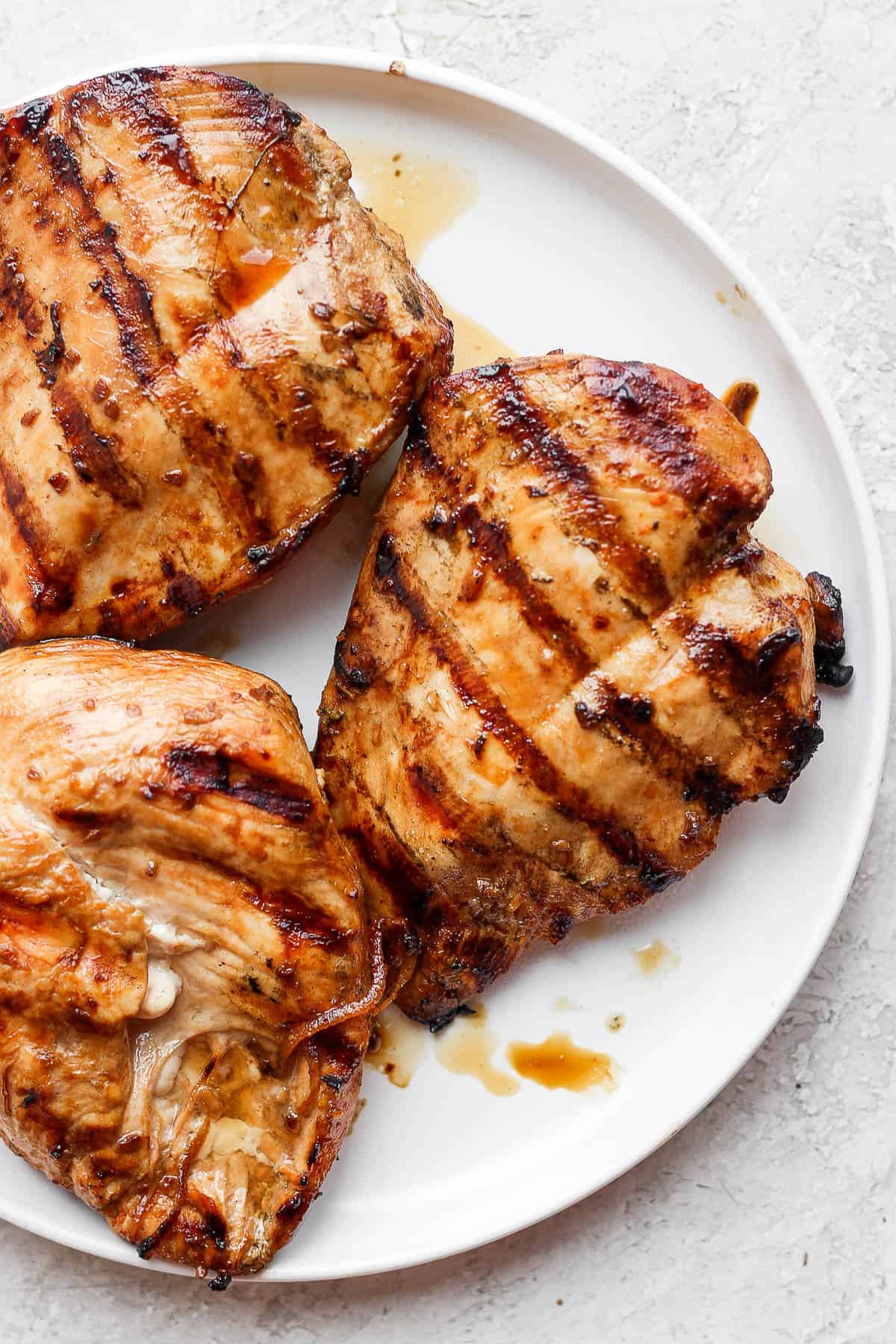 Did we mention how much we love our peanut sauce? Not only is it great on these bowls, but it works as an appetizer and dipping sauce too! Check out our peanut sauce post for creative ways to use your leftovers…if you have any.
Recipe FAQs
chicken – If you plan on adding chicken, be sure to use our favorite chicken marinade recipe and read our tutorial on how to perfectly grill chicken breast.
coconut quinoa – If coconut isn't your thing, replace it with quinoa cooked in water. That being said, give out coconut quinoa a try if you haven't already. It has a mild flavor and the creamiest texture.
yams vs. sweet potatoes – Yams and sweet potatoes are actually two different types of root vegetable. Sweet potatoes are generally mislabeled in grocery stores as yams. Here is a helpful site to help you distinguish between the two.
Made this recipe and loved it?! We would love it if you would take a minute and leave a star rating and review – it is also helpful if you made any substitutions or changes to the recipe to share that as well. THANK YOU!
Don't forget to check out my Instagram account for some behind-the-scenes action! Or give me a follow on Facebook or see what I am pinning on Pinterest!
Other Recipes You Might Like
Print
Quinoa Bowl Recipe
Author: Erin Jensen
Prep Time: 10 minutes
Cook Time: 30 minutes
Total Time: 40 minutes
Yield: 4 servings 1x
Category: Dinner/Entree
Method: Oven
Cuisine: American
---
Description
Quinoa Bowls – a delicious, easy quinoa bowl recipe that is packed with flavor and good-for-you ingredients! Use chickpeas or chicken and don't forget that amazing Peanut Sauce!
---
Quinoa Bowl:
1 can chickpeas, drained and rinsed (sub or add chicken, see Notes)
1 yellow sweet potato, cubed (small so they cook faster)
1 yam (orange sweet potato), cubed (small so they cook faster)
10 brussel sprouts, halved
1/2 red onion, sliced
olive oil
kosher salt and ground black pepper
Coconut Quinoa:
1 cup quinoa
1 3/4 cup full fat coconut milk
pinch of salt
Peanut Dressing:
1/3 cup drippy peanut butter
1–2 tablespoons real maple syrup
1/4 teaspoon sesame oil
1 tablespoon soy sauce
2–3 tablespoons water to thin (more as-needed)
---
Instructions
Preheat oven to 400 degrees F.
Place chickpeas, sweet potatoes and yam on a large baking sheet. Drizzle with olive and sprinkle with salt and pepper; toss to combine.
Place in the oven, middle rack, and let cook 12-15 minutes.
Remove from oven and add brussel sprouts and red onion. Drizzle those with olive oil and sprinkle with salt and pepper.
Return to the oven and let bake another 12-15 minutes or until everything is soft, but firm. Remove and let cool slightly.
Meanwhile, rinse quinoa and bring medium-sized saucepan to medium-high heat. Add rinsed quinoa, coconut milk and pinch of salt. Stir and cover. Let simmer 15-20 minutes. Remove from heat and let sit 5 minutes. Fluff with fork and serve.
Make peanut dressing by adding peanut butter, maple syrup, sesame oil, soy sauce and 1 tablespoon water to a small bowl. Whisk to combine (it takes a few seconds of whisking to fully incorporate the water).
Add an additional tablespoon of water and whisk to combine again.
Taste and add any additional maple syrup, as-desired. Add additional water, 1 tablespoon at a time, to reach your desired consistency. Whisk to combine.
Divide quinoa and veggies/chickpeas between 4 bowls a drizzle with Peanut Sauce.
---
Notes
Chicken Add-In: if you want to either sub chicken or just add chicken to this bowl then we recommend this Chicken Marinade and this Grilled Chicken Breast!
Coconut Quinoa: feel free to sub regular quinoa if you prefer, but we love this Coconut Quinoa recipe included in the recipe card above!
Storage: store leftovers in an airtight container in the refrigerator for up to 3 days.