Dark Chocolate Sorbet is a savory and flavorful dessert, with notes of coffee and salt that compliment the dark chocolate and intensify it even more.
I can't think of a good excuse as to why I haven't made this before. Every time I peruse a dessert menu, my eyes are yearning to see "chocolate sorbet" somewhere…. anywhere. I think I have come across it maybe two or three times. If I am lucky enough to see it – it is a guarantee that I will order and immediately devour it. It is always smooth, silky and oh-so-chocolate-ey …. just the way it should be.
It has been on my (very) long list of "things-I-want-to-cook" forever. Finally, I buckled down and made it last weekend. It was worth the wait. It is adapted from David Lebovitz's recipe (The Perfect Scoop by David Lebovitz – Ten Speed Press 2007 – you can visit his website here) – I added a little coffee and extra salt to accentuate the flavor. I also switched out the sugar and used agave syrup instead, hoping to make the sorbet as creamy as possible. I did some extensive research to figure out the best way to make it into sorbet without an ice cream machine! Because I definitely do not happen to have one of those lying around my house. It worked perfectly!
This is such an awesome recipe for the chocolate-lovers in your life and those people (ah-hem … me) who are allergic to dairy. I know there is still some dairy in the chocolate, but no one took a jug of milk and dumped it into my mixing bowl. And for that reason – I will continue to make this recipe and will most likely now have a constant supply of it in my freezer….
… on that note, maybe I should also make some Healthy Chocolate Chip Cookies with Zucchini, Spinach and Carrots to even out my diet…..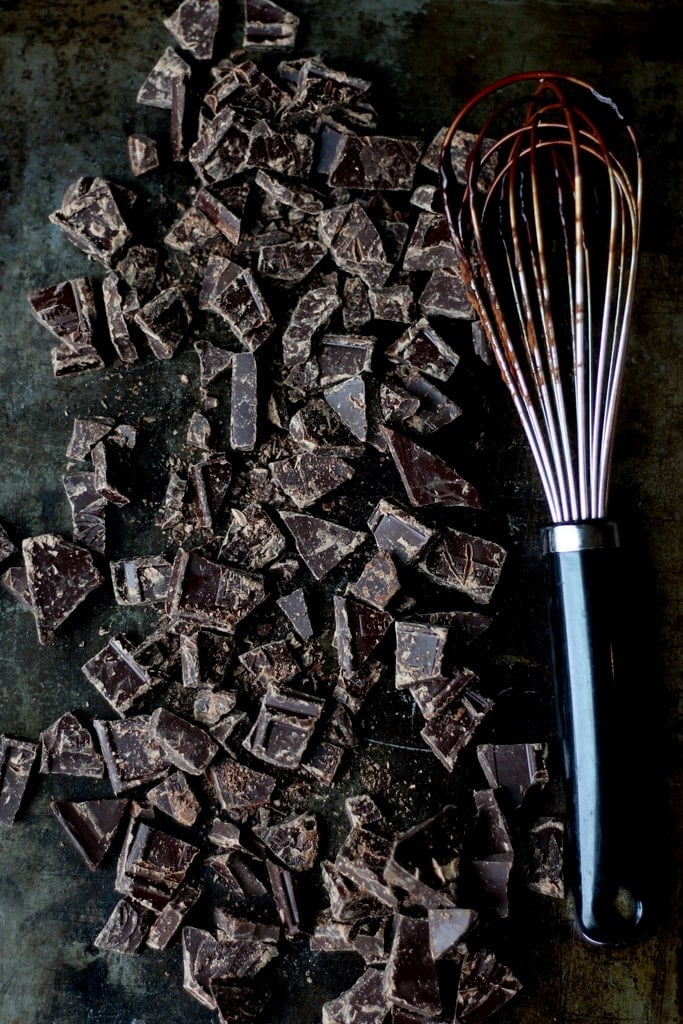 Chocolate – ready to become sorbet.
Chocolate melted.
All mixed together…
Ready to be frozen.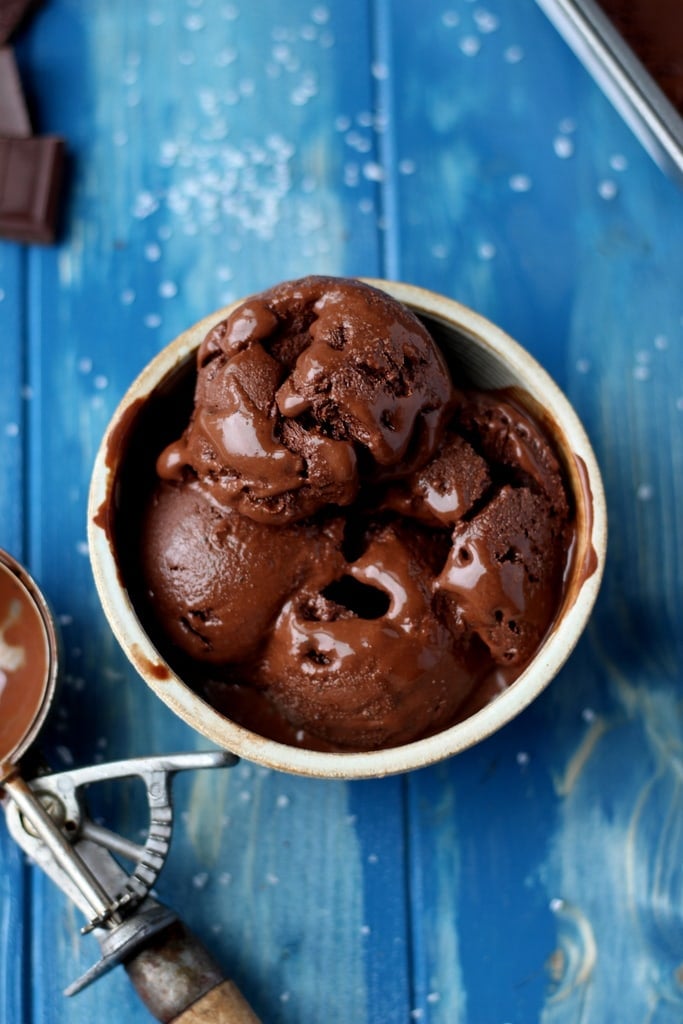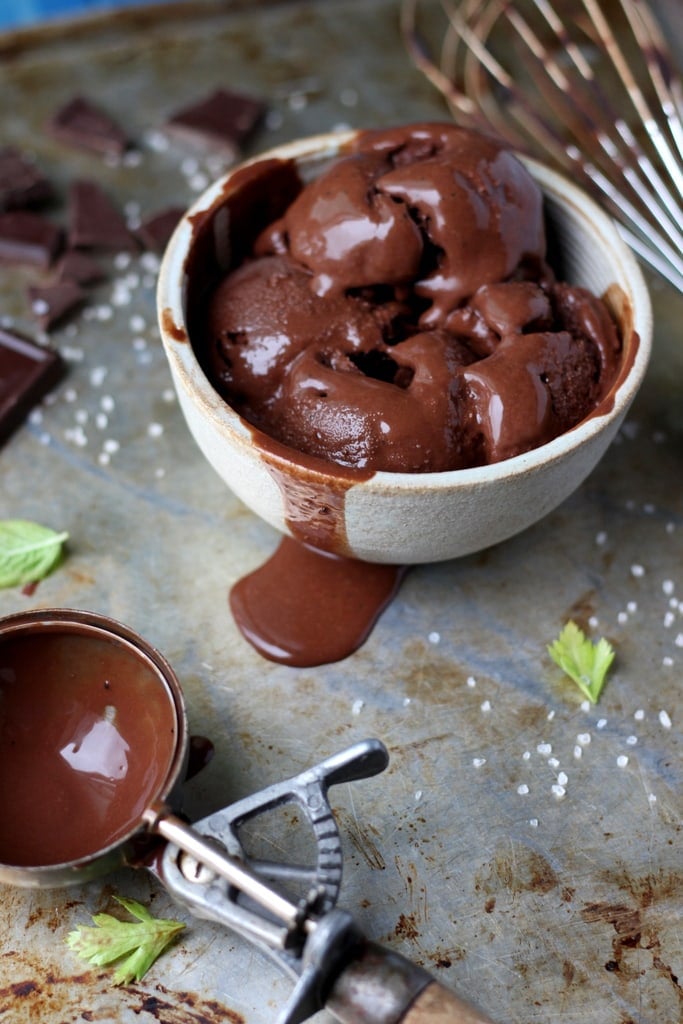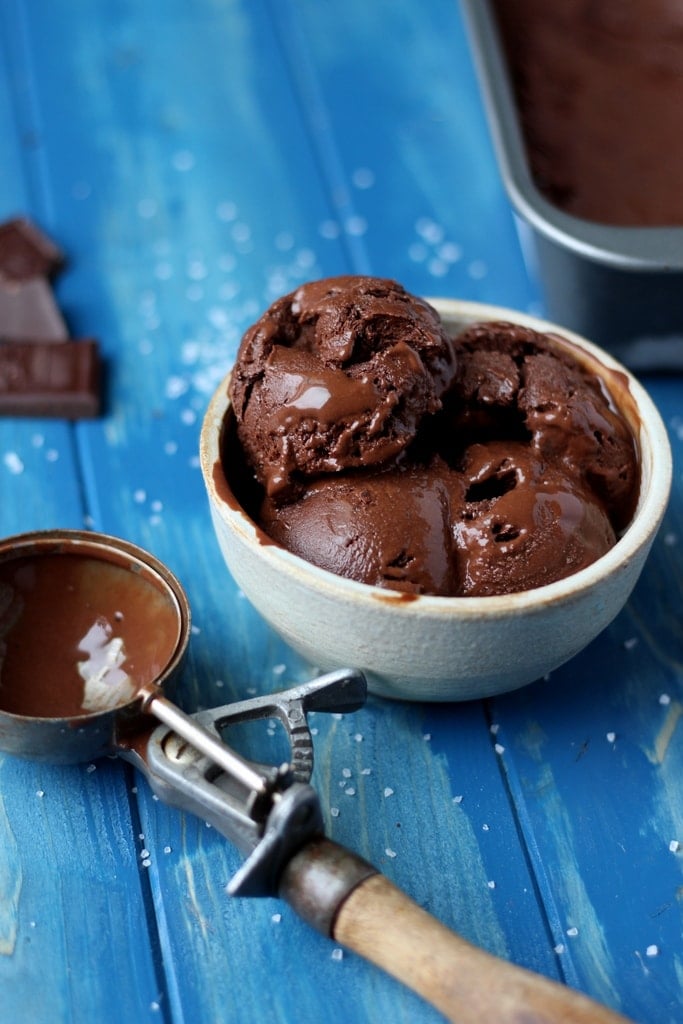 Happy cooking everyone!
Print
Decadent Dark Chocolate Sorbet
Author: Erin Jensen
Prep Time: 10 minutes
Cook Time: 30 minutes
Total Time: 40 minutes
Yield: Serves 6-8 1x
Category: Dessert
Method: Freezer
Cuisine: American
---
Description
Chocolate Sorbet – an easy, delicious chocolate sorbet recipe that is perfect for hot summer nights! Naturally dairy-free!
---
2 1/2 cup water; divided
3/4 cup unsweetened, Dutch processed cocoa powder
1/2 teaspoon coffee grounds
1/2 cup agave syrup
1/8 Teaspoon kosher salt
6 oz bittersweet or semi-sweet chocolate, chopped (I used 70% dark chocolate)
1/4 Teaspoon vanilla extract
1 Tablespoon sugar
---
Instructions
In large saucepan, bring 1 1/2 cups water and agave syrup to a boil.
Slowly add in cocoa powder, whisking constantly while you are adding it, until it is smooth.
Reduce heat to low and cook mixture at a simmer for 10-15 minutes or until the mixture is syrupy.
Put chopped chocolate into a mixing bowl and add about a half of the warm mixture from the saucepan, whisking until the chocolate is melted and mixture is smooth.
Add remaining mixture from sauce pan and whisk again until smooth.
Add additional 1 cup of water, salt, coffee, vanilla extract and sugar.
Whisk until smooth.
Blend for 15 seconds.
Place in fridge and let fully chill.
Follow your ice cream maker's instructions from there OR if you do not have an ice cream maker, you can blend it again once you take it out of the fridge and then put it in your freezer overnight to let it freeze.
The next day, you will have chocolate sorbet waiting for you.
---
Notes
adapted from David Lebovitz's Chocolate Sorbet recipe in The Perfect Scoop