Healthy Chocolate Chip Cookies – the perfect healthy cookie that you AND your kids will love!! (they won't know there are veggies hidden in them!)
Best Ever Healthy Chocolate Chip Cookies
I came up with this recipe several years ago, after my oldest was born, because I wanted a way to sneak some more veggies into her diet and wanted to be able to give her something sweet for dessert once in a while that didn't have a million weird ingredients in it. I wanted a "healthy" cookie for her – this is what I came up with! Nut butter, applesauce, banana and whole wheat flour are the main ingredients with spinach, carrots and zucchini – I swear you really can't even taste the veggies. Oh, and of course there are chocolate chips because, hello, these are still cookies!
Why You Will Love This Recipe
Ingredients: The ingredients really are just simple, clean and even include some fruits and vegetables.
Veggies: Like I said, I even threw some veggies in there…. because why not!
Still a Cookie: But even with all those healthier ingredients, these are still cookies and that's what they taste like – promise!
Healthy Chocolate Chip Cookie Ingredients
whole wheat flour
baking soda
kosher salt
banana
egg
unsweetened applesauce
vanilla extract
creamy almond butter
coconut sugar
carrot
spinach
zucchini
dairy-free/semi sweet chocolate chips
sea salt
Other Healthier Desserts You Might Like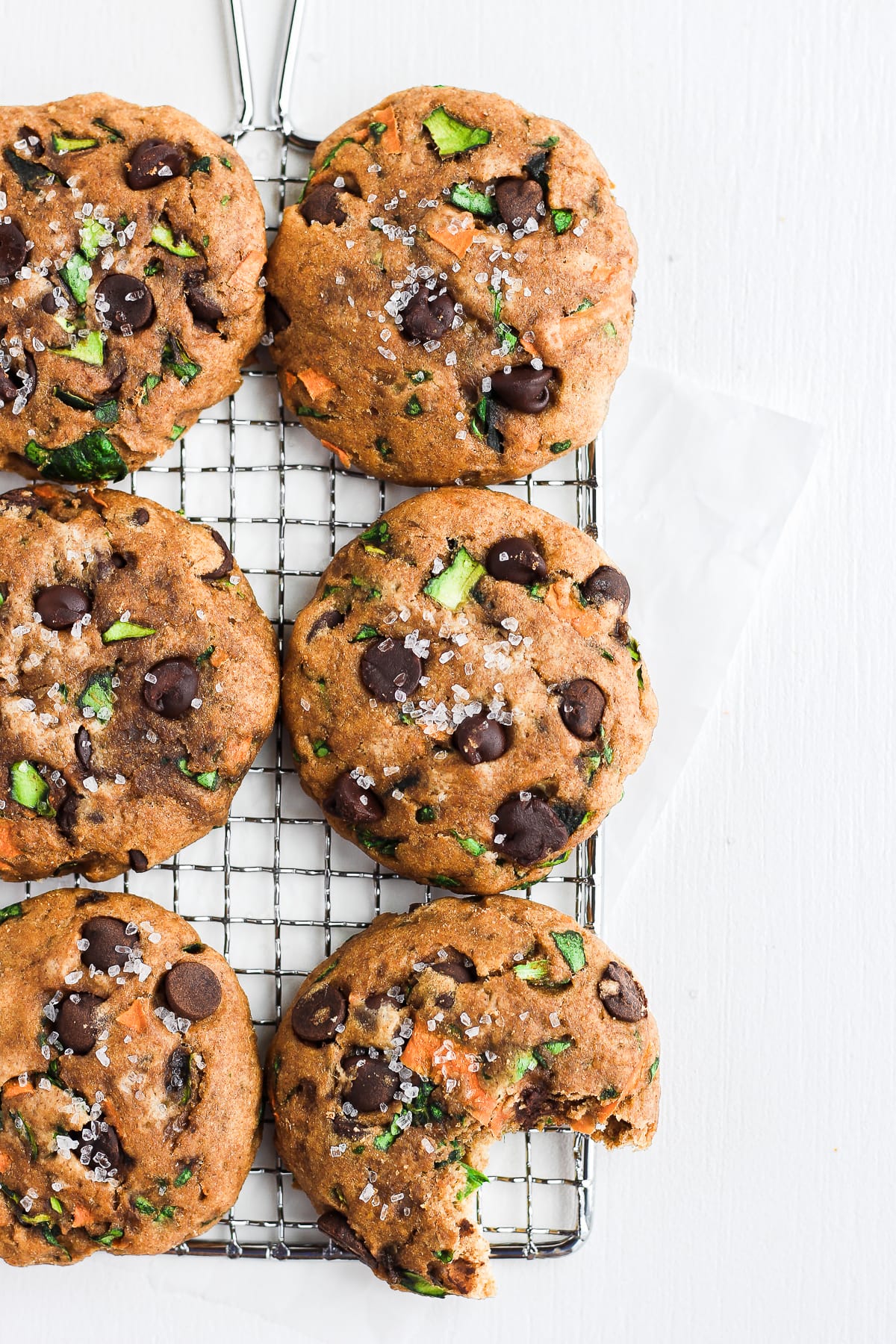 Other Recipes You Might Like
Don't forget to check out my Instagram account for some behind-the-scenes action! Or give me a follow on Facebook or see what I am pinning on Pinterest!
Print
Healthy Chocolate Chip Cookies
Author: Erin Jensen
Prep Time: 25 minutes
Cook Time: 10 minutes
Total Time: 35 minutes
Yield: Approx. 16-20 cookies
Category: Dessert
Method: Oven
Cuisine: American
---
Description
The perfect healthy cookie that you AND your kids will love!!
---
1 1/4 cup whole wheat flour
1/2 teaspoon baking soda
1/2 teaspoon kosher salt
1 very ripe, mashed banana
1 egg, beaten
1/4 cup unsweetened applesauce
1/4 teaspoon vanilla extract
1/2 cup creamy almond butter, peanut butter works too
2 teaspoons coconut sugar
1/3 cup carrot (use peeler to peel strips of carrot and then roughly chop)
1/3 cup spinach (roughly chopped)
2–3 tablespoons of zucchini (just peel off the green, outer layer of the zucchini with peeler and then roughly chop)
1/2 – 3/4 cup dairy-free/semi sweet chocolate chips
sea salt (for topping – optional)
---
Instructions
Preheat oven to 375 degrees.
Combine whole wheat flour, baking soda and salt in large bowl.
In separate medium bowl, combine mashed banana, beaten egg, applesauce, vanilla, almond butter and coconut sugar; Mix well.
Add spinach, carrots and zucchini to wet ingredients and fold together.
Combine both bowls and then add chocolate chips. Mix.
Take cookie sheet and lightly spray with non-stick.
Take generous tablespoons of dough and place on cookie sheet OR take 2-3 tablespoons of dough and roll into a ball in your hand, place on cookie sheet and gently flatten into circle. (Note: cookies will not raise much or spread out)
Sprinkle with sea salt (optional).
Cook at 375 degrees, middle rack, for approx. 8-10 minutes or until the bottoms start to brown.
Place on cooling rack and let cool completely.
---
Notes
Number of Cookies: how many cookies this recipe yields depends upon how big your cookies are. If you are just making them 1-2 tablespoons big, you will yield approximately 16-20 cookies.
Consistency/Texture: These are pretty soft cookies, not crunchy.
Almond Butter: Feel free to use creamy peanut butter or other nut butter if you prefer – just make sure the consistency is creamy.
Unsweetened Almond/Peanut Butter: If you are using an unsweetened version of peanut butter or almond butter then I would recommend increasing the coconut sugar to about a 1/4 cup or so. Otherwise, the cookies might not be sweet enough for your liking.
Flour Substitutions: You can use a 1-to-1 gluten-free flour if you want and I have also tested these with almond flour with success! If using almond flour I would definitely cook for 10 minutes (instead of 8).
Coconut Sugar: you can substitute brown sugar here if you want.
Let them cool: Let these cool fully before eating for best results!
Storage: Since these don't have any preservatives in them they shouldn't be left out on the countertop for more than a day or so. After that keep them in an airtight container in the refrigerator.
Keywords: healthy chocolate chip cookies