Delicious Massaged Kale Salad – a hearty and flavorful plant-based meal!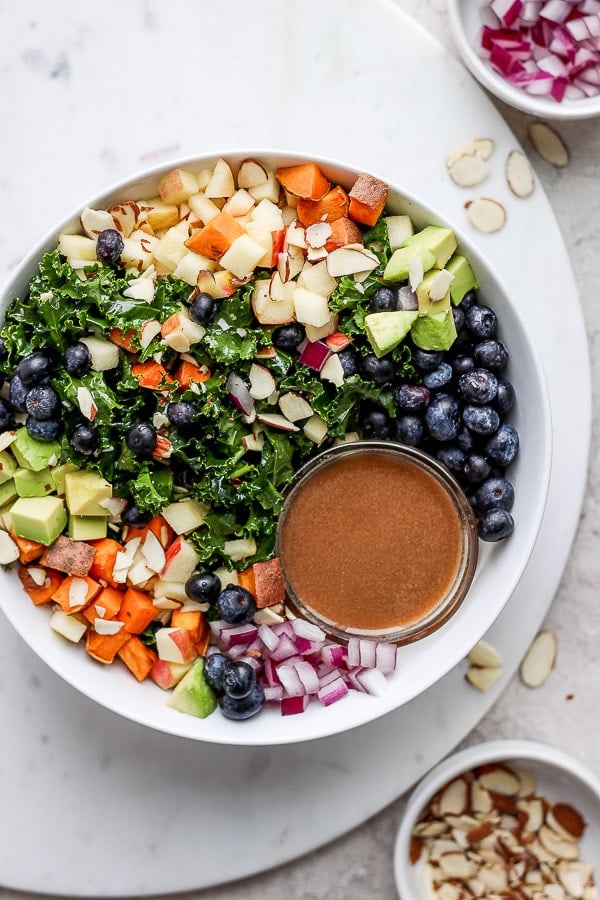 This post is sponsored by Califia Farms, but the opinions are my own.
If you guys are looking for a delicious and filling plant-based salad then this recipe is for you! Packed with so many wonderful flavors – it is like eating the rainbow! My favorite part might be the Creamy Balsamic Dressing though! Made extra creamy with Califia Farms Unsweetened Almondmilk (you could also use their BetterHalf Unsweetened Creamer!). It is such a simple recipe – you simple mix a 50/50 ratio balsamic vinegar and unsweetened almondmilk – couldn't be any easier (or more delicious!).
Can't wait for you guys to try it!
What does it mean to Massage Kale
Massaging kale means that you are (literally) massaging oil and vinegar into your raw kale before you eat it as a way to both tenderize and mellow out the flavor. Raw kale isn't exactly mouth-watering (let's be honest). So by massaging oil and vinegar (or lemon juice) into the leaves the flavor becomes less intense and more delicious! Here is an interesting article all about why we massage kale!
How Long does Massaged Kale Last
Massaged kale doesn't last very long and really should be served immediately. If you let it sit in the oil and vinegar the leaves will continue to break down and can become soggy. It is recommended that you massage your kale right before eating!
How to Prepare Kale for Salad
To prepare your kale for a salad you need to:
Wash and dry your kale leaves.
Remove the leaves from the stem. This can be done by simply cutting the leaves away from the stem or you can use your hands to firmly grasp the bottom, larger part of the stem and, while gripping firmly, pull up along the stem effectively pulling off the kale leaves and leaving the stem bare.
Use a large knife to roughly chop your kale leaves.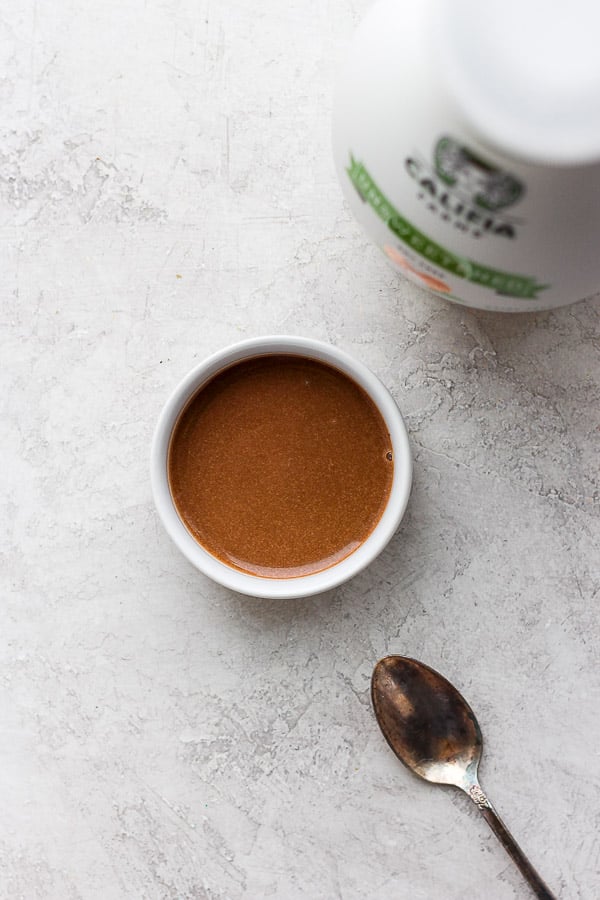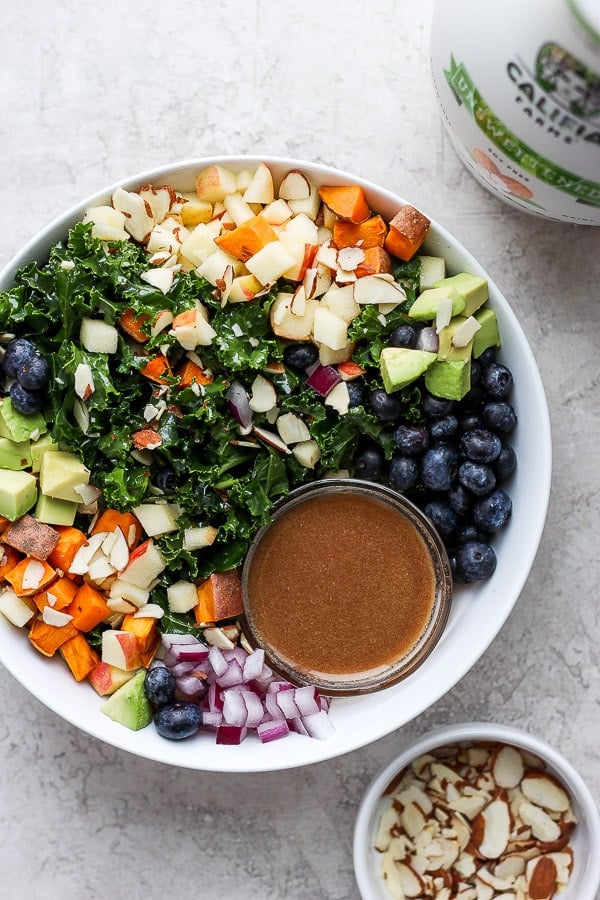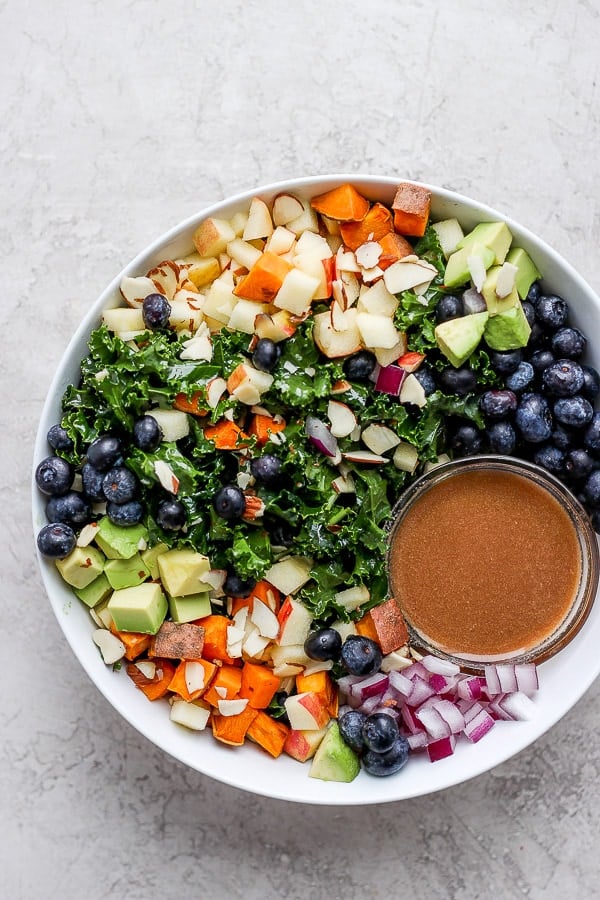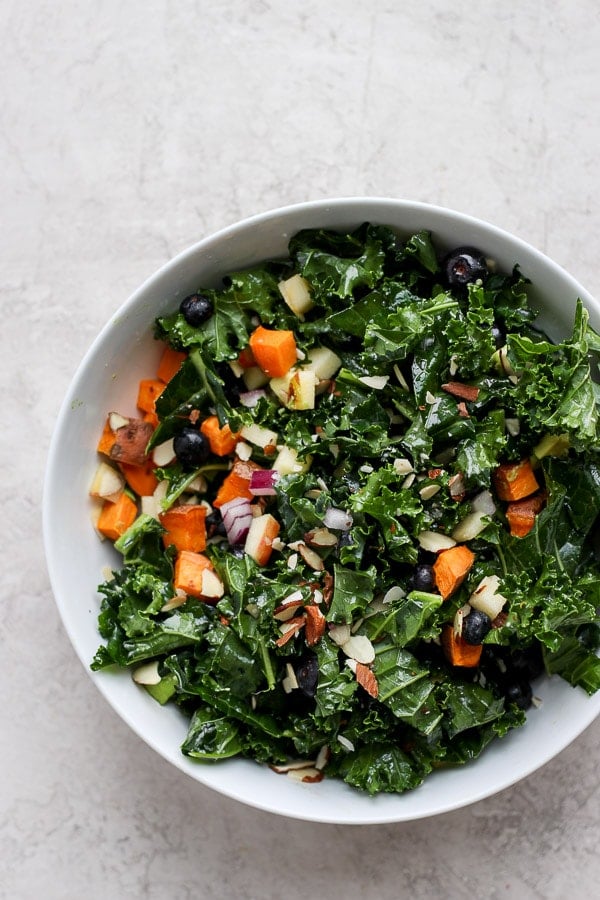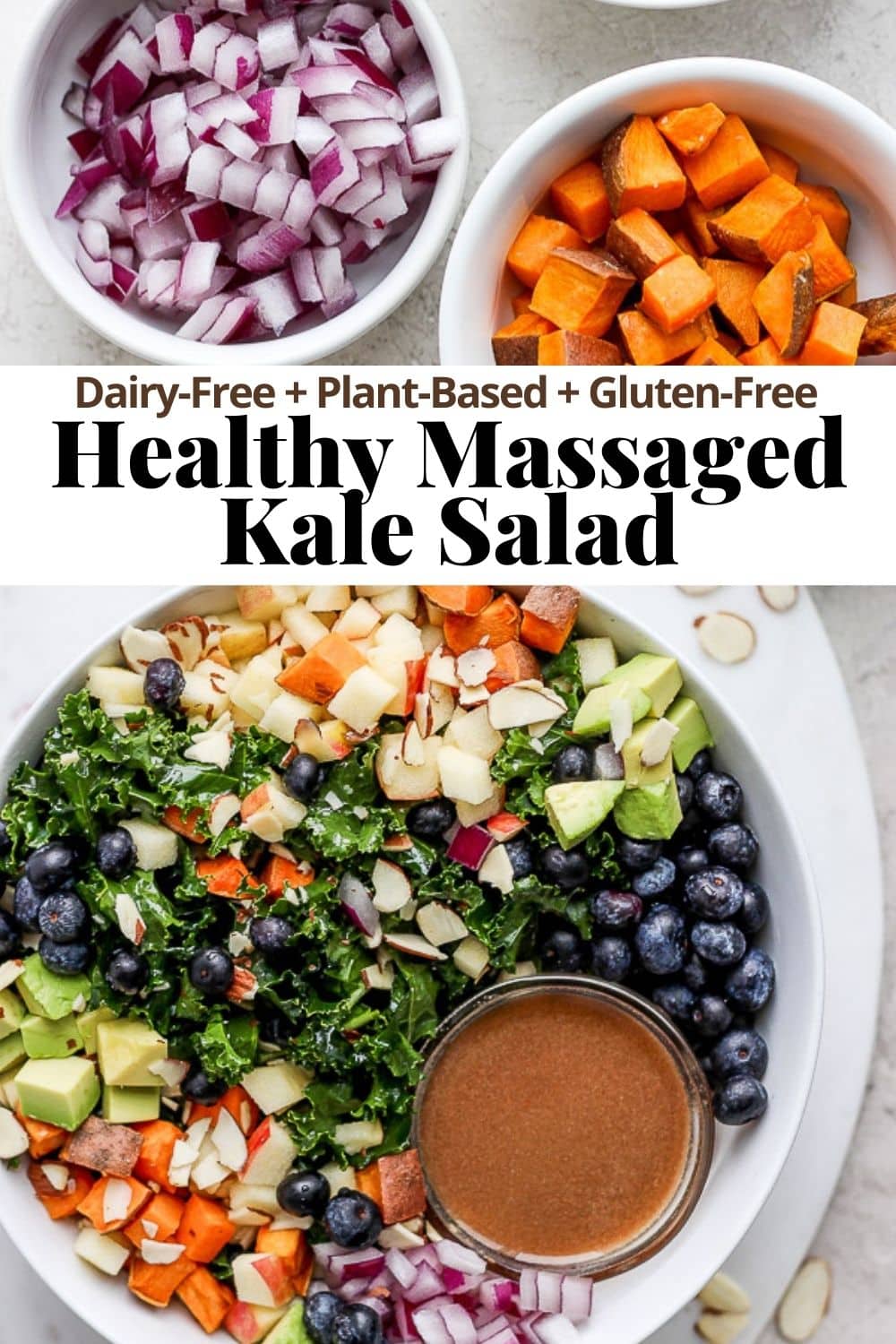 Other recipes you might like:
Don't forget to check out my Instagram account – Or give me a follow on Facebook or see what I am pinning on Pinterest!
Print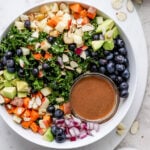 Delicious Massaged Kale Salad
Author: Erin Jensen
Prep Time: 15 minutes
Cook Time: 15 minutes
Total Time: 30 minutes
Yield: 2 salads 1x
Category: Salad
Method: Oven
Cuisine: American
---
Description
Delicious Massaged Kale Salad – a flavorful and filling kale salad that does not disappoint!
---
Creamy Balsamic Dressing
2 Tablespoons balsamic vinegar
2 Tablespoons Califia Farms Unsweetened Almondmilk (or Califia Farms BetterHalf Unsweetened Creamer)
Massaged Kale Salad
1 sweet potato, cubed
salt
avocado oil
3 cups fresh kale, removed from stem and roughly chopped
lemon juice
1 apple, cubed
1 avocado, cubed
1 cup blueberries
1 tablespoons red onion, diced
1/2 cup slivered almonds
---
Instructions
Creamy Balsamic Dressing
Combine ingredients in small bowl and whisk to combine.
Massaged Kale Salad
Preheat oven to 415 degrees.
Place sweet potatoes on parchment-lined baking sheet. Drizzle with avocado oil and sprinkle with salt.
Place in oven, middle rack, for 15-20 minutes or until soft.
Take two large salad bowl and add 1 1/2 cups of kale to each.
Drizzle with avocado oil, a splash of fresh lemon juice and sprinkle with salt. Use hands to massage oil into kale.
Add apple, avocado, blueberries, slivered almonds and roasted sweet potatoes.
Drizzle with creamy balsamic dressing and serve immediately!
---
Notes
If you really do not like raw kale of any kind then I would suggest that you sauté the kale in a cast iron skillet first. Simply add a little oil to a cast iron skillet (medium-high temp) and add your massaged kale. Move around the pan constantly for a minute or two and then place in the bowls for serving.
Keywords: massaged kale salad