How to Make Chicken Bone Broth – a delicious and nutritious broth that warms the soul!
Chicken Bone Broth. It's like a big Mom hug. Warm, soothing and just feeds the soul.
Making homemade broth is probably one of my favorite things to make. It takes all day and you just build the flavor, one ingredient at a time. I love it. And the result is always amazing.
Yes, you can go out and buy bone broth very easily, but I know (Because I have tried a lot of them) that they will not be as wonderful as your homemade version. I promise you! This is one of my favorite things to drink on Whole30, especially at night. I work a lot at night and tend to stay up pretty late; late enough that I start to get hungry again despite eating a good dinner. I have found that warming up some homemade bone broth does the trick; especially if I throw half an avocado and/or a soft-boiled egg (so good).
It is so easy to make a big batch of this stuff and freeze it – I always keep little mason jars of it that I take out of the freezer at night and but them in the fridge, by the time I want some the next night – it is de-thawed and ready to be warmed up!
And just look at the golden goodness….
Remember that to freeze, simply pour your homemade chicken bone broth into sterilized canning jar, but leave a good amount of space on top to allow for expansion as the liquid freezes.
Don't forget to check out my Instagram account for some behind-the-scenes action! Or give me a follow on Facebook or see what I am pinning on Pinterest!
Love,
E
Print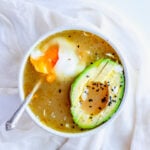 Chicken Bone Broth
Author: Erin
Category: Soup
Method: Stove Top
Cuisine: American
---
Description
A delicious and nutritious broth that warms the soul!
---
2 lbs chicken (use wings, drumsticks and thighs – bone in. You can also use a chicken carcass or combination)
3 carrot, peeled and cut into large chunks
3 celery stalks, cut into large chunks
1 yellow onion, quartered
2 Tablespoons kosher salt
3 garlic clove, crushed
1 Teaspoon ground sage
3–4 sprigs fresh oregano
3–4 sprigs fresh rosemary
4–5 sprigs fresh thyme
6 whole black peppers
1 bay leaf
---
Instructions
Place chicken in large stew pot; cover with water so chicken is completely submerged leaving about an inch between the chicken and the top of the water.
Bring to boil and then reduce to simmer for 30-40 minutes, or until chicken is cooked completely. Skim off foam any foam with a slotted spoon or sieve.
Add 1 and 1/2 Tablespoon of salt, crushed garlic, sage, thyme, rosemary, oregano, black peppers and bay leaf.
Stir to mix.
Add carrots, onion and celery.
Cover and simmer for12-24 hours.
Taste and use the rest of the salt to meet your desired saltiness; or add more if desired.
Remove chicken and set aside.
Remove large chunks of carrot, celery and onions and set aside.
Strain remaining broth through a strainer and/or cheesecloth.
Enjoy immediately or let cool and then place in airtight container in fridge for 5 days.
Freeze and use within 6 months
---
Thank you so much for reading & supporting The Wooden Skillet! This post contains affiliate links for products I actually use in my own home and personally recommend. Should you make a purchase using one of these links, The Wooden Skillet will earn a small commission at no extra cost to you, which helps me continue to bring you great original content. Thank you!