No Bake Raspberry Pie – a simple, refreshing and absolutely delicious summer dessert!
Alright, if there are two things I absolutely LOVE about summer, it is drinking iced cold brew lattes (duh) and raspberries. They are my Dad's absolute favorite (I just made him a raspberry pie for his birthday ? ), my girls seriously inhale them and I could eat them by the pint all by my lonesome. There is just something about when you get that perfect berry that is ripe, not too firm and not too mushy and (of course) perfectly red. That flavor – it just explodes.
Okay, quick note about the crust….. I used a springform pan – if you don't have one DON'T FREAK OUT! You can try the same crust in a regular pie crust OR you can literally go buy a pre-made crust OR you can use any go-to pie crust you have in back pocket. That is kind of the beauty of this recipe. The pie filling is so easy and so versatile that will taste good in any crust.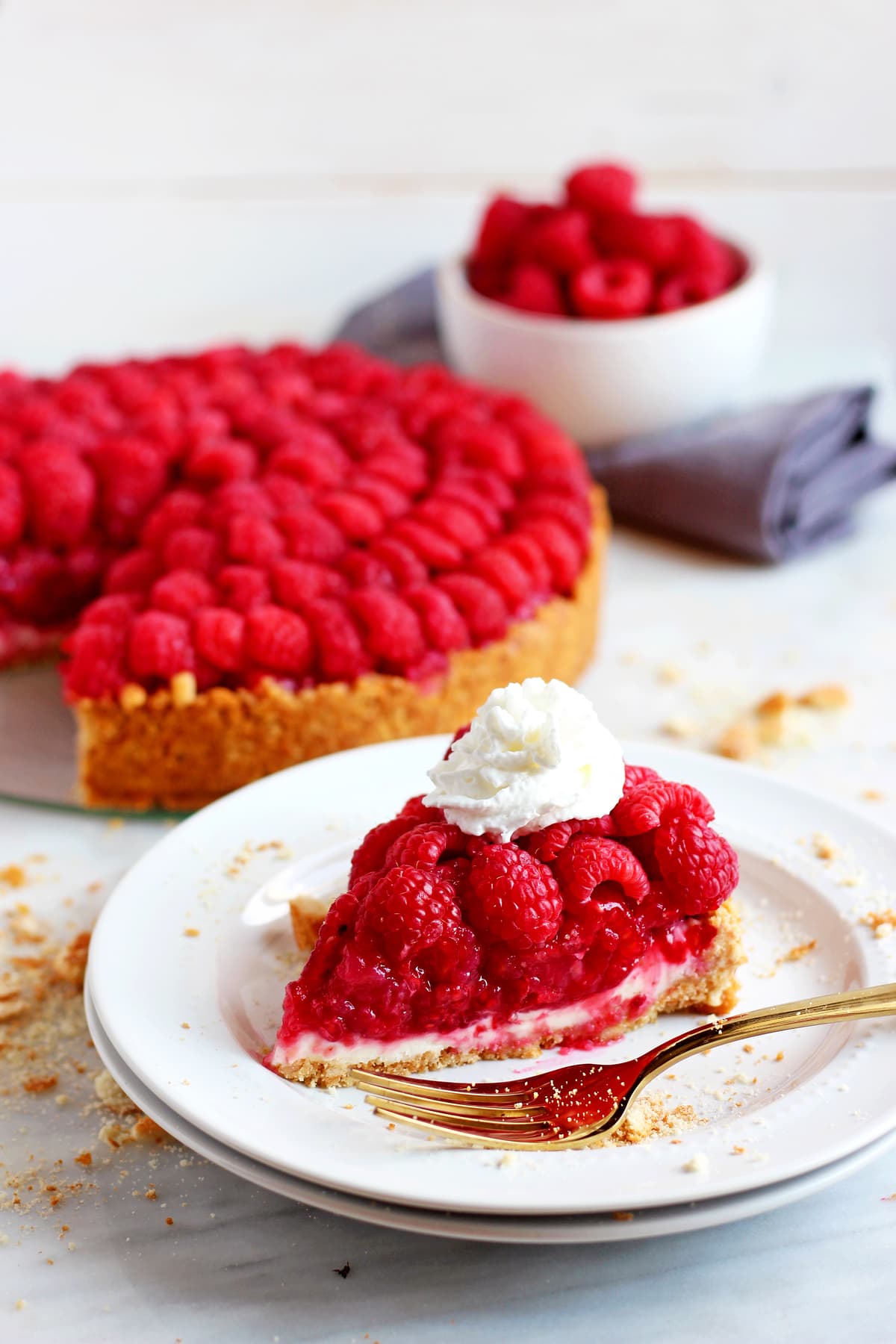 If you are loving summer pie season – then you also have to check out this Peach, Raspberry and Blueberry Summer Pie!
Don't forget to check out my Instagram account for some behind-the-scenes action! Or give me a follow on Facebook or see what I am pinning on Pinterest!
Made this recipe and loved it?! We would love it if you would take a minute and leave a star rating and review – it is also helpful if you made any substitutions or changes to the recipe to share that as well. THANK YOU!
Print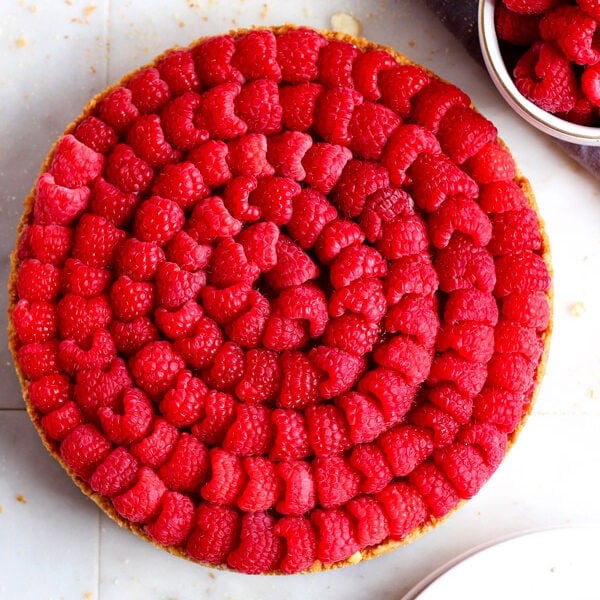 No Bake Raspberry Pie
Author: Erin Jensen
Prep Time: 15 minutes
Refrigeration Time: 4 hours
Cook Time: 15 minutes
Total Time: 4 hours 30 minutes
Yield: 1 pie 1x
Category: Dessert
Method: Refrigerator
Cuisine: American
---
Description
A simple, refreshing and absolutely delicious summer dessert!
---
Pie Crust:
(NOTE: if you don't have a springform pan you can make this using your own favorite pie crust or even just pie a pre-made pie crust and only make the filling)
65 Nilla wafers, finely crushed
6 Tablespoons unsalted butter
Pie Filling:
1 1/4 cup water, divided
6 (6 oz) containers of Driscoll's raspberries
1/3 cup sugar
1 Teaspoon fresh lemon juice
3 Tablespoons cornstarch
1 pkg room temperature cream cheese (dairy-free works!)
Optional: whipped cream for topping
Pie Topping:
Depending on how big your pie is, you will need 2-3 additional 6oz containers of Driscoll's raspberries.
---
Instructions
Crust:
Place crushed Nilla wafers in large mixing bowl.
Pour melted butter on top and then use a fork to combine thoroughly.
Pour into 9 inch spring form pan.
Use hands to flatten and spread over the pan and into the sides, creating a crust.
Bake at 350 for 12 minutes.
Place in refrigerator to cool for 20 minutes before putting anything inside.
Pie Filling:
In small sauce pan, add 1 cup water, 1 cup raspberries, sugar and lemon juice.
Stir and bring to a boil and then reduce heat.
Use the back of a wooden spoon to smash raspberries.
In small mixing bowl, combine 1/4 cup cold water and cornstarch, whisk together.
Add cornstarch slurry to saucepan and stir constantly until it thickens (about 1-2 minutes).
Remove from heat and let cool.
Place cream cheese in mixing bowl and use a hand-mixer to whip.
Place remaining Pie Filling raspberries in a mixing bowl and pour raspberry sauce on top.
Gently fold raspberries in one or two times.
Take whipped cream cheese and gently spread over bottom of crust.
Pour raspberry mixture on top and gently spread evenly.
Place in refrigerator for 2 hours.
Remove and, if desired, cut your Pie Topping raspberries in half (carefully and with a sharp knife) and place in circles around the pie, overlapping each other as shown in pictures.
Cover with foil and place back in refrigerator, preferably overnight, but at least for an additional 2 hours.
---
Keywords: No Bake Raspberry Pie