No Bake Raspberry Pie – a simple, refreshing and absolutely delicious summer dessert!
This blog post is sponsored by Driscoll's and TheFeedFeed – thanks for supporting the brands that support me. All opinions are my own.
Oh man, you guys! I am SUPER pumped to be sharing this new, easy summer recipe, in partnership with Driscoll's and TheFeedFeed, with you! This No-Bake Raspberry Pie is going to knock your socks off – seriously. If you are looking for a light and easy summer recipe to try – look no further.
Alright, if there are two things I absolutely LOVE about summer, it is drinking iced cold brew lattes (duh) and raspberries. They are my Dad's absolute favorite (I just made him a raspberry pie for his birthday ? ), my girls seriously inhale them and I could eat them by the pint all by my lonesome. There is just something about when you get that perfect berry that is ripe, not too firm and not too mushy and (of course) perfectly red. That flavor – it just explodes.
So, when I learned that Driscoll's (the go-to for your perfect berries) named Minneapolis-St. Paul as the raspberry consumption capital of the world….. it actually made perfect sense to me ? I think my own family probably is responsible for getting us to #1, but I don't have concrete proof of it yet. We eat SO MANY raspberries, so it is that much more important to me that the raspberries I eat are REAL! I am all about REAL FOOD. Which is one of the reasons I was so excited to partner with Driscoll's in particular. I have been buying their raspberries…. well, for forever. That classic packaging invokes so many wonderful memories from all different times in my life (like when I used to put a raspberry on each finger and eat them off one at a time…. okay I still do that..). And it is so comforting to know that they do not genetically modify their raspberries AT ALL. As they say, they simply follow the sun to ensure they can continue to provide high-quality raspberries all year round (thank goodness!). I love companies that take pride in their products and Driscoll's has proven that to me over that past several decades.
Aaaaand, you are going to need those perfect Driscoll's raspberries for this recipe – especially if you want to replicate that awesome raspberry topping!!! (yes, you guys can totally rock it!)
Lastly, did you know that Driscoll's is currently hosting a #BerryTogether sweepstakes!?! You guys could win an absolutely awesome 4-night stay at Madden's on Gull Lake (I have been there before and can tell you it is amazing!). And the first four prize winners win Driscoll's berries for a year!!! A YEAR!!!! All you have to do is visit www.berrytogether.com to enter for a chance to win!!! (Sweepstakes open until August 31)
Now for this recipe…… and some of my favorite photos ?
Okay, quick note about the crust….. I used a springform pan – if you don't have one DON'T FREAK OUT! You can try the same crust in a regular pie crust OR you can literally go buy a pre-made crust OR you can use any go-to pie crust you have in back pocket. That is kind of the beauty of this recipe. The pie filling is so easy and so versatile that will taste good in any crust.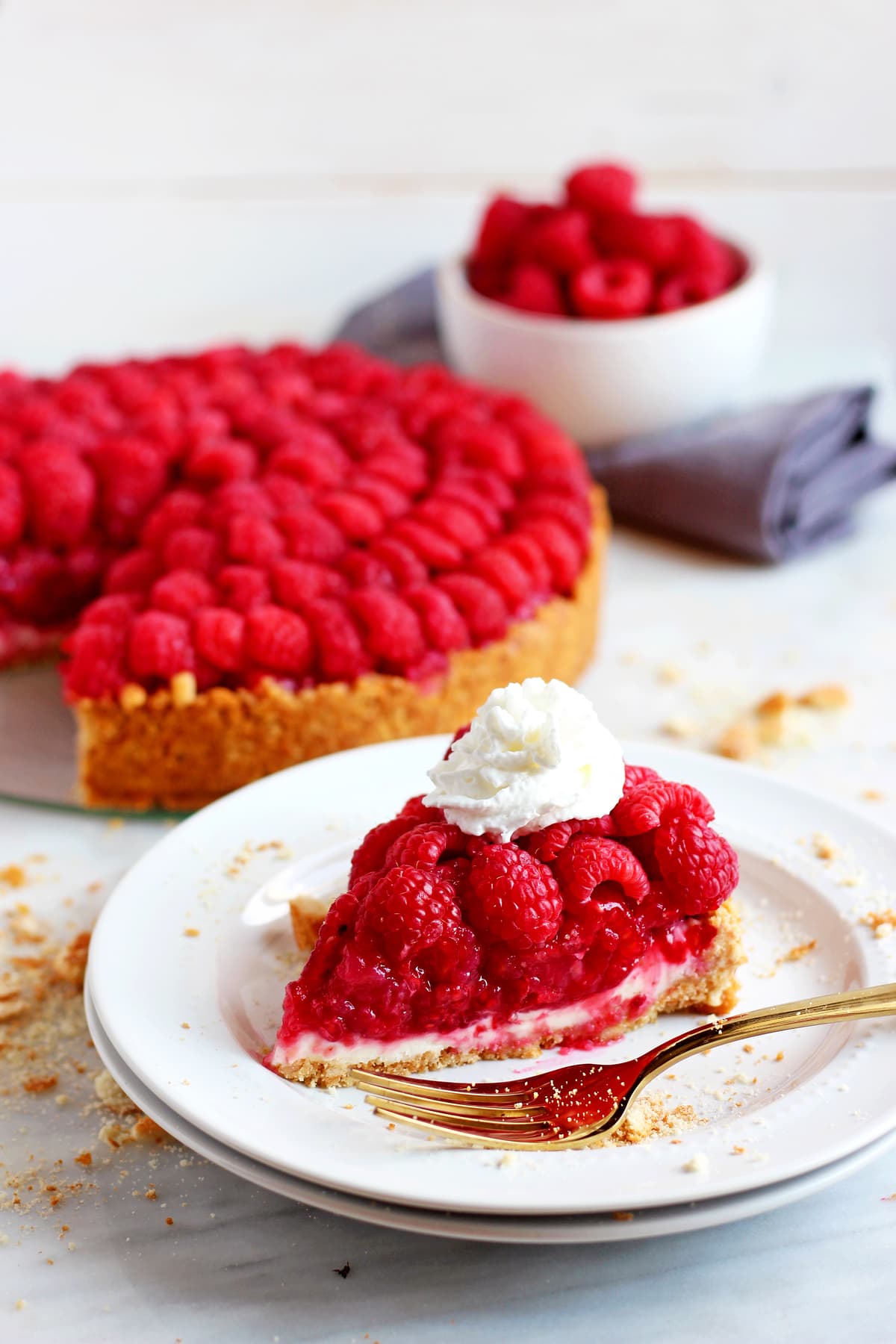 As always, I went over-board on the pictures …. there were just too many I wanted to share with you!
If you are loving summer pie season – then you also have to check out this Peach, Raspberry and Blueberry Summer Pie!
Alright, no go enter that contest!!! How sweet would that be if one of you won!! I would be so excited!
Don't forget to check out my Instagram account for some behind-the-scenes action! Or give me a follow on Facebook or see what I am pinning on Pinterest!
Love,
E
Print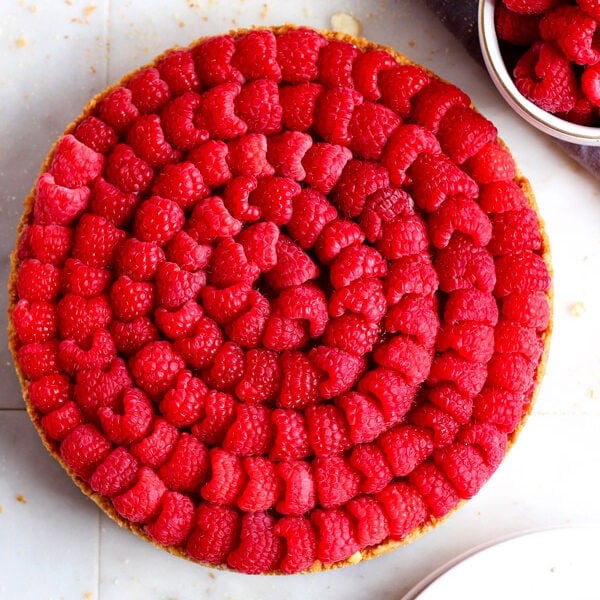 No Bake Raspberry Pie + Driscoll's Sweepstakes!
Author: Erin
Yield: 1 pie 1x
---
Description
A simple, refreshing and absolutely delicious summer dessert!
---
Pie Crust:
(NOTE: if you don't have a springform pan you can make this using your own favorite pie crust or even just pie a pre-made pie crust and only make the filling)
65 Nilla wafers, finely crushed
6 Tablespoons unsalted butter
Pie Filling:
1 1/4 cup water, divided
6 (6 oz) containers of Driscoll's raspberries
1/3 cup sugar
1 Teaspoon fresh lemon juice
3 Tablespoons cornstarch
1 pkg room temperature cream cheese (dairy-free works!)
Optional: whipped cream for topping
Pie Topping:
Depending on how big your pie is, you will need 2-3 additional 6oz containers of Driscoll's raspberries.
---
Instructions
Crust:
Place crushed Nilla wafers in large mixing bowl.
Pour melted butter on top and then use a fork to combine thoroughly.
Pour into 9 inch spring form pan.
Use hands to flatten and spread over the pan and into the sides, creating a crust.
Bake at 350 for 12 minutes.
Place in refrigerator to cool for 20 minutes before putting anything inside.
Pie Filling:
In small sauce pan, add 1 cup water, 1 cup raspberries, sugar and lemon juice.
Stir and bring to a boil and then reduce heat.
Use the back of a wooden spoon to smash raspberries.
In small mixing bowl, combine 1/4 cup cold water and cornstarch, whisk together.
Add cornstarch slurry to saucepan and stir constantly until it thickens (about 1-2 minutes).
Remove from heat and let cool.
Place cream cheese in mixing bowl and use a hand-mixer to whip.
Place remaining Pie Filling raspberries in a mixing bowl and pour raspberry sauce on top.
Gently fold raspberries in one or two times.
Take whipped cream cheese and gently spread over bottom of crust.
Pour raspberry mixture on top and gently spread evenly.
Place in refrigerator for 2 hours.
Remove and, if desired, cut your Pie Topping raspberries in half (carefully and with a sharp knife) and place in circles around the pie, overlapping each other as shown in pictures.
Cover with foil and place back in refrigerator, preferably overnight, but at least for an additional 2 hours.
---
Thank you so much for reading & supporting The Wooden Skillet! This post contains affiliate links for products I actually use in my own home and personally recommend. Should you make a purchase using one of these links, The Wooden Skillet will earn a small commission at no extra cost to you, which helps me continue to bring you great original content. Thank you!