Peach and Blueberry Pie – easy, delicious and the perfect way to use your summer fruit!
Best Ever Peach Blueberry Pie
I hope you guys had a wonderful weekend! Mine was seriously awesome. Even though the hubs was out of town (sad face), I got to spend the entire weekend with my mom and brother (and the girls), just hanging out at home, cooking and (trying) to stay cool (it was SO hot here!). But, my most favorite part of the weekend was making this beauty of a pie with my Mom ? She taught me how to cook and how to be brave in the kitchen and there we were making up a recipe for my very own food blog (she totally schooled me, as usual).
I am a cautious baker, for whatever reason. I always feel like my baked goods aren't going to turn out (sometimes they don't…. but sometimes they do). I have wanted to make this pie for several weeks now. I actually drug the ingredients for it throughout Wisconsin on our trip in hopes I would find the time to do it. Nope. Wasn't happening. Part of it was that I was on vacation mode, but part of it was that I just this anxiety that …… well, that I didn't know what the heck I was doing. I needed my momma ?
With her by my side, talking recipes and bouncing ideas off of each other, it turned out PERFECTLY. I mean…. yeah. You need to try this. Sooo freakin good.
So after the photo shoot was done, we sat around and had a cup of coffee and big ole slice of pie together. It was awesome. Family is just the best. And seeing your family enjoy your food that you made with love and care is amazing. My heart was full.
I hope you guys give this a try – I promise you that it is not as intimidating as it sounds. Don' even make your own pie crust if you don't want to. There are some really good brands out there – make it easy on yourself! I promise you, it is worth it.
One final tip – you need to remove the peach skins before you put them in the pie mixture – just cut an X in the bottom of the peach and put them in boiling water for 2 minutes. Blanche them in an ice bath for 3-4 minutes and the skin literally peels right off.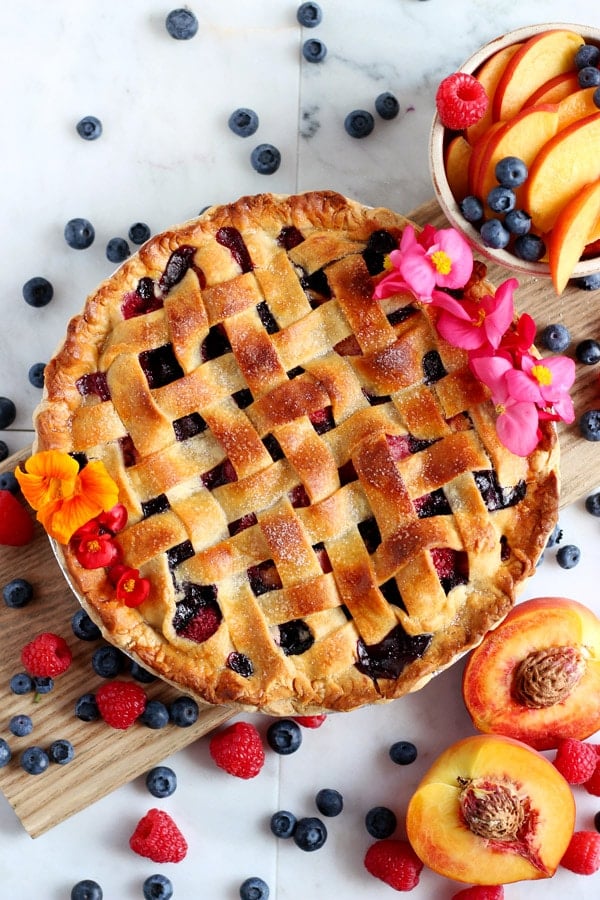 Seriously, make this for your next cookout or get-together and you will blow everyone away! So fresh and delicious – add some homemade ice cream (for some reason I am envisioning like a honey-lavender …). Summer Pie Perfection.
Don't forget to check out my Instagram account for some behind-the-scenes action! Or give me a follow on Facebook or see what I am pinning on Pinterest!
Made this recipe and loved it?! We would love it if you would take a minute and leave a star rating and review – it is also helpful if you made any substitutions or changes to the recipe to share that as well. THANK YOU!
Print
Peach Blueberry Pie
Author: Erin Jensen
Prep Time: 15 minutes
Cook Time: 50 minutes
Total Time: 1 hour 5 minutes
Yield: 1 pie 1x
Category: Dessert
Method: Oven
Cuisine: American
---
Description
Easy, delicious and the perfect way to use your summer fruit!
---
Oil Pastry Crust (or a pre-made/store-bought pastry crust works just fine!):
2 cup flour
1 1/2 Teaspoon salt
1/2 cup oil (not olive oil)
5 Tablespoons cold water
Filling:
2 peaches, peeled and cut into thin wedges
2 cups fresh blueberries
2 cups fresh raspberries
2/3 cup all-purpose flour
1/3 cup sugar
1 Teaspoon lemon juice
1 Tablespoon lemon zest
1 Teaspoon ground nutmeg
1 Tablespoon butter
egg wash (1 egg whisked together with a splash of water)
extra sugar
foil
---
Instructions
Combine oil pastry ingredients and divide into two balls.
Place each between pieces of wax paper and roll out into large circles for pie crust.
For Filling – Add flour and sugar to large mixing bowl and stir to combine.
Add fruit, lemon zest and lemon juice.
Gently fold together and then let sit for 20-25 minutes.
Pour filling mixture into pastry lined pie pan.
Take butter and divide into 5 small chunks, placing them randomly and spread out on top of the filling.
Take top of pie pastry and cut into lattice or other decoration.
Brush top of pie with egg wash and then sprinkle with extra sugar.
gently cover the crust with strips of foil.
Bake at 375 for 25 minutes and then remove the foil.
Then bake for an additional 25 minutes.
---
Keywords: peach blueberry pie