15 Minute Ghee + Turmeric Chicken Caesar Salad – this salad is simple, healthy and perfect for a quick weeknight meal.
Alright you guys, so for whatever reason, I am in this phase where every Friday, after work, I run to the grocery store and buy some organic chicken and any ingredients I need to make a smoothie. (and possible a Justin's® peanut butter cup….and some kombucha). I get home as quickly as I can and, of course, bee-line it to my girls and cover them in kisses….. lots of them. Then, I head to the kitchen and start decompressing from the long and crazy work-week. I melt some Ghee in a skillet, sprinkle some Himalayan pink salt on the chicken and start cooking.
I have been trying to stay away from alcohol lately, mainly to just rid myself of as many toxins as possible. And, frankly, it just hasn't sounded good. But I love, LOVE just the act of drinking wine while a cook. It is like a ritual for me. So, I have been pouring some kombucha in my favorite wine glass and it doesn't feel a lot different. So awesome and no hangover.
Back to our chicken, I simply just cook the chicken in my homemade ghee and pink salt. Flip over after about 6 minutes and then eat (along with my smoothie of course). I had been eating it with just a simple mustard mayo dip (literally just mix some mayo (vegan or otherwise) with some yellow mustard). But the other weekend I got a craving for a good'ole Caesar salad. Problem is, I have a milk allergy/sensitivity so I rarely eat Caesar dressing because it is usually made with some sort of milk product. Lately I have been hearing all sorts of things about this product called Tessemaes® – which is a dairy-free Caesar dressing and I LOVED it. (not sponsored – I honestly just really liked their product) There are so many other options out there and I am currently playing around with my own recipe that I am sure I will share with you guys soon. Anyway, I thought, what if I used my Ghee Chicken, added some turmeric (because…. why not) and added it to my Caesar salad?
It was freakin good.
And I would highly suggest buying chicken thighs. They taste even better but, let's be honest, don't photograph great in a salad situation…..
The combo of the Caesar dressing, the savoriness of the Ghee and the wonderful flavor of the turmeric all served on some living butter lettuce. Amazing. So easy to make and you just feel good eating it.
So, here is my current Friday-night obsession. I don't know why. Does anyone else get into weird food-phases like that? Just me…. awesome.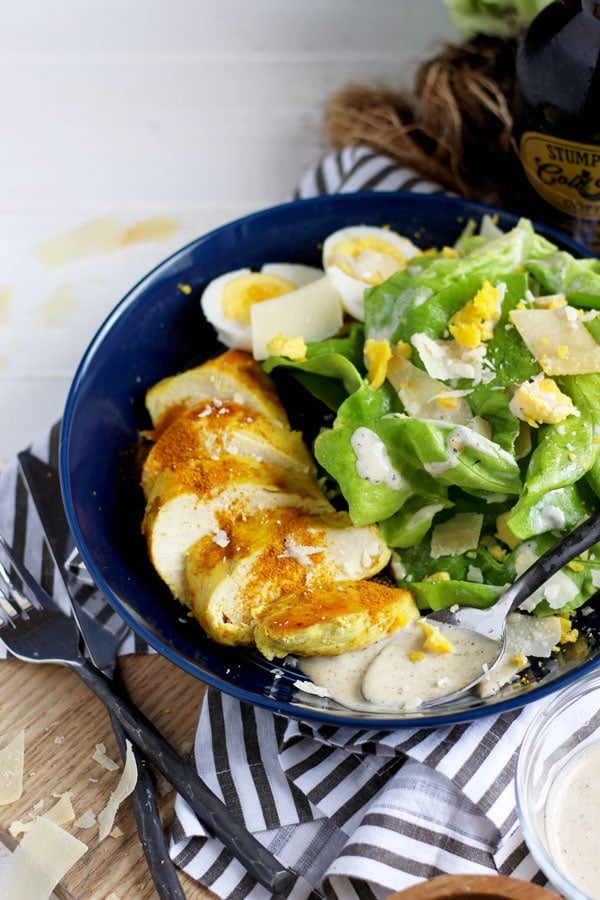 Let me know if you guys have any awesome Caesar salad dressing tips, tricks or recipes!
Don't forget to check out my Instagram account for some behind-the-scenes action! Or give me a follow on Facebook or see what I am pinning on Pinterest!
Also, if you are in the market for a new photography board – visit our Etsy Store!
Later
-E
Print
15 Minute Ghee + Turmeric Chicken Caesar Salad
Author: Erin Jensen
Prep Time: 5 minutes
Cook Time: 12 minutes
Total Time: 17 minutes
Yield: 2 entree salads 1x
Category: Salad
Method: Stove Top
Cuisine: American
---
Description
This salad is simple, healthy and perfect for a quick weeknight meal!
---
2 boneless chicken breasts or 4 boneless chicken thighs (organic is preferred, but just good'ole regular chicken will work)
1 Tablespoon (plus additional) of ghee (if you don't have ghee, I have used butter before and it works fairly well. It just smokes at a lower temp than ghee so be careful you don't burn it)
Himalayan pink salt
Turmeric
2 packed cups of living butter lettuce (but any type of lettuce you have will work)
Your favorite Caesar salad dressing (dairy-free or otherwise) – for Whole30 I highly recommend this dressing
Shaved parmesan cheese (optional – omit if Whole30/Paleo/Dairy-Free)
1 hard boiled egg, halved
---
Instructions
Take cast iron skillet and place ghee in the middle of it.
Turn heat to medium and let ghee melt.
Open up your chicken and sprinkle pink salt and turmeric on top so that each piece has a nice little covering.
Flip chicken over into the pan and sprinkle pink salt and turmeric on the other side.
Cover and let sit for approximately 6 minutes.
Open and flip over – add additional ghee if pan looks dry.
Cover and cook for an additional 6 minutes or until fully cooked (*chicken thighs may need less time).
Prep your bowl with your lettuce and parmesan cheese (if using).
Once chicken is done, slice and place on top of lettuce.
Garnish with hard boiled egg and use as much or as little dressing as you choose
Sprinkle pink salt over the top.
Eat and enjoy immediately.
---