Braised Lamb Shoulder + Mint Gremolata and Roasted Garlic Mashed Potatoes is the perfect holiday dinner! Classy, easy to make and it will leave your house smelling amazing!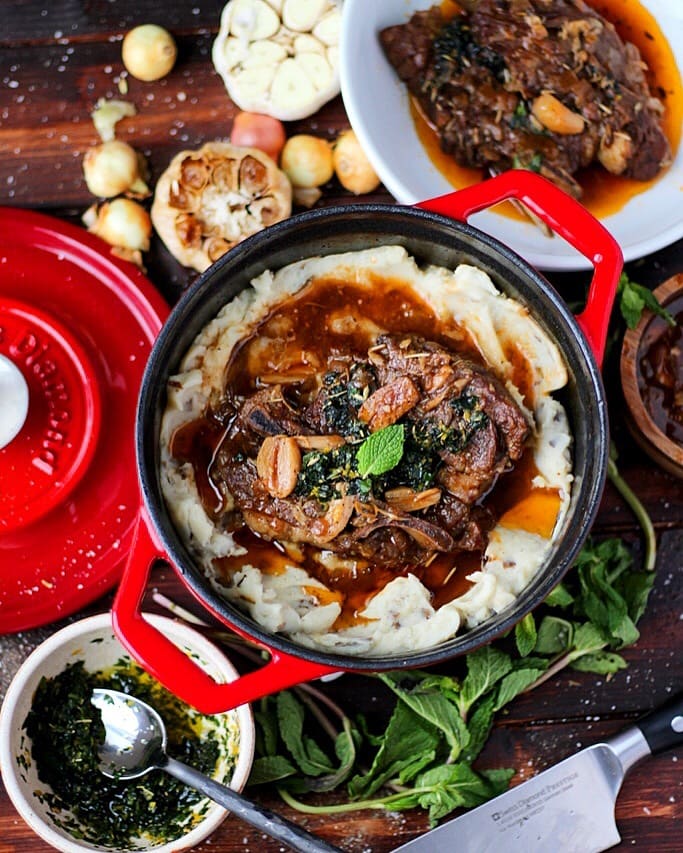 Do you guys know what you are making for Christmas dinner yet? If you are unsure, wavering or even think you have it all planned out, you need to give this recipe the once-over. Braised Lamb Shoulder + Mint Gremolata and Roasted Garlic Mashed Potatoes. I mean, what's not to love? Lamb is the perfect entrée for Christmas (or Easter). It is so different from your classic Thanksgiving turkey dinner. Lamb has such a unique flavor. It is lighter than a steak, yet still rich, lean with a somewhat delicate flavor. Lamb is complimented perfectly with garlic and mint, as they don't over-power the flavor of the lamb, but rather accentuate it in all the right ways. And, after the slow-braising this recipe calls for, it literally melts in your mouth!
Okay, let's get down to it. This recipe is – well, it's ridiculous. The inspiration is my Dad's mouth-watering leg of lamb. We slow roast the leg of lamb, but not before we cover it with salt and pepper and then cut about a million slits in it and shove as many pieces of garlic into it as we possibly can. And then we serve it with mint jelly. Highly recommended.
Those were the same flavors I wanted, but the goal was to bring them together in a completely different way. So I went to the grocery store and picked up a couple lamb shoulders. Now, you might be surprised that I chose lamb shoulder as opposed to a lamb shank or a lamb loin. I knew I wanted to braise this so I could create the wonderful braising liquid to serve over the lamb and, if you know anything about braising, you know that it is actually best for tougher cuts of meat like a shoulder or short ribs, etc. It cooks long and slow, which allows those tough fibers to really break down and become incredibly tender.
A quick break-down of the recipe: start out with some salt, pepper and fennel seed on the lamb shoulder.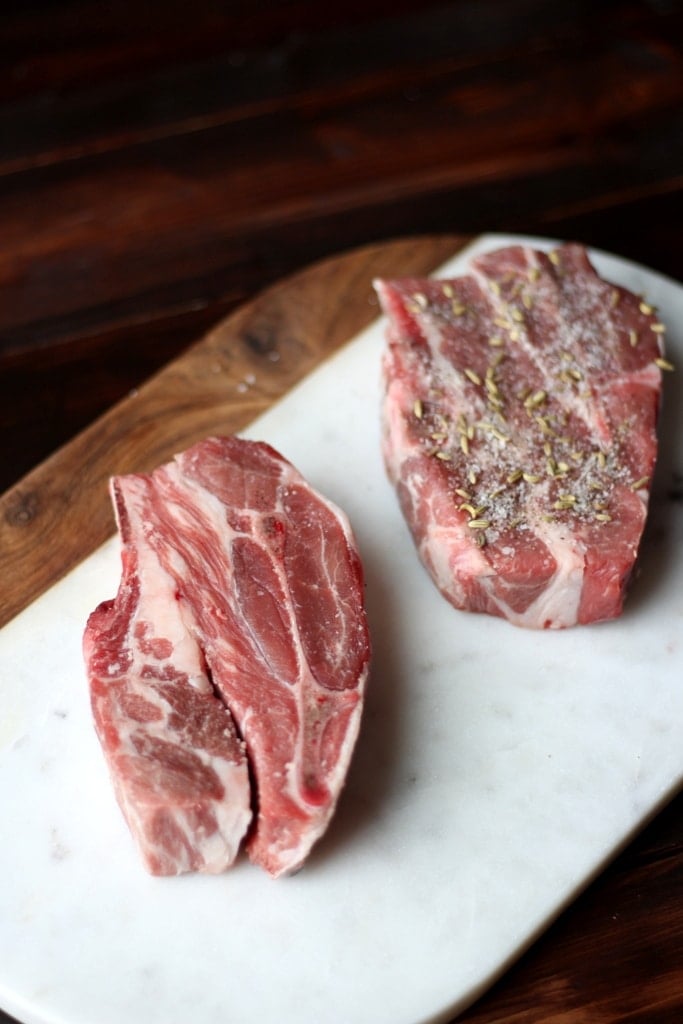 And then seared it in some oil. Remove the lamb shoulder and set aside. Then saute some onions, mix in some red wine and tomato puree, celery and rosemary. Next, come the two secret ingredients: the cloves of an entire head of garlic and Better than Bouillon® Roasted Beef Base to create a savory and flavorful broth to add to the braising liquid. I was honestly really impressed with the result. The flavor was amazing and, while there are guidelines for how to mix up the broth, you really have control to make the broth as strong or tame as you like. Want more of a stock – go for less. Want a super-strong, flavorful broth – add a little more. Anything that allows you more control over your recipes is a huge benefit!
Add the lamb shoulders back into the braising liquid and let the lamb shoulders braise for 2 hours.
For the Mint Gremolata, simply dice up some fresh mint leaves (preferably with a super-awesome and fancy chef knife) and mixed it with lemon zest, olive oil, and rosemary.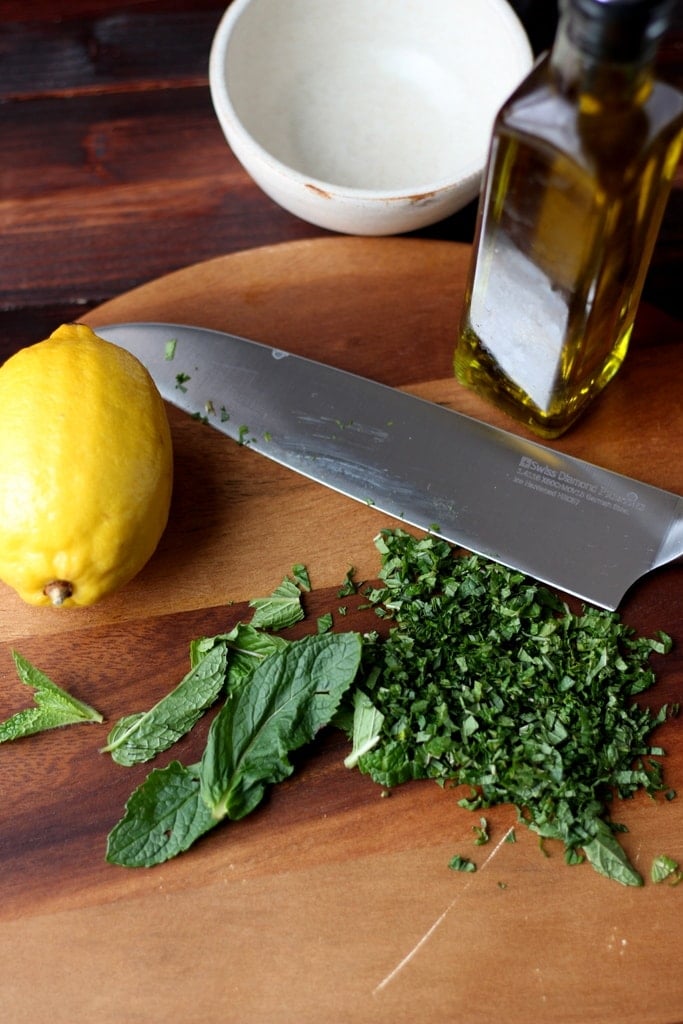 Finally, the Roasted Garlic Mashed Potatoes were a breeze to make. Simply boil some potatoes (skins on), mashed them together with butter, a little salt, almond milk and Better than Bouillon® Roasted Garlic Base.
It all came together beautifully. The delicate flavor of the lamb with the braised garlic cloves and amazing braising liquid… pair that with fresh mint gremolata and those creamy roasted garlic mashed potatoes….. it doesn't get much better than that. Savory, flavorful, tender and beautiful. You guys should give this one a try (If not for Christmas dinner then your next get-together or Sunday dinner)!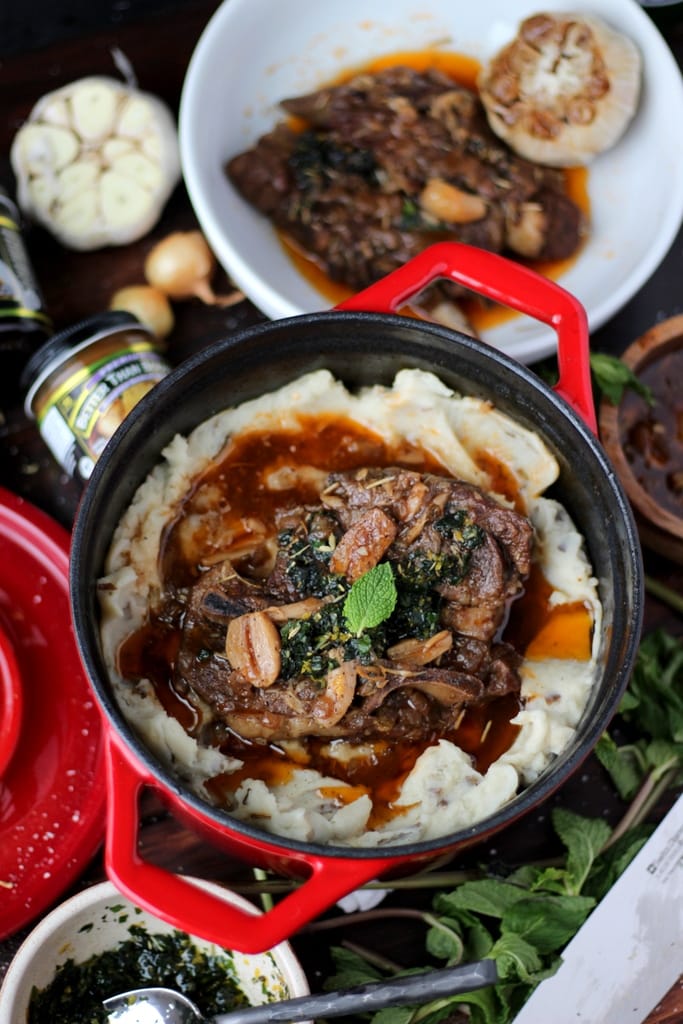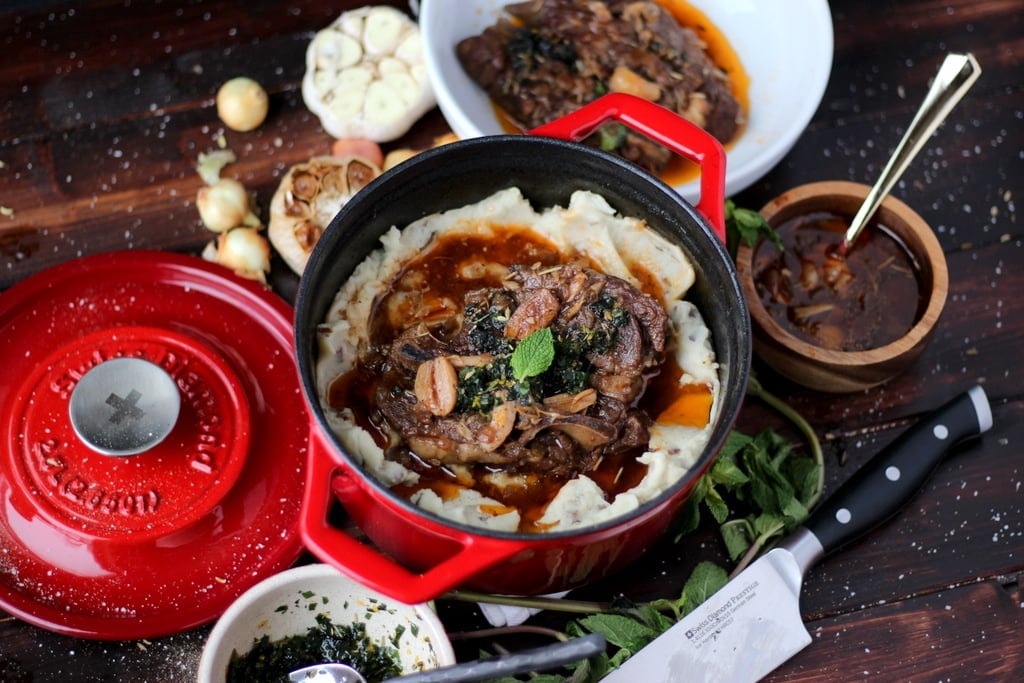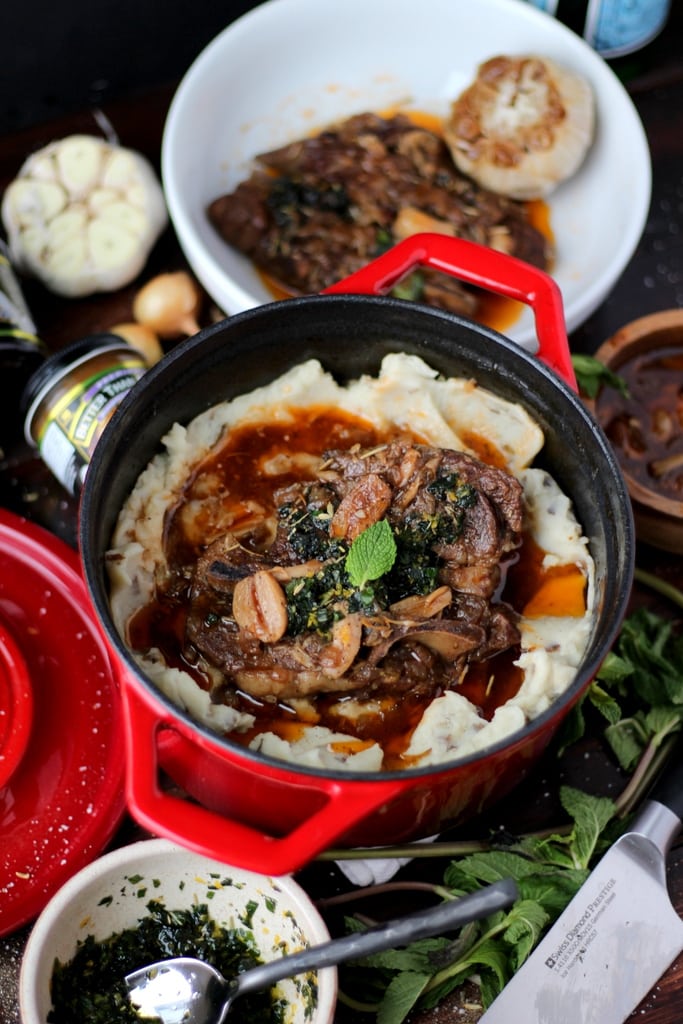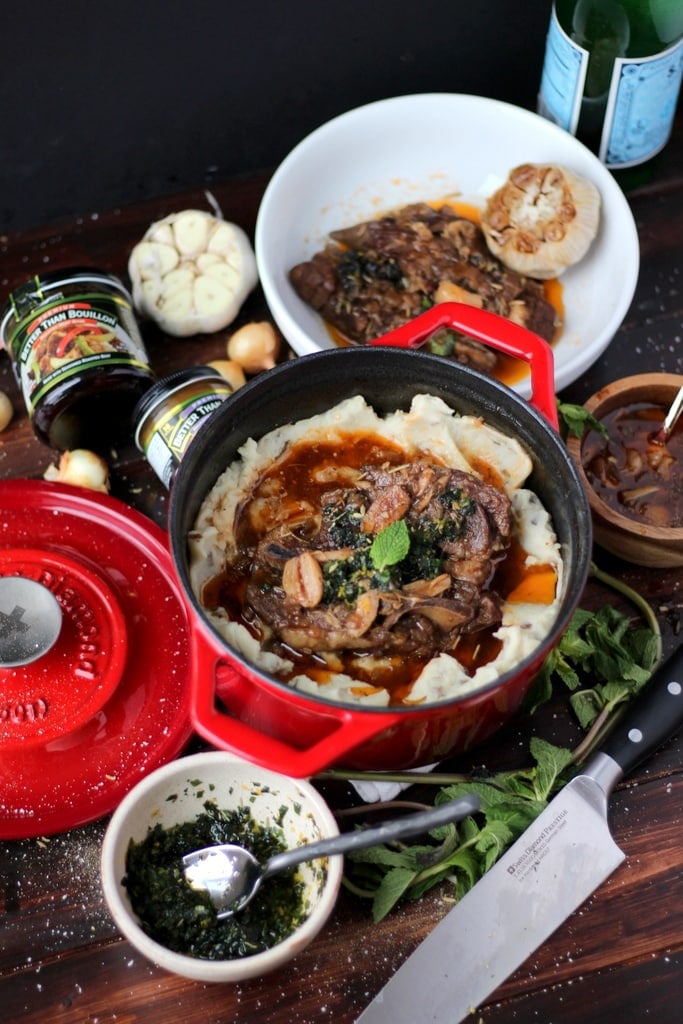 Let me know how your Christmas recipes turn out! Happy Cooking!
Print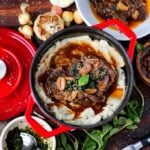 Braised Lamb Shoulder + Mint Gremolata
Author: Erin Jensen
Prep Time: 15 minutes
Cook Time: 2 hours 30 minutes
Total Time: 2 hours 45 minutes
Yield: Serves 4
Category: Dinner
Method: Oven
Cuisine: American
---
Description
Braised Lamb Shoulder + Mint Gremolata – a delicious, flavorful way to serve your lamb shoulder! Perfect for a Holiday meal!
---
Braised Lamb Shoulder:
2 lamb shoulders (approx. 3/4 lb each)
1 Tablespoon kosher salt
1 Tablespoon fennel seed
1 Tablespoon ground black pepper
1 Tablespoon + 1/4 cup vegetable oil
1 cup diced yellow onion
1 Tablespoon tomato puree
2 Tablespoons red wine
1 Tablespoon rosemary, crushed
2 Tablespoons chopped celery
1 whole head of garlic, remove cloves and slice them in half
Mint Gremolata:
1/2 cup finely chopped fresh mint leaves
1 Tablespoon lemon zest
1 Teaspoon crushed rosemary
pinch of salt
2–3 Tablespoons olive oil
Roasted Garlic Mashed Potatoes:
6–8 russet potatoes, diced and boiled until soft
5 Tablespoons butter
1/4 cup milk (almond milk works perfectly – I would just recommend you use unsweetened/original)
pinch of kosher salt
3–4 Teaspoons Better than Bouillon Roasted Garlic Base
---
Instructions
Braised Lamb Shoulder:
In small bowl, combine kosher salt, fennel seed and ground black pepper.
Rub this combination all over lamb shoulder (you can wrap in plastic wrap and let sit for 30 minutes if you desire)
In small cast iron casserole, add 1 Tablespoon vegetable oil and bring to medium heat.
Sear lamb shoulders on all sides and then remove from pot, setting aside.
In same pot, add 1/4 cup vegetable oil and onions.
Let onions reduce, about 5-7 minutes, stirring frequently.
Add tomato puree, beef broth, red wine, rosemary, celery and garlic cloves; mix well.
Add lamb shoulder back into the pot and bring to a simmer.
Cover and place in the oven on the middle rack.
Braise at 275 for 2 hours.
After 2 hours, remove from oven.
Serve braising liquid, particularly the garlic, over the lamb shoulder.
(feel free to strain the braising liquid, serving the garlic on top of the lamb shoulder, and then adding a slurry or roux to the remaining liquid to make a gravy).
Mint Gremolata:
Combine mint, lemon zest, rosemary and olive oil.
Stir and serve immediately.
Roasted Garlic Mashed Potatoes:
Combine boiled potatoes, butter, milk, salt and Better than Bouillon Roasted Garlic Base.
Whip together with hand mixer until smooth and creamy.
---
Keywords: braised lamb shoulder