Braised Beef Short Ribs – a classic, tried-and-true recipe for fall-off-the bone short ribs!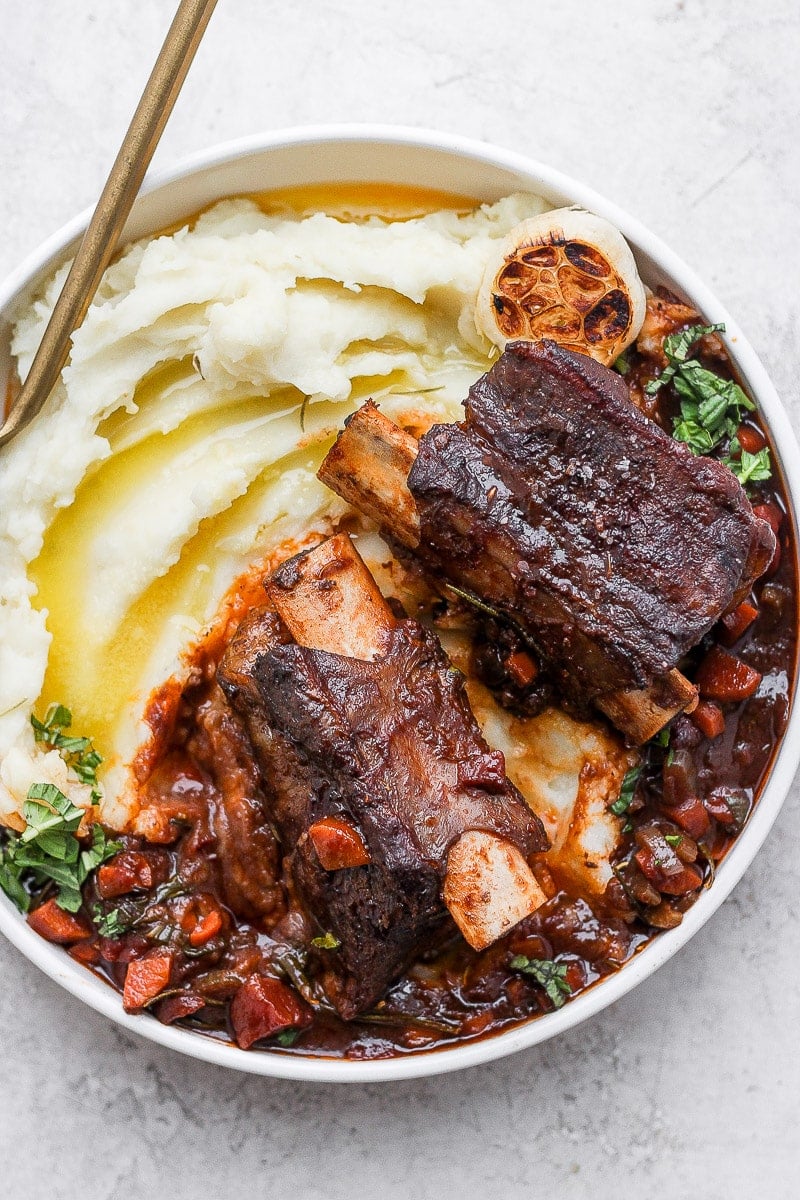 Delicious Braised Short Ribs
The perfect recipe for the Holidays, special occasions or date-night in! We have packed SO much flavor into these epic short ribs, I cannot wait for you to try them! Serve with some Ultimate Yukon Gold Mashed Potatoes and Roasted Green Beans for an amazing meal!
What are short ribs
What is a short rib, you ask? Well, if you picture a cow, its ribs would obviously be found in the section of its body behind its shoulders. There are four defined areas there, the ribs, plate, brisket and chuck. Short ribs can be taken from any of these areas.
What types of short ribs are there
Boneless: The meat from the ribs is cut away from the bone.
English Cut: this is what is pictured above and used in my recipe. This is probably what you will get if you simply ask for short ribs at your typical grocery store. It is a 2-3 inch bone with meat sitting on top of it.
Flanken Style: Cut across several bones so you have a longer piece of meat with little chunks of bone throughout.
What is the best kind of short rib for braising
I used the English cut for this recipe, which is probably best braised because it has such a large piece of bone in it, the flavor from it is best extracted through a slow, low-heat process. Plus, the meat turns buttery and tender. It is a go-to luxurious meal that will knock your socks off.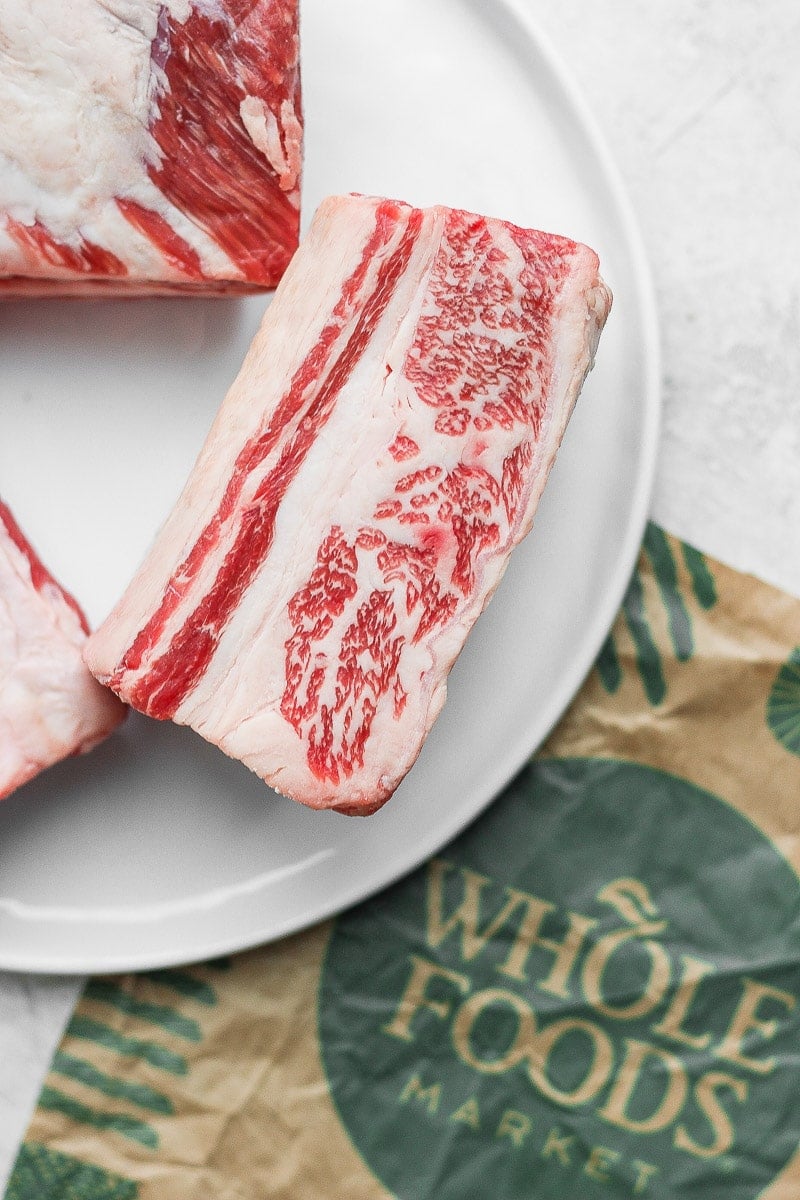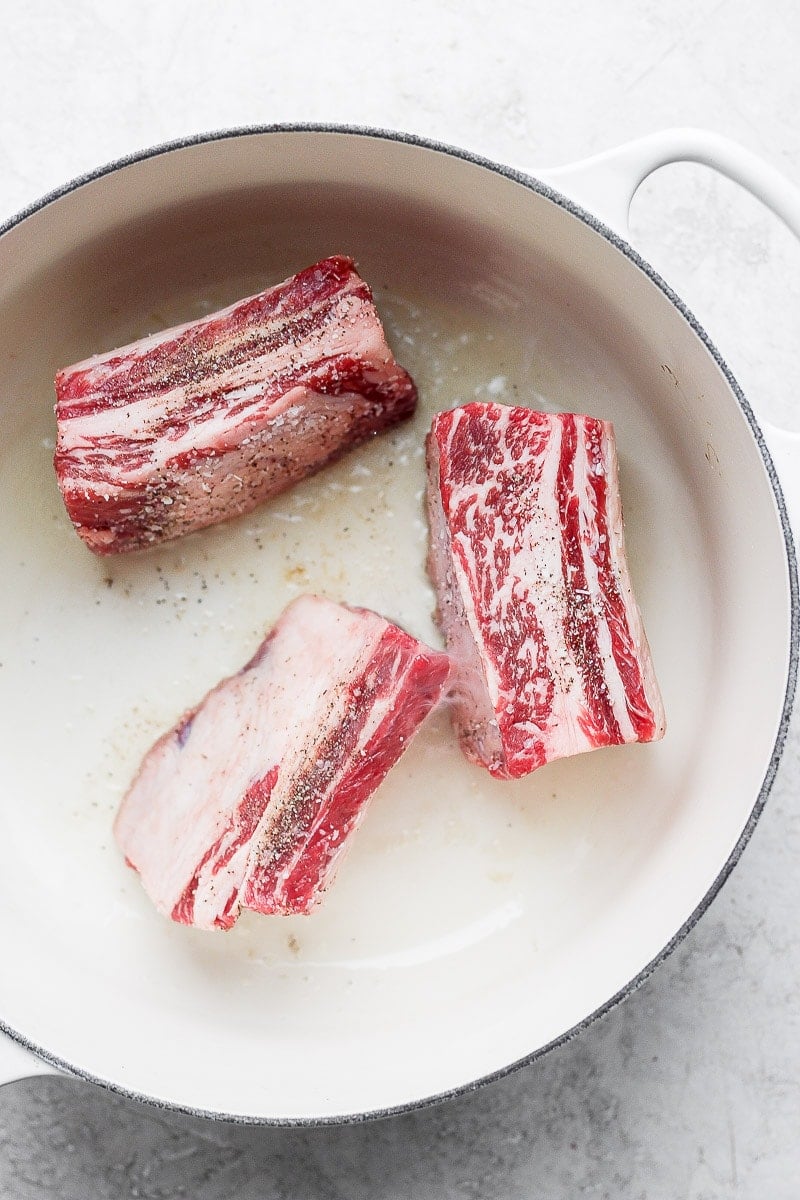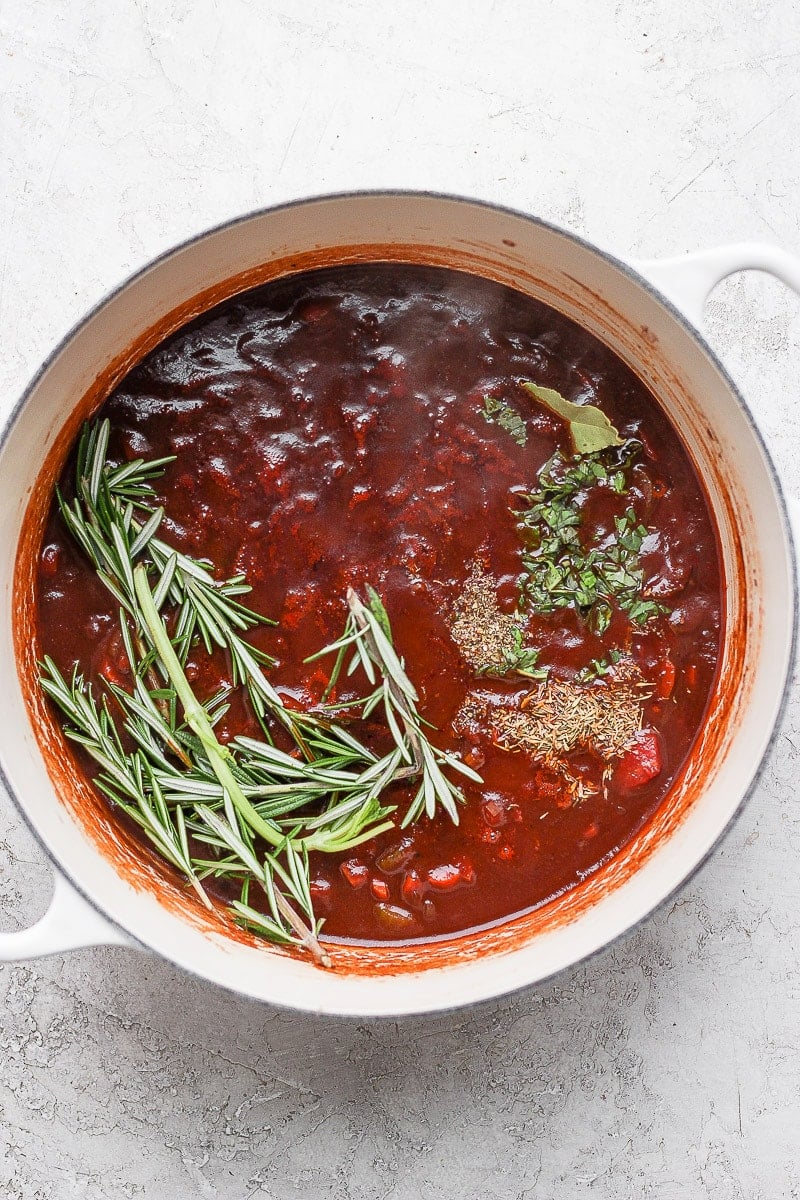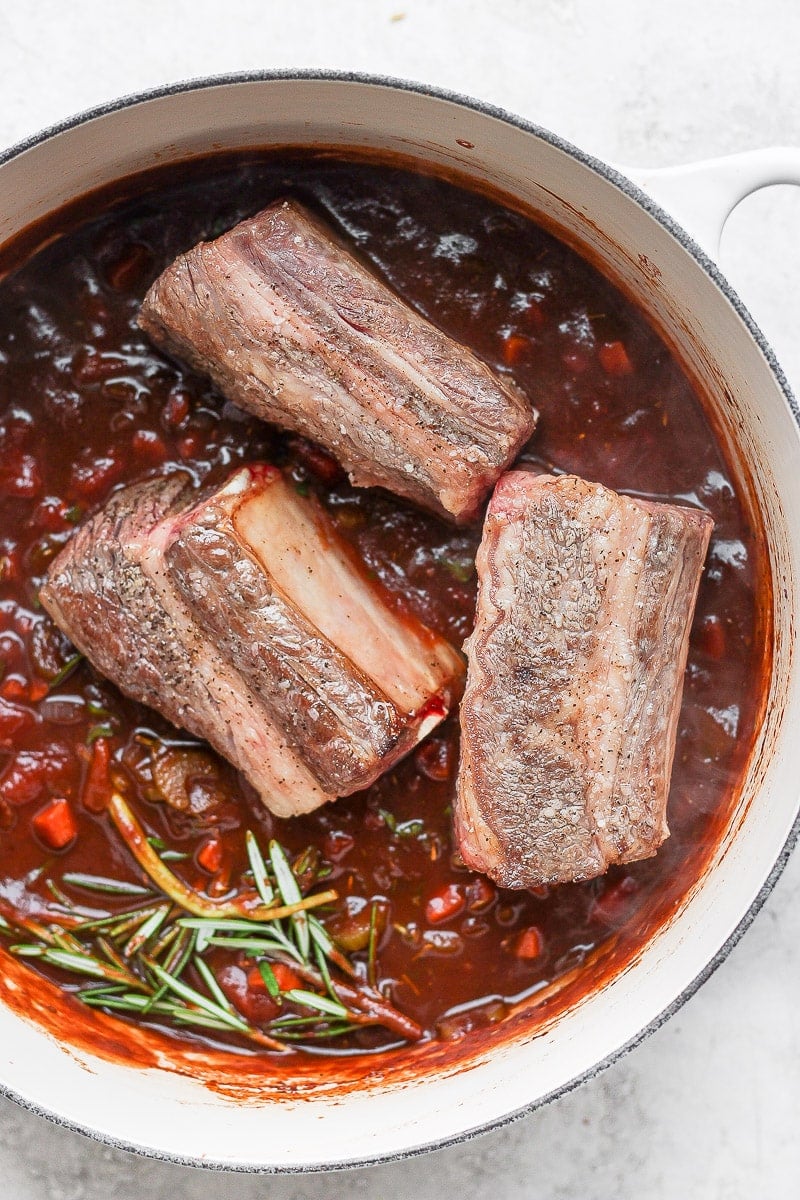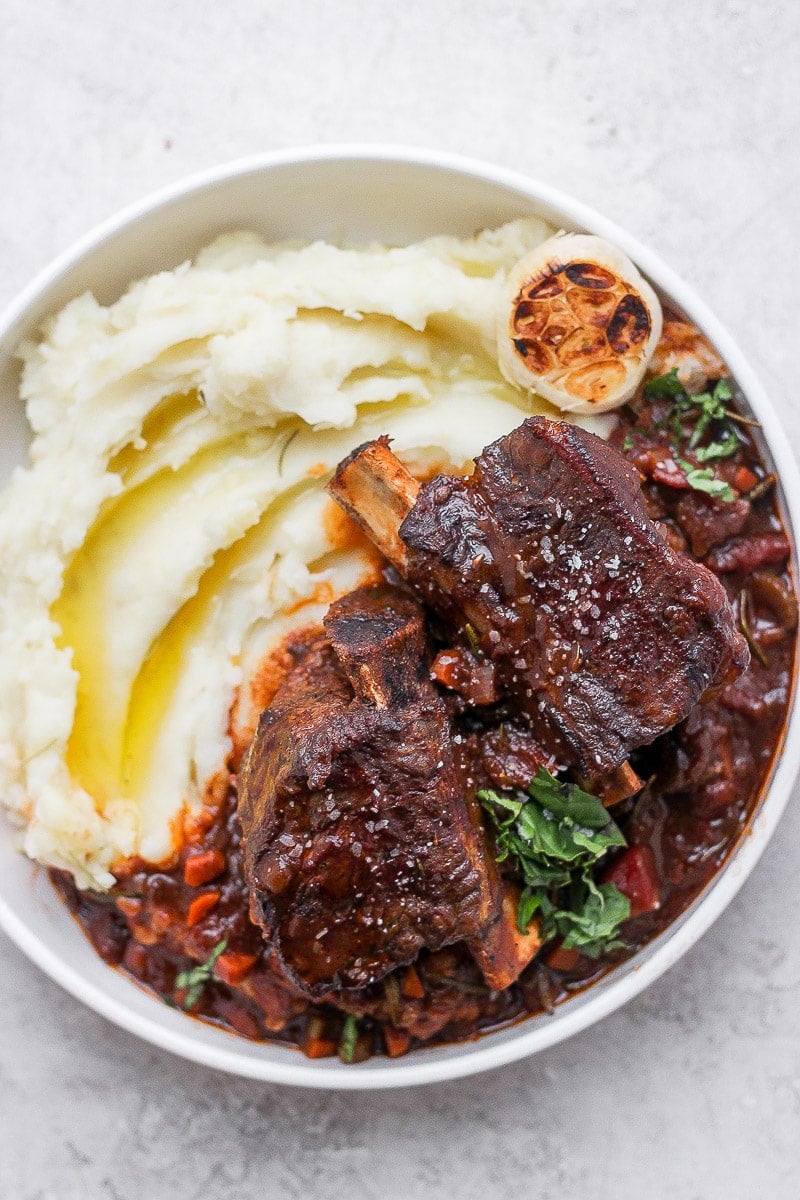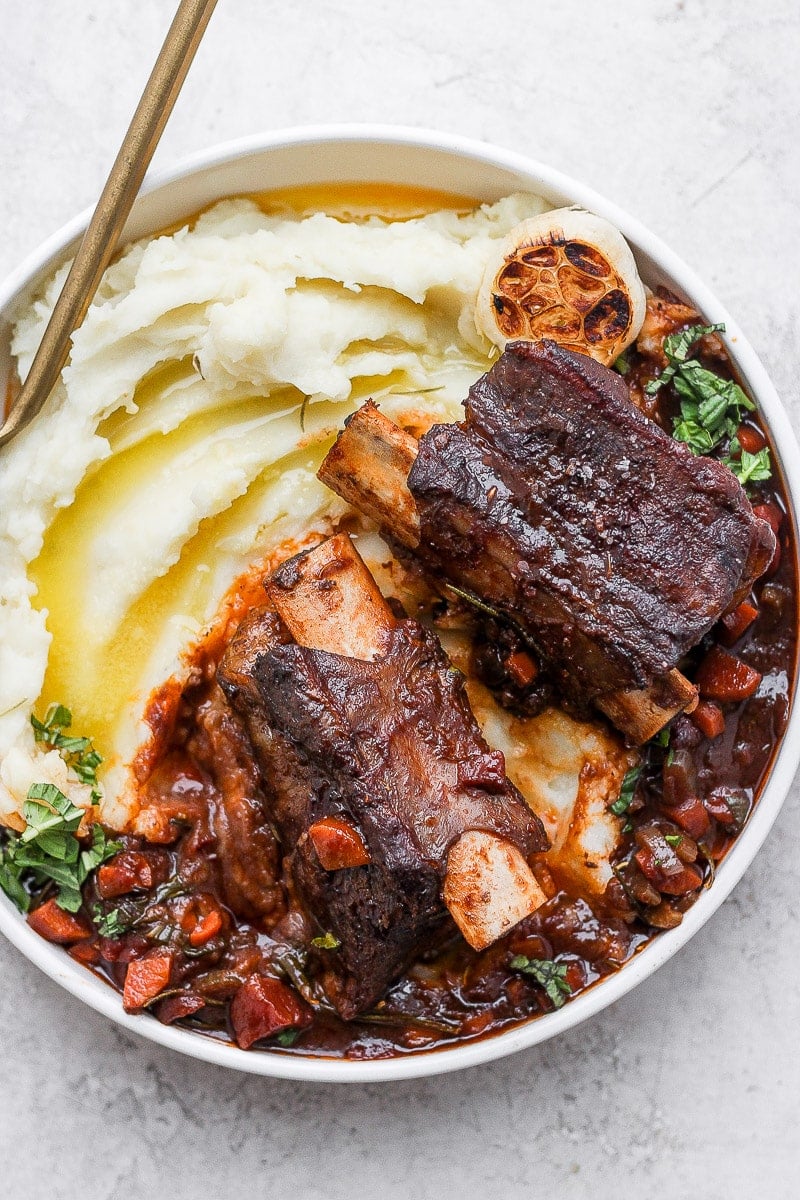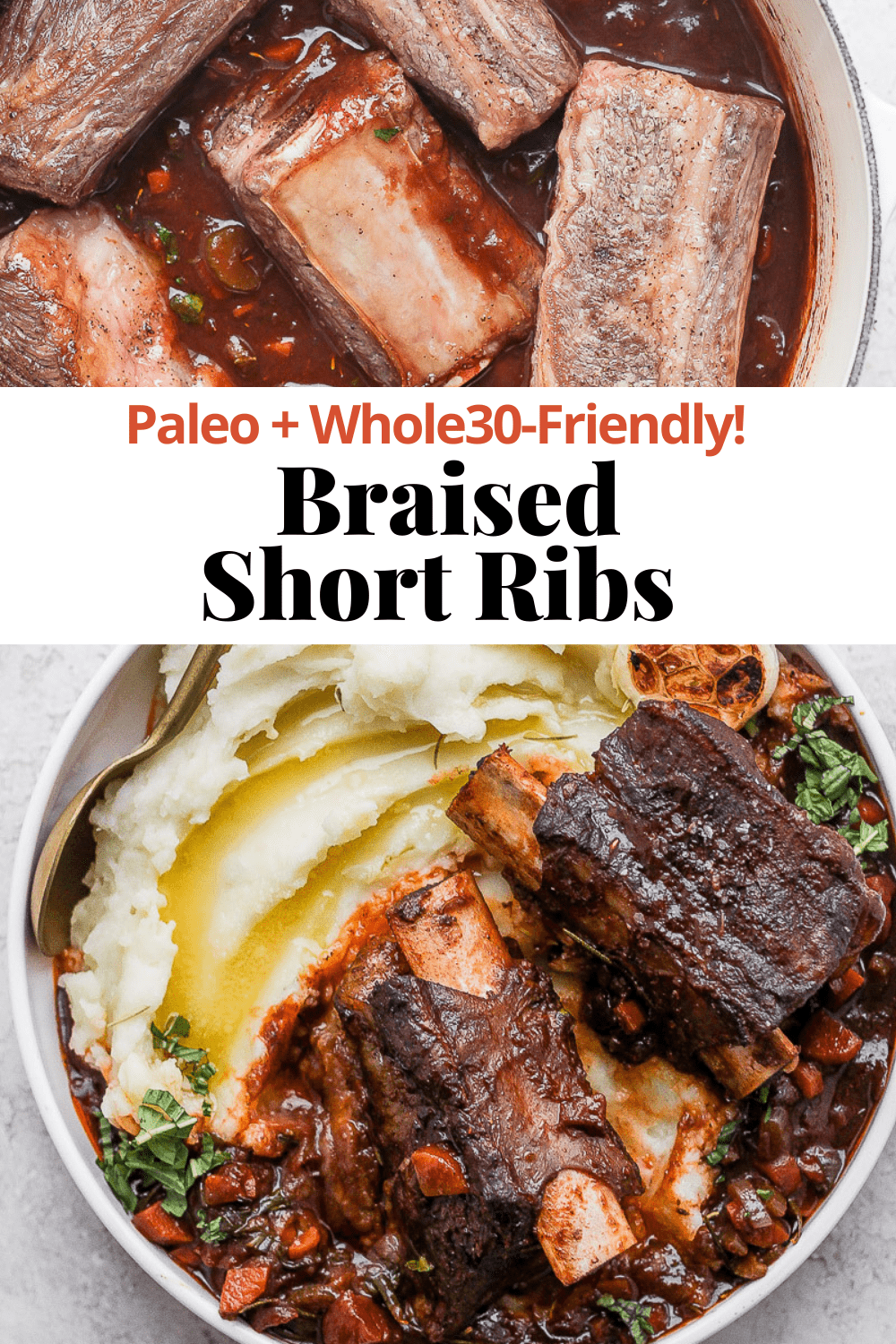 OTHER RECIPES YOU MIGHT LIKE:
Don't forget to check out my Instagram account – Or give me a follow on Facebook or see what I am pinning on Pinterest!
Made this recipe and loved it?! We would love it if you would take a minute and leave a star rating and review – it is also helpful if you made any substitutions or changes to the recipe to share that as well. THANK YOU!
Print
Braised Beef Short Ribs
Author: Erin Jensen
Prep Time: 30 minutes
Cook Time: 3 hours
Total Time: 3 hours 30 minutes
Yield: Serves 4
Category: Dinner
Method: Oven
Cuisine: American
---
Description
Braised Beef Short Ribs – A classic, easy braised short rib recipe!
---
8 Country Natural Beef beef short ribs (English cut)
1 tablespoon kosher salt
1 tablespoon garlic, minced
1 tablespoon ground black pepper
1 tablespoon fennel seed
2 tablespoons olive oil
1/3 cup celery, finely chopped
1/2 cup carrots, finely chopped
1/3 cup shallots, finely chopped
3 oz tomato paste
1/2 cup diced tomatoes (canned is fine)
1 and 1/4 cup beef broth
1/2 cup pomegranate juice (Whole30) or dry red wine
1 teaspoon chopped garlic
1/2 teaspoon ground oregano
1/2 teaspoon thyme
1/2 teaspoon smoked paprika (or more to taste)
1 tablespoon roughly chopped fresh basil
1/4 teaspoon rosemary
---
Instructions
Preheat oven to 275 degrees F.
Combine salt, pepper and fennel in small bowl.
Rub salt/pepper/fennel mixture all over short ribs (optional: wrap in plastic wrap and let sit for an hour or more)
Add olive oil to dutch oven on med-high heat.
Sear short ribs on all sides
Remove short ribs and place on plate.
In same dutch oven add garlic and move around the pan until it becomes fragrant, about 1 minute.
Add shallots and move those around the pan, allowing them to cook, about 1 minute.
Add celery and carrots and sauté them for about 3 minutes.
Add tomato paste, diced tomatoes, beef broth, red wine, garlic, oregano, thyme, smoked paprika, fresh basil, and rosemary. Stir to ensure any bits of short rib stuck to the bottom come loose.
Let simmer for 10-15 minutes to let reduce.
Add short ribs back into dutch oven with braising liquid.
Place in oven, covered, and let cook for 3-3 1/2 hours, flipping short ribs halfway.
Serve immediately and cover with braising liquid.
---
Notes
Whole30/Paleo: For Whole30/Paleo simply use pomegranate juice instead of red wine and double check those ingredients in whatever beef broth you end up using!
Serving: I would recommend serving with some mashed potatoes! I love the stove-top mashed potatoes or these Instant Pot mashed potatoes!
Keywords: braised beef short ribs
Originally published: Apr 10, 2016