Creamy Horseradish Sauce – a simple and delicious sauce that goes perfectly with steak!!
The next time you make steak …. put this on it. You will thank me!
We are huge fans of steak around here, especially in the summer. A nice grilled steak or even a lovely little pan-fried cut. They really are so simple and delicious. But sometimes you want a little something extra – that is where this sauce comes in. The mixture of horseradish and mayo is just a match made in heaven. Throw it on top of your steak. Dip it. Or make a little steak salad…..
Regardless of how you use it, I know you guys are going to love it! This is something we make ALL the time! It would be perfect for Memorial Day, too!
Okay, this little momma is going to bed – it has been a crazy week, an even busier month and this weekend is no exception! Photo shoots, photo shoots and more photo shoots …… on and we are throwing a 7 year old bday party at our house — wish us luck!
Happy Friday, guys!!
Don't forget to follow me on Facebook, check out my Instagram account or see what I am pinning on Pinterest!
Love,
E
Print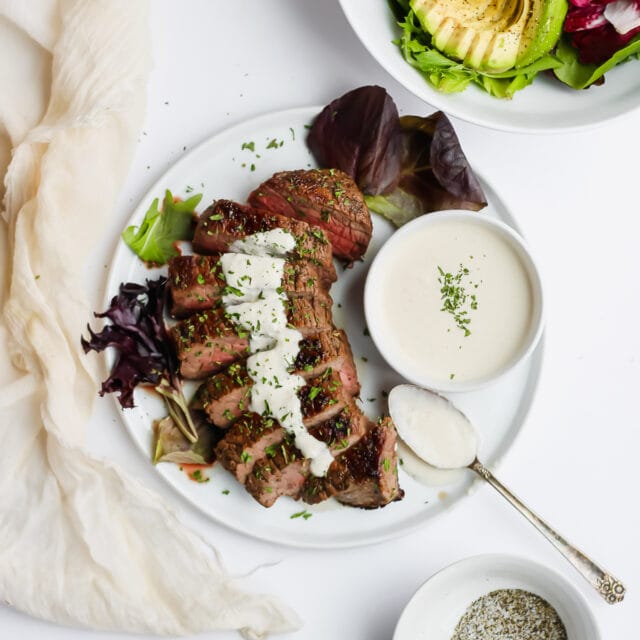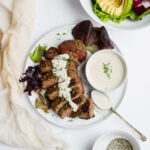 Creamy Horseradish Sauce (Paleo/Whole30)
Author: Erin
Yield: Approx. 1 1/4 cups
Category: Sauce
Cuisine: American
---
Description
A simple and delicious sauce that goes perfectly with steak!!
---
2/3 cup + 1 Tablespoon compliant mayo
1/2 cup prepared horseradish
1 Teaspoon minced garlic
salt (to taste)
---
Instructions
Combine mayo, prepared horseradish and minced garlic.
Mix thoroughly.
Taste and add salt as needed (depending upon what kind of mayo you use, you might not need to add any salt).
Additionally, if you like your horseradish strong, add additional prepared horseradish, as desired.
---
Thank you so much for reading & supporting The Wooden Skillet! This post contains affiliate links for products I actually use in my own home and personally recommend. Should you make a purchase using one of these links, The Wooden Skillet will earn a small commission at no extra cost to you, which helps me continue to bring you great original content. Thank you!