How to Grill a Perfect Steak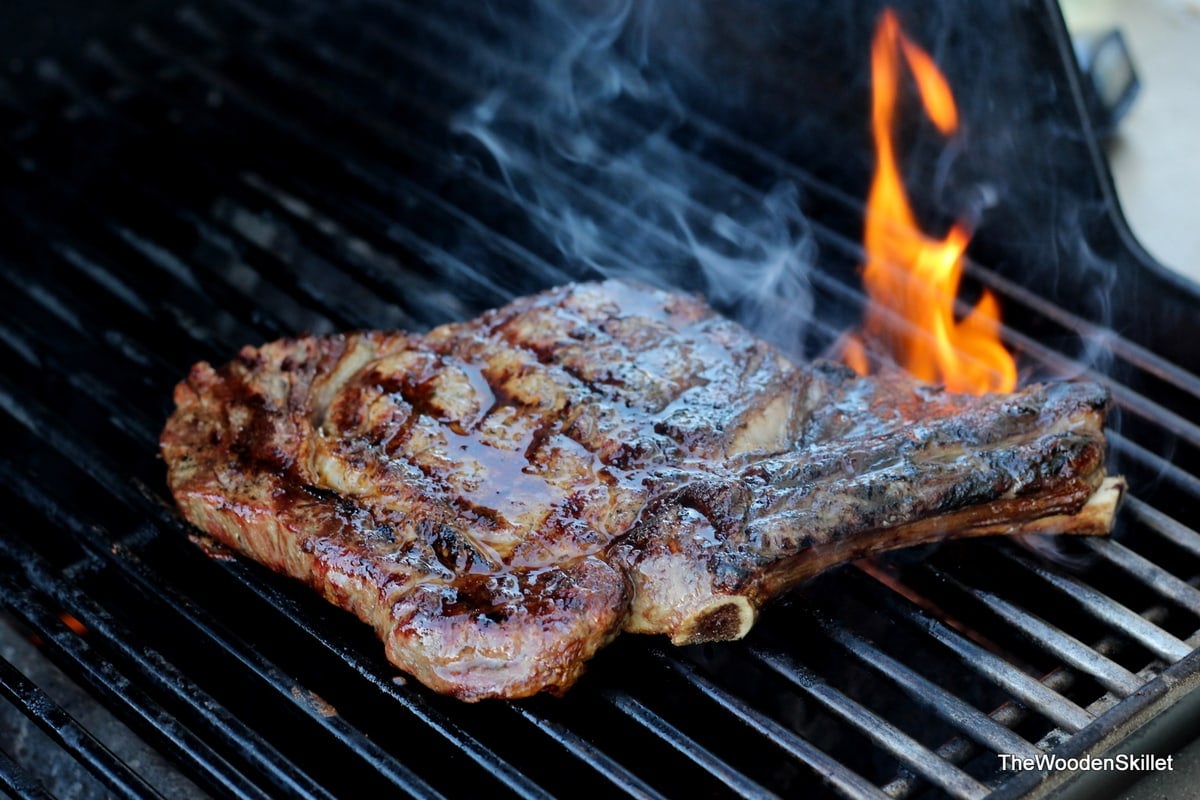 Ahhhhh…. Memorial Day Weekend (cue sip of beer) is here! What are you guys doing this weekend? Maybe more importantly, what are you cooking this weekend? Is steak on the menu? Cause it should be. A perfectly grilled steak is the key to a great cookout and you need to know how to make one. Don't let the grill intimidate you! It is easier than you think….
How to Grill Steak Perfectly:
First you are going to want to pick your cut of meat. Now, everyone loves a good filet mignon, I am not exception. The other go-to is a New York Strip – classic. But, my absolute favorite is a ribeye. There is just enough fat marbled through it that it marinates itself as it cooks and stays incredibly moist and tender. The flavor is amazing. It is my go-to. Go grab a 1 inch ribeye for you and whoever else you are having over…..
Next, after you go out and grab your cut of meat, you are going to want to let it come to room temp before you season your meat. Just salt and pepper people. You don't need to reinvent the wheel. But first, take a fork and pierce the meat all over – fat and everything. Then sprinkle with salt and ground black pepper; on both sides – enough that it will be nicely seasoned, but not over-powered with either.
The best grill brush:
Make sure you grill is clean! If you don't have a good grill brush, go get anything Weber – always dependable and good quality – Here is a link to a Weber grill brush I recommend.
The best meat thermometer:
You should also really have a dependable meat thermometer – again, I have to recommend Weber. Easy to use, dependable and high quality. Here is a good grill thermometer!
After you have cleaned your grill thoroughly with your brush, spray it with a grill-worthy non-stick spray and then turn it up to 450-500.
Place steak over direct heat to sear – let it stay over direct heat for 2 minutes. Right after your steak hits the grill, shut it immediately and drop the temp down to 400. After 2 minutes, rotate 90 degrees (that's show you get the sweet grill marks) and leave it for 2 additional minutes. If you are cooking a fattier meat, like a ribeye, you will probably want to move the steak over to indirect heat at this time. Leaner meats, like a New York Strip or Filet should be left over direct heat the entire time.
Then flip the steak over and let cook for an additional 3 minutes – then check with your meat thermometer (stick the probe into the side of the steak, not on top!). Possibly let cook for another 1 minute or so – for medium rare you are looking for an internal temp of 130-135; for medium you want 135-140. If you want it medium well or your steak is thicker than 1 inch, you may just need to keep on indirect heat a bit longer – medium well you want 140-150.
Remove from grill and let rest for 4 minutes, preferably on a separate plate as the juices will be flowing. Steak wasn't meant to be eaten piping hot.
As my grill-master husband says, "If you are lookin, you ain't cookin." True. A.K.A. – keep your grill lid down!
Other tips: If you cooking a fattier meat, like my beloved ribeye, you need to be extra careful of flare-ups. If you are having issues, keep a water bottle nearby and don't be afraid to spray your flames to keep them tamed or, if that isn't working, move your steak over the indirect heat sooner.
So yummy.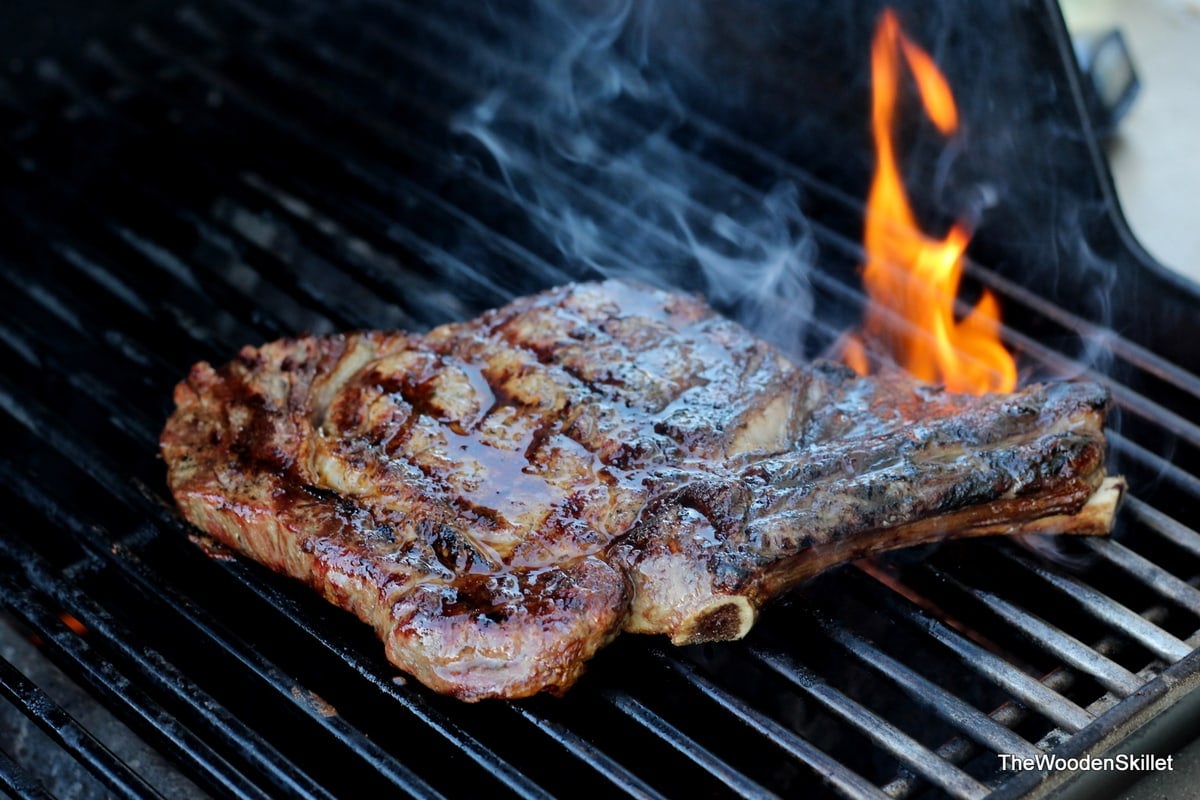 Let me know if you have any other awesome grill tips!
Don't forget to follow me on Facebook, check out my Instagram account or see what I am pinning on Pinterest!
Love,
E
Print
How to Grill a Perfect Steak
Author: Erin
Prep Time: 10 mins
Cook Time: 8 mins
Total Time: 18 mins
Yield: 2 steaks
Category: Entree
Method: Gas Grill
Cuisine: American
---
Description
A step-by-step tutorial on how to grill the perfect steak every time!
---
(2) 1inch thick ribeye steaks
Salt
Ground black pepper
A LP gas grill
---
Instructions
Clean grill and turn temperature up to 450-500 degrees.
Let steaks come to room temperature.
Pierce repeatedly all over with fork on both sides.
Sprinkle salt and pepper over both sides.
Place steaks directly over heat, close grill and drop temperature down to 400.
Let steaks cook for 2 minutes.
Rotate steaks 90 degrees and move to indirect heat if steak is very fatty. If not having flare-up issues, it can stay on direct. You can always move to indirect at a later time if need be.
Let cook 2 more minutes.
Flip steaks over and let cook 3 minutes.
Then check steaks for temperature reading. (Medium -rare will most likely be taken off at this point).
If haven't reached desired temperature, let cook an additional 1 minute.
Remove from grill and let rest for 4 minutes.
---
Keywords: grill, steak, tutorial
Notice: This post contains Affiliate Links. I only post links to products I have used myself and can personally vouch for.