Perfectly Crispy Potato Wedges – the perfect addition to any meal (Whole30)!
These Perfectly Crispy Potato Wedges are the BEST you guys! So simple to make and so satisfying!!
Sometimes you just need a good french fry, am I right?! I have always been a huge fan of homemade, baked French fries (or sweet potato sticks)- to me, they taste even better than any deep-fried French fry you can buy. (don't get me wrong, there is a time and place for those too!) But more often than not, when we are home and making dinner for my family, this is what I want to be serving. It took a couple tries, but I got the perfect recipe to get that crispy outside, but soft and delicious inside. And that perfect wedge shape. You guys are seriously going to love these!!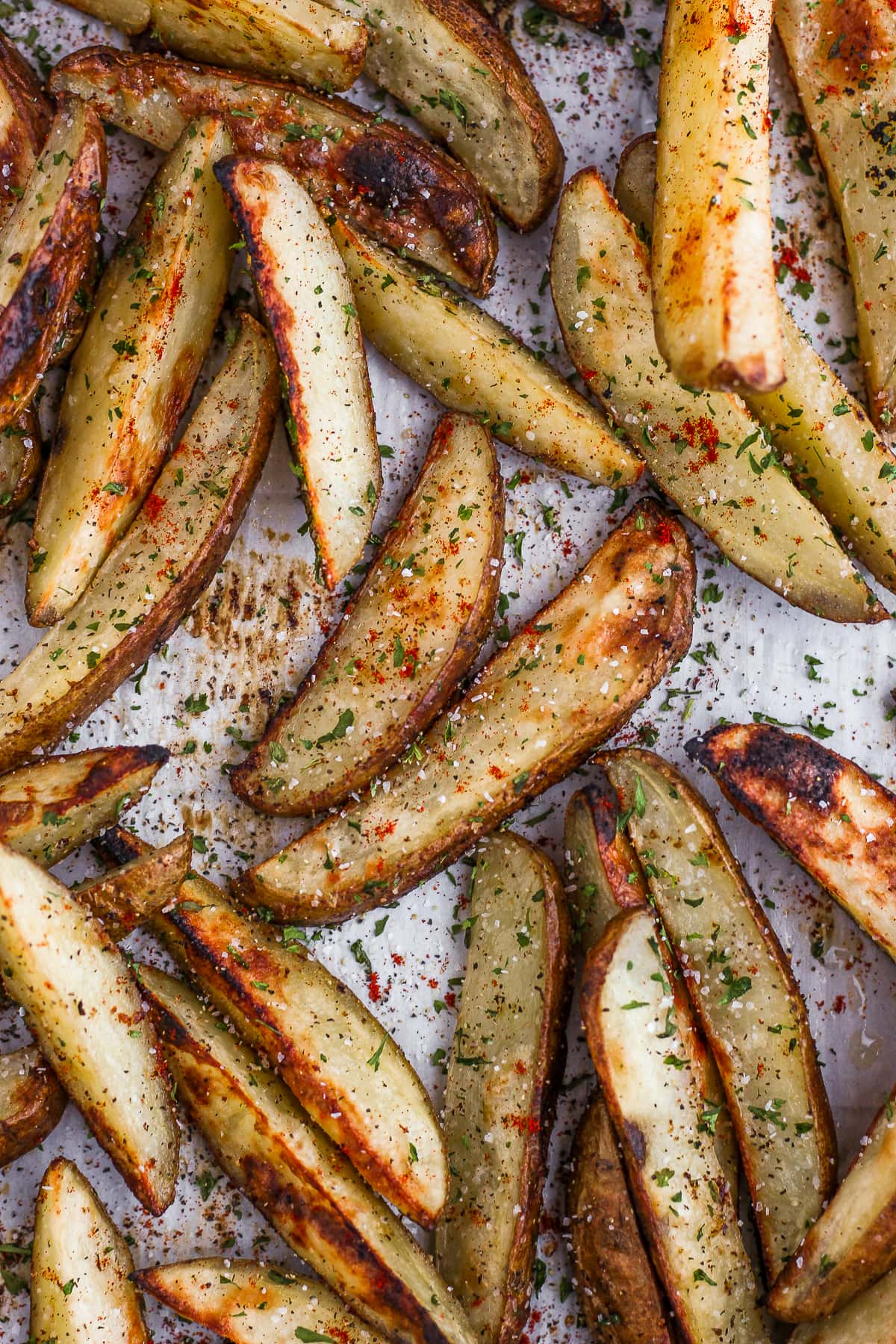 I hope you guys are having an awesome week! I have been a little slow on getting recipes out this week – just taking a little extra time to rest up. Buuuuut, next week is my birthday week so you know I will have some fun things in store for you guys!!! Stay tuned!
Don't forget to follow me on Facebook, check out my Instagram account or see what I am pinning on Pinterest!
Love,
E
Print
Perfectly Crispy Potato Wedges
Author: Erin
Yield: Approx. 6-8 servings
Category: Side Dish
Method: Oven
Cuisine: American
---
Description
Simple, satisfying, and easy-to-make crispy potato wedges that everyone will love!
---
4 Russet Potatoes (cut in half lengthwise, then cut both halves in half and then cut the quarters in half again)
2 Tablespoons olive oil (or avocado)
1 Tablespoon garlic powder (more to taste)
1 Tablespoon kosher salt
1 Tablespoon ground black pepper
1/2 Tablespoon ground paprika
2 Tablespoons dried parsley
---
Instructions
Preheat oven to 400.
Place potato wedges in large bowl and toss with olive oil as well as the salt, pepper, garlic powder, pepper and paprika.
Place wedges on foil or parchment lined cookie sheet.
Sprinkle with the dried parsley.
Bake for 35 minutes (or until the potatoes are just to turn brown.
Then place under the broiler (on high) for 2-3 minutes increments (watch VERY closely so they don't burn), tossing and flipping after each increment, until all sides start to brown.
Once done, sprinkle with additional salt, garlic powder, paprika or parsley.
Serve immediately with your favorite dipping sauce!
---
Thank you so much for reading & supporting The Wooden Skillet! This post contains affiliate links for products I actually use in my own home and personally recommend. Should you make a purchase using one of these links, The Wooden Skillet will earn a small commission at no extra cost to you, which helps me continue to bring you great original content. Thank you!