These seven layer bars are the most decadent and delicious dessert – you won't even be able to tell they are dairy-free/vegan/gluten-free friendly!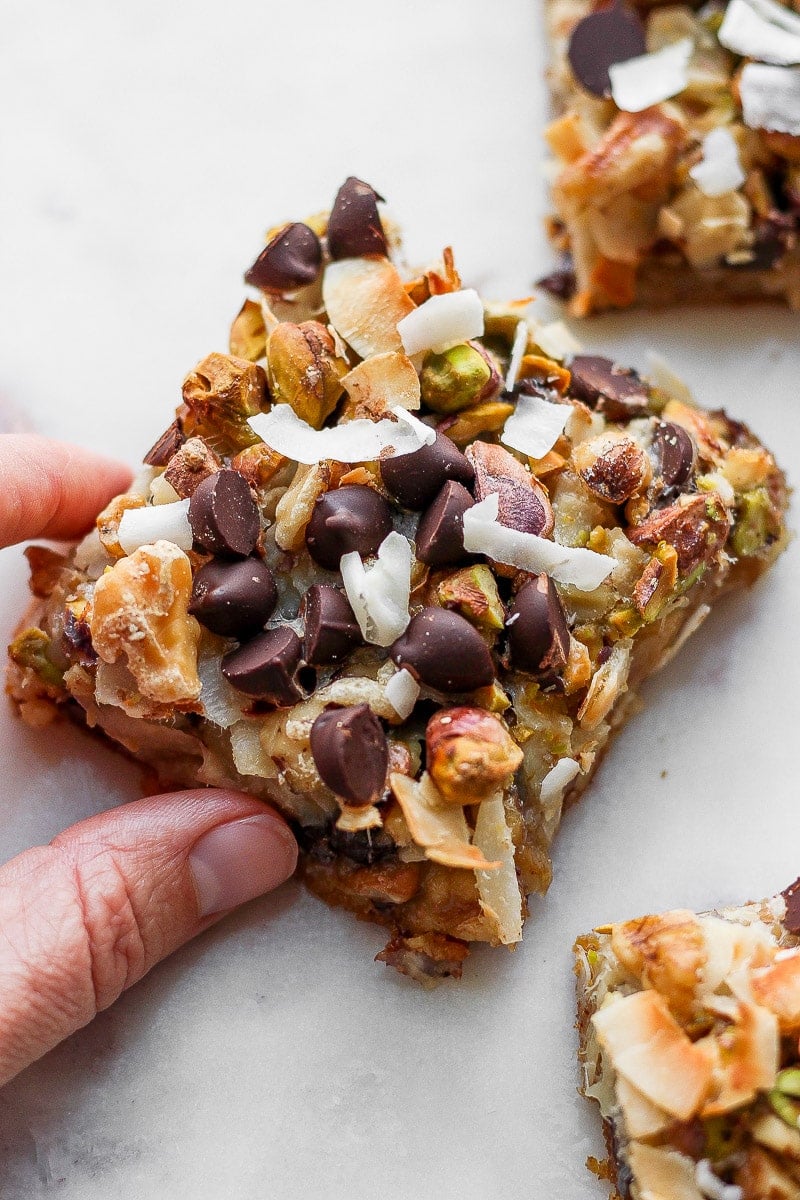 Best Ever Seven Layer Bars
A little twist on a classic recipe!
Now, I am not saying I have made these so healthy you should have one for breakfast (but you guys know I don't judge), but the ingredients will be a little less jarring on your system. I changed out the sweetened condensed milk for a dairy-free version and I couldn't even tell the difference in the final product. I also changed out the coconut for the unsweetened kind (again, you ultimately can't tell the difference). And, while I still used graham crackers (I recommend a healthier brand such as Annie's), I swapped out the butter for vegan butter. And I omitted the butterscotch chips all together – maybe if someone came up with an almond-butter chip or even a 100% peanut butter chip that would okay, but I couldn't find anything like that! They turned out SO GOOD!
What you will need:
graham crackers (use gluten-free if you want)
vegan butter (measure solid, not melted)
dairy-free chocolate chips
crushed pistachios
crushed walnuts
unsweetened coconut flakes
Dairy-Free Sweetened Condensed Milk
For this recipe I just used this brand of dairy-free sweetened condensed coconut milk . You can make dairy-free sweetened condensed milk on your own (there are lots of great recipes out there, but this is what I used to test this recipe with!
Gluten-Free Option
Feel free to use some gluten-free graham crackers in place of regular ones!
How to Make Seven Layer Bars
Step 1: Combine vegan butter and graham crackers.
Step 2: Add to parchment-lined pan.
Step 3: Press down, bake and then let cool.
Step 4: Add toppings.
Step 5: Pour dairy-free sweetened condensed milk over top.
Step 6: Add more toppings on top of that.
Step 7: bake.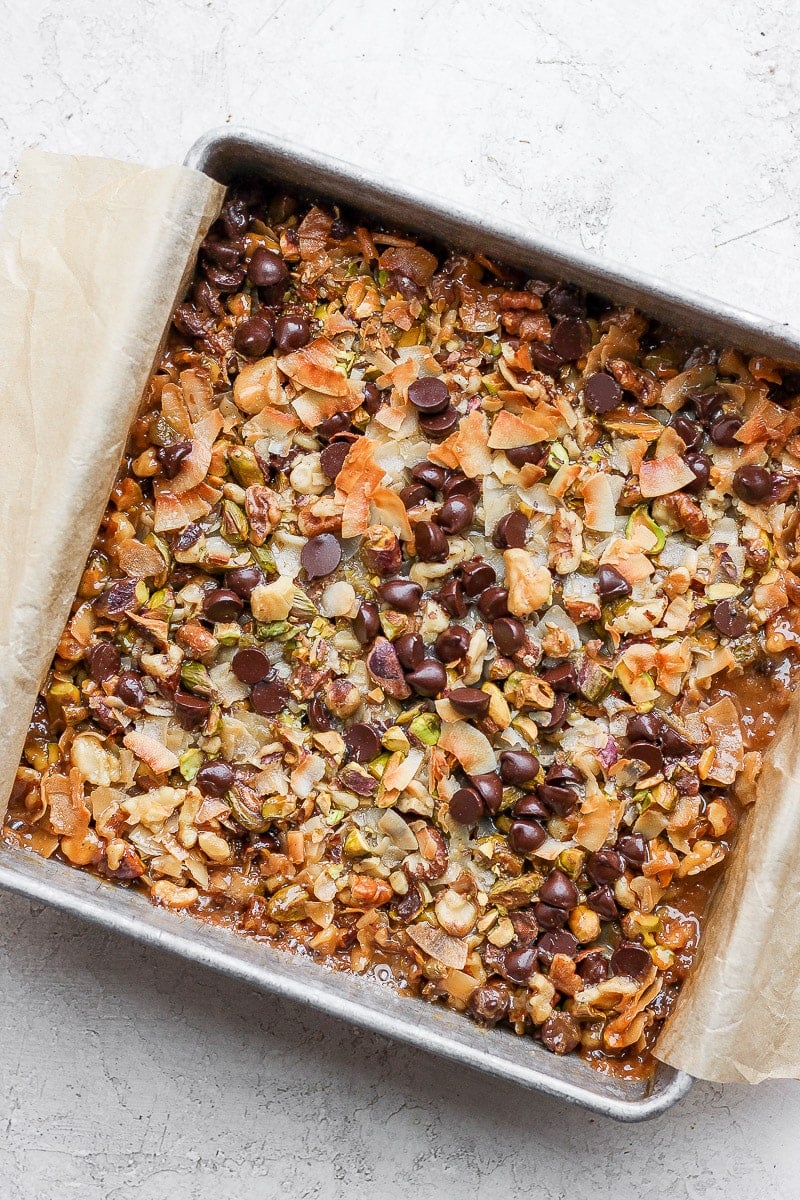 Step 8: let cool and then pull out by the parchment tabs on each side.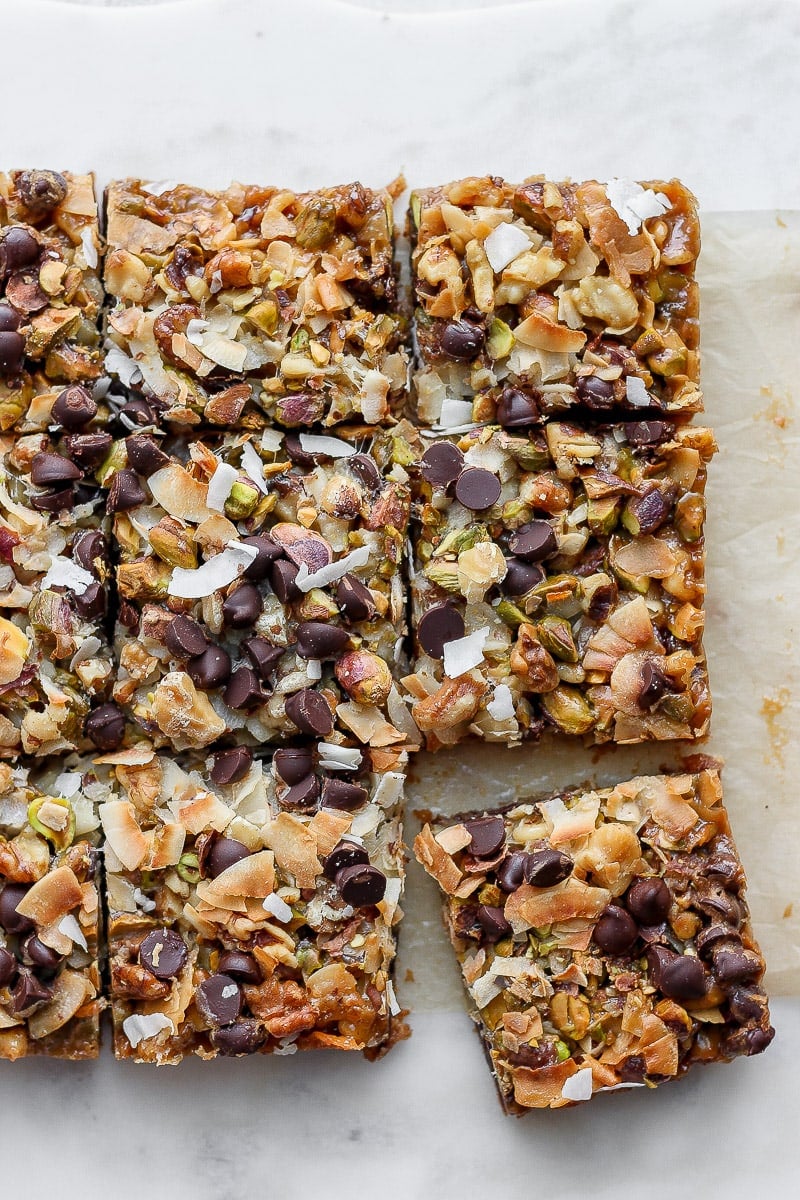 Enjoy!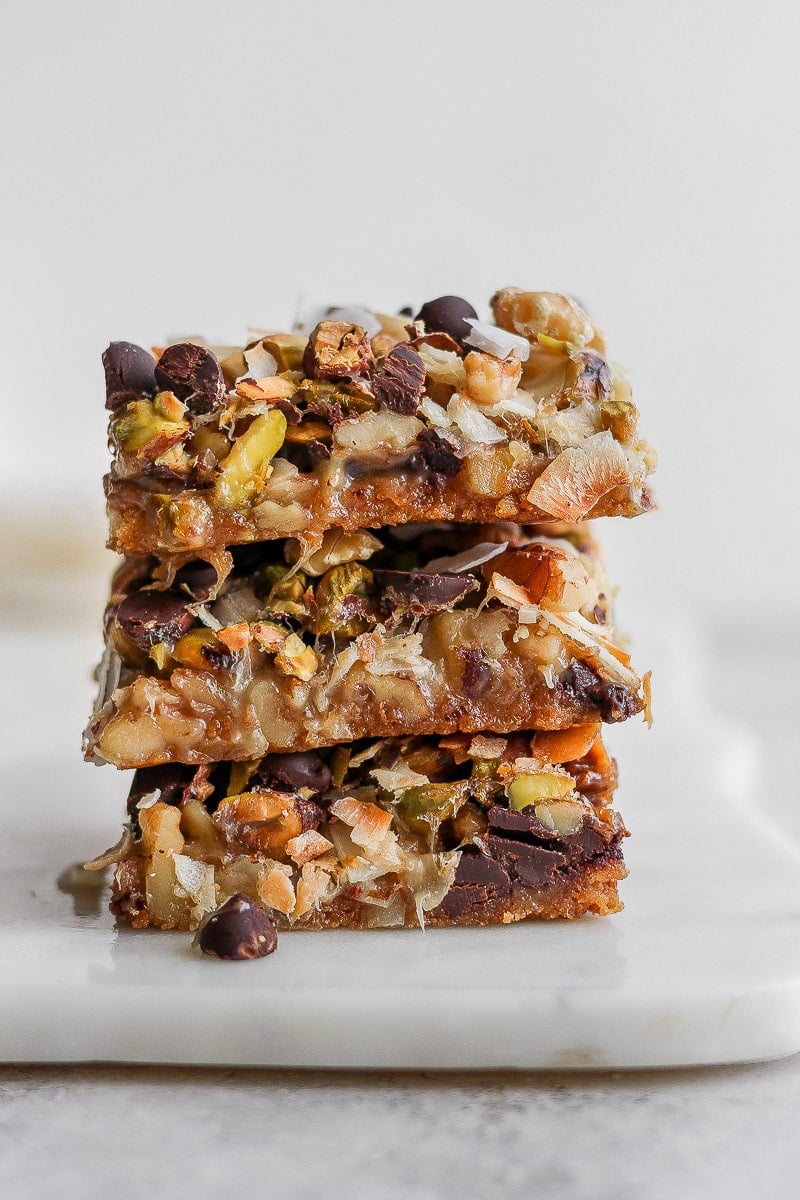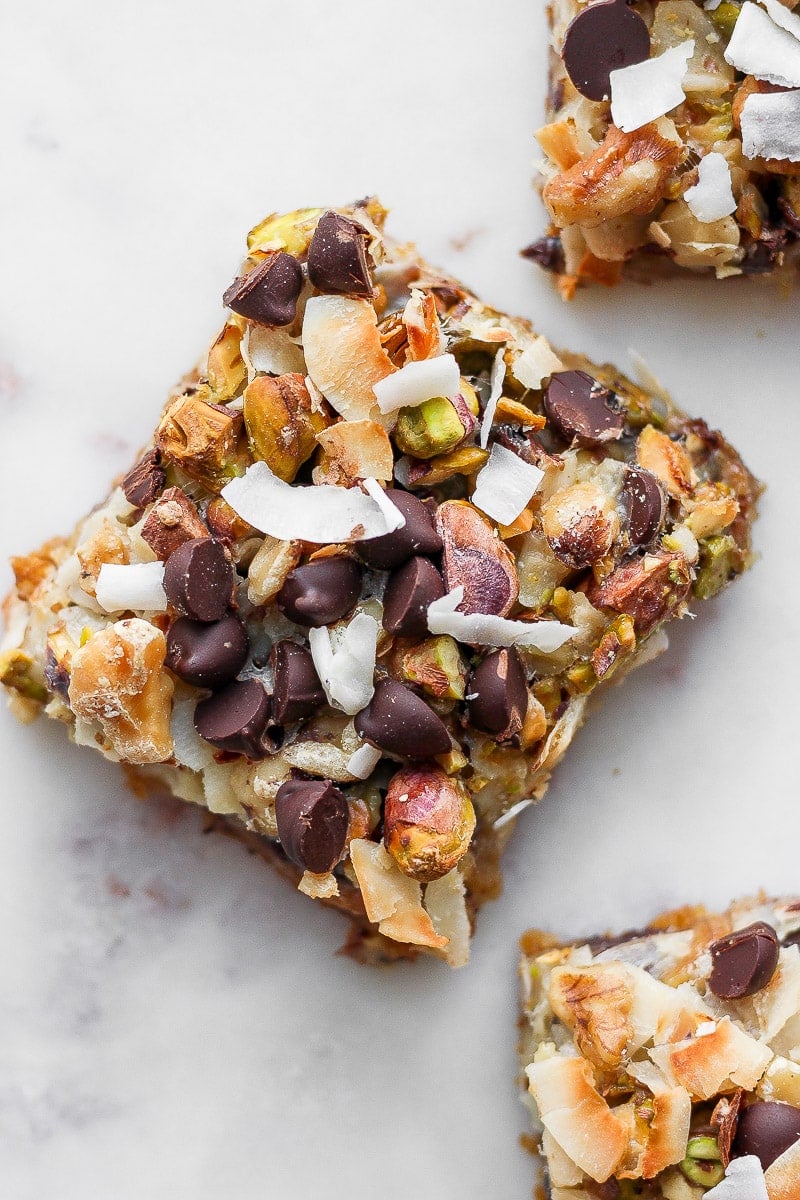 Other recipes you might like:
Don't forget to check out my Instagram account for some behind-the-scenes action! Or give me a follow on Facebook or see what I am pinning on Pinterest!
Print
Seven Layer Bars
Author: Erin Jensen
Prep Time: 20 minutes
Cook Time: 25 minutes
Total Time: 45 minutes
Yield: 9 servings 1x
Category: Dessert
Method: Oven
Cuisine: American
---
Description
Seven Layer Bars (Vegan + Gluten-Free Friendly) – The most decadent and delicious dessert – you won't even be able to tell they are dairy-free/vegan!
---
Crust:
1 1/4 cup crushed graham crackers, gluten-free
1/2 cup vegan butter, melted (measure solid, not melted)
Topping:
---
Instructions
Preheat oven to 350 degrees F.
Cut a piece of parchment that will fit across your pan with parts overhanging on each side – these will allow you to pop out the bars after they have cooled.
Combine crushed graham crackers and melted vegan butter in a small bowl.
Pour into 8×8 or 9×9 pan (with parchment) and press firmly into the bottom, ensuring it covers the entire pan.
Bake for 10 minutes and let cool. I recommend placing in the fridge for 10 minutes so it cools faster.
Layer coconut flakes, chocolate chips and pistachios on top, leaving a small amount of each item to sprinkle on the top later.
Pour dairy-free sweetened condensed milk on top, spreading it to make sure it covers everything evenly, and then sprinkle your leftover ingredients on top of that.
Bake at 350 degrees F. for 25-30 minutes.
Let cool and then place in fridge to set, preferably overnight.
---
Notes
Dairy-Free Sweetened Condensed Coconut Milk: here what I used in this recipe.
Graham Crackers: If you aren't gluten-free, regular graham crackers work too!
Crust: If after you mix up the crushed graham cracker and the melted vegan butter it feels too wet, just crush up another graham cracker and add it in.
Keywords: seven layer bars, gluten-free seven layer bars