Braised Bok Choy, Leek and Spinach Rice Bowl with Poached Egg is a sophisticated, easy and delicious dish with Asian-inspired flavors that can be an easy weeknight go-to or Saturday Date Night meal!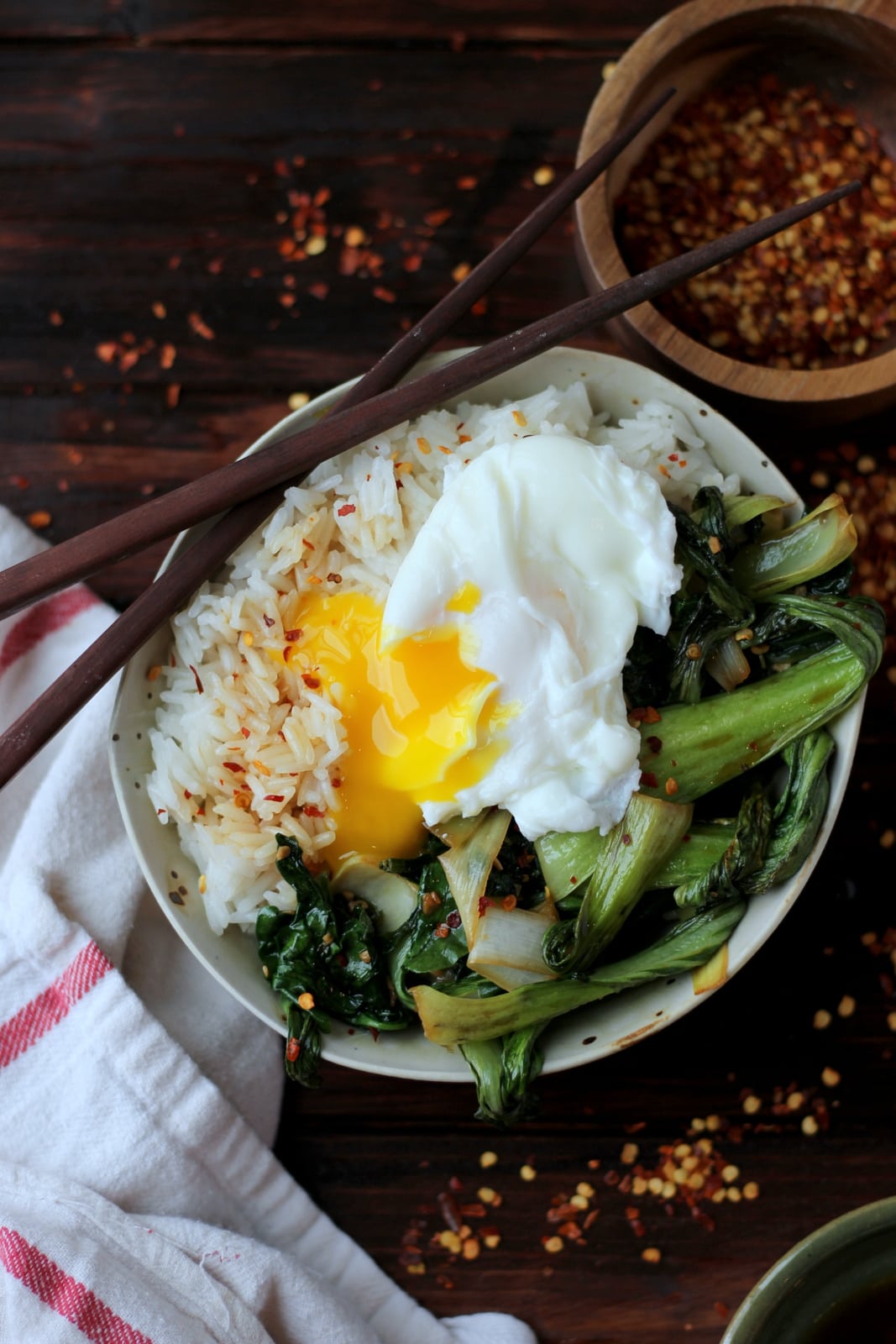 I don't know about you guys, but basically anything that has a poached or fried egg on it – I am all in. Everytime. Pasta, pizza …… and rice. This amazing bowl of jasmine rice with baby bok choy, leeks and spinach all braised together in a wonderful soy sauce/sesame oil mixture with just a leeeeetle bit of red pepper flakes. It really is a simple dish, but it is quickly becoming one of my absolute favorite meals. You gotta try this out this weekend and report back.
I don't know about you guys, but I am so ready for the long weekend. This week has been mentally and physically exhausting with school starting and getting back into a new routine – I am excited to spend some time next to a lake, read a book, drink some coffee and make one of these amazing, nutrient-packed rice bowls to recharge the body and soul.
A quick break-down of this epic rice bowl – you have your jasmine rice, nice and warm and oh-so-yummy. In your skillet, you mix together some olive oil, chopped garlic, sesame oil, soy sauce, red pepper flakes, lemon zest and water. Add your leeks; cover for a few minutes. Then add the baby bok choy and then the spinach is last. Cover for a few minutes, stir, and then simply remove from heat, still covered to keep everything warm. Poach your egg. Grab a bowl and put in some rice, toss in some bok choy/leek/spinach mixture, and place your poached egg on top. Garnish with red pepper flakes and keep extra soy sauce mixture from pan on hand for extra flavor on your rice. You have some crunch from the bok choy, the leek give some onion flavor, garlic and little bite from the red pepper, the sesame oil really adds an Asian-inspiration and then savoriness of the egg – all mixed together it is just heaven. So delicious AND good for you – enjoy!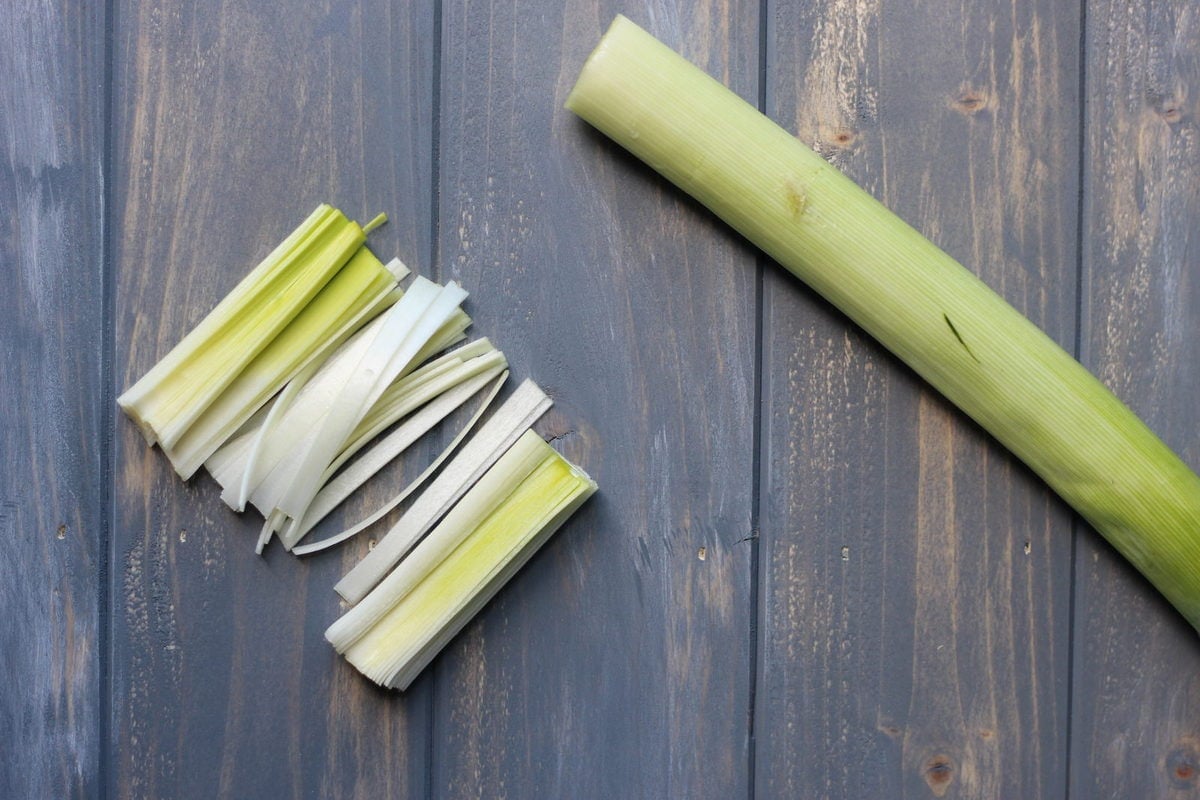 Gotta cut those leeks just right….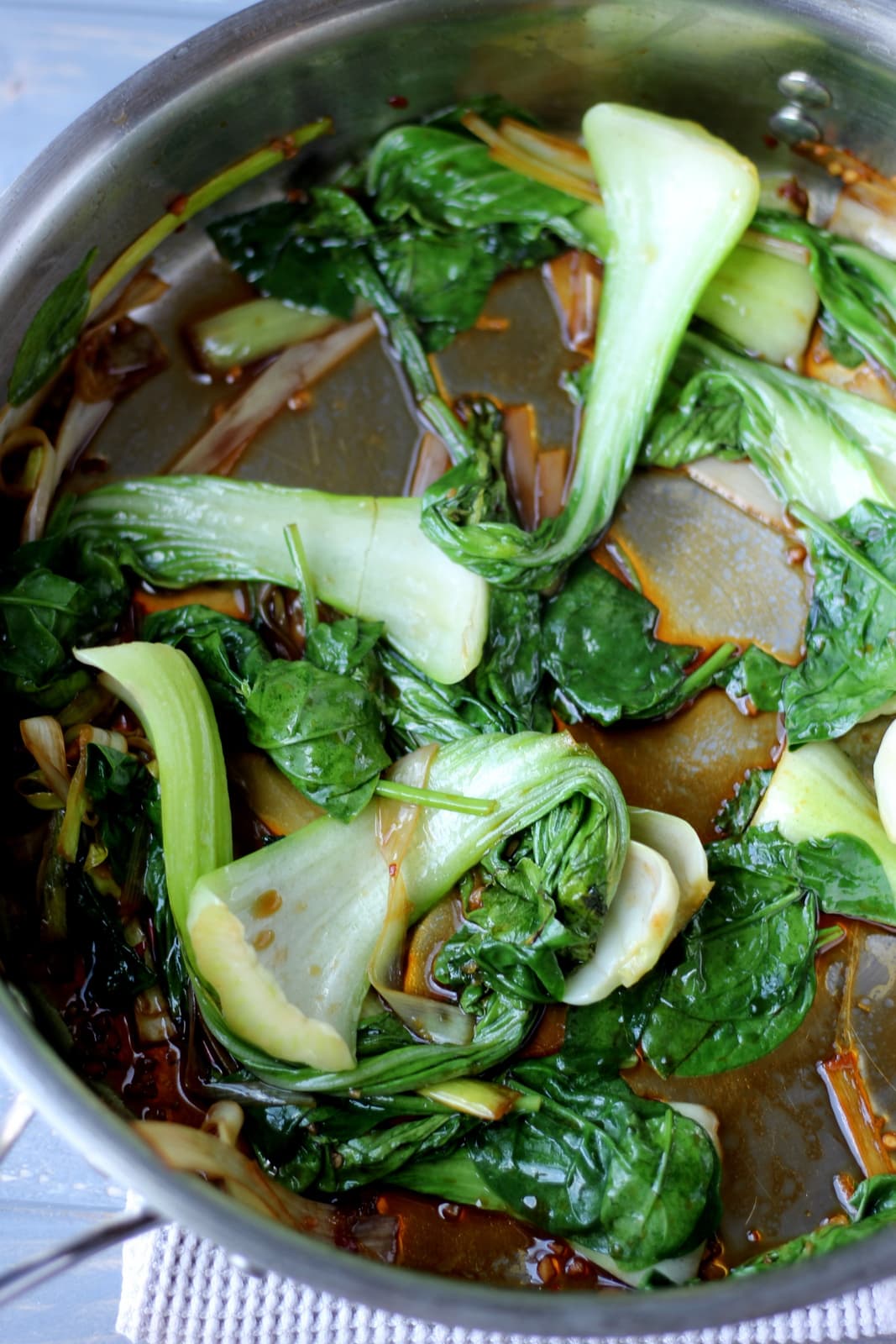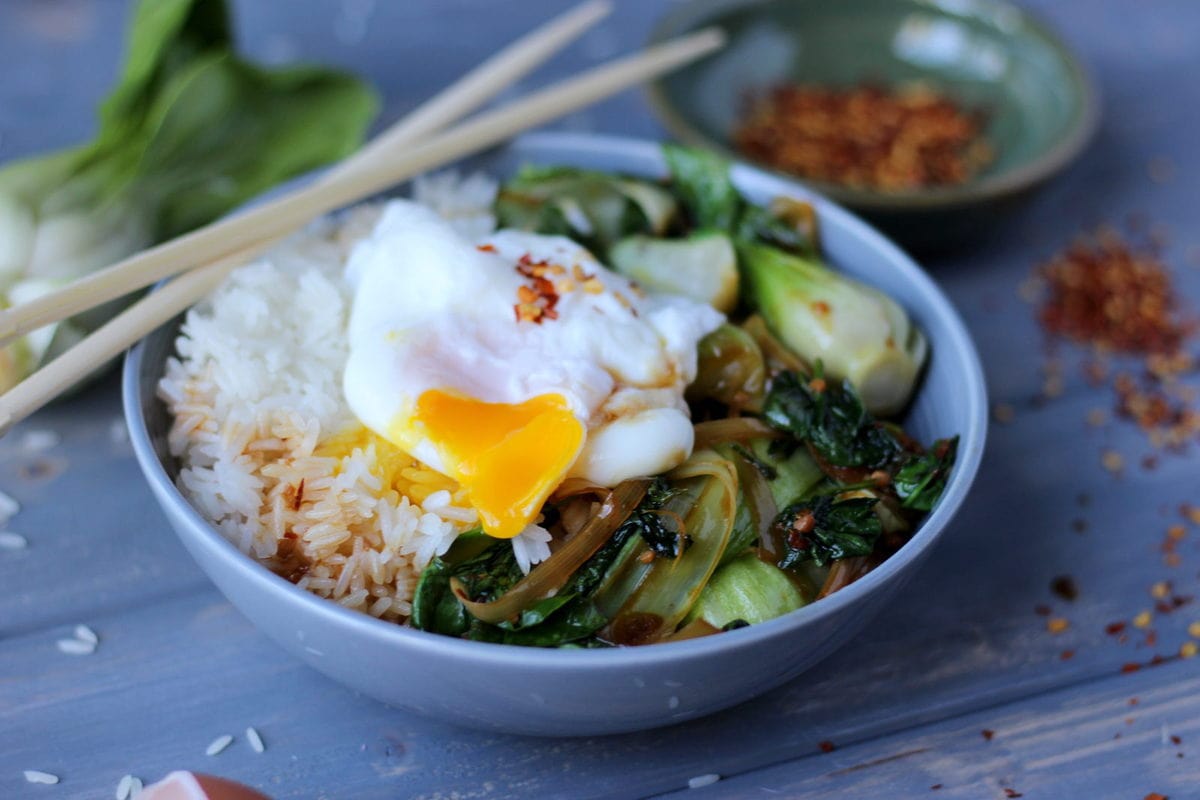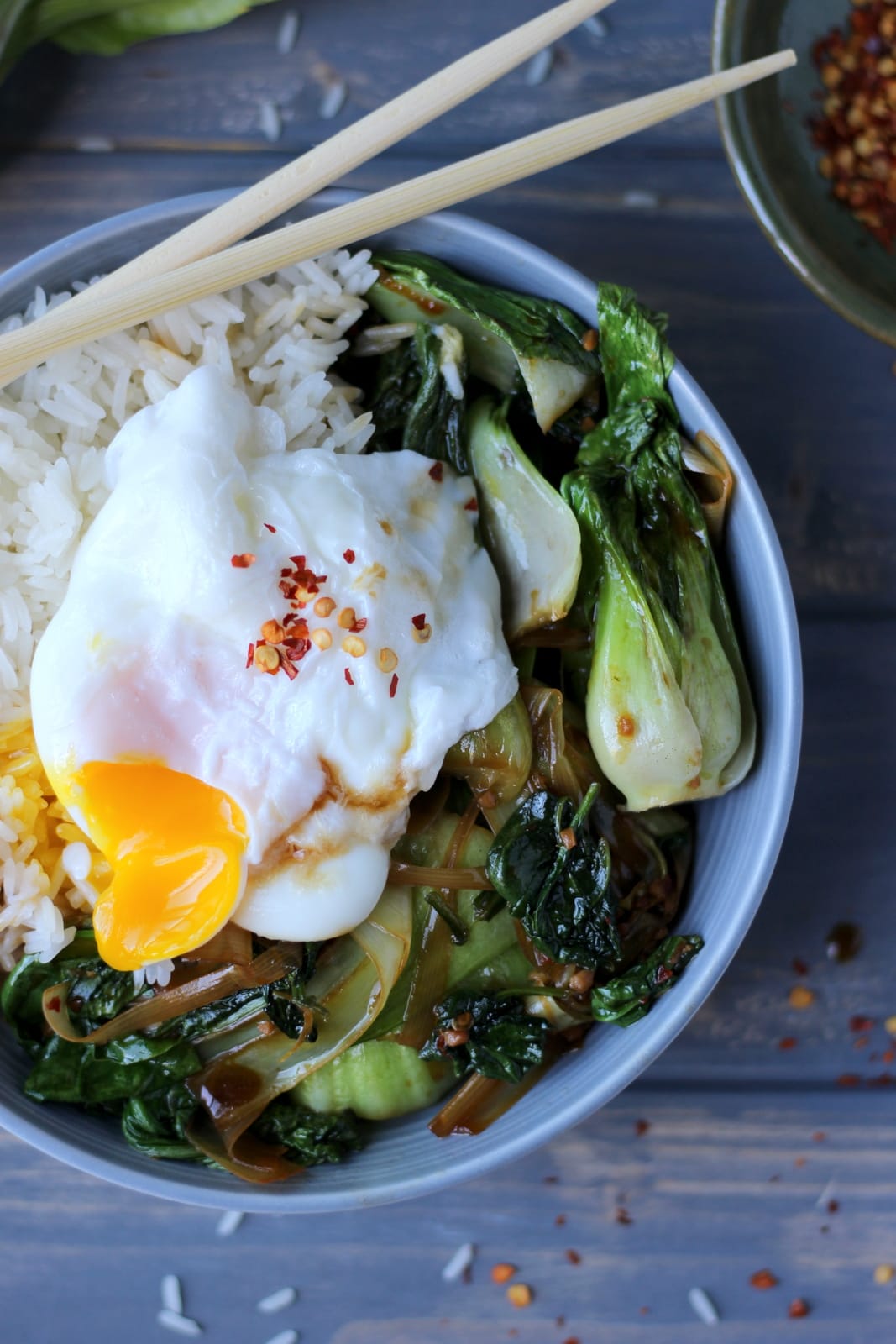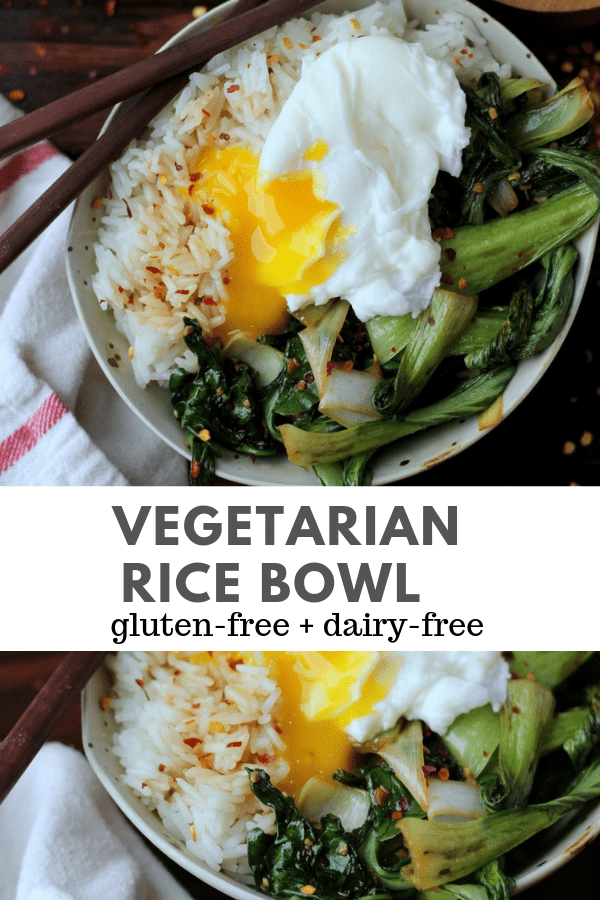 Not sure you know how to poach an egg? Don't worry – we got you covered! Click here for our How-To!
Love Rice Bowls? Don't forget to check out my Spicy Salmon Sushi Bowl – the easy (and possibly best way to eat sushi)!
Print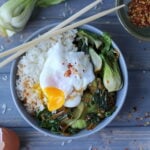 Braised Bok Choy, Leek and Spinach Rice Bowl with Poached Egg
Author: Erin Jensen
Prep Time: 10 minutes
Cook Time: 15 minutes
Total Time: 25 minutes
Yield: 2 rice bowls 1x
Category: Dinner/Entree
Method: Stove Top
Cuisine: American
---
1 1/2 cup leeks [remove outer layer of leek; but stalk into 2 inch sections; cut each section 1/8 strips – so cut each section in half and then take a half and cut 1/4 inch strips out of it]
4 bunches of baby bok choy; clean and then cut off bottom, allow stalks to be separated.
2 cups packed spinach
2 Tablespoons olive oil
2 Teaspoons chopped garlic
6 Tablespoons soy sauce
2 Teaspoons sesame oil
1/2 Teaspoon red pepper flakes (additional for garnish)
1/2 Teaspoon fresh lemon zest
2 Tablespoons water
3 cups cooked jasmine rice
2 poached eggs
---
Instructions
Cook jasmine rice per package instructions.
In small saucepan, heat water so that it is ready and waiting to make poached egg.
In large skillet on medium-high heat, add olive oil and garlic; stir until you can smell the garlic begin to cook.
Add soy sauce, sesame oil, red pepper flakes, lemon zest and water; bring to boil; reduce heat to medium.
Add leeks and stir immediately; cover for 3 minutes.
Remove cover and add bok choy; Stir and then cover for 2 minutes.
Remove cover and add spinach; Stir and cover for 1 minute.
Remove cover and stir again; Cover and turn off heat.
Ensuring water is ready to poach egg, get your bowl ready with about a cup or a cup and a half of rice and some of the bok choy/leek/spinach mixture; then poach your egg (2 minutes per egg in water) and place on top.
Keep any extra soy sauce mixture from the skillet and serve in small bowl to pour onto rice.
Sprinkle with red pepper flakes and serve immediately.
---