How to Poach an Egg – a cooking technique that is utilized in countless recipes and a must-know for every home cook.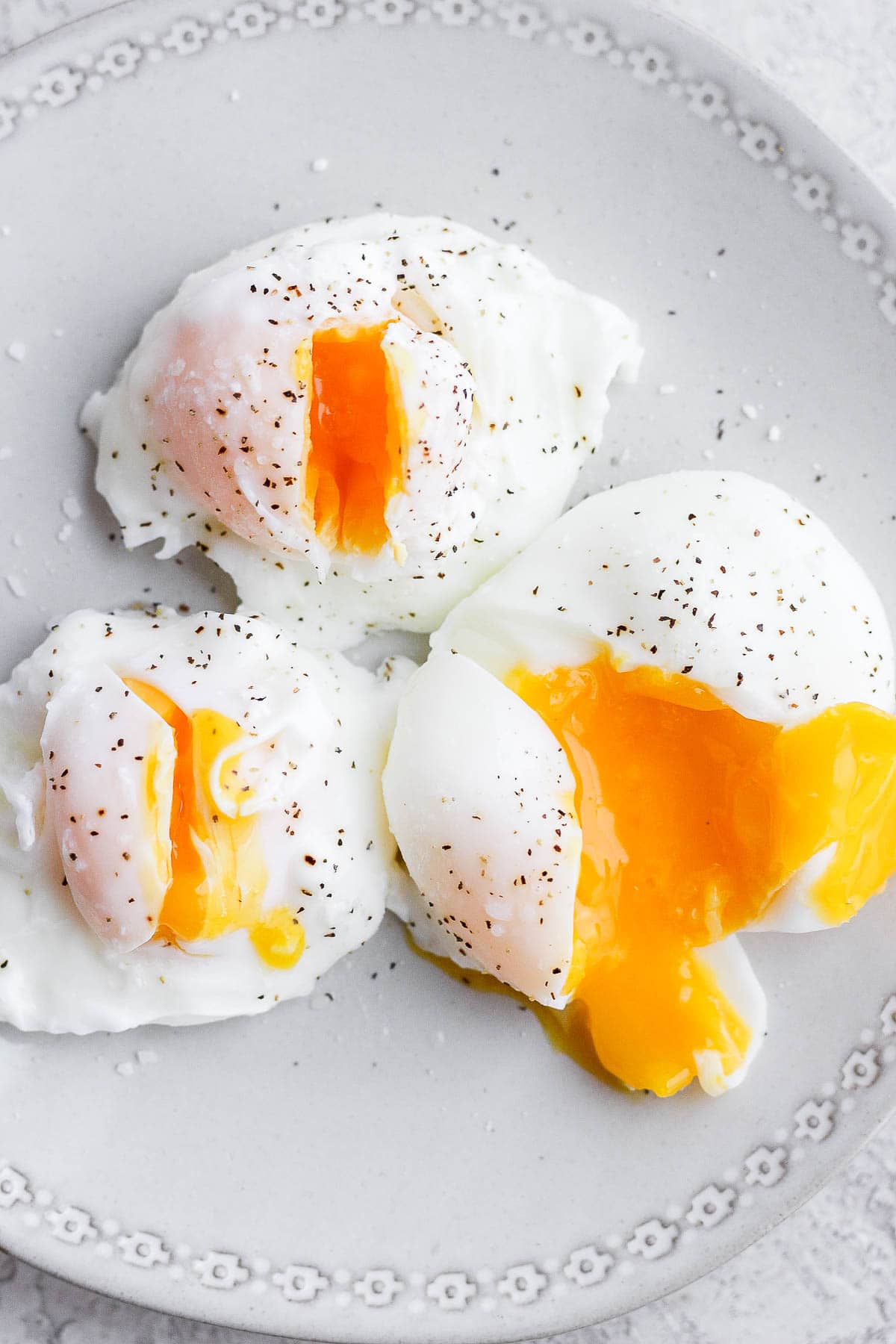 I am going to keep this short and sweet – the quick and dirty on how to poach eggs. You will be surprised at how simple it actually is, but I remember being intimidated the very first time I had to figure out how to make them. Once you try it once or twice, you will never need to look up directions again – promise!
How to Poach an Egg
Crack an egg into a small glass measuring cup (if you don't have one of those, I have honestly just used a small mug before – something that can withstand high water temps and that has a handle on it).
Take a small to medium-sized saucepan and fill it about 2/3 with water. Turn heat up to medium and wait until your water looks like this….
See those bubbles? That means you are ready to go.
Pick up the measuring cup and slowly dip it into the water (carefully). You want to keep the spout up – you do NOT want to just dump out the egg. Slowly let the water fall into the cup, enveloping the egg. You should see the edges of the egg start to turn white as it immediately starts to cook. I usually hold the cup like this for about 10-15 seconds. Then slowly, very slowly, pour out the egg into the water. Set your timer for 3 minutes.
Repeat with additional eggs if you want.
Wait 3-4 minutes until the egg looks like this:
You can, of course, cook your egg longer or shorter, depending upon what you want. 3-4 minutes almost always result in a very runny yolk, but not slimy (you know what I am talking about). Go longer than that and your yolk will cook more and more.
Remove the egg carefully with a slotted spoon and place either on a paper towel or utilize immediately in your recipe.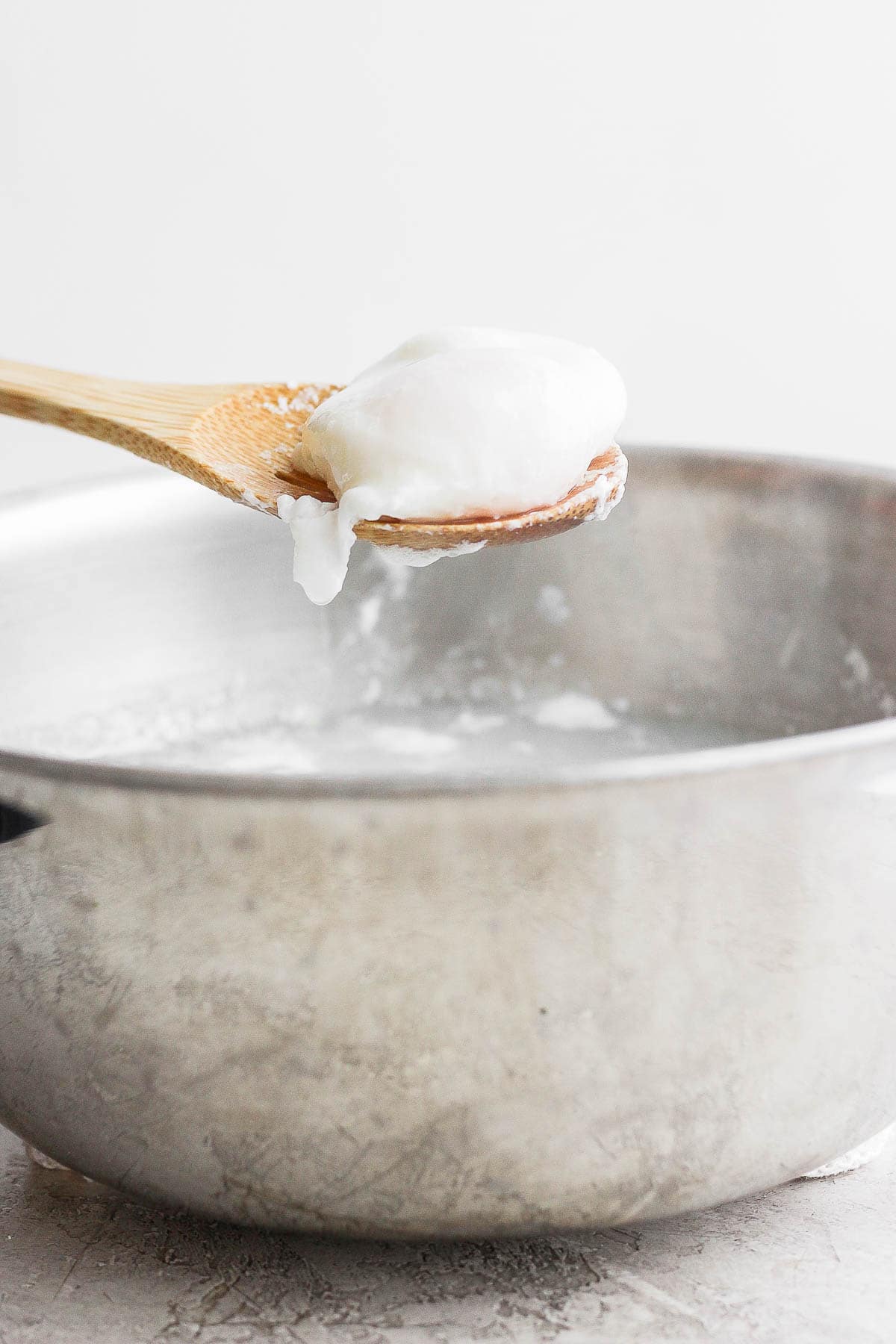 That's it. I told you it was easy.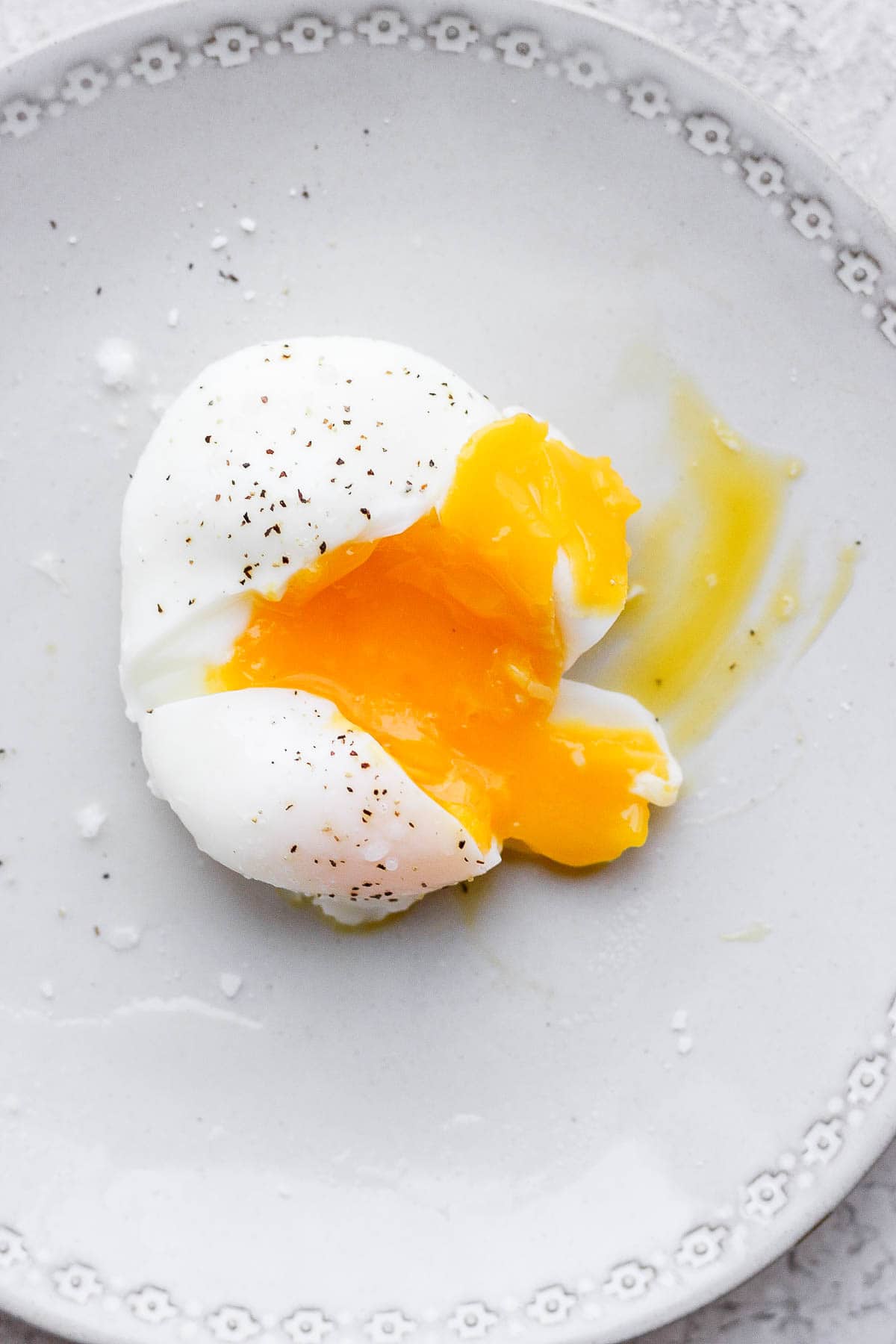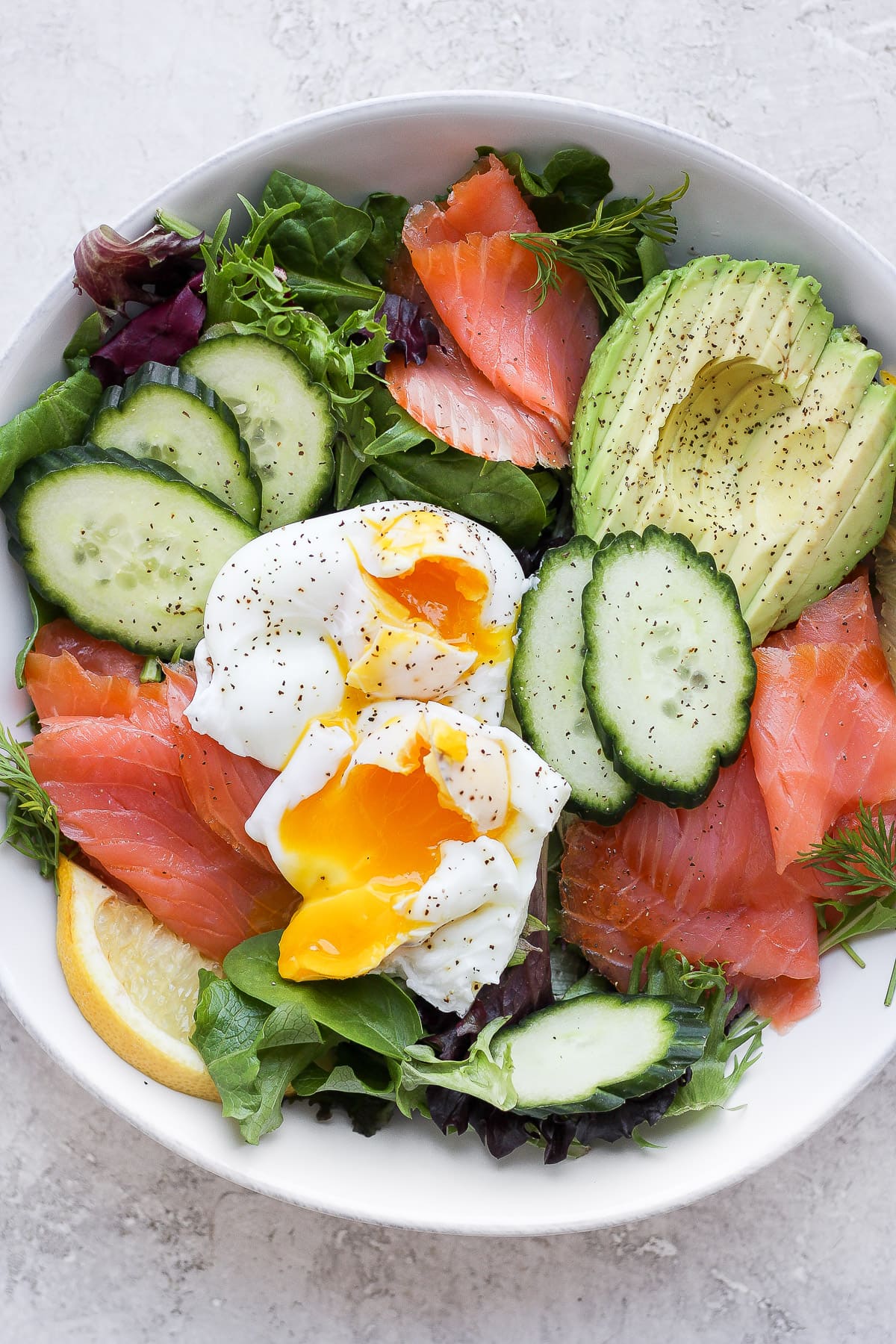 If you are looking for a recipe to try out your new culinary skill – try these on for size: Braised Bok Choy, Leek and Spinach Rice Bowl with Poached Egg or this Smoked Salmon Salad (pictured above).
Other Recipes You Might Like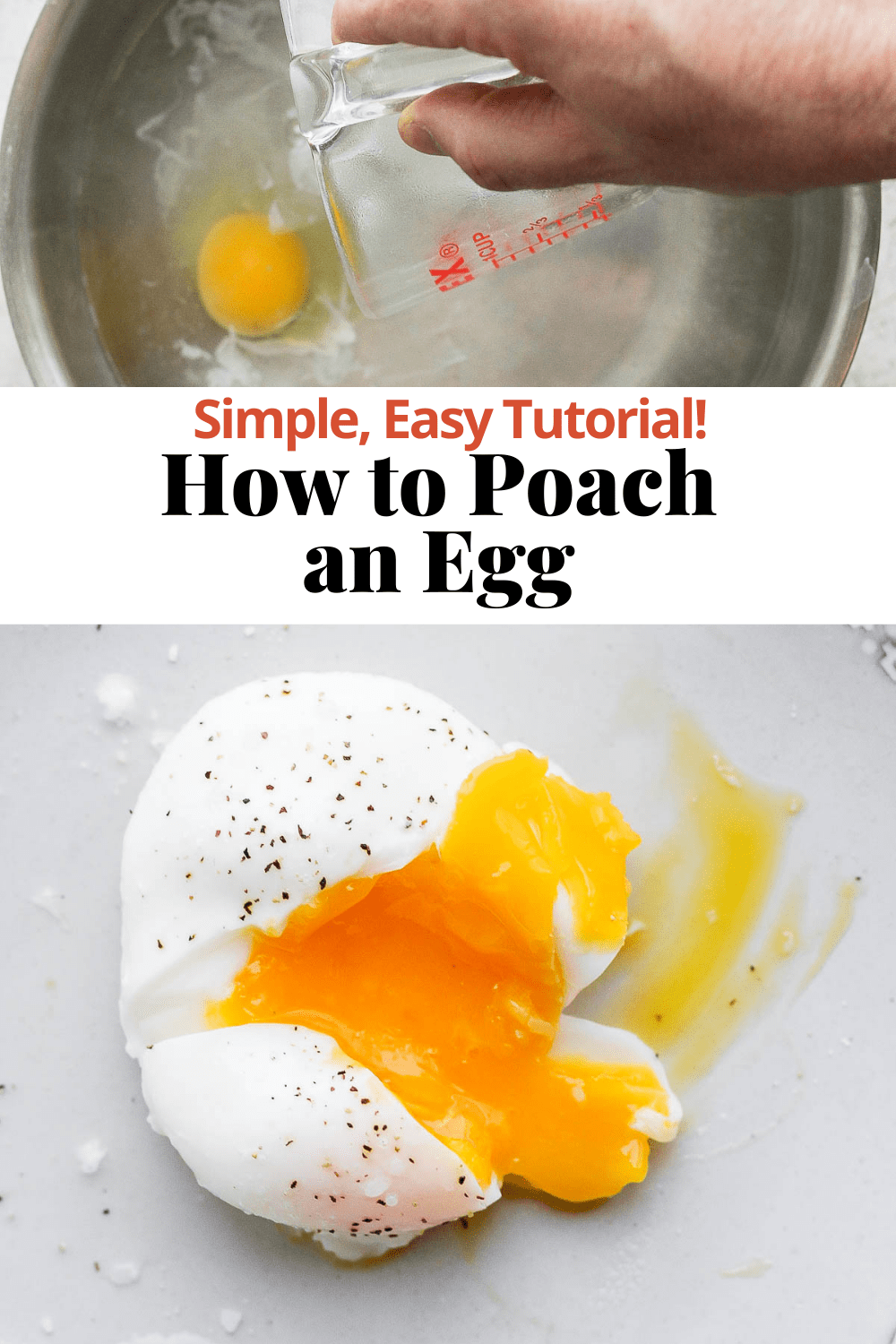 Made this recipe and loved it?! We would love it if you would take a minute and leave a star rating and review – it is also helpful if you made any substitutions or changes to the recipe to share that as well. THANK YOU!
Don't forget to check out my Instagram account for some behind-the-scenes action! Or give me a follow on Facebook or see what I am pinning on Pinterest!
Print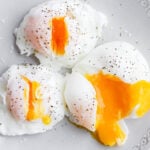 How to Poach an Egg
Author: Erin Jensen
Prep Time: 5 minutes
Cook Time: 4 minutes
Total Time: 9 minutes
Yield: 1 poached egg 1x
Category: How To
Method: Stove Top
Cuisine: American
---
Description
How to Poach an Egg – a cooking technique that is utilized in countless recipes and a must-know for every home cook.
---
water
1 egg
(optional) 1 teaspoon white vinegar
---
Instructions
Add 3-4 inches of water to a small or shallow saucepan. Feel free to add vinegar to the water, if you want.
Crack an egg into a glass measuring cup or small bowl; set aside.
Set saucepan on the stovetop and turn to medium/high heat.
Watch the water carefully and when the water is just about to boil (you will see bubbles start to form at the bottom of the saucepan) take the glass measuring cup with the egg and dip the measuring cup into the water – don't dump out the egg – but allow some of the hot water to fall over the edge of the measuring cup, enveloping the egg. This will start to cook the egg immediately (you will notice it start to turn white).
Let the water cook the egg within the measuring cup for about 10-30 seconds and then slowly pour out the egg.
Ensure the water does not boil (reduce the temperature as needed) and let the egg cook for approx. 3 – 4 minutes for a soft, runny egg.
Remove with a slotted spoon.
Eat plain with salt and pepper or use in your favorite recipe!
Notes
Vinegar in water: honestly I have made this dozens of time with and without vinegar … I can never tell much of a difference!
3 – 4 minutes: If I am doing multiple eggs one after another, the first egg usually takes about 4 minutes and then subsequent eggs take closer to 3. You can always check your eggs by lifting them out of the water just a bit and gently poking at them (and looking at them). If they still feel and look a little slimy, gently place them back into the pot. If they are firm, but you can tell the yolk is still soft and runny, you are good to go! Remember, the will continue to cook a bit even after you take them out of the water!
Keywords: how to poach eggs, how to poach an egg