Braised Duck Breast with Roasted Root Vegetables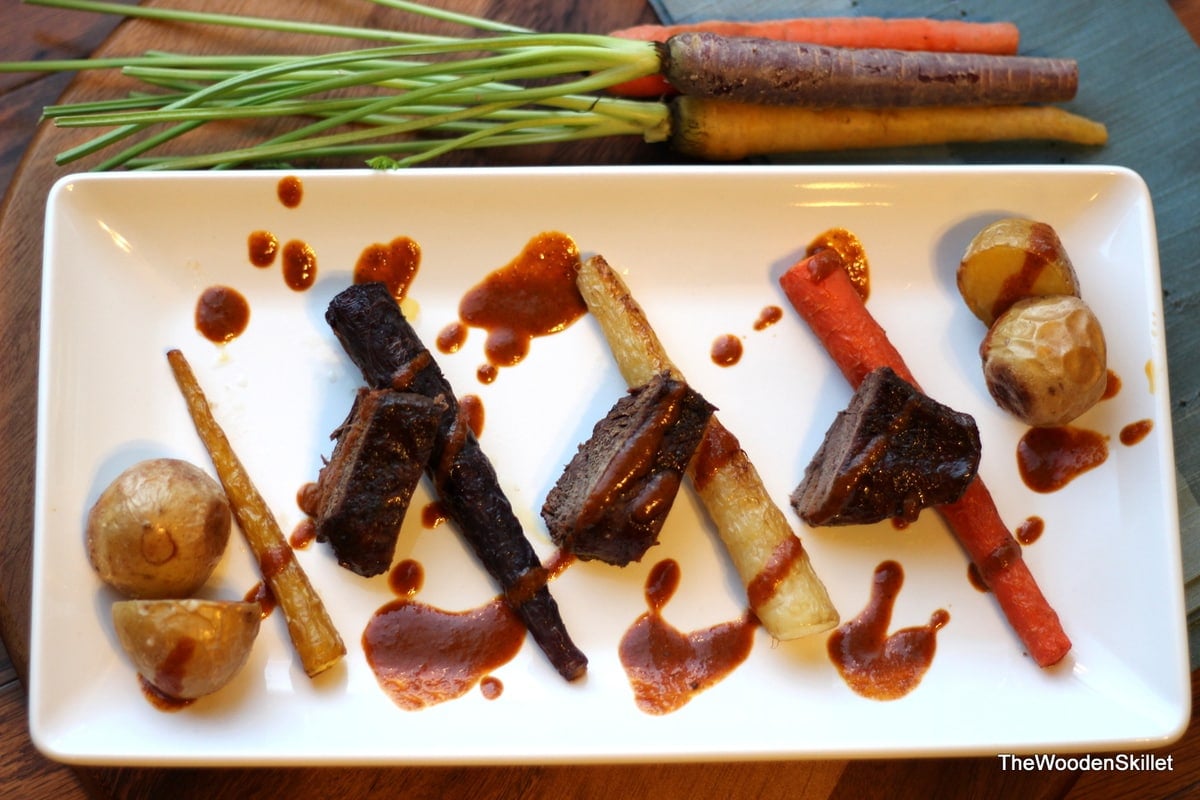 As I previewed in my last post, my husband and I recently went to an amazing restaurant called The Corner Table in South Minneapolis. If anyone is in the Minneapolis area, I STRONGLY suggest you stop by. The atmosphere is intimate, sophisticated – yet cozy at the same time. As we walked in, we were greeted with a warm welcome and a buzz of a packed house. We waited for our table at a unique bar area, which is wrapped around the kitchen, giving guests a first row seat to the genius that is the creation, execution and plating of the menu. While it was tempting to sit and watch everything unfold, we enjoyed a glass of wine with some warm bread and butter, but when are table was ready, while we had the opportunity to sit and enjoy our meal at the bar, it was a date night and we figured we wouldn't do a lot of talking (at least I wouldn't have) if I was transfixed by the Corner Table's team making our dinner.
We sat down and we waited on hand and foot by wonderful wait staff. One of our favorite ways to enjoy our dinner is to order many small plates to share, depending on how we feel, an entrée or two. Sometimes, we get push back from restaurants if they would prefer us to order all appetizers first and then all entrees second…. Not here. We were encouraged to design our own dinner, if you will, and it was much appreciated. Our first choice, no surprise, pork belly. As I described it in my earlier post, it was amazing. Savory. The pairing of the rich, fattiness of the pork with the sauerkraut-like chow chow …. perfection. Go order it now. Our second course, Korean Bone Broth with crispy pork, cabbage and potatoes. The broth was the best I have ever tasted. Even my husband, not a soup-lover by nature, loved it. Our second course, Foie Gras with french toast. It may have been better chosen as a desert, but the foie gras was done amazingly. It was delicate and the sweetness of the french toast with the richness of the foie gras was a very interesting pair. Finally, we chose an entrée: Roasted Duck with squash puree and root vegetables. The duck was quite literally the best, most moist I have ever had. The small, but important, fatty layer on a duck breast (some duck breasts anyway) was perfectly reduced into the rest of the breast. The curry undertones was an interesting flavor to pair with the duck, although I was informed that curry and duck are – apparently – the only way to have duck – I did not know this. They were right.
In short, if you ever have a chance to go The Corner Table, do it. Do it now.
I was inspired by a myriad of things at the Corner Table, but I was especially intrigued by the combination of duck and curry. Several variations came to mind, but here is what I came up with:
Braised duck with a pork-based curry sauce for both heat as well as a little fat. I used wild duck and not farmed raised duck, so there was little to no fat to be had, so no fat reduction. The Corner Table's duck was roasted, but again it had the fat built into it. Mine didn't. That's why I wanted to braise it, so it would retain its moisture better.
I started with my curry sauce.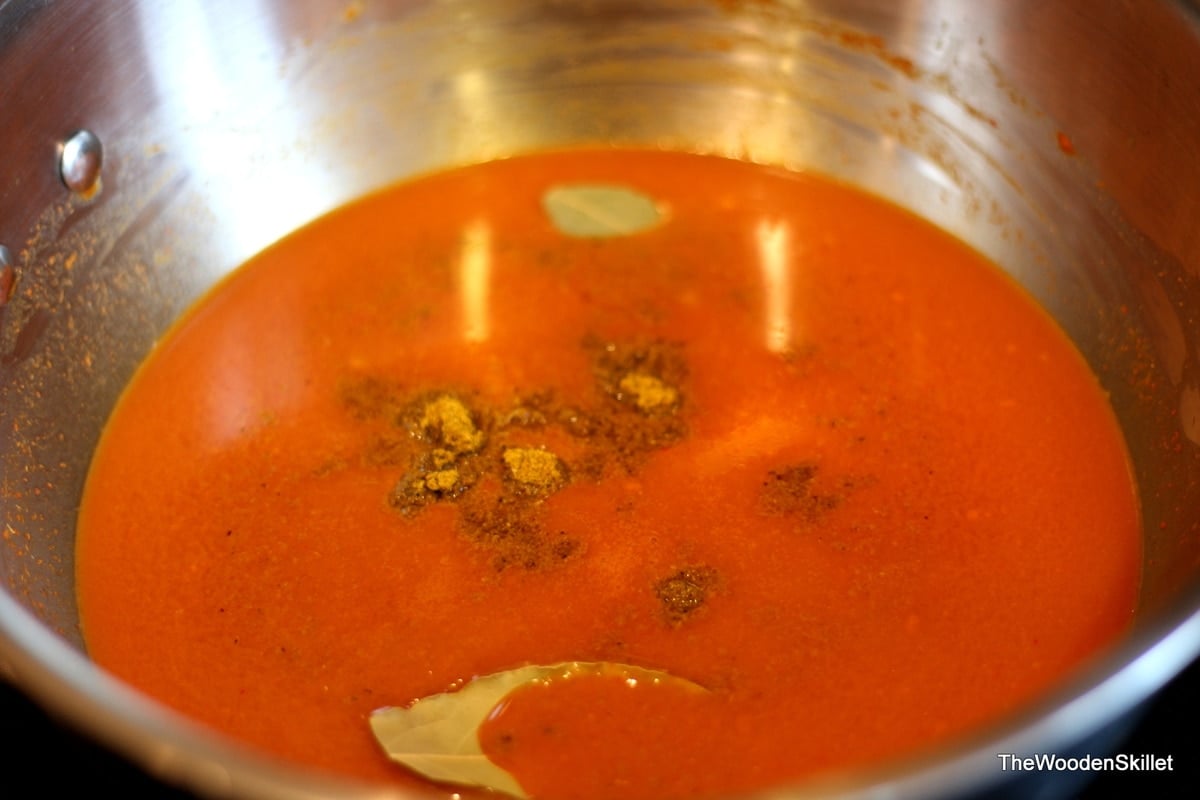 It has a base made up of coconut milk and red curry paste as well as curry powder, bay leaves, and pork broth.
I then took out the beautiful duck breasts that my husband went hunting for this past fall.
Sprinkle with salt and pepper.
Then sear the duck in a skillet on med-high heat. I put a little bit of the curry sauce in the skillet as well to really infuse the curry flavor into the duck.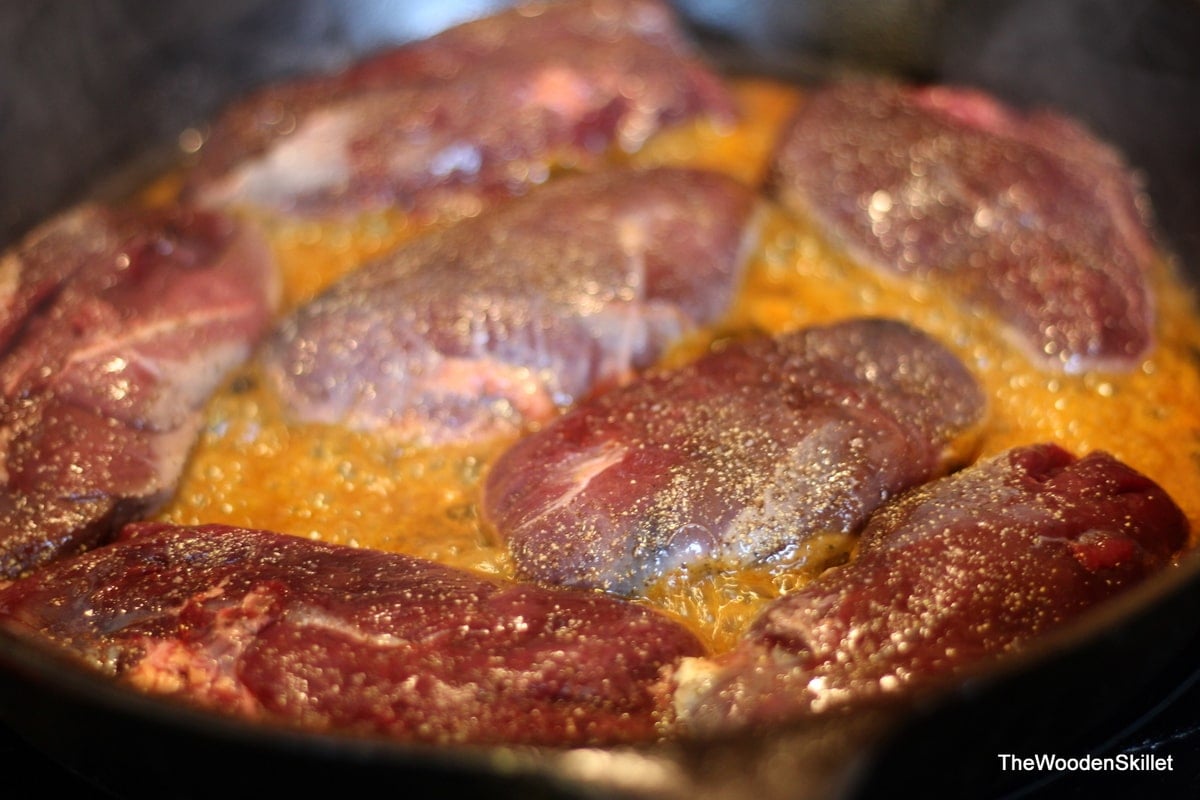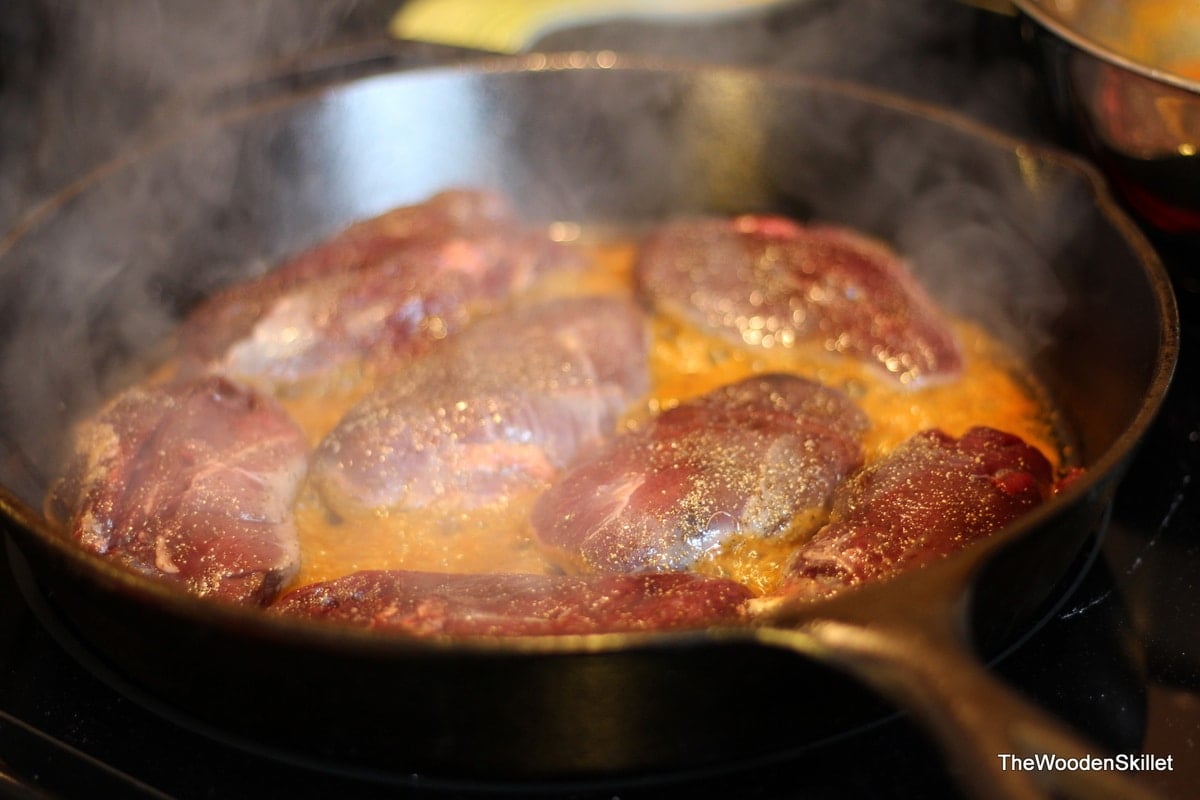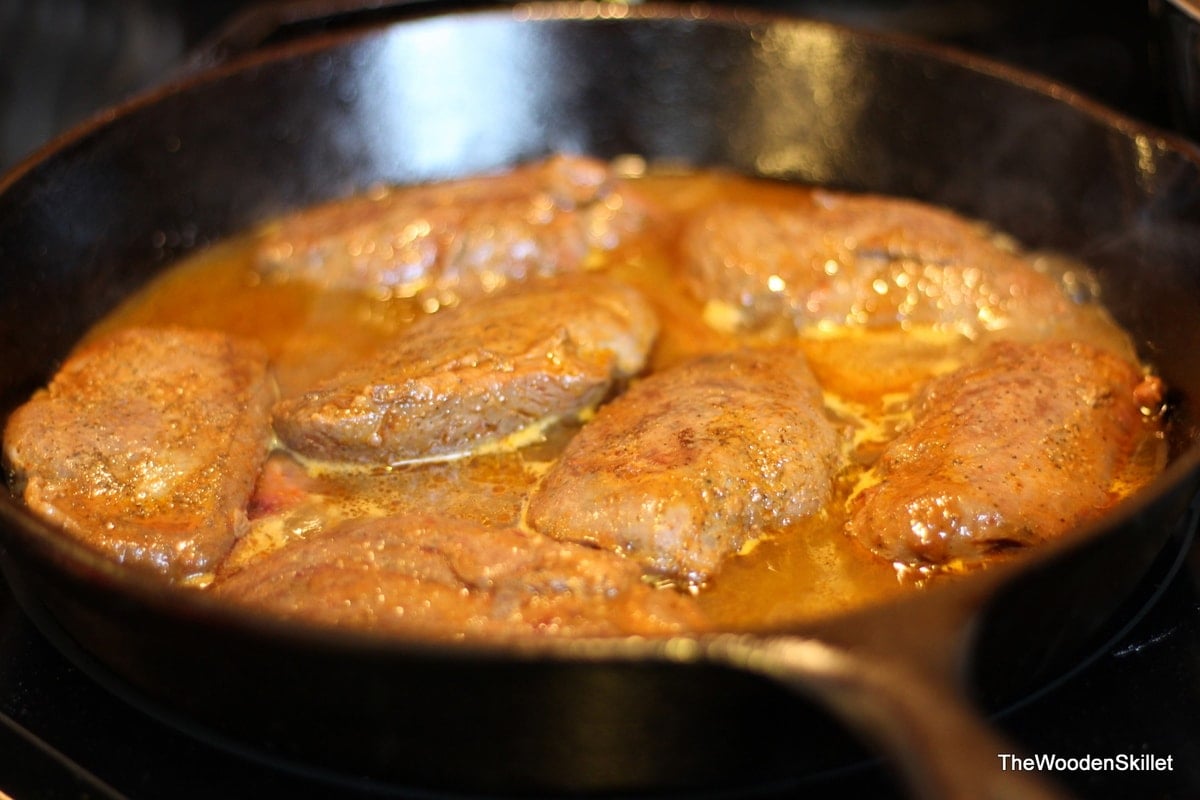 Then I poured about a cup of the pork broth I had left over from making pork belly. Put in the oven for 45min to an hour, depending upon how big the duck breasts are (until fully cooked) at 350.
For the root vegetables I chose some beautifully colorful carrots and organic potatoes.
I tossed the vegetables in olive oil and kosher salt. Then placed them on a baking sheet covered in foil.
I put them in the oven right with the duck – they both took about 45 min.
The finished product was pretty awesome – I am not going to pretend it was better than The Corner Table… but in fairness, this was my first attempt. I think one big difference is I believe that The Corner Table incorporated the squash puree with the curry sauce? I think. Because their curry sauce was more on the sweet side. Mine had a little bit more heat, which I liked. Overall, I was really pleased with the dish and am excited to try it again in the future or even other spin on it. I hope you all enjoy it!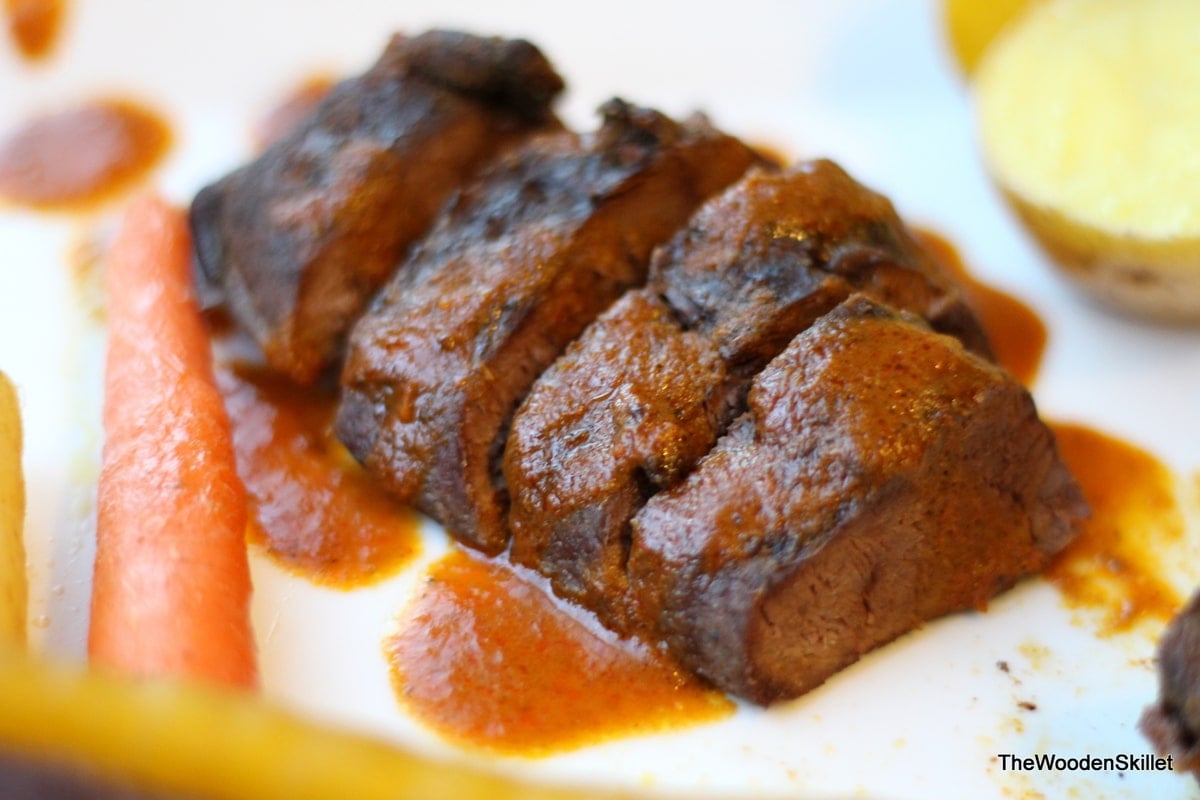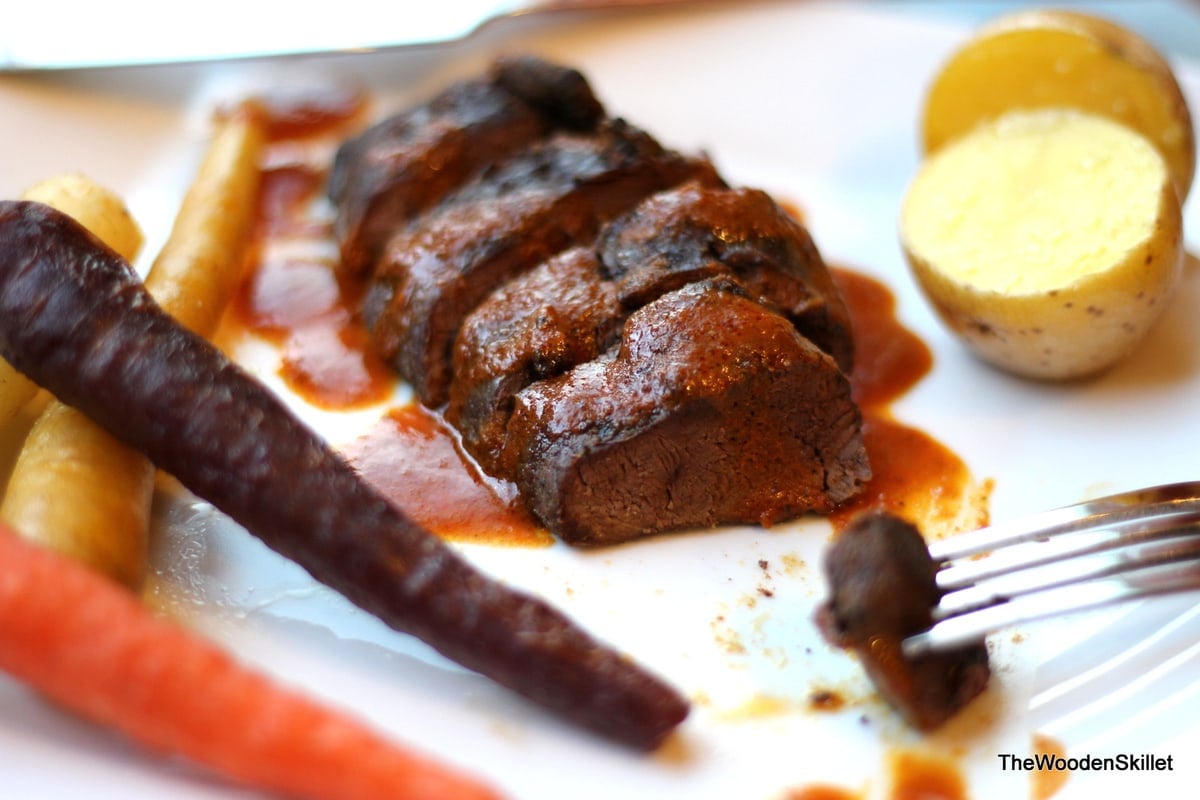 Print
Braised Duck Breast
Author: Erin Jensen
Prep Time: 20 mins
Cook Time: 45 mins
Total Time: 1 hour 5 mins
---
2–6 duck breasts
kosher salt
ground black pepper
1 cup pork broth
8–10 multi-colored carrots
1 Tablespoon olive oil
6 yellow potatoes
1 jar red curry paste
1 can coconut milk
1 cup + 1/8 cup beef stock
2 bay leaves
2 teaspoons curry powder
1 chunk of cinnamon stick
pink of ground allspice
pinch of ground turmeric
1/4 teaspoon ground coriander
3/4 teaspoon ground nutmeg
1/4 + 1/8 cup pork broth
1 Tablespoon water
---
Instructions
Rinse duck breasts and sprinkle with kosher salt and ground black pepper.
Rinse carrots and potatoes.
Preheat oven to 350.
Combine curry paste, coconut milk, beef stock, bay leaves, curry powder, cinnamon stick, allspice, turmeric, coriander, nutmeg, pork broth (1 cup + 1/8 cup), and water. Let simmer and reduce while duck cooks.
Trim carrots and cut potatoes in half.
Toss carrots and potatoes in olive oil and salt.
Spread on baking sheet that is covered in foil; spray with non-stick.
Bring oven-proof skillet or dutch oven to med-high heat with approx. 1 Tablespoon olive oil and a splash of curry sauce.
Sear duck breasts on all sides.
Add 1 cup pork broth and place in oven.
Also place vegetables in oven.
Let cook for 45 min or until both vegetables can be pierced with a fork and duck is fully cooked.
Keep checking and tasting curry sauce. if it gets too thick, add some broth from the duck or even some water.
Plate beautifully.
---