Best Ever Short Rib Chili is a unique and elevated spin on your traditional chili recipe that is full of flavor and complimented with a horseradish sour cream.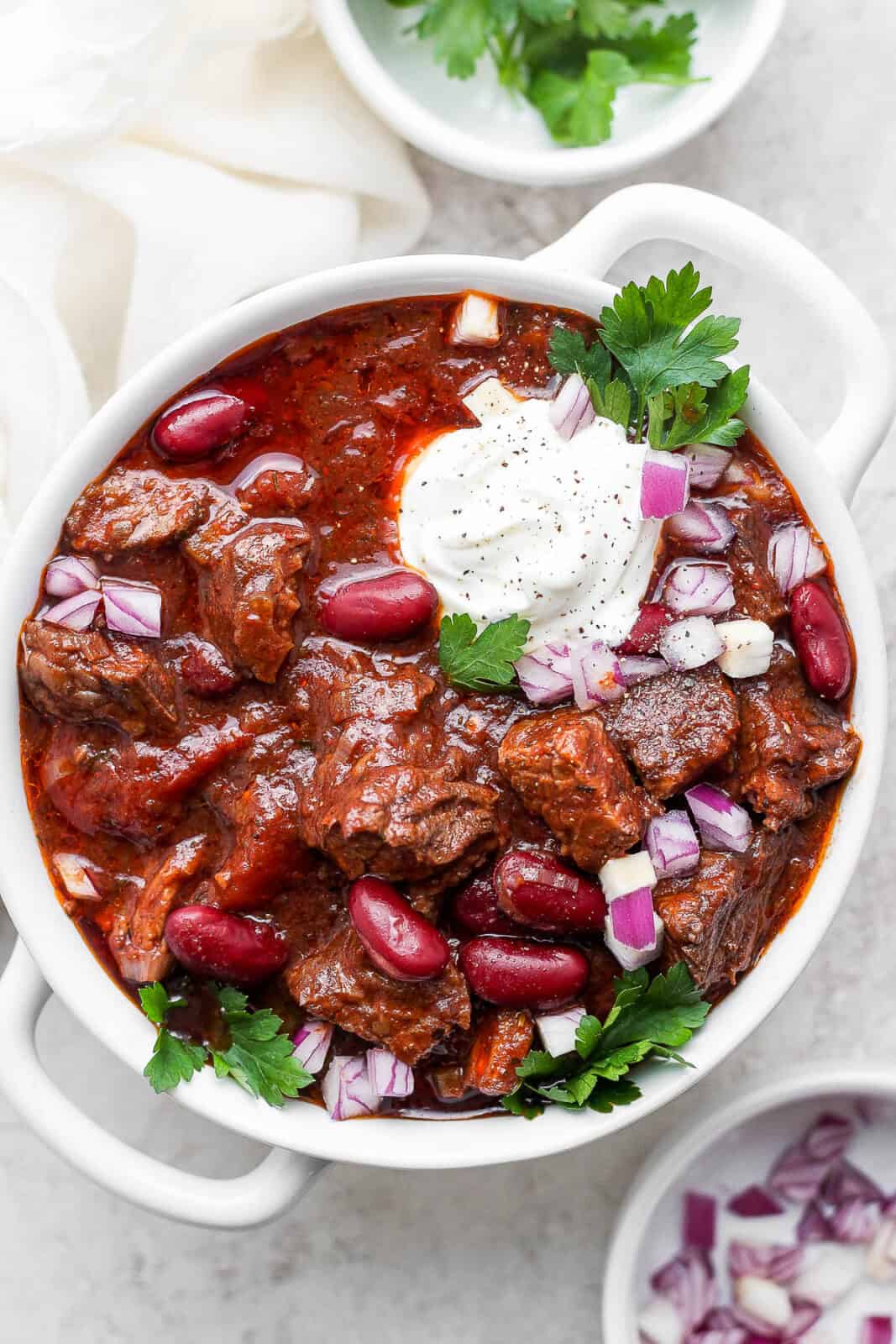 THIS POST IS SPONSORED BY:
This post is sponsored by Country Natural Beef, the opinions are my own.
Best Ever Short Rib Chili
This unique and delicious recipe is a clash of my Braised Short Rib and Slow Cooker Classic Chili recipes. The amazingly flavorful braised short ribs are cooked in a yummy braising liquid, then shredded and combined with some more traditional chili flavors and ingredients. The combination is so good! Then we top it all off with some creamy Horseradish Sour Cream!
Of course, the quality of your meat is what is really going to bring this recipe to the next level and I am so excited to be partnering with Country Natural Beef. Country Natural Beef is 100% owned by family ranchers and is G.A.P. Step 4 Animal Welfare Certified which means that their animals are pasture-raised, fed a vegetarian diet, provided a safe and enriched environment and never receive antibiotics or added hormones. They also happen to be a Whole30-Approved partner! And I have to say, these are honestly the best short ribs I have ever tasted. You truly can tell the difference and I am so proud to be partnering with them today!
Why This Recipe Works
Braised Short Ribs: short ribs are perfect for braising because they are naturally a more tough cut of meat, BUT once they are braised the meat just falls off the bone and is so incredibly flavorful.
Classic Chili Flavors: the tomato-base of the braising liquid compliments the tomato base of a classic chili so well! The two meld together perfectly.
Horseradish Sour Cream: I love how this brings the whole recipe together! That tiny bite of horseradish just pairs beautifully with the short ribs – of course you can always omit if you want!
What You Will Need
kosher salt + ground black pepper + fennel seed: this is what we are combining to make a rub for the short ribs.
olive oil (or ghee): this is used to coat the pan before searing the short ribs.
3 lb Country Natural Beef short ribs (English cut): I am telling you all … these are the highest quality of short ribs and they are amazing.
beef broth: this will deglaze the pan after searing the short ribs.
Celery + carrots + leeks: these veggies have so much flavor.
tomato paste + diced tomatoes + red wine (or pomegranate juice): this makes up the braising liquid.
Garlic: because you pretty much always have to have garlic!
oregano + thyme + paprika + basil + rosemary + bay leaf: these seasonings compliment each other so well here.
red kidney beans: because it is still chili!
Mushrooms (optional):
can whole tomatoes: add these in with the juices and then cut into large chunks. You can substitute diced tomatoes if you want.
chili powder: feel free to adjust this amount, as needed.
coconut sugar: just adds a tiny touch of sweetness to round out the flavor.
How to Make Short Rib Chili
Start with some high-quality meat if you can! It truly does make a difference!
Pat your short ribs dry and then combine your salt, pepper and fennel.
Rub the short ribs all over.
Prep your veggies.
Sear short ribs on all sides in a large Dutch Oven (I used a 5.5qt).
Once short ribs are seared, place on a plate and set aside. Combine your braising liquid.
Add your short ribs back and place in the oven.
Remove from the oven and then take out the short ribs and place on a plate to cool; once cooled a bit you can cut up the meat and discard the bones.
Add the meat back in along with the remaining ingredients.
Serve with Horseradish Sour Cream!
Don't forget to check out my Instagram account – Or give me a follow on Facebook or see what I am pinning on Pinterest!
Made this recipe and loved it?! We would love it if you would take a minute and leave a star rating and review – it is also helpful if you made any substitutions or changes to the recipe to share that as well. THANK YOU!
Print
Best Ever Short Rib Chili
Author: Erin Jensen
Prep Time: 45 mins
Cook Time: 3 hours
Total Time: 3 hours 45 mins
Yield: 10–12 servings 1x
Category: Dinner/Entree
Method: Stove Top + Oven
Cuisine: American
---
Description
Short Rib Chili – the most delicious short rib chili recipe! Braised short ribs paired with classic chili flavor + horseradish sour cream!
---
Short Rib Chili
2 tablespoons kosher salt
2 tablespoons ground black pepper
2 tablespoons fennel seed
2–3 tablespoons olive oil (or ghee)
3 lbs Country Natural Beef short ribs (English cut)
2 cups beef broth
1 cup finely chopped celery
1 cup finely chopped carrots
3/4 cup finely chopped leeks
9 oz tomato paste
1 15oz can diced tomatoes, don't drain
1 1/4 cup red wine (or pomegranate juice)
3 teaspoons garlic, minced
1 1/2 teaspoon dried oregano leaves
1 1/2 teaspoon dried thyme leaves
1 teaspoon smoked paprika (regular paprika is fine)
1 tablespoon dried basil leaves
1/2 teaspoon dried rosemary, crushed
1 bay leaf
1 15oz can red kidney beans, drained and rinsed
8oz baby bella mushrooms, roughly chopped (optional)
1 28 oz can whole tomatoes, with juices
3 tablespoons chili powder (more to taste)
1 teaspoon coconut sugar
Horseradish Sour Cream:
4 tablespoons sour cream (dairy-free or regular)
3 tablespoons prepared horseradish
---
Instructions
Combine salt, pepper and fennel in small bowl.
Rub salt/pepper/fennel mixture all over short ribs (optional: wrap in plastic wrap and let sit for an hour or overnight in the refrigerator)
Bring large Dutch Oven to medium-high heat and add olive oil; swirl to coat the pan.
Sear short ribs on all sides (you will need to do this in batches).
Remove short ribs and place on plate; set aside.
Using the same Dutch Oven, add beef broth to deglaze the pan, scraping up any bits on the bottom of the pan.
Add celery, carrots, leeks, tomato paste, diced tomatoes, red wine, garlic, oregano, thyme, smoked paprika, basil, bay leaf and rosemary.
Preheat oven to 300 degrees F.
Let simmer for 10-15 minutes to let reduce.
Add short ribs back into dutch oven with braising liquid.
Place in oven (uncovered) and let cook for 2-3 hours.
Remove from oven and take short ribs out of braising liquid and set aside on plate and let cool slightly.
Add kidney beans, mushrooms, whole tomatoes, chili powder and sugar.
Mix well and use a knife to quarter the whole tomatoes.
Take short ribs and remove meat from bone; Cut up into bite sized pieces and put back into the Dutch Oven.
Stir together.
Place Dutch Oven on stove and let simmer (covered) for at least a half hour. It could simmer longer if you are making ahead of time or place in a crock pot on low until you are ready to serve.
When you are ready to serve, mix sour cream and horseradish together and serve with chili.
Notes
Mushrooms: these are optional – feel free to omit.
Dairy-Free: feel free to use a dairy-free sour cream (like this one) to make the horseradish sour cream.
Nutrition
Serving Size: Approx. 1 cup
Calories: 343
Sugar: 7.6 g
Sodium: 1142.8 mg
Fat: 14.4 g
Carbohydrates: 23.3 g
Protein: 29.6 g
Cholesterol: 92.1 mg
Keywords: short rib chili
Originally published November 7, 2016.