Citrus Paloma Mocktail with Thyme – drink as a mocktail or cocktail, this light and refreshing drink is perfect for New Year's Eve!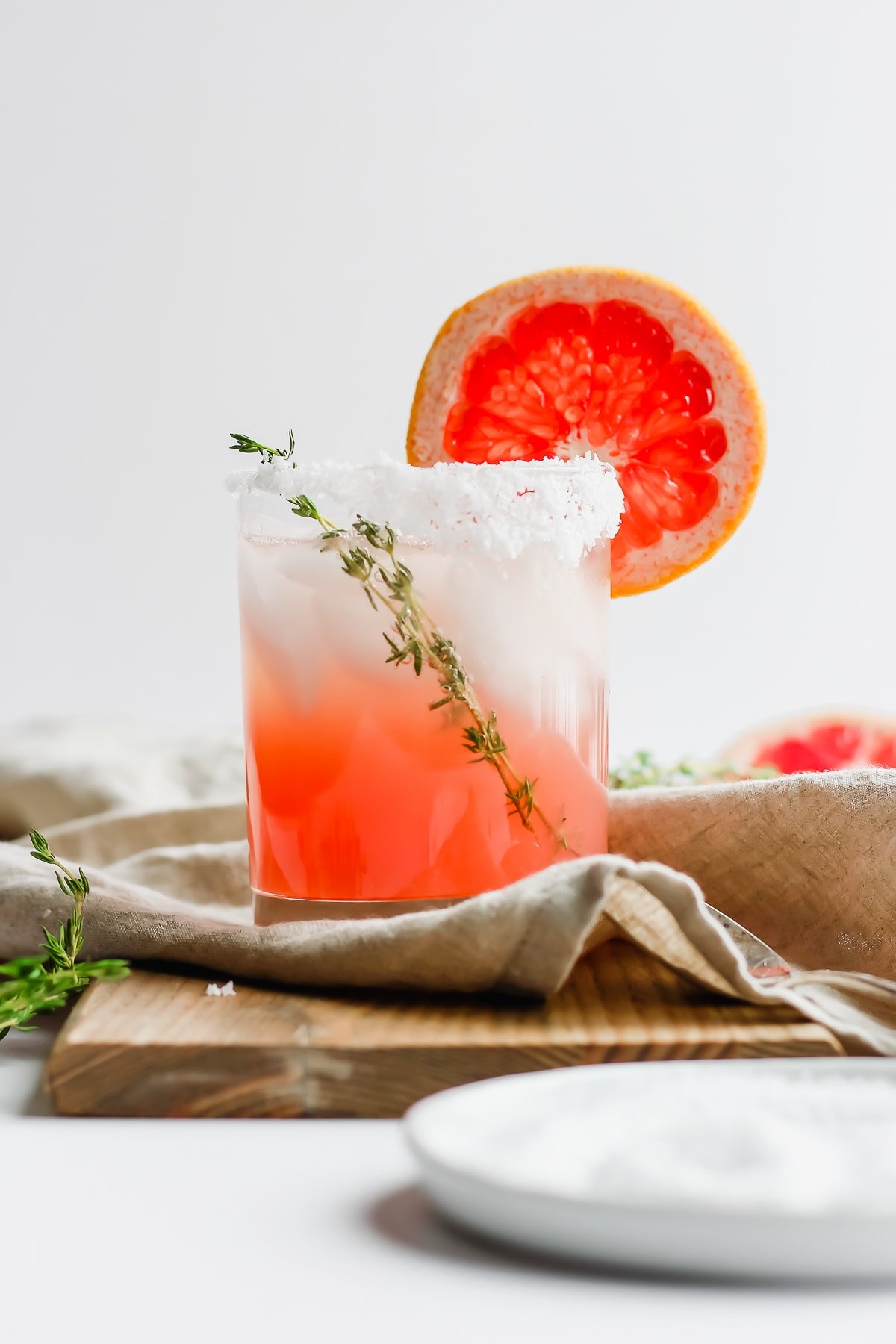 It is almost New Year's Eve (Whaaaaat!) and I thought I would share one last recipe with you guys while it is still 2017! This Citrus Paloma Mocktail with Thyme is delicious and is perfect for cheers-ing when the clock strikes midnight!!
I am in the midst of a little holiday hiatus, but not for much longer! Because it is almost January Whole30!!!
But first, before I talk about that, I want to introduce you to my new favorite drank – this Citrus Paloma Mocktail with Thyme. It can easily be made into a regular old cocktail, just throw in some tequila, but I am all about the delicious mocktail these days. These are light and refreshing and you guys are going to loooove them!
Okay, so who is doing January Whole30 with me??? This will be my 3rd Whole30 and I am so excited because my mom and husband are doing it with me (Both doing it for their second time) and then my brother, dad and step-dad are also doing it! My mom will probably coach my step-dad along the way, but I will be coaching my Dad and brother and I am so excited. I know when I did my first Whole30, I loved having my mom there with me – we would text each other all the time asking what we were eating and how we were feeling. It was so nice to have the support, especially for the first time when the withdrawals can be pretty ugly in the beginning of the process.
I will be posting a ton of new Whole30 recipes and I am so excited to share them with you! One of my goals this time around is to really take care of myself in the morning. I am NOT a morning person and I am NOT a breakfast person. My body doesn't crave anything (besides coffee) until about 10:00am. I know it isn't good for me to wait that long to eat and I know this is one of the reasons I suffer from acid reflux. The last two times I have done the Whole30, I pretty much just relied on hard-boiled eggs and Rx bars to get me through breakfast. Not this time. I am going to really make an effort to prep my breakfasts so that I have well-rounded, hearty breakfasts to help keep my blood sugar levels stable throughout the morning. I know I will feel better, I just need to make it a priority. So, watch out for a bunch of breakfast meal-prep posts!
I will be sharing my experience on the blog and also on Instagram – I cannot wait to help my brother and Dad go through this process. And, while I had so much fun coming up with all of those holiday treats, I am SO ready to only put good food into my body. Feeling a little sluggish and just….bleh.
So, in the spirit of the January Whole30, I made this drink a mocktail, but it can easily be turned into a ridiculously good cocktail if you just add some tequila (and sugar if you want). Alright you guys! Please let me know if you are doing the January Whole30 – I am seriously so excited ?
I hope you guys have a safe and happy New Year's!!!
Don't forget to check out my Instagram account for some behind-the-scenes action! Or give me a follow on Facebook or see what I am pinning on Pinterest!
Love,
E
Print
Citrus Paloma Mocktail with Thyme
Author: Erin
Yield: 1 drink 1x
---
Description
Citrus Paloma Mocktail with Thyme – drink as a mocktail or cocktail, this light and refreshing drink is perfect for New Year's Eve!
---
1 grapefruit, juiced
1/2 blood orange, juiced
1 Tablespoon fresh lime juice
1/4 cup club soda
2 sprigs fresh thyme
kosher salt
ice
optional: 1 shot tequila
optional: slice of grapefruit for garnish
---
Instructions
Salt rim of glass.
Pour grapefruit juice, orange juice, lime juice and club soda into glass.
Add tequila, if desired.
Add as much ice as desired.
Add thyme.
Garnish with grapefruit slice.
---