Easy Chocolate and Coconut Butter Energy Balls – easy to make and incredibly healthy, these energy bites taste like a little bite of gooey brownie dough and can be rolled in either matcha, coconut, cocoa or maca powder!
Are you guys thinking what I am thinking? Cause I am thinking I want to eat up that entire bowl of energy balls.
Who doesn't love a good energy ball – right? These are my new favorite snack and soon-to-be favorite breakfast. They are packed (and I mean packed) with so many amazing ingredients and really do taste like brownie dough. (maybe I should have called these "Easy Chocolate Brownie Dough Energy Bites"…) Grab a couple as you are running out the door in the morning or take to work for your mid-afternoon snack – maybe even pop one when you get home from work to stave off those pre-dinner snacking urges. But be careful… stopping at just one may be difficult….
I know I have mentioned this before, but I have a really hard time eating breakfast. My body just is not hungry. And now that I have issues with acid reflux/ulcers (probably caused, in part, from not eating breakfast for years and guzzling 2+ cups of hot coffee in the place of breakfast….hmmmmm – yeah I wonder why I have gut/stomach issues) I now force myself to eat something every morning before I allow myself to drink a big'ole cup of cold brew (so much easier on the stomach). My typical go-to is some sort of granola bar, but those get old. Real fast.
It was time for a change and major upgrade.
Boom. Enter Easy Chocolate and Coconut Butter Energy Balls.
So many nutrients and good fats and protein. And you choose what you want to roll them in: coconut, maca powder, cocoa powder or matcha.
I love customizing these whenever I make them and the recipe always seems to differ, depending on my mood. My kids-love them and I am excited to work them into my breakfast (and snacking) routine. Put good in – get good out. And I am all about self-care these days – if you don't take care of yourself, you can't reach your maximum potential.
We all have lots going on in our lives – but we won't be able to do it all or do any of it very well if we don't actually take care of ourselves. Making your own energy balls can be one of those steps… if that is how you like to take care of yourself. Or maybe it is actually taking that long, hot bath you have been dreaming about for months (ah-hem… years?). Do it. Take care of you so you can keep taking care of everything and everyone else. Whatever your self-care is – make it a priority. For me, this week anyway, it is making little bits of energy-invoking nutrients so I kick the you-know-what out of my to-do list tomorrow.
What's your favorite "self-care" activity?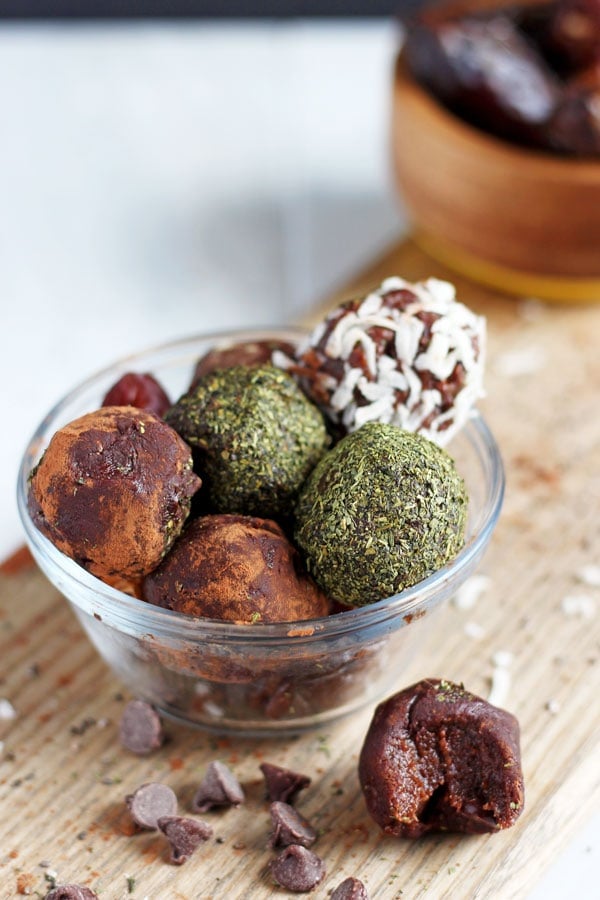 I forgot to mention that you can use your leftover almond meal from making your homemade almond milk and use it in this recipe! So awesome. And feel free to add more than the recipe calls for if you want a thicker energy ball. I really liked the "brownie-dough" consistency, but if that is not your thing, change it up!
I hope you guys are having an awesome week!
Don't forget to check out my Instagram account for some behind-the-scenes action! Or give me a follow on Facebook or see what I am pinning on Pinterest!
Made this recipe and loved it?! We would love it if you would take a minute and leave a star rating and review – it is also helpful if you made any substitutions or changes to the recipe to share that as well. THANK YOU!
Print
Easy Chocolate and Coconut Butter Energy Balls
Author: Erin Jensen
Prep Time: 15 minutes
Cook Time: 0 minutes
Total Time: 15 minutes
Yield: 8–10 energy balls 1x
Category: Snack
Method: Counter Top
Cuisine: American
---
Description
Easy to make and incredibly healthy, these energy bites taste like a little bite of gooey brownie dough and can be rolled in either matcha, coconut, cocoa or maca powder!
---
5 medjool dates (pitted)
2 Tablespoons almond butter (I used Justin's Maple Almond Butter)
1 Tablespoon + 1 Teaspoon coconut butter
3–4 Teaspoons almond milk
1 Tablespoon pure cocoa powder
1 Teaspoon chia seeds
1 Teaspoon maca powder
2 Teaspoons ground flax meal
1/4–1/2 cup ground walnuts or almond meal (I used 1/4 cup)
1/4 cup chocolate chips (with or without diary – optional)
Powders to roll energy balls in:
matcha powder
coconut
maca powder
---
Instructions
Add dates, almond butter, coconut butter and almond milk to food process and process for a minute or two, until everything is a peanut-butter consistency.
Add chia seeds, maca powder, cocoa powder and flax.
Process again until everything is mixed well.
Remove from food processor and scoop in medium mixing bowl.
Add walnuts to food processor and blend until they are in the form of a meal.
Pour walnuts or almond meal into mixing bowl and use spoon to combine.
Take small ice cream scoop and scoop about 1 Tablespoon at a time into your hand and then roll in either matcha powder, maca powder, coconut or cocoa powder.
Let sit in fridge for 20 minutes to let set.
---
Keywords: Chocolate and Coconut Butter Energy Balls