How to Make Almond Milk is really super easy!! Don't be intimidated – all you need is some raw almonds, water and maybe a pinch of salt!
How to Make Almond Milk 101
There are so many different ways to make almond milk; so many different ingredients you can add to change the way it tastes. You can make plain'ole almond milk – just almonds and water. Or you can add all sorts of spices and sweeteners, if you want. You can play around with the almond-water ratio, which in turn affects how thick and flavorful the end product is.
The bottom line, I don't know if one single recipe makes sense because it really comes down to personal preference. That being said I have included a simple almond milk recipe in the recipe card that is a good place to start – you guys can change it up from there.
Yes, it might take a little experimenting, but that is the fun part! Try a few different combinations and see what works for you. Maybe for regular cooking you make it plain and simple. For your homemade granola, you make it a little sweeter. And for your cold brew/coffee you really cut down on the water. That is the fun part about cooking and making your own ingredients. You get to control the outcome.
Water-Almond Ratio:
I have seen SO MANY different recipes for almond milk and tried so many different variations – some people swear by only adding 3 cups of water, while others religiously add 5 cups. This is an easy variable to play with. Personally, I tend to lean towards 4 cups.
Almonds:
Peeled v. Unpeeled. It's totally up to you, if you choose to peel the almonds after you soak them, the milk may have a slightly more creamy consistency … but is also a little tedious to peel them all… you decide.
Sweetener/Spices:
Here is where you really get to play. There are so many different things you add to change up your flavors:
vanilla extract (1 tsp)
honey (1 tsp)
dates (3 per basic recipe)
cinnamon (1 tsp)
turmeric (1 tsp)
Salt:
I would highly recommend adding a pinch of salt.
Other Nuts:
You could use this recipe with other nuts such as cashews or walnuts – or combine some!
Storage:
Keep in the fridge for no longer than 3-5 days. Separation will naturally occur, just shake well before using.
That's it you guys! Kind of amazing how easy that is. If you start reading your labels, you will see how many other additives are contained in the store-bought version (depends on the brand). And, I don't know about you guys, but I am the only one in my family that really uses the almond milk – I can never finish an entire carton of almond milk by myself before it starts to go bad! I feel like I end up wasting it half the time. Here, I can control how much I make – for that reason, I tend to only make about a half-batch at a time.
How to Make Almond Milk
Step One: get some raw almonds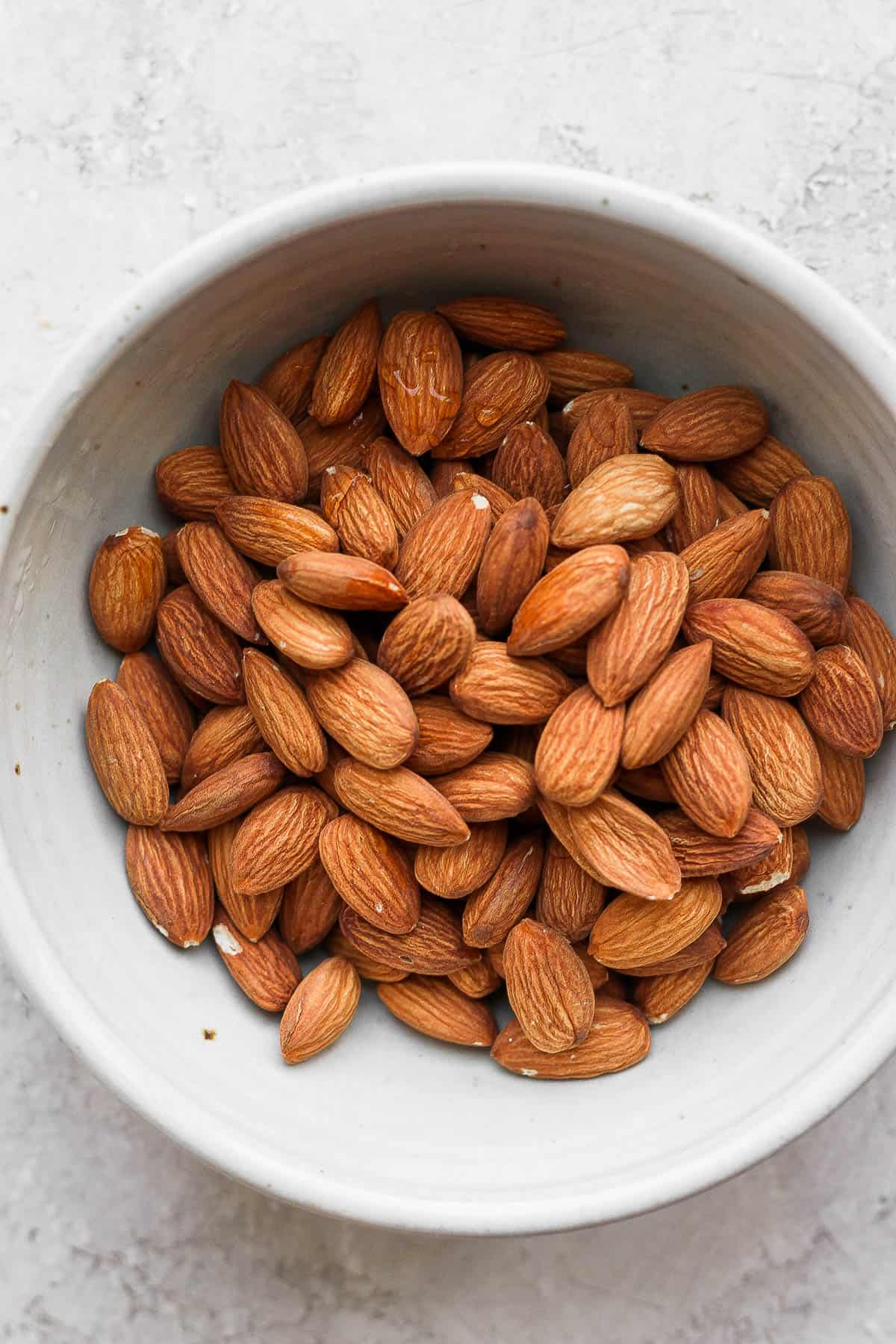 Step Two: add them to a high-powered blender with water, a pinch of salt and any other add-ins you want.
Step Three: blend.
Step Four: pour though a cheese cloth or milk bag to strain.
Step Five: squeeze out all of the almond milk.
Step Six: store in a sealable jar in the refrigerator for up to 5 days.
Alright – go forth and make almond milk! And let me know if you have any other add-ins that you really like!
Don't forget to check out my Instagram account for some behind-the-scenes action! Or give me a follow on Facebook or see what I am pinning on Pinterest!
Print
How to Make Almond Milk
Author: Erin Jensen
Prep Time: 10 minutes
Cook Time: 0 minutes
Total Time: 10 minutes
Yield: 5 cups 1x
Category: How-Tow
Method: Blender
Cuisine: American
---
Description
How to Make Almond Milk – A how-to guide on designing the almond milk that is right for you!
---
1 cup raw almonds
5 cups filtered water
pinch of salt
see blog post for other optional add-ins and modifications
---
Instructions
Place almonds and 5 cups cold water in high-speed blender.
Blend 3-4 minutes.
Pour through nut-milk bag or cheesecloth into clean container.
Pour almond milk back into blender and add pinch of salt and vanilla extract.
Blend for an additional minute.
Pour into storage container.
Keep refrigerated for 3-5 days.
---
Notes
Soaking Almonds: you CAN soak the almonds in water ahead of time to help soften them, but it isn't required. I would really only do that if you do not have a high-powered blender.
Separation: as the almond milk sits it will naturally separate – simply give it a good shake before using!
Keywords: how to make almond milk
Originally published April 25th, 2017.