This Easy Bruschetta Recipe is full of fresh tomatoes and basil on top of slices of perfectly crisp french baguette and drizzled with a sweet balsamic glaze! A light and refreshing appetizer that is a great way to use all those late summer tomatoes.
The BEST Bruschetta Recipe
Classic bruschetta. It never fails. Need to throw together a quick appetizer – done. Need an easy, fresh and light dinner. Accomplished. And, with the summer tomato season quickly approaching and the holidays right around the corner, I thought this would be a great recipe to get your wheels turning about all the cool things you can make with produce you can grow in your own garden. The ingredients are simple and fresh (I am counting 7 ingredients plus the sweet balsamic glaze) and it is fairly quick.
What You Will Need
fresh tomatoes – we used a variety of roma tomatoes and yellow cherry tomatoes to give a variety of fresh tomato flavor and to provide some depth.
garlic – everything is always better with garlic, especially an Italian-inspired recipe.
fresh basil leaves – we always have a ton of basil growing in the garden every year.
olive oil – perfect for brushing on the baguette slices to get it nice and crisp.
kosher salt – just a pinch for a little added seasoning.
french baguette – traditional Italian bruschetta is served on pagnotta bread, but that can definitely be hard to find so we sliced up a french baguette but you could also use a ciabatta or sourdough!
balsamic glaze – we love making our homemade version but you can also buy some from your local grocery store.
Is Bruschetta Supposed To Be Served Hot Or Cold
It is not fully one or the other. The bruschetta topping is cold, but it is served on a warm, toasted bread.
Do You Take The Seeds Out For Bruschetta
You don't have to but we do recommend removing the seeds from your tomatoes. They tend to have a slightly bitter taste and carry quite a bit of liquid which can result in a more runny or soggy bruschetta.
How To Make An Easy Bruschetta
You can begin by gathering a variety of tomatoes. Having 2-3 different tomato varieties provides some variation in color and flavor to give it a lot of depth. We love using fresh tomatoes from the garden or farmer's market.
Slice your Roma's into about 4-5 slices, about a half inch thick or so. Then take out the seeds and dice the remaining part of the tomato. Grab a glass of wine and repeat the process until all of your Roma tomatoes are diced 🙂
Now you can use a large chef's knife and cutting board to cut up your yellow cherry tomatoes. Don't worry about the seeds – a very good friend of mine gave me a great pro tip: for little seeds like these, you can just put all of your cut up tomatoes in a colander and rinse with water, the seeds will simply wash away! So much quicker than trying to pick all of these seeds out by hand!
Then gather the rest of your ingredients!
What Are Basil Ribbons
Our favorite way to cut fresh basil leaves for bruschetta is into basil ribbons, a process that is often called chiffonade. To do this you will stack your fresh basil on top of each other, roll it all up, and then thinly slice the large roll of basil leaves resulting in basil ribbons that look great when mixed into a fresh bruschetta.
Once everything is cut up you can combine all your ingredients in a mixing bowl and mix, mix, mix. While I am all about serving this dish right away so there is no chance of any mushiness developing…. there is something to be said for letting this sit in the fridge for a little while to let all the flavors meld and develop better. Also helpful for meal prepping this ahead of time.
Right before serving, get your French baguette, slice and brush some olive oil on top of each slice.
Place your baguette slices on a baking sheet and place in the oven preheated at 400 degrees on the middle rack to toast for 4-6 minutes.
Next, grab your balsamic glaze (sometimes called balsamic reduction) for drizzling on top!
Pile the tomato bruschetta on top of each slice of bread, generously drizzle the balsamic glaze on top, and enjoy!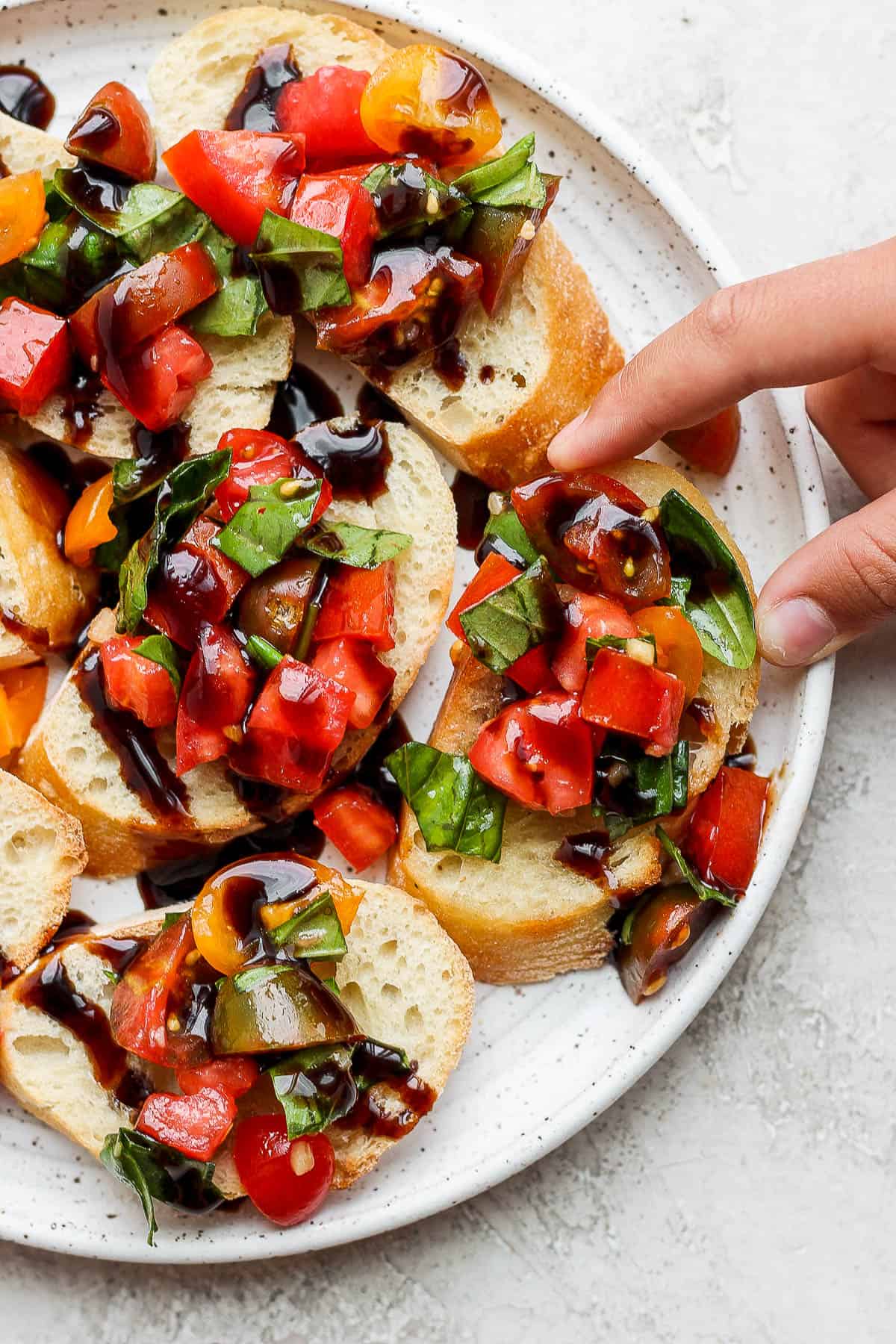 Storing Fresh Homemade Bruschetta
Bruschetta that is already placed on the toasted baguette will not keep well, it will get soggy. So you will only want to top ones that you will be eating. However, you can easily store the bread, the fresh bruschetta, and balsamic glaze separately. The bruschetta can be stored in an airtight container in the refrigerator for 3-4 days.
Made this recipe and loved it?! We would love it if you would take a minute and leave a star rating and review – it is also helpful if you made any substitutions or changes to the recipe to share that as well. THANK YOU!
Don't forget to check out my Instagram account for some behind-the-scenes action! Or give me a follow on Facebook or see what I am pinning on Pinterest!
Print
Easy Bruschetta Recipe
Author: Erin Jensen
Prep Time: 30 minutes
Cook Time: 5 minutes
Total Time: 35 minutes
Yield: Serves 6
Category: Appetizer
Method: Oven
Cuisine: American
---
Description
Easy Bruschetta Recipe – a fresh and delicious late-summer appetizer that is packed with flavor!
---
8 roma tomatoes, de-seeded and diced
Approx. 30 yellow cherry tomatoes, quartered and de-seeded
1 tablespoon garlic, minced
1 1/2 cup fresh basil leaves, roughly chopped
3 tablespoons olive oil (plus some additional to brush on top of sliced baguette)
1 1/2 teaspoon kosher salt (more to taste)
French baguette
---
Instructions
Preheat oven to 400 degrees F.
Combine Roma tomatoes, yellow cherry tomatoes, garlic, basil, olive oil, and salt in large mixing bowl.
Mix to fully combine and taste to determine if you want any additional garlic, basil or salt.
Let it sit for at least 30 minutes before serving.
Slice the french baguette at an angle to create about 1 inch thick slices.
Place on cookie sheet and brush with some additional olive oil.
Place in the oven for about 4-6 minutes, or until the bread starts to get a little crispy, watch it closely.
Carefully remove bread from the oven.
Serve slices of bread with a heaping about of the bruschetta mixture and drizzle with sweet balsamic glaze.
---
Notes
Storage: the bruschetta topping can be stored in an airtight container in the fridge for 3-4 days before serving.
Whole30/Paleo: You can skip the baguette and serve as Bruschetta Chicken for a delicious dinner!!
Nutrition
Serving Size: 1 Slice
Calories: 251
Sugar: 25.4 g
Sodium: 392.4 mg
Fat: 9 g
Carbohydrates: 40.7 g
Protein: 9.2 g
Cholesterol: 0 mg
Keywords: easy bruschetta recipe