Delicious Grilled Eggplant Bruschetta – a light and delicious appetizer or small plate! Perfect for summer! (whole30/paleo)
It's grilling season, you guys! One of my absolute favorite times of the year – especially with all the delicious fresh fruits and vegetables, the possibilities are endless!
I have been dreaming of this recipe for a couple months now and it came together just as I had hoped. I wanted a light, delicious and Whole30-friendly bruschetta recipe (because if bruschetta doesn't scream summer, I don't know what does) and this is what I dreamed up. The perfect appetizer to throw on the grill (the tomato mixture can easily be made ahead of time) and boom – you have yourself a fresh and easy app your guests will love.
One of the reason's I LOVE grilling season is because it usually means my husband and I are working together on recipes. He is seriously a grillmaster and I swear he can grill anything perfectly. He helped me write this post on How to Grill the Perfect Steak, these Garlic Burgers and he helped me figure out the best way to grill these eggplants :-). Collaborating with him is always fun and cooking together is one of our favorite things to do! Hope you guys love the recipe as much as we did!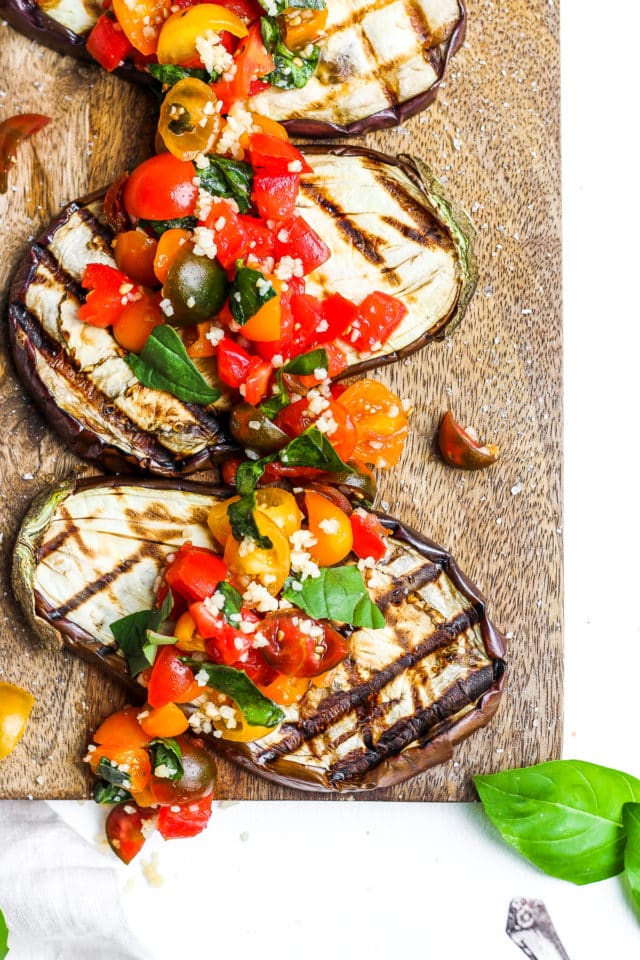 If you want to drizzle some balsamic on top, go for it! I have a great recipe for a Sweet Balsamic Glaze on the blog (not Whole30, but delicious) or you can find some really good reduced Balsamic Viniagrette's too!
Don't forget to check out my Instagram account – Or give me a follow on Facebook or see what I am pinning on Pinterest!
Love,
E
Print
Delicious Grilled Eggplant Bruschetta
Author: Erin
Yield: Approx. 8-10 servings
Category: Appetizer
Method: Grill
Cuisine: American
---
Description
A light and delicious appetizer or small plate! Perfect for summer!
---
8 Roma tomatoes; de-seeded and diced
Approx. 30 yellow cherry tomatoes; quartered and de-seeded
1 Tablespoon + 1 Teaspoon chopped garlic
1 1/2 cup roughly chopped fresh basil leaves
3 Tablespoons + 1 Teaspoon high quality olive oil
1 1/2 Teaspoon kosher salt (more to taste)
2–3 medium/small eggplant cut lengthwise approximately 1/2 inch thick
---
Instructions
Combine Roma tomatoes, yellow cherry tomatoes, garlic, basil, olive oil, and salt in large bowl.
Mix well and taste to determine if you want any additional garlic, basil or salt.
I would recommend letting the mixture to sit for at least 30 minutes before serving.
Take sliced eggplant and sprinkle salt on each side.
Place in a colander and let sit for 15 minutes.
Take a towel or paper towel and press each piece of eggplant to release excess water.
Grill eggplant on high (approx. 450 degrees) for 3 minutes a side.
Serve eggplant immediately with tomato mixture on top.
(optional: if you want to drizzle some balsamic glaze or vinaigrette on top go for it; just check ingredients if you are Whole30)
---
Thank you so much for reading & supporting The Wooden Skillet! This post contains affiliate links for products I actually use in my own home and personally recommend. Should you make a purchase using one of these links, The Wooden Skillet will earn a small commission at no extra cost to you, which helps me continue to bring you great original content. Thank you!