Goat Cheese Potatoes Au Gratin + Brown Butter and Fresh Thyme is a fresh spin on traditional potatoes au gratin recipe and the perfect side dish for Thanksgiving, Christmas or a typical weeknight dinner! They are perfectly creamy (hello delicious goat cheese) and full of great flavors, like fresh thyme, garlic, and rosemary.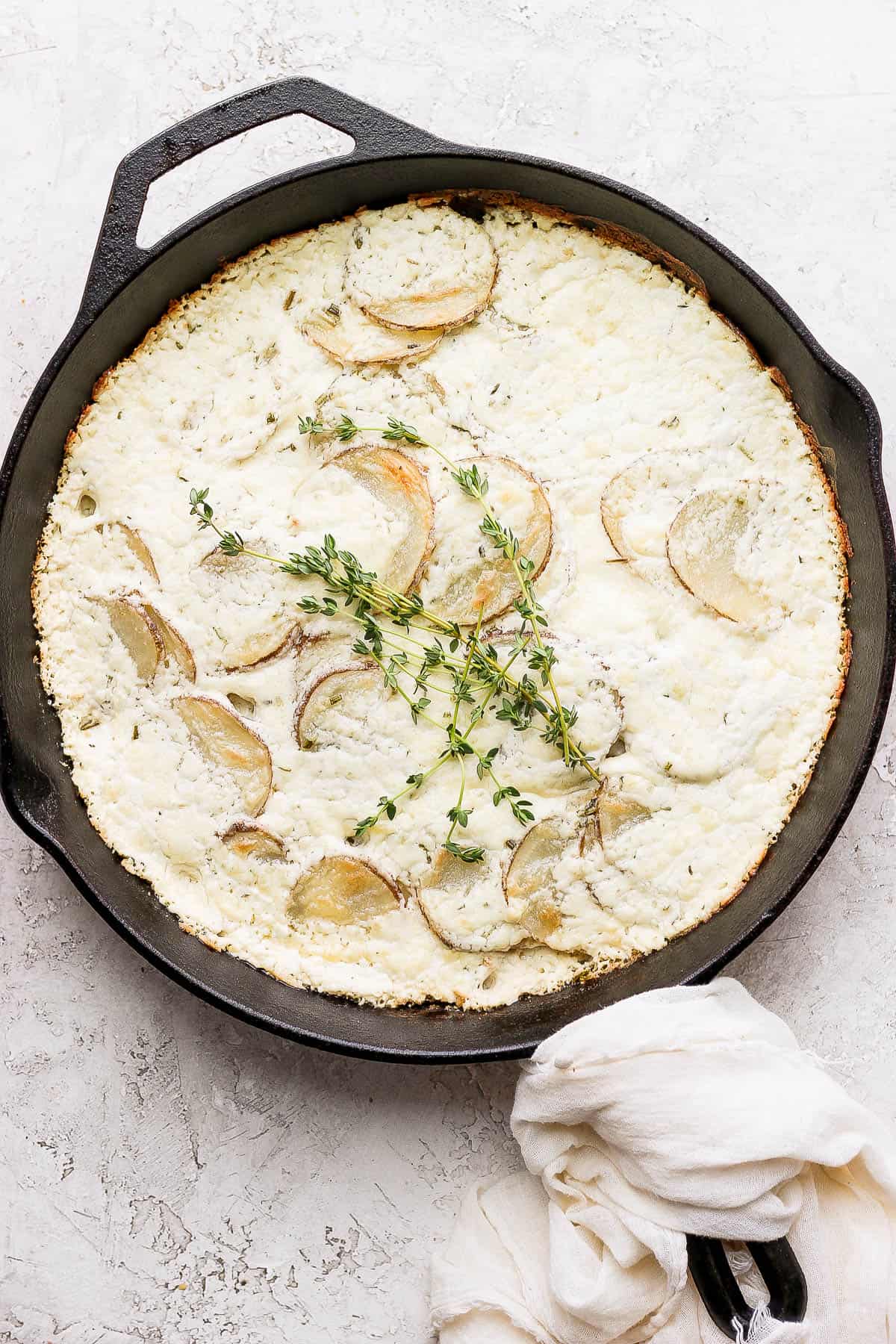 The BEST Potato Gratin With Goat Cheese
Goat Cheese Potatoes Au Gratin – yum. I am a HUGE fan of goat cheese + it has a rich taste unlike any other. I am also a huge fan of au gratin potatoes (who isn't – these Brussels Sprouts au Gratin are also amazing). Cheesy goat cheese potatoes are our favorite potato au gratin recipe of all-time. Toss in some garlic, fresh thyme, salt and lots of butter – mmmmm the buttah. Ridiculous. If you are looking to mix up your potato side dish for Thanksgiving (or any holiday) this year – this is the best recipe for gratin potatoes. Rich, creamy and oh-so-wonderful.
And if you like offering the classic Thanksgiving side dishes we also have an amazing slow cooker mashed potato recipe and an Instant Pot mashed sweet potato recipe!
What You Will Need
russet potatoes – these are our favorite potato variety for this recipe but you could also use another potato, if you prefer.
butter – option to use a plant-based butter option if you are limiting your dairy.
flour – we used regular, all-purpose flour but if gluten is a concern you can easily swap this for a 1-to-1 gluten free flour.
kosher salt – the perfect simple seasoning to help elevate the flavor.
unsweetened almond milk – we have made this with almond milk or regular cow's milk and either will help create the perfect creamy texture!
garlic – everything is always better with a little garlic!
dried rosemary & fresh thyme – a combination of seasonings that pair really nicely with the goat cheese and potatoes.
goat cheese – one of the best cheeses that can still be enjoyed by many people with milk allergies and has a wonderfully salty flavor that everyone will love!
How To Cut Potatoes To Make Potatoes Au Gratin
You can simply place your whole, clean potatoes on a large cutting board and start thinly slicing them with a large chef's knife, but we have found that it can be very tricky to get uniform slices. Therefore, we highly recommend using a mandolin! They are perfect for slicing potatoes at the same size and it goes super fast.
How To Make Goat Cheese Potatoes Au Gratin
You can begin by bringing a medium saucepan to medium high heat on the stove top and then add the tablespoons of butter to melt. Once it has melted you will want to keep cooking it until it starts to brown slightly. Then you can whisk in the flour to create a roux. Now you can slowly pour in the milk, while continuing to whisk consistently, and then the garlic, rosemary, and thyme.
Next, it is time for the goat cheese! It will melt down a bit easier and faster if you break it into large chunks before adding it to the pot.
Once you have it in large pieces, you can simply add it to the pot and continuing whisking until it is fully melted and creamy.
Then you can spray a 9×13 baking dish or large cast iron skillet with your preferred non-stick spray and place half of the potato slices in the bottom. Now carefully pour about 1/3 of the goat cheese mixture over the top.
Finally, place the rest of the potato slices on top and then the remaining cheese sauce. We like to use a wooden spoon to evenly spread the goat cheese sauce across the whole pan.
Place the entire skillet on the middle rack of a preheated oven and bake for 35-45 minutes at 400 degrees F.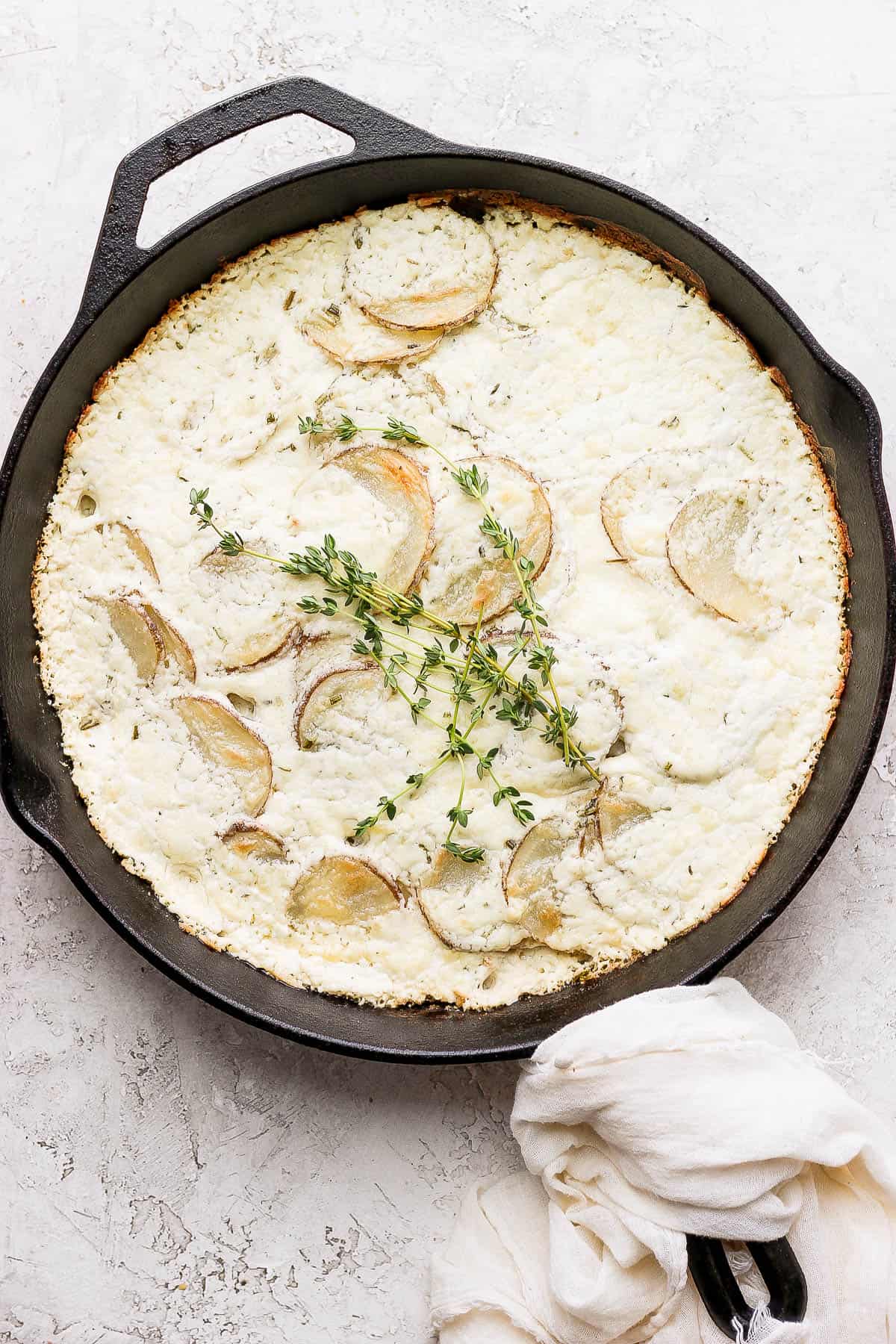 Let it cool a bit and then enjoy!
Can Potatoes Au Gratin Be Made Ahead Of Time
Absolutely! You can simply complete all of the steps below, including baking the dish in the oven. Then after it has cooled for a bit you can cover it with aluminum foil and store it in the refrigerator overnight. This is such a great way to make at least one thing a little quicker and easier on Thanksgiving Day! Just make it the day before Thanksgiving and then the next day you can turn the oven to 350 degrees and reheat it for about 20 minutes.
Made this recipe and loved it?! We would love it if you would take a minute and leave a star rating and review – it is also helpful if you made any substitutions or changes to the recipe to share that as well. THANK YOU!
Don't forget to follow me on Facebook, check out my Instagram account or see what I am pinning on Pinterest!
Print
Goat Cheese Potatoes Au Gratin
Author: Erin Jensen
Prep Time: 20 minutes
Cook Time: 45 minutes
Total Time: 1 hour 5 minutes
Yield: 12 servings 1x
Category: Side Dish
Method: Stove Top + Oven
Cuisine: American
---
Description
Goat Cheese Potatoes Au Gratin – a creamy and delicious spin on your classic au gratin potatoes! Add these to your holiday menu!
---
4–6 medium russet potatoes, thinly sliced with mandolin to 1/10 of an inch*
6 tablespoons salted butter
3 tablespoons flour (1–1 gluten free flour works too)
1 1/2 teaspoon kosher salt
1 1/2 cup unsweetened almond milk or regular milk
2 teaspoons garlic, minced
2 teaspoons dried rosemary, crushed
2 teaspoons fresh thyme, chopped (more for garnish)
8oz goat cheese, broken into small chunks
---
Instructions
Bring a medium saucepan to medium-high heat. Add butter and let melt. Continue to let it melt and slightly simmer for a few minutes as it browns and gives of a nutty aroma.
When butter is browned add flour and whisk together with melted butter.
Slowly add milk while continuing to whisk. Add garlic, rosemary and thyme and whisk to combine.
Add crumbled goat cheese and whisk until fully melted and the texture is creamy.
Take a 12 inch cast iron skillet or 9×13 casserole pan and spray with olive oil.
Place half of your potatoes in bottom and pour 1/3 of the goat cheese sauce over top.
Then layer the rest of your sliced potatoes.
Then pour the remaining sauce over top.
Bake for 35-45 minutes at 400 degrees F.
Serve immediately.
---
Notes
Potatoes: this recipe has been updated to call for thinly sliced potatoes (I would recommend a mandolin set to 1/10 of an inch on the mandolin setting). If you hand-cut your potatoes they will most likely be thicker and, as a result, need a longer cook time.
Storage: store leftover in an airtight container in the refrigerator for up to 4 days.
Nutrition
Serving Size: 6oz
Calories: 171
Sugar: 0.5 g
Sodium: 314.6 mg
Fat: 10.2 g
Carbohydrates: 14.8 g
Protein: 5.5 g
Cholesterol: 24 mg
Keywords: Goat Cheese Potatoes Au Gratin