Healthy Avocado and Egg Lunch Bowl – a quick and easy option for lunch or dinner!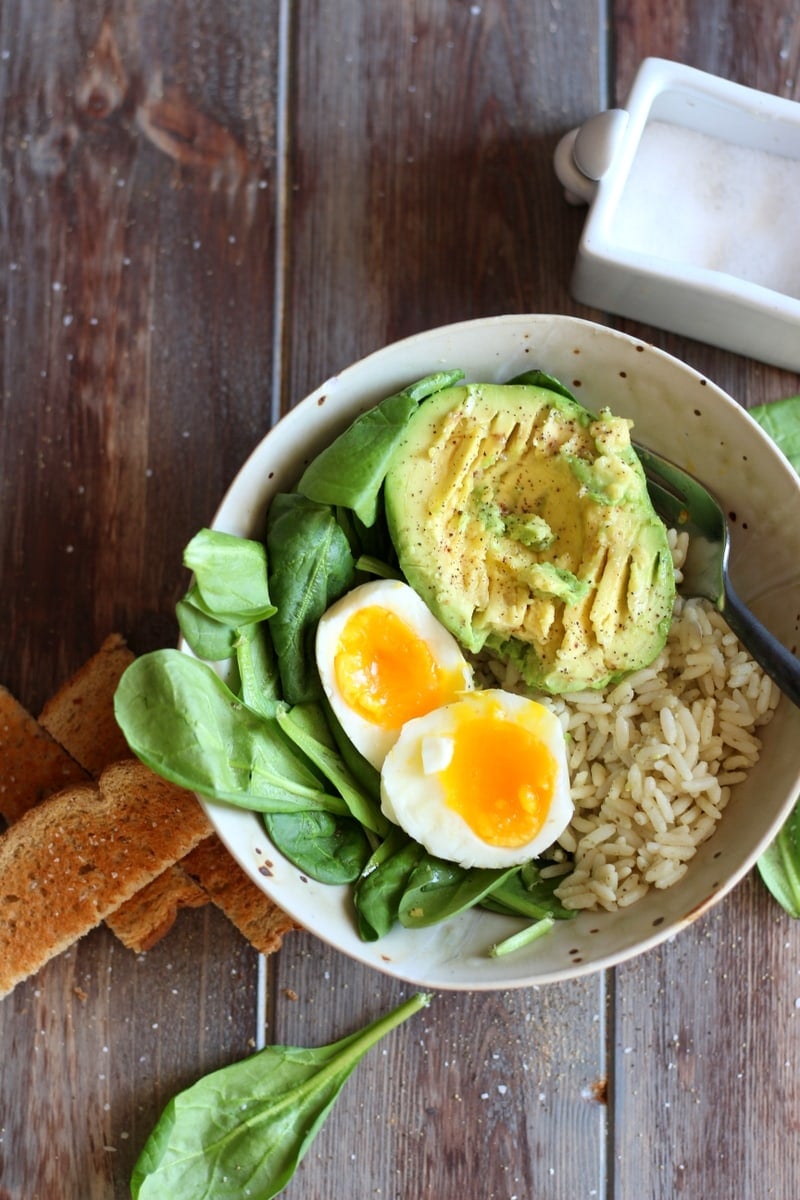 So yesterday I did a post about how to soft-boil eggs and I promised a simple and easy recipe that you could use to incorporate your new-found skill! Here she be – does it get more simple than this? But sometimes, the simple recipes are the ones that stick with us. Most days, my lunch doesn't look that much different than this – avocado, rice, soy sauce – maybe an egg and some spinach. It is so easy, but I love how simple the ingredients are and it always fills me up and leaves me satisfied. Who knows – this could be your new favorite lunch?
Now, I want you guys to look at this picture and/or the recipe and figure out what you like best. Do you want sauteed spinach? Do you prefer brown rice, jasmine rice, or quinoa? Poached egg, soft-boiled egg or hard-boiled? Do you want to throw some soy sauce on there? Maybe some olive oil and salt on the spinach? Do whatever you want – make it however you want it!
Alright you guys, I am keepin tonight's post short and sweet! I hope you guys give this a try and let me know what kind of modifications, if any, you make! I would love to see them!
Here is that perfect soft-boiled egg you are going to need to know how to make!!!
Before….
After….
Don't forget to check out my Instagram account for some behind-the-scenes action (I am usually embarassing myself in the stories…) yay….. Or give me a follow on Facebook or see what I am pinning on Pinterest!
Love,
E
Print
Healthy Avocado and Egg Lunch Bowl
Author: Erin
Yield: 1 bowl 1x
Category: Lunch
Method: Stove Top
Cuisine: American
---
Description
Healthy Avocado and Egg Lunch Bowl – a quick and easy option for lunch or dinner!
---
1 cup cooked brown rice (or quinoa or jasmine rice – or whatever grain you want) cooked per package instructions.
1/2–1 cup raw spinach (or sauteed)
1/2 avocado (mashed or diced)
1 soft-boiled egg (or poached or hard-boiled)
Dressing options:
soy sauce
olive oil
salt
pepper
---
Instructions
Simply assemble your bowl by adding your rice (or grain of your choice), spinach and avocado.
Top with your egg.
Sprinkle with salt and pepper.
Add soy sauce or olive oil, if desired.
Devour.
---
Thank you so much for reading & supporting The Wooden Skillet! This post contains affiliate links for products I actually use in my own home and personally recommend. Should you make a purchase using one of these links, The Wooden Skillet will earn a small commission at no extra cost to you, which helps me continue to bring you great original content. Thank you!