Follow these quick and easy step-by-step instructions on How to Cut an Avocado perfectly every time! We will share all of the information you need to know right here. Great for making guacamole, avocado toast, or avocado turkey burgers!
How To Cut An Avocado (Quick & Easy)
Avocado is a fantastic fruit and one of our all-time favorites! This is the best way to enjoy avocado in just about anything – rice bowls, salads, sandwiches, wraps, breakfast tacos, etc. Sometimes to mix things up we like to make grilled avocado before slicing to change up the flavor a bit. If you haven't try it, you definitely should!
We also have a super Creamy Avocado Sauce that can be made in minutes and is so good!
What You Will Need
whole avocados – you can pick-up some ripe, but firm avocados from your local grocery store – here are some tips on how to tell if an avocado is ripe!
large chef's knife – just grab a knife that is slightly longer than the length of the avocado so that you can easily cut down the middle.
Do You Peel An Avocado Before Slicing
We do not! It is definitely a far less messy process to cut the flesh of the avocado while it is still in the skin. After you have cut it into slices or diced pieces, you can easily scoop them out with a spoon to remove the skin.
How To Cut An Avocado
This is the easiest way and it begins by firmly holding your avocado in one hand and a sharp knife in the other hand. The first step is to insert the edge of the knife down the middle of the avocado, lengthwise, until it hits the pit in the middle. Carefully rotate the avocado in your hand, resulting in a long cut all the way around the avocado down to the pit.
Now hold both sides of the avocado and firmly give it a twist in opposite directions.
This will result in two avocado halves.
To remove the avocado pit, you will firmly hold one avocado half in the palm of your hand and very carefully hit the middle of the pit with the knife. Give it a twist and easily remove pit.
Next, carefully use a paring knife to cut vertical slices down the middle of each avocado to the skin, but not through the skin. If you wanted avocado slices, stop here. Use a large spoon to scoop those perfect slices out of the skin.
If you want diced avocado, you can give your avocado a turn and make horizontal slices, making a crosswise cut down your avocado half.
Then use a spoon to scoop the chopped avocado out of the avocado skin.
Use your perfectly ripe avocado any way you want!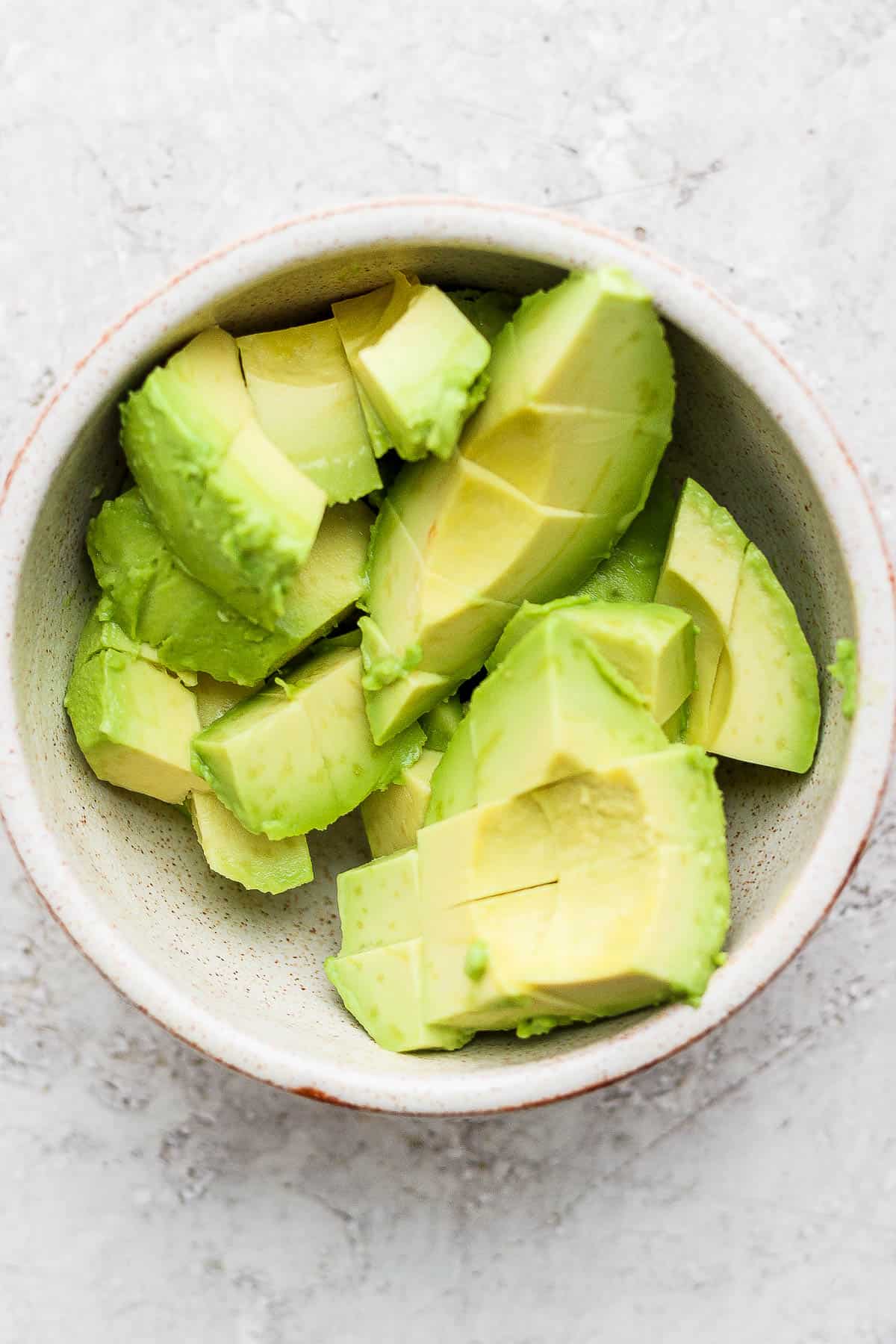 How To Store A Cut Avocado
Typically, if we know we are using that half of avocado pretty quickly, we will just toss it in a Stasher bag. To keep your leftover avocado for longer, place it in an airtight container that is half full of water with the avocado flesh or cut side down, cover, and place it in the fridge for a couple of days.
Made this recipe and loved it?! We would love it if you would take a minute and leave a star rating and review – it is also helpful if you made any substitutions or changes to the recipe to share that as well. THANK YOU!
Don't forget to check out my Instagram account for some behind-the-scenes action! Or give me a follow on Facebook or see what I am pinning on Pinterest!
Other Recipes You Might Like
Print
How to Cut an Avocado
Author: Erin Jensen
Prep Time: 5 minutes
Total Time: 5 minutes
Category: How-To
Method: Counter Top
Cuisine: American
---
Description
How To Cut An Avocado – a simple step-by-step tutorial on how to easily dice or slice an avocado every time!
---
---
Instructions
Pick out a perfectly ripe avocado.
Insert the knife down the middle of the avocado, lengthwise. It won't go all the way through because there is a large pit in the middle. Rotate the avocado in your hand to result in a cut, all the way to the pit, around the whole avocado.
Hold each side of the avocado and give them a turn to fully separate the two halves.
In one hand, hold half of the avocado that has the pit in it and very carefully hit the center of the pit with your knife. The pit should stick, give it a twist, and remove easily.
Sliced: firmly hold each half of the avocado in your hand and carefully make vertical slices down the inside of the avocado without breaking through the skin of the avocado. If you want slices, stop here and scoop out the sliced avocado with a spoon by inserting it in between the flesh and the skin.
Diced: to dice the avocado, simply give the avocado a turn after cutting vertical slices and carefully cut horizontal slices. Resulting in diced avocado squares. Now use a spoon to scoop them out but inserting the spoon in between the green flesh and the skin.
Use your perfectly cut avocado any way you want – we love making Homemade Guacamole or an Avocado + Brown Rice Bowl!
---
Notes
Ripe: if you aren't sure how to pick a ripe avocado – checkout these simple tips! If they aren't ripe yet, you can place avocados in a brown paper bag at room temperature to speed up the ripening process.
Storage: we love using stasher bags if you will use it soon or you can fill a container half full with water, place the avocado half flesh-side down, cover, and place in the fridge.
Keywords: how to cut an avocado