Pan-Fried Filet Mignon with Butter, Thyme and Blue Cheese
There is something about a filet mignon paired with a good blue cheese. Damn. It's gotta be a good blue cheese. I mean, you already sprung for the filet cut of meat, why skimp on the cheese. Don't. It just elevates the dish to that next level. That's a level you want to be on.
Now, I am a huge HUGE fan of grilling (See: How to Grill a Perfect Steak). There really nothing that can replace that smokiness that permeates anything that goes onto a grill, particularly a steak. Buuuut, there are times when a pan-fried steak is just as good. There I said it. While you don't have the smokiness of the grill, you DO get to pan-fry your steak in butter/ghee and throw in some wonderful aromatics to create a different kind of amazing. I think smaller cuts of meat, like the filet, are better for this type of cooking method, simply because they are smaller, but you could really do this with any cut of meat.
How to Pan Fry Steak:
With any meat you want to let it come to room temperature. Pat the steaks dry and then sprinkle generously with salt and pepper. In a large skillet (I used a cast-iron skillet), add approximately 1-2 Tablespoons of vegetable oil. When the oil starts to smoke, you know it is hot enough to through on your steak(s) to get a nice sear. Throw in some butter (which will melt almost immediately since the pan is so hot) and then place your steaks in the pan, ensuring they are not touching or too close to each other. Actually, given the method we are using, I would be tempted to not have more than 2-3 filets in the skillet. You need to have enough room to spoon the hot butter over the steaks and to let the aromatics permeate all the steaks, not just the one closest to it.
So, let the steaks sit tight for approx. 3 minutes. During the 3 minutes, periodically tip pan to the side so that the butter and oil pool – take a large spoon and baste the top side of the steak. Also, add a sprig or two of thyme into the pan. After 3 minutes, flip the steak over and continue to periodically baste. Add an additional tablespoon of butter as desired or needed.
Basting. Yummy.
Let this side cook for an additional 3-4 minutes. Take temp (on the side not right in the top to avoid a really ugly hole in your beautiful steak).
Internal Temp of Steak:
Steak temps:
Rare:115 – 120 degrees (up to 120 after resting)
Medium-Rare: 120-125 (up to 130 after resting)
Medium: 130-135 (up to 140 after resting)
Medium-Well: 140-145 (up to 150 after resting)
Well-Done: 150-155 (up to 160 after resting)
Personally, I am medium/medium-rare kinda gal, but that's just me.
Once your steak(s) has reached the desired temp, remove from skillet and set on clean plate (cover with foil if desired) and let rest for 5-10 minutes.
Serve with yummy blue cheese crumbles.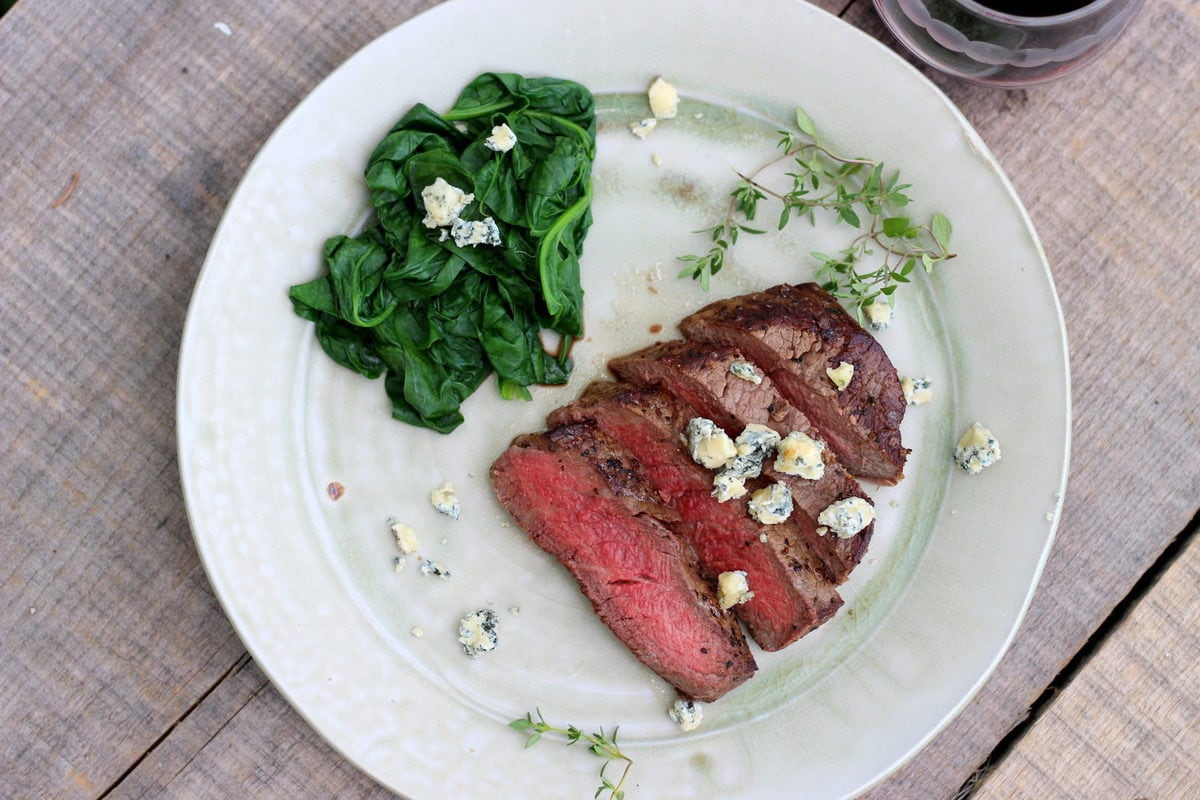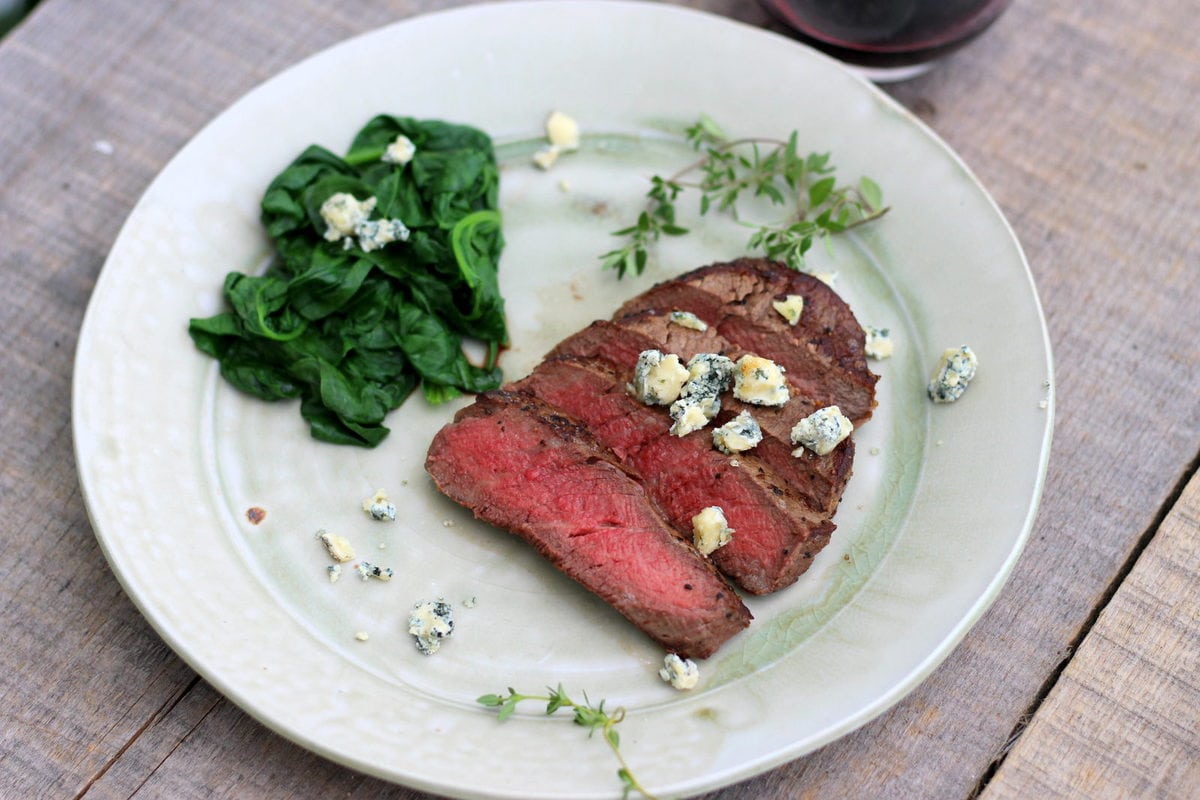 I have to give a shout-out to the talented artist you created the wonderful plate you see in the photo – you have to check out www.jpottery.com (not an affiliate or anything, his stuff is just amazing!) We were on vacation a week ago and ran into his pottery in a little shop in northern Wisconsin. He incorporates the sand from the beaches of Lake Superior into his pieces and they are really just amazing. Needless to say, you will be seeing a couple more pottery pieces worked into my photos. Check him out!
And enjoy your steak 🙂
Print
Pan-Fried Filet Mignon Butter, Thyme and Blue Cheese
Author: Erin
Prep Time: 10 mins
Cook Time: 10 mins
Total Time: 20 mins
Yield: 2 steaks 1x
Category: Entree
Method: Stove Top
Cuisine: American
---
2 1-inch cut filet mignon
1 Teaspoon kosher salt
1/4 Teaspoon ground black pepper
1–2 Tablespoons vegetable oil
3–4 Tablespoons butter
3–4 sprigs of fresh thyme
1/2 cup crumbled blue cheese
---
Instructions
Let steaks come to room temperature.
Pat dry.
Place skillet on stove and add vegetable oil over med-high heat.
Wait until oil starts smoking.
Add 2 Tablespoons of the butter and then add steaks.
Let steaks sit for 3 minutes, but periodically baste the steaks by tipping the skillet to the side and pooling the butter/oil and spoon mixture over the steaks.
Flip steaks after 3 minutes.
Let other side cook for an additional 3-4 minutes, while basting.
Take temperature in the side of the steak and remove if they have reached desired temp or let cook additional time if not hot enough (see post for specific temps).
Let steaks rest for 5-10 minutes.
Serve with crumbled blue cheese on top.
Suggested side dish is sauteed fresh spinach.
---