How to Render Chicken Fat (Schmaltz) – a simple step-by-step tutorial that teaches you how to make schmaltz (rendered chicken fat)!
Schmaltz (how to render chicken fat)
You can use rendered chicken fat for so many different things – really anything that requires a little oil for frying. Throw a little of this in instead. It is a nice thing to have frozen to pull from as you are cooking.
What is Schmaltz
Schmaltz is just another name for rendered chicken fat. Rendered chicken fat is simply solidified chicken fat that has been cooked down into a liquid form.
What is Schmaltz used for
Schmaltz can really be used in place of oils or ghee when cooking (especially pan-frying and sautéing). Otherwise, it is used quite a bit in the Jewish community to make things like matzo ball soup and other dishes. I personally use it a lot to make homemade garlic confit!!! Sooo good!
What does Schmaltz taste like
It has an essence of chicken and reminds me of a more nutty ghee.
Where to find chicken fat
Where would you find copious amounts of chicken fat? Well, as you go through your normal recipes and cook chicken periodically, you can simply cut off any excess fat and throw it into a bag in the freezer until you have enough.
Otherwise, you can do what I did – stop by your deli and ask someone behind the counter of they could hook you up with some chicken fat…. probably not something they hear everyday, but you aren't going to get laughed at. I asked the butcher at my deli and he handed me some freshly cut chicken fat and trimmings – it was perfect. I mixed that with some skin from several chicken thighs.
How to render chicken fat (how to make schmaltz)
Once you have amassed a good amount of fat and skin, about 1 pound, place it in a deep saucepan and add enough water to barely cover all of the fat and skin.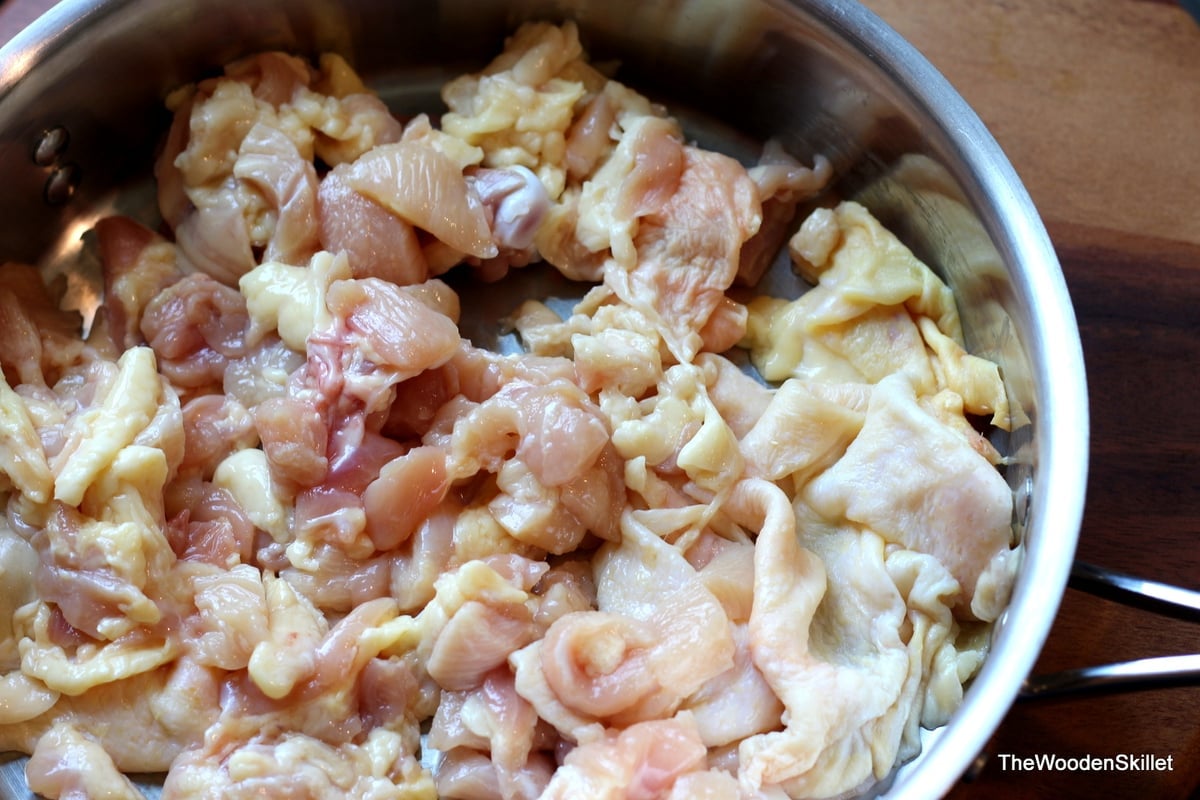 This is a marathon. Not a sprint. Slowly simmer the fat and skin in the water for 45 min – hour, or until the fat has completely rendered or "melted" and the skin has turned into that wonderful crackling and is brown, but not burnt. Obviously, if you burn the skin the flavor of the rendered fat will change, and probably not in a good way.
My butcher basically gave me the trimmings from the morning, so I do have just some fatty meat pieces in the picture above – but you can also see the golden fat being rendered and the beginnings of some wonderful crackling.
Once you have successfully rendered your fat, you may decide to add some onion as well. There are a lot of different viewpoints our there as to whether onions HAVE to be added or not and whether that should be at the beginning of the process or only for the last few minutes…. Here is my take on it: if you add onion that will change the flavor of the fat, just like if you burnt some skin.
That being said, it tastes better with the onion (and some salt). So, I would say it depends upon what you plan on using it for. If you want the rendered fat to act more as an oil for recipes and do not want it adding a ton of other flavors, then maybe don't add it. On the other hand, if you want the rendered fat to be a big part of your recipe, maybe add the onion for that full-bodied flavor.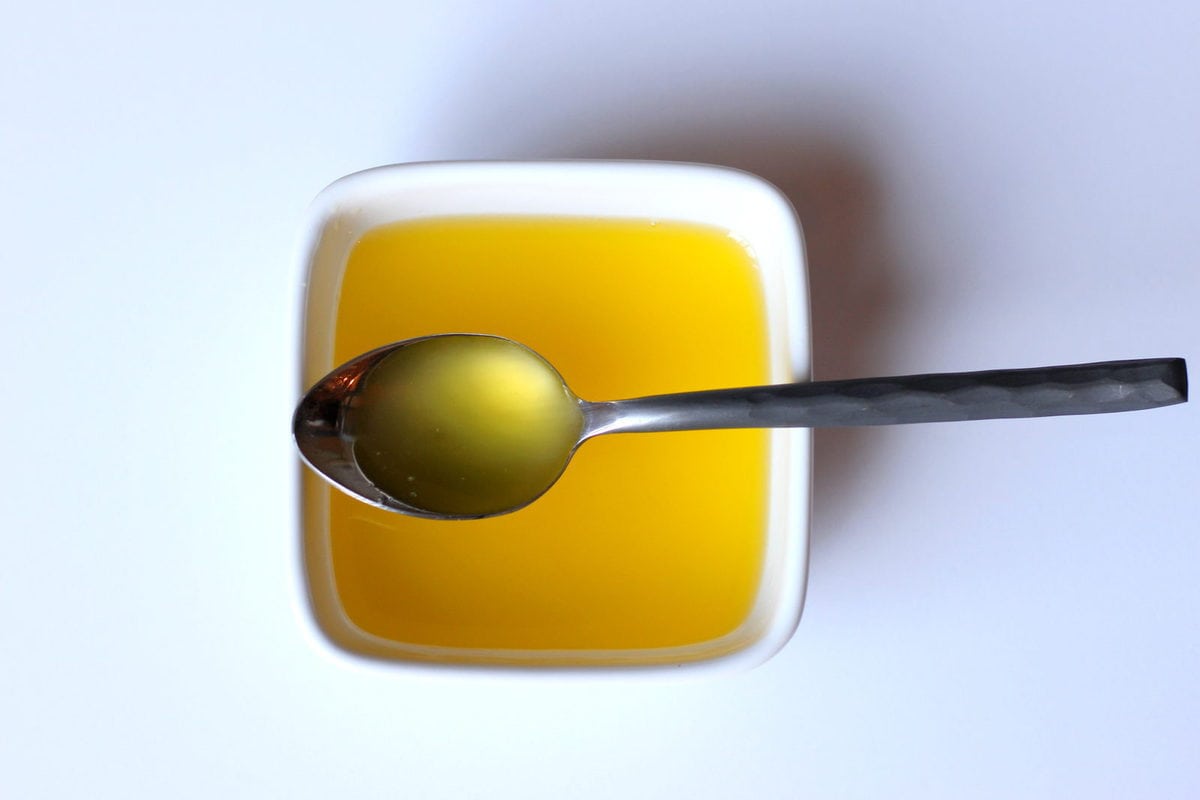 Other Recipes You Might Like
Don't forget to check out my Instagram account for some behind-the-scenes action! Or give me a follow on Facebook or see what I am pinning on Pinterest!
Print
How to Render Chicken Fat [Schmaltz]
Author: Erin Jensen
Prep Time: 15 mins
Cook Time: 1 hour 30 mins
Total Time: 1 hour 45 mins
Yield: Approx. 1/2 Cup
Category: How To
Method: Stove Top
Cuisine: American
---
Description
How to Render Chicken Fat – a step-by-step tutorial on how to render chicken fat. Super easy and something every home cook should know!
---
Approx. 3/4 pound chicken fat (roughly chopped)
Approx. 1/4 pound chicken skin
water (enough to cover fat and skin)
1 medium yellow onion, diced (optional)
kosher salt
---
Instructions
Place fat and skin in deep saucepan.
Add enough water to barely cover the skin and fat.
Simmer for 45-60 minutes, stirring frequently.
Add onion when fat is completely melted and skin has turned brownish, but has not burned.
Continue to stir frequently as onion cooks, approx. 10-15 minutes.
Add a pinch or two of kosher salt.
Strain fat through fine mesh sieve.
Use immediately or keep in fridge in airtight container for no more than a week or freeze for later use.
---
Notes
Storage: rendered chicken fat can be stored in an airtight container in the refrigerator for up to 6 months.
Keywords: how to render chicken fat, schmaltz