Garlic Confit is a simple and delicious culinary technique that leaves you with the most savory garlic and beautifully infused garlic oil! We are going to show you two different ways to make this easy garlic confit recipe – in the oven and on the stove top. Perfect on toast, on sandwiches, with pasta sauces and so many other ways!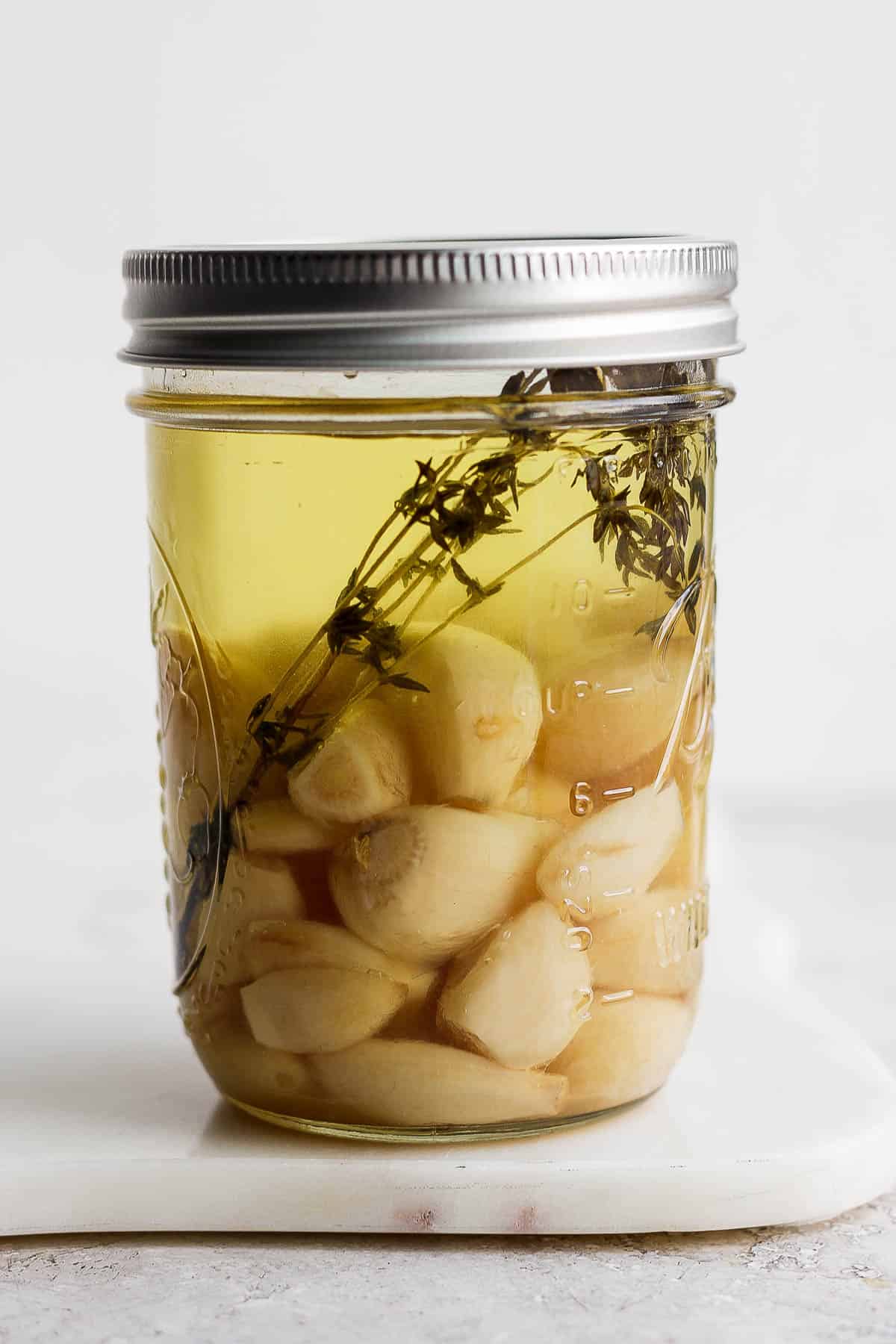 Easy Garlic Confit Recipe
Calling all garlic lovers! It brings so much great flavor, but there are different ways you can prepare the garlic to get some subtly different taste. Like making this homemade garlic confit recipe or making our Oven Roasted Garlic! Both are great ways to enjoy garlic in so many different foods. Perfect for adding to Roasted Garlic Hummus, Late Summer Pasta with Burrata, or Alfredo Sauce. These amazing Italian-inspired recipes are full of so much great flavor! Plus, they are family friendly recipes that everyone loves in our everyday meals!
What You Will Need
extra virgin olive oil – the best part is that when you are done you will also have garlic infused olive oil, in addition to the garlic confit.
fresh head of garlic – peeling those little garlic bulbs can get a little bit tedious but we promise you that it's worth it!
kosher salt – a little for some added seasoning.
fresh thyme – we love adding this for a bit of added flavor but it is not necessary or you could use fresh rosemary or other fresh herbs too!
What Is Garlic Confit
It's raw, peeled garlic cloves simmered in either rendered chicken fat or olive oil (along with some salt and thyme). Through this process, the garlic loses any spiciness it had before and turns into this savory and delicious piece of buttery garlic – seriously you guys, it is absolutely amazing. And the resulting olive oil is so infused with garlic that using it in any garlic-friendly dish will just elevate your recipe that much more.
How To Make Garlic Confit In The Oven
In this cooking method you can begin by peeling all of your garlic cloves and then place them in an oven safe dish.
Then add the olive oil, salt, and fresh thyme. Place the baking dish on the middle rack of the oven and bake at a low temperature (250 degrees F) for about 2 – 2.5 hours.
How To Make Garlic Confit On The Stovetop
For this cooking process, you can place your peeled garlic cloves in a small saucepan and add the olive oil. Make sure it is enough olive oil to cover the cloves of garlic.
Then add the kosher salt and fresh thyme. Give it a mix and place the cover on top.
Let the garlic simmer on medium-low heat for about 1 hour or until the garlic becomes golden brown.
Option to use the garlic confit right away or use a clean utensil to move them to a clean jar (we use a mason jar) for later.
How Long Does Confit Garlic Last
After you let the garlic confit cool for a bit, you can place it in an airtight container and store in the refrigerator for up to 3 weeks. Storing it in the fridge is a MUST in order to lower risk of botulism. Do not store this out at room temperature. You may find that it solidifies a bit in the cooler temperature of the fridge. That's ok! Just set it out at room temp for a few minutes and it will quickly become liquid again or scoop out the garlic you need.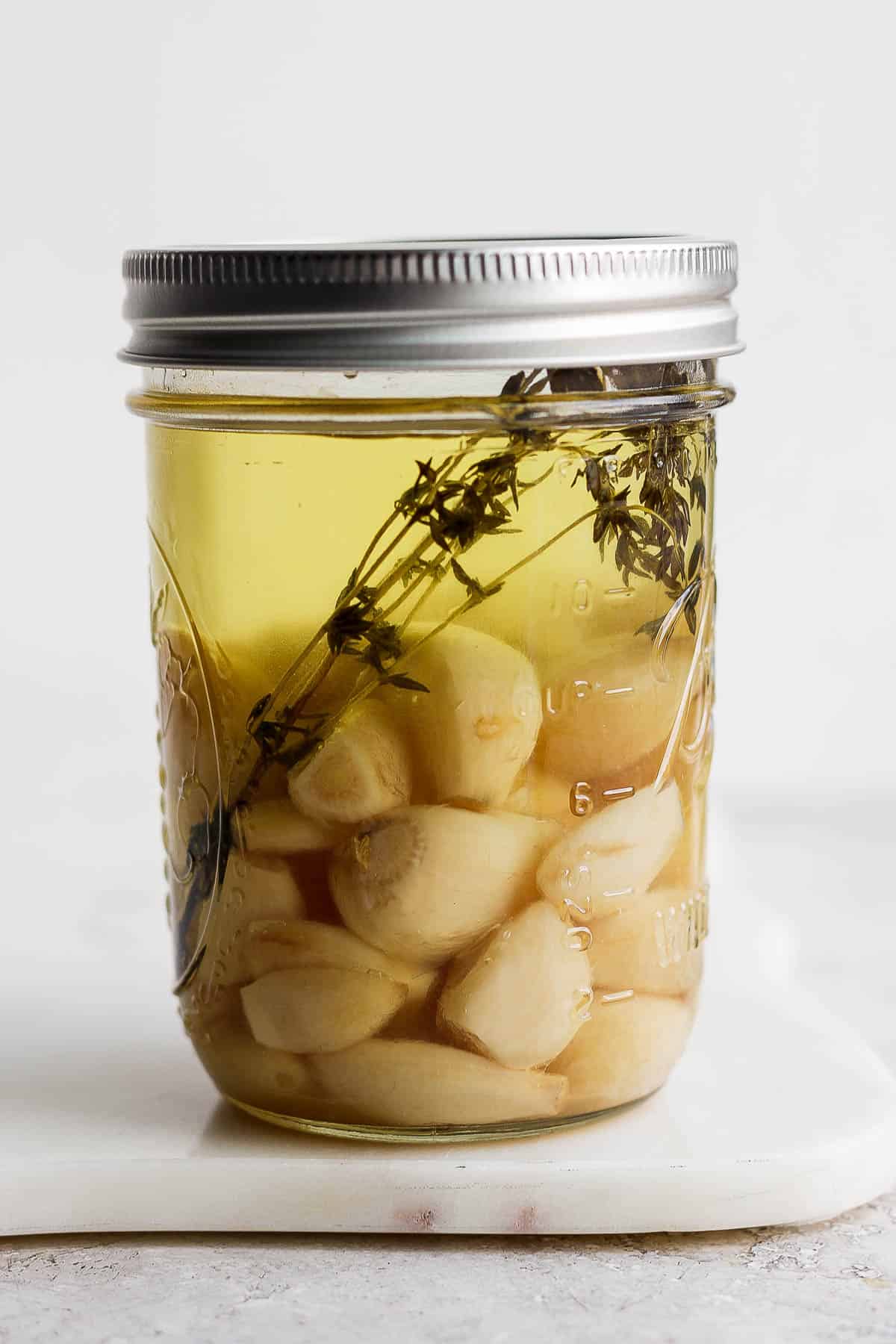 What Is Garlic Confit Used For
The garlic itself can be used to make sauces, salad dressings, or vinaigrettes. Place garlic on a salad or spread it on toast or garlic bread, the possibilities are endless. Our favorite way to use it is in our homemade hummus, braised lemon garlic chicken, or a burrata summer pasta! Plus, it is so nice to have the garlic infused olive oil for using in any of our favorite pasta recipes!
Made this recipe and loved it?! We would love it if you would take a minute and leave a star rating and review – it is also helpful if you made any substitutions or changes to the recipe to share that as well. THANK YOU!
Don't forget to check out my Instagram account for some behind-the-scenes action! Or give me a follow on Facebook or see what I am pinning on Pinterest!
Print
Garlic Confit
Author: Erin Jensen
Prep Time: 10 minutes
Cook Time: 1 hour
Total Time: 1 hour 10 minutes
Yield: 1 jar 1x
Category: How-To
Method: Oven
Cuisine: French
---
Description
Garlic Confit – A simple and delicious culinary technique that leaves you with the most savory garlic and beautifully infused olive oil!
---
1 cup rendered chicken fat or extra virgin olive oil
2 heads of garlic, peeled
2 teaspoons kosher salt
2–4 sprigs of fresh thyme
---
Instructions
Place rendered chicken fat or olive oil into small saucepan.
Add whole garlic cloves, salt and thyme.
Let simmer, covered, approx. 1 hour or until garlic becomes browned.
Add additional salt to taste.
Store for later to use in any of your favorite recipes, like Garlic Hummus!
---
Notes
Oven Method: add olive oil/chicken fat, garlic cloves, salt and thyme to oven-proof pan and place in oven at 250 for 2-2.5 hours
Storage: Store in airtight glass container in the fridge for up to 3 weeks.
Herbs: we love using fresh thyme, but you could also use fresh rosemary sprigs, a bay leaf, star anise, or black peppercorns!
Leftover Oil/Chicken Fat: Use garlic and/or leftover olive oil or chicken fat for cooking – we love using it in this Lemon Garlic Chicken.
Pro tip: pour some of the oil into ice cube trays and then you have pre-portioned servings of olive oil that you can use as needed!
Keywords: garlic confit, how to make garlic confit