Sun Basket Review – my honest opinion on this healthy, organic and paleo-friendly meal-service delivery!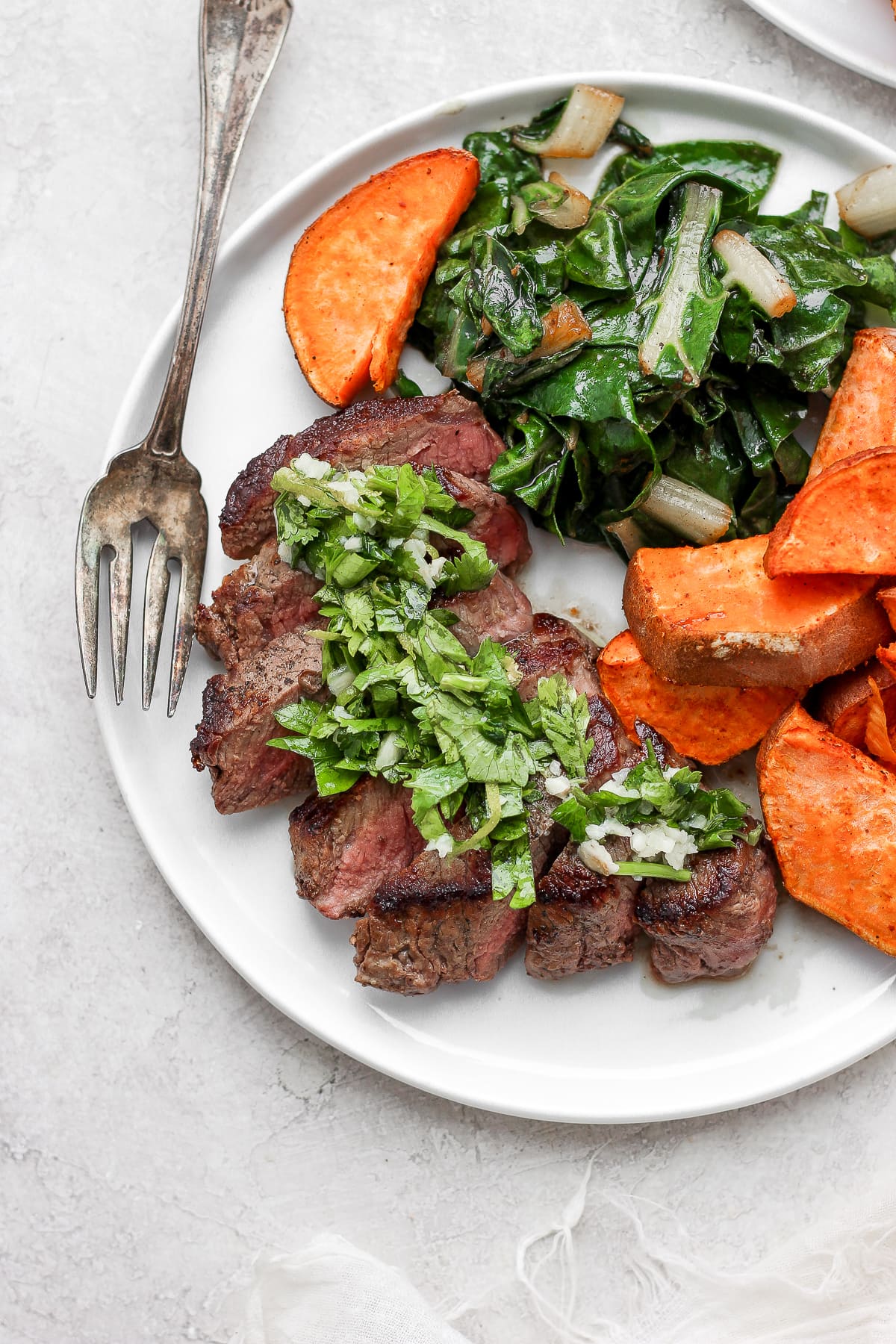 Alright you guys, here it is, my honest Sun Basket review! (I also have a sweet deal for you guys at the end!!)
I have never really tried a meal-delivery service before – I mean, I am a food blogger after all. Why would I want to pay someone else to come up with a recipe for me?? Right?!
And how good can the food be anyway – Personally, I assumed that the servings would be these piddly little things and not fill me (or my husband) up at all.
So my expectations were REALLY low. BUT I thought, what the heck. I had heard really good things about it from some friends and I knew they had paleo-friendly meals and they use organic ingredients.
(Note: this post isn't sponsored – I honestly just love Sun Basket and pay for it myself because, after trying it, I completely fell in love! But Sun Basket was kind enough to give me an affiliate link through which I do earn a small commission at no extra cost to you – if you are anxious for the coupon code – just CLICK HERE for $40 off your first order of $60 or more – OR – $20 off your order of $59 or less)
What is Sun Basket:
Sun Basket is an organic meal delivery service! They offer a variety of recipes each week for you to choose from. The recipes range from vegetarian, paleo, gluten-free, Mediterranean, dairy-free, etc. Then all of the ingredients and the recipe are delivered to your home once a week. Everything is fresh, not frozen. The meat is sustainably sources, organic, free-grange, wild-caught, etc. And the packaging is all recyclable!
My Sun Basket Review:
Here is what the box looks like:
And here is an example of the bags that each meal comes in:
I ordered 1) Seared Salmon with panning curried cauliflower rice (my favorite!), 2) chicken cacciatore with cauliflower mash, and 3) Steak with chimichurri and Harissa-roasted sweet potatoes (pictured below!).
Here is what the contents of the Steak with Chimichurri bag looked like:
And here is what the cooked meal looked like!
Honestly ….. I loved, loved, loved it.
Why do I need a meal delivery service?
So why do I (a food blogger) need/like a meal delivery service? Well, making up recipes is literally my job. I do it A LOT. So it's kind of like if you went to work all day to be an accountant and then came home and needed to continue to be an accountant …. it's nice to have a break.
But, I really do love cooking and I find myself missing making other people's recipes. Because when I make other people's recipes, I don't have to think so much. I just get to enjoy the act of cooking and have fun. So if someone else is coming up with my dinner recipe AND delivering the (organic) ingredients right to my door in perfectly portioned and prepped containers …. ummm yes please. I seriously had fun and enjoyed myself, the food was excellent, the portions were very generous (even my husband was filled up) and it was really just an awesome experience.
Paleo and Whole30 Meal Delivery Service:
So I really want to share this with you guys because I liked it so much! And I know its nice to have a place that can deliver paleo, gluten-free, dairy-free meals to your door! Note: many of their paleo meals are also Whole30, they just don't market them that way – FYI. Just look at the ingredients! So for those of you who are doing a Whole30 or working out your new food freedom, this is a really nice tool to have in your arsenal. For those weeks when you are getting sick of the same old, same old – check out the latest menu and see what new recipe there is to try!
Sun Basket Menu:
So what is on the Sun Basket Menu? Well it changes every week! But as an example, here were some other options for the same week I ordered this Steak with Chimichurri (several of these were Paleo, I just don't remember which ones!):
Vegetarian and Vegan:
Crispy Tempeh Tenders
Pumpkin Chili
Malaysian Tofu Laksa
Greek-style Chickpea Gyros
Tuscan Vegetable Soup
Seafood
Seared Salmon with Panang with curried cauliflower rice
Roasted Shrimp and Eggplant with mint couscous and spicy green harissa
Sole with Red Pepper Vinaigrette with lemon-garlic broccoli
Lettuce-Wrapped Salmon Burgers with cumber kimchi smash
Poultry
Chicken Cacciatore with cauliflower mash
Turkey Taco Bowls with brown rice, black beans, and pico de gallo
Lemongrass chicken salad with quick pickles and same-miso dressing
Thai-Spiced Chicken Toastadas with frisee and apple slaw
Meat
Roasted Italian Sausages and spiced vegetables with romesco
Pork Chops with fig-rosemary sauce and quinoa-endive salad
Mongolian Beef and Vegetable Stir-Fry with fresh ramen
Fresh Fettuccine Bolognese and garlicky baby broccoli
How much does Sun Basket cost?
This depends on how many servings you want and the type of menu:
Family Menu (appears to be limited menu, but slightly cheaper prices): 10.99 per serving for either 2, 3, or 4 recipes per week + 6.99 shipping fee
Classic Menu for 4 people: 2 meals – $12.99 per serving; 3 meals – $11.99 per serving; 4 meals – $10.99 per serving + 6.99 shipping fee
Classic Menu for 2 people: 2 meals – 12.99 per serving; 3 meals – $11.99 per serving; 4 meals – $10.99 per serving + 6.99 shipping fee
When I think about it, I don't really think $12.99 is very high for getting organic, fresh, high-quality ingredients delivered to your door, pre-portioned and with a fun and different recipe. You will pay that for going out to eat pretty much no matter where you go, but you most likely won't be getting this quality of ingredients for this price. Yes, you cook it yourself, but from my perspective that is part of the fun.
Sun Basket Promo Code:
Because I love you guys so much 🙂 and because I am such a huge fan of Sun Basket, they hooked me up with an awesome deal for you!! CLICK HERE for $40 off your first order of $60 or more – OR – $20 off your order of $59 or less) So you could essentially TRY SUN BASKET FOR ALMOST NOTHING!
Other benefits of Sun Basket:
you can easily skip a week (or two or three) with the click of a button. I do it all the time when I know I have a week coming up when we won't be around or I just don't feel like paying for it that week.
you can cancel at any time!
the menu changes every week so you don't get sick of the recipes
it comes with a really nice recipe/instruction booklet that even gives tips on how you can easily include your kiddos in the meal-prep process. I always keep the recipe books simply for inspiration – there are so many good recipes!!
you can order as few as 2 recipes in a week for 2 people, which is what I do a lot of the time! It's just a fun treat to look forward to!
they let you know which recipes are Quick so you can plan accordingly!
they also have fun and healthy snacks (their snap peas were SO much better than the ones at my grocery store!) and their dipping sauces are delicious! I am also a huge fan of their new bone broths!
we love working in plant-based meals during the week and it's super easy to have Sun Basket take care of our plant-based meal option for the week!
The only thing I didn't LOVE:
If I HAD to pick something I didn't LOVE (this is an honest Sun Basket review, after all) – I wouldn't exactly call ALL of the recipes "kid-friendly." The recipes are amazing and I am sure my kiddos would eat some of them, but definitely not all of them. So this is my approach – I look at as a treat to myself. Sometimes I order enough for the kiddos and us, but most of the time I honestly just order it for me and my husband and maybe the girls have Mac and Cheese that night or a sandwich (it never seems to matter to them!). Then I really just enjoy making the recipe and think of it as a little "me time" in the kitchen!
But again, in every menu there are a handful of recipes that the kiddos might like (such as turkey taco bowls or tuscan vegetable soup), but I like to pick out what I want to make, not necessarily what I hope my kids will eat! So for me Sun Basket = a treat for Mama! 🙂
There you have it – my Sun Basket Review!
I hope I answered all of your questions – if you have more feel free to email me or leave a comment below!
And don't forget to take advantage of this awesome deal they are letting me off you guys! Happy cooking!
Don't forget to follow me on Facebook, check out my Instagram account or see what I am pinning on Pinterest!
Love,
E
Other Whole30/Paleo Meal Planning Resources:
(Note: this post isn't sponsored – I honestly just love Sun Basket and pay for it myself because, after trying it, I completely fell in love! But Sun Basket was kind enough to give an affiliate link for you guys to get a good deal! I will earn a commission if you purchase through these links at no extra cost to you. Please note that I've linked to these products purely because I recommend them and they are from companies I trust.)