Whole Roasted Chicken – There is something so cozy and comforting about roasting a whole chicken (especially on a Sunday!) and this is my favorite way to cook it! So easy to make, full of flavor – once you cook one you are going to be hooked! Family-friendly and perfect for meal prep!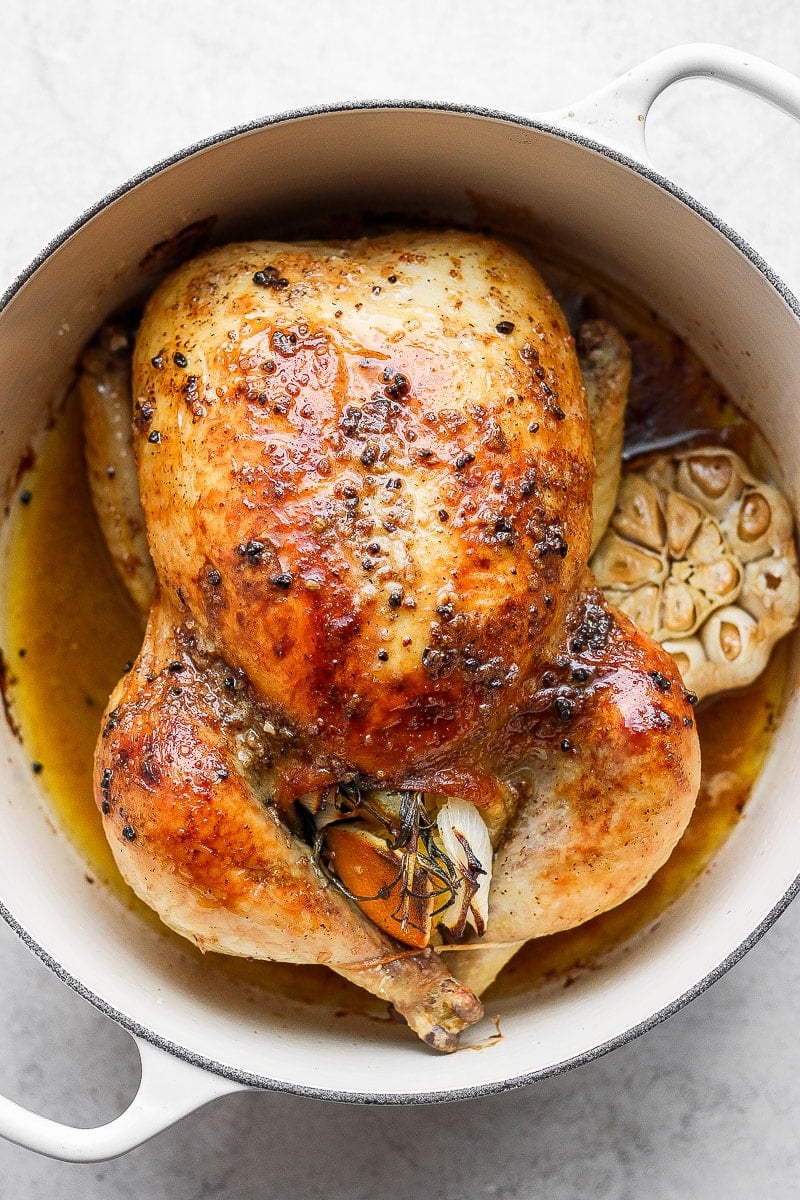 Best Ever Whole Roasted Chicken Recipe
This whole roasted chicken recipe has been in permanent rotation for as long as I can remember! And I cannot wait for all of you try it 🙂 It is a tried and true recipe that I love to so much – it is pure comfort food and perfect for any time of the year. Serve with homemade chicken gravy (made from the pan drippings), Whole30 mashed potatoes or ultimate yukon gold potatoes and some roasted broccolini.
Got leftovers – check out this Greek Yogurt Chicken Salad. If you like this recipe definitely check out my Roasted Chicken Soup!
Why You Will Love this Recipe
Cozy: Is there anything more cozy than having a whole roasted chicken cooking away in the oven?!
Sunday Supper: Roasting a whole chicken on Sunday evening for dinner is a favorite of mine! Just always seems to special (and the house smells amazing).
Family-Friendly: My kids LOVE this recipe! It truly is a family favorite.
Gravy + Broth: Use the drippings to make gravy and the leftover bones to make homemade broth!
Whole Roasted Chicken Ingredients
whole roasting chicken: I recommend a 2-4 pound roasting chicken – ensure it is fully thawed and the cavity is empty.
kosher salt and ground black pepper: the basics of seasoning – always gotta have a little of both.
ghee or butter + garlic: we combine these to make a garlic butter rub.
celery: the celery is used as a little roasting rack.
fresh orange + fresh rosemary + fresh thyme + sweet yellow onion: this is what we will stuff the chicken with.
head garlic: this is used as an aromatic.
Dutch Oven: I used a 5.5qt dutch oven but a regular roasting pan or even a deep cast iron skillet will work too.
What to Serve with Whole Roasted Chicken
Meal Prep Friendly
There are two ways you could integrate meal-prep into this recipe:
Meal Prep Chicken – simply use the recipe to make chicken for the week to use in salads, etc.
Prep Recipe – you could also prep the chicken (rub with butter/ghee, sprinkle with salt and pepper and stuff) then simply leave in the dutch oven (cover it) and place in the fridge overnight. Then, when it is time to get dinner ready just pop it in the oven and dinner is on its way to being done (without any of the prep!). Your cooking time might increase just a little since the dutch oven and chicken are starting out cold, but it should only be by a little bit (5-10 minutes).
How to Roast a Whole Chicken
Place celery in the bottom of the pan to act like a "roasting rack."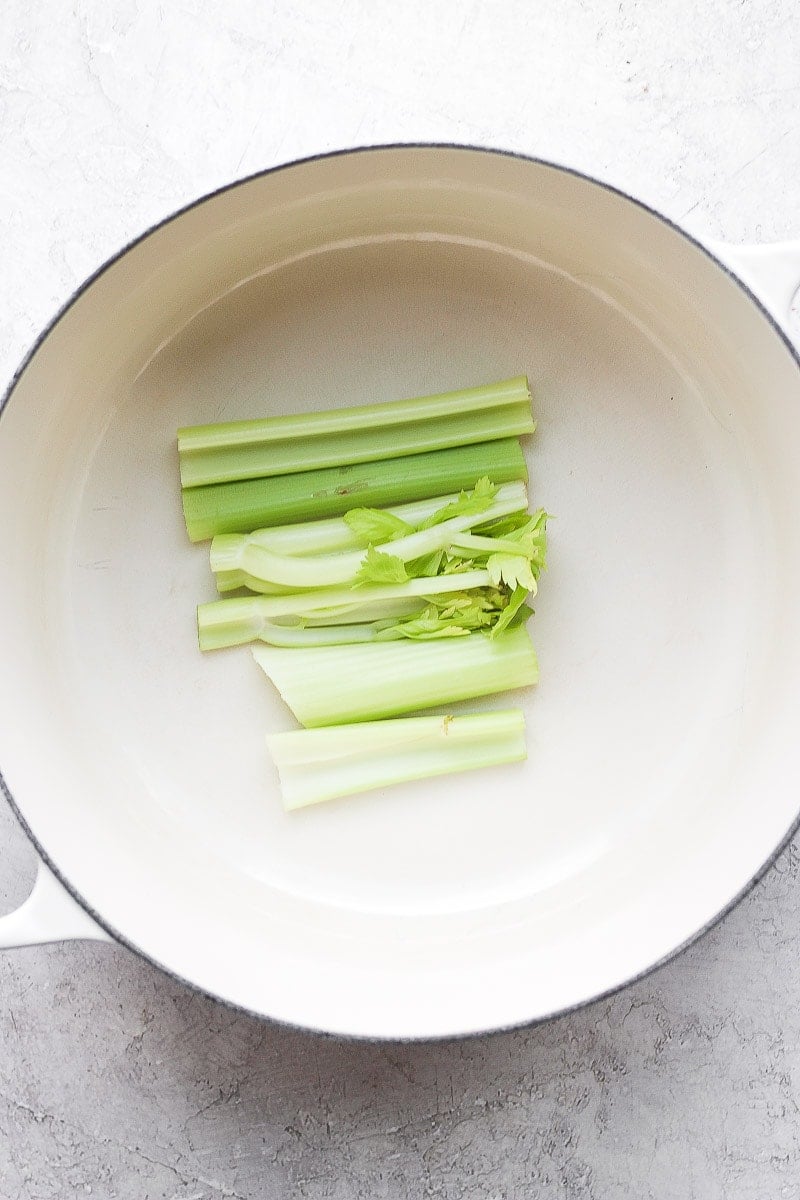 Place chicken on top of celery and pat dry with a clean paper towel.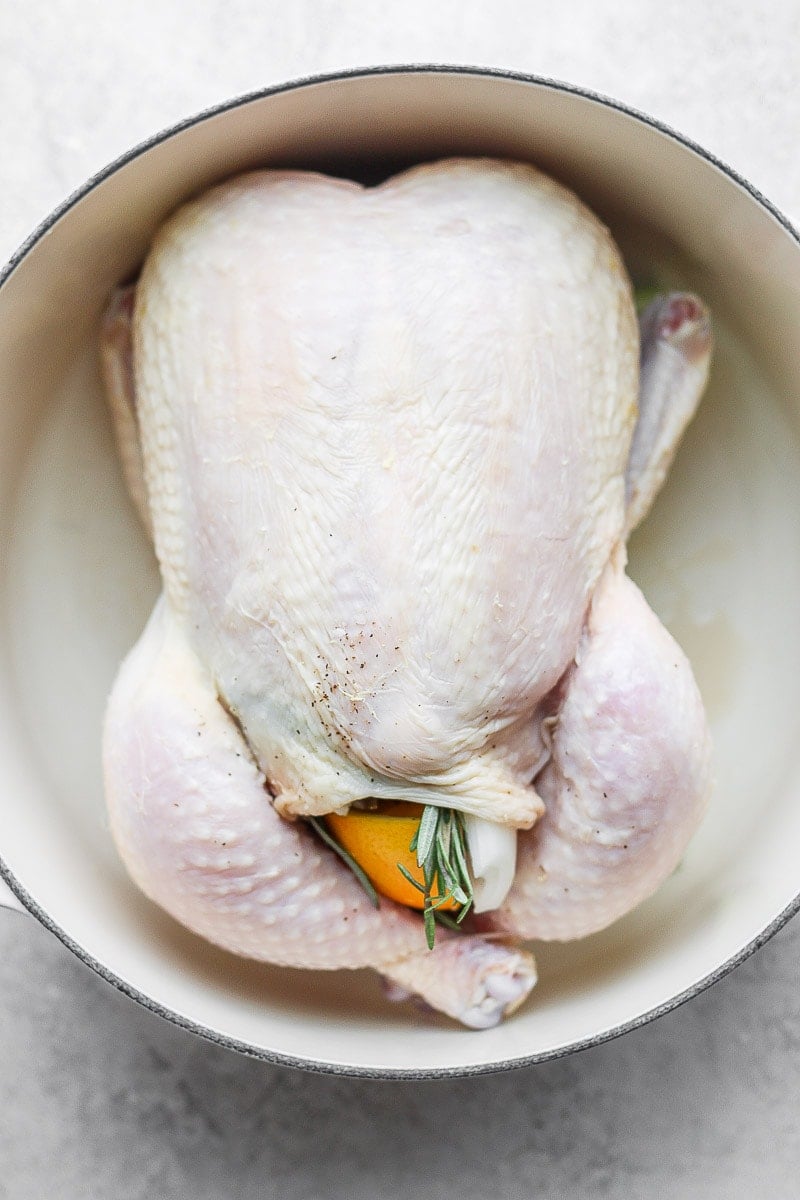 Stuff with onion, orange, and fresh herbs. Rub all over with softened butter (or ghee) and sprinkle generously with salt and pepper.
Baste approximately every 30 minutes while roasting with both more melted butter (or ghee) and the drippings from the bottom of the pan.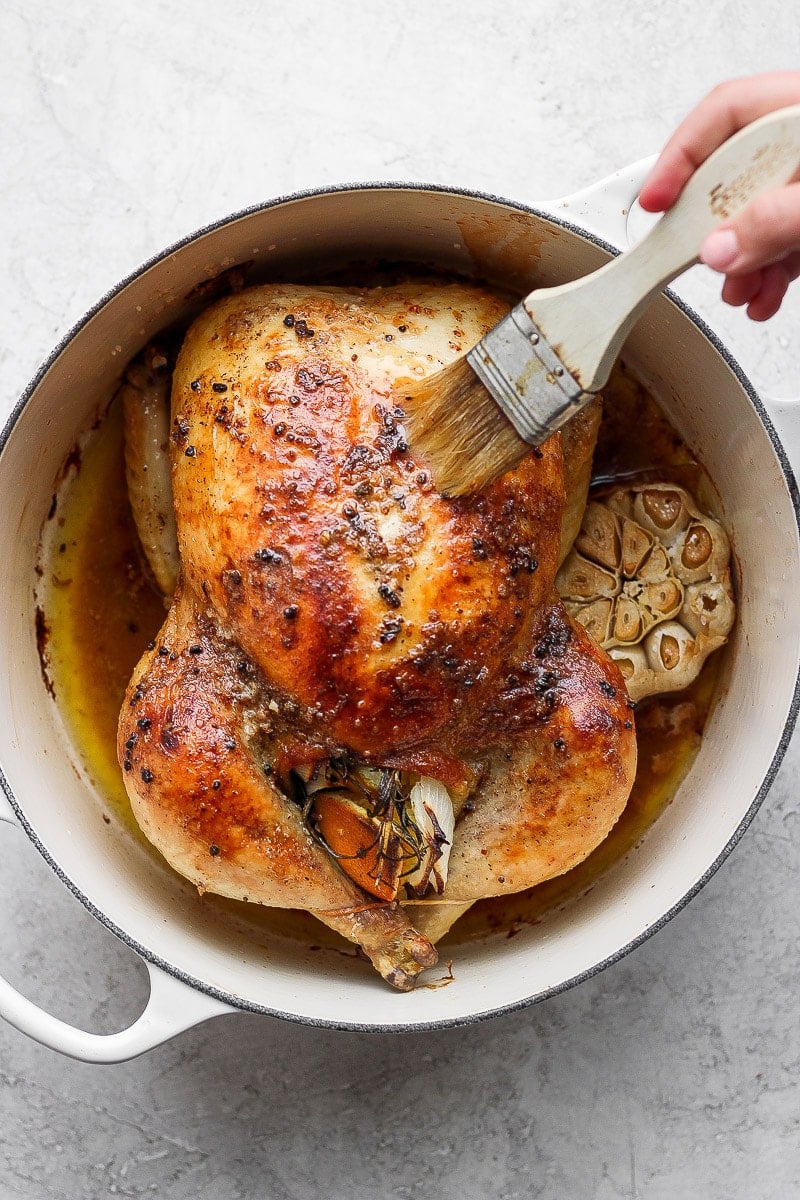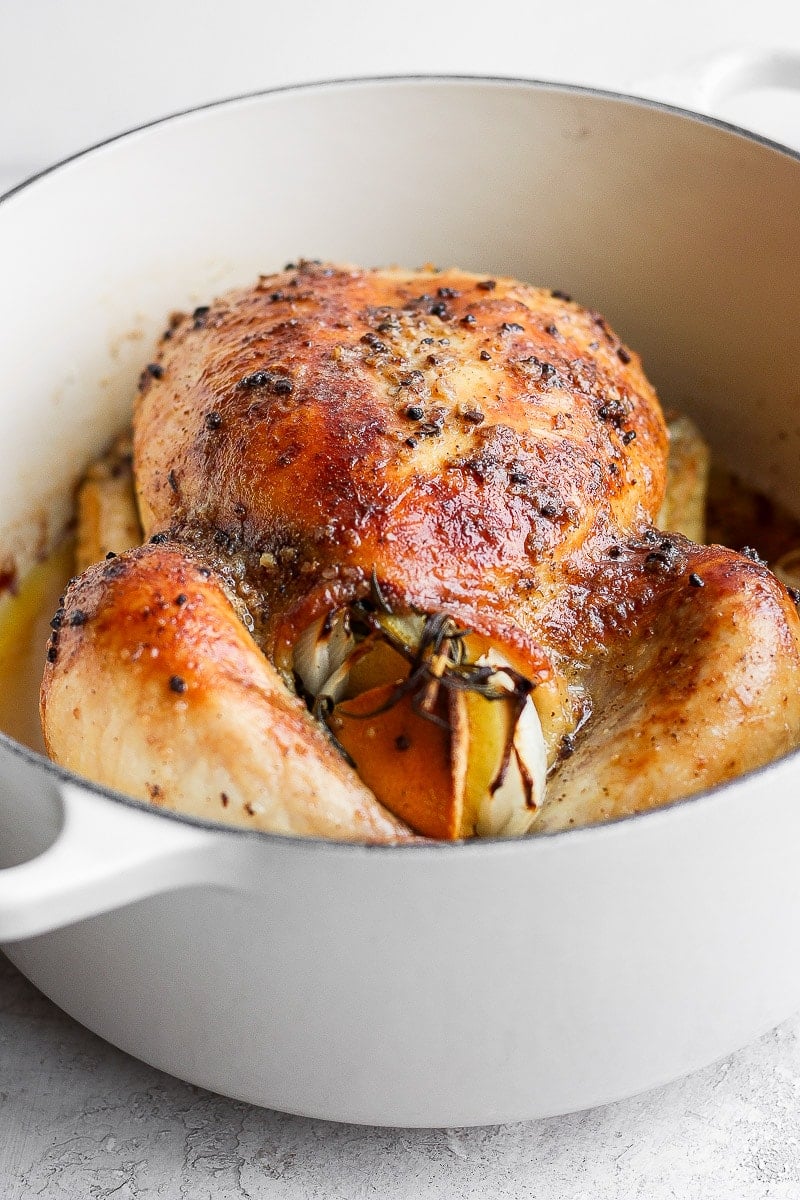 Let the chicken rest. Carve and serve!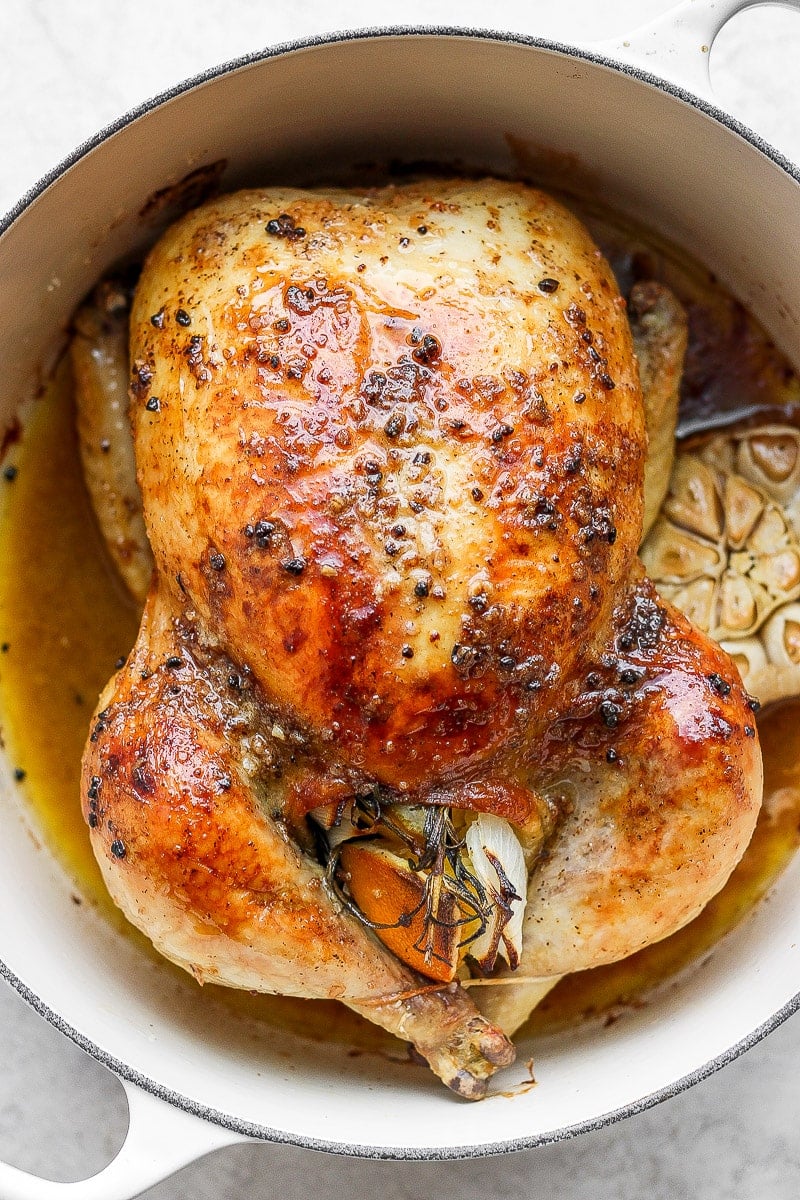 How to Carve a Chicken
If you are looking for a tutorial on how to carve a roasted chicken, here is a great tutorial!
Whole Roasted Chicken Gravy
Feel free to make some yummy homemade chicken gravy (I also have a Whole30/Paleo Gravy recipe here)!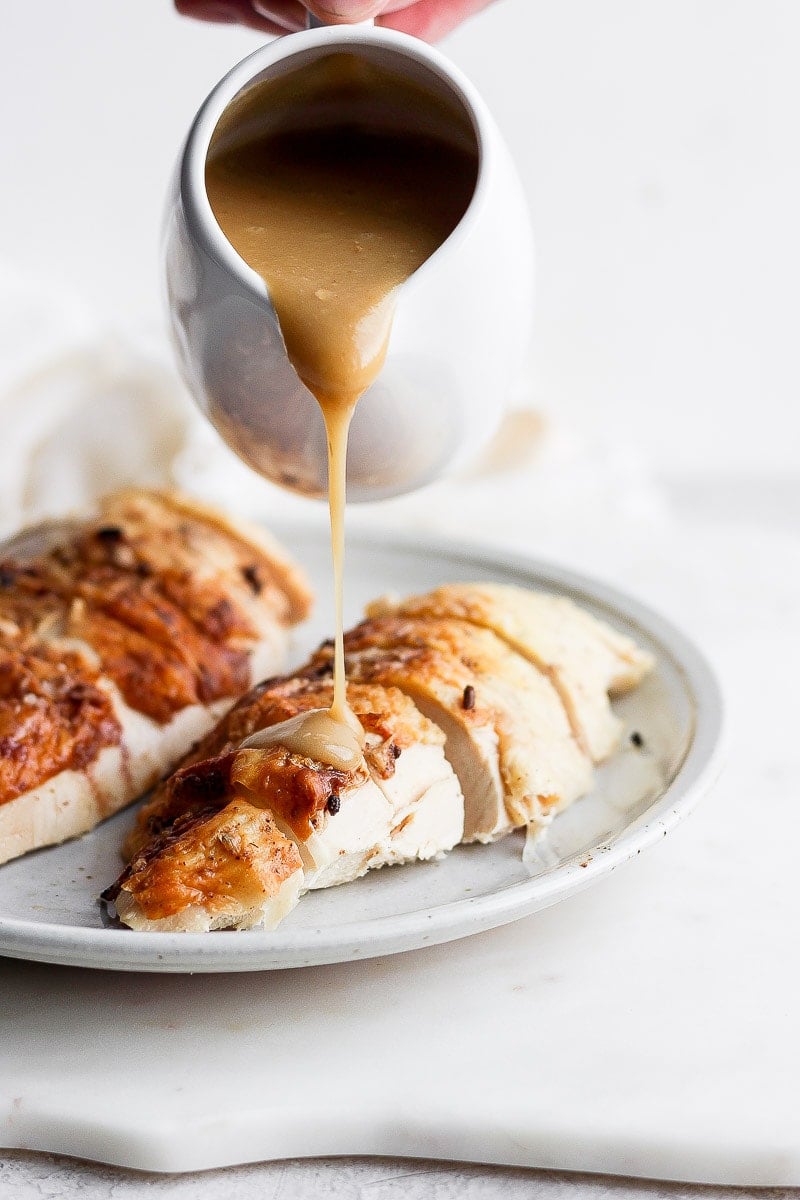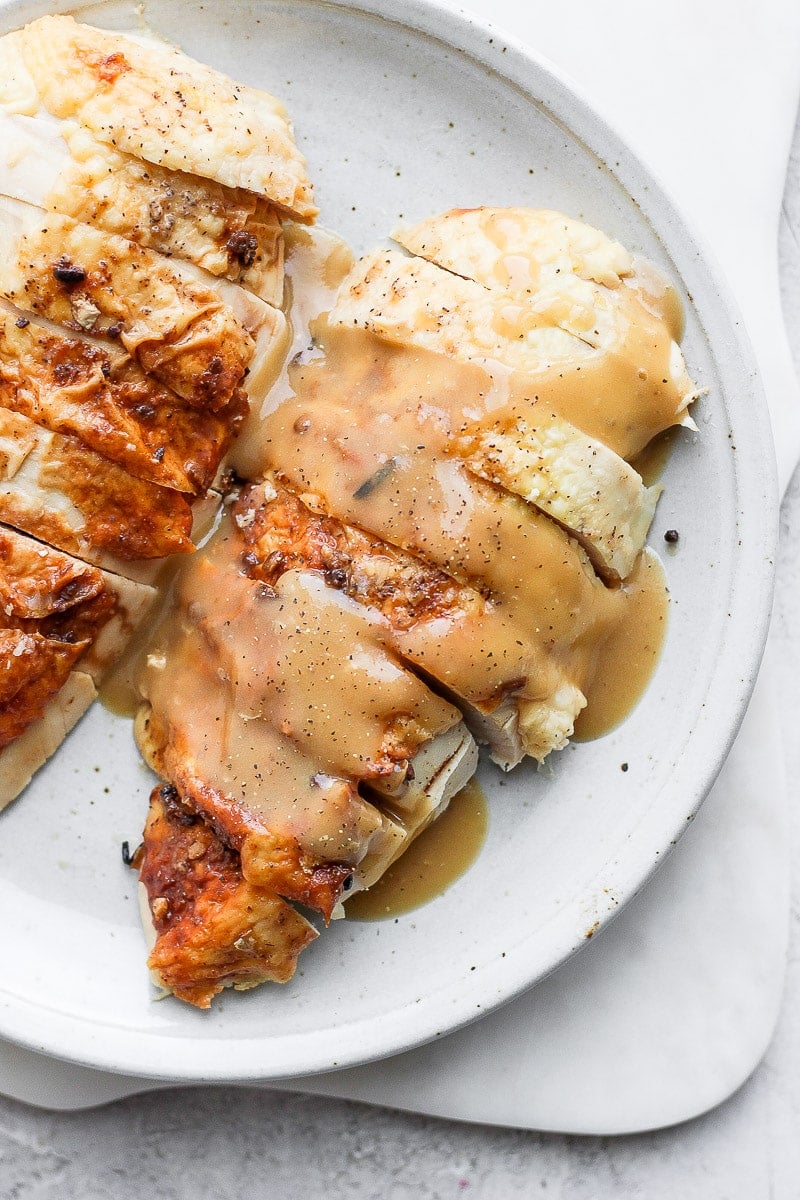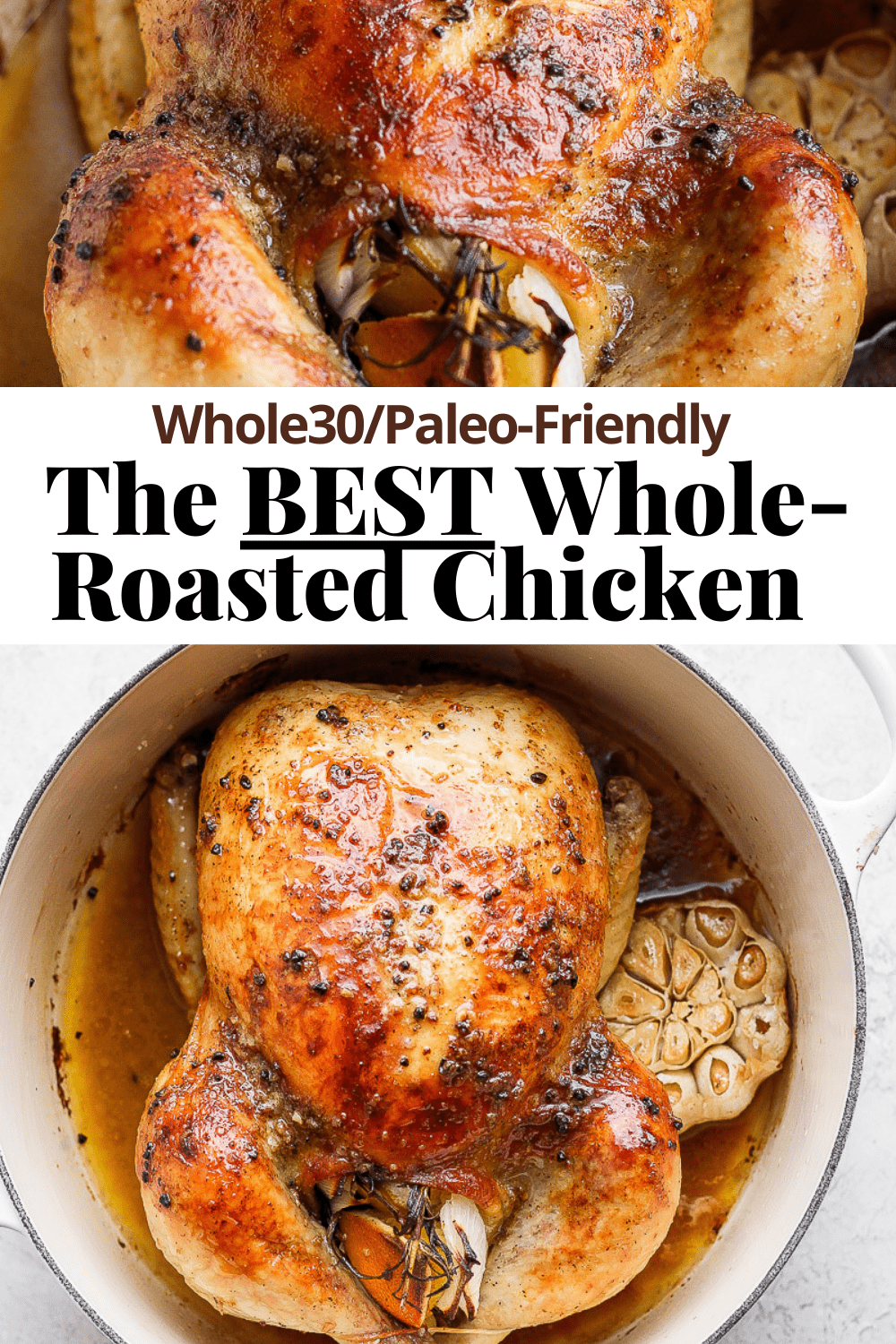 Other recipes you might like:
Don't forget to check out my Instagram account for some behind-the-scenes action! Or give me a follow on Facebook or see what I am pinning on Pinterest!
Made this recipe and loved it?! We would love it if you would take a minute and leave a star rating and review – it is also helpful if you made any substitutions or changes to the recipe to share that as well. THANK YOU!
Print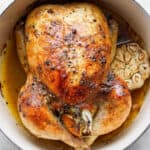 The BEST Whole Roasted Chicken
Author: Erin Jensen
Prep Time: 10 minutes
Cook Time: 1 hour 15 minutes
Total Time: 1 hour 25 minutes
Yield: 6 servings 1x
Category: Dinner/Entree
Method: Oven
Cuisine: American
---
Description
The BEST Whole Roasted Chicken – a classic, tried-and-true recipe for a delicious whole-roasted chicken. Perfect for meal-prep, Sunday Supper or a weeknight dinner!
---
(1) 2-4lb whole roasting chicken (fresh or fully thawed and innards removed)
salt and pepper (approx. 2 teaspoons of each)
1/2 cup ghee or butter, softened, divided
2 teaspoons garlic, minced
1–2 stalks celery, cut into 2–3 inch pieces
1/4 fresh orange, cut into small chunks
2 sprigs fresh rosemary
2 sprigs fresh thyme
1/2 sweet yellow onion, cut into chunks
head garlic, cut off top
1/2 lemon (optional), cut into chunks
---
Instructions
Preheat oven to 375 degrees F.
Celery Roasting Rack:Take the dutch oven and lay down your celery in the middle so it creates a "roasting rack."
Prep Chicken: Place chicken in a dutch oven on top of the celery. Pat the chicken dry with a clean paper towel. Feel free to use kitchen twine to truss up the legs.
Stuff: Rub salt and pepper inside the cavity as best you can and then stuff with sweet yellow onion, orange chunks, lemon chunks and fresh rosemary and thyme.
Butter: Place 1/4 cup of softened butter (or ghee) in a small bowl and mix it together with the minced garlic. Then take the garlic butter and rub all over the chicken, in every nook and cranny, and under the skin as best you can.
Seasoning: Sprinkle the chicken with salt and pepper so it has a thin layer all over.
Garlic: Place the head of garlic (with one end cut off) inside the dutch oven next to the chicken.
Oven: Place in the oven on the middle rack, uncovered.
Roast + Baste for approximately 1 hour and 15 minutes – 1 hour and 30 minutes or until chicken reaches an internal temperature of 165 degrees F at the thickest part of the thigh (use an internal meat thermometer). While the chicken is roasting take the remaining butter (or ghee) and melt. Baste the chicken every 30 minutes with melted butter as well as the drippings that will gather in the bottom of the pan.
Temp: Once the chicken reaches an internal temp of 165 degrees F. remove from the oven, baste one more time, and then let rest for 10-20 minutes (leave in the dutch oven as it rests as juices will continue to gather that you can then use for gravy).
Remove from dutch oven, carve and serve.
Drippings: Use the drippings (any juices left over in the bottom of the dutch oven) from the pan to make chicken gravy, if desired.
Notes
Whole Chicken: ensure the cavity is empty (remove any giblets or gravy pack, if any) and that it is fully thawed
Cooking Time: cooking time is approximate so start checking the internal temp after an hour just so you can see where things are at and you can gauge how much longer it will need to reach 165 degree F. If after 1 hour and 15 minutes your chicken isn't fully cooked, continue cooking for 5-10 minute increments until it does reach an internal temp of 165. Remember the chicken will continue cooking (and then temp will continue to rise) while it is resting.
Internal Meat Thermometer: highly recommend using an internal meat thermometer so you can keep track of doneness.
Whole30/Paleo: if you are eating Whole30/Paleo then use ghee instead of butter.
Dairy-Free: If you are dairy-free I would recommend using some olive oil to rub the chicken with initially and then baste with a mixture of white wine, chicken broth and a little vegan butter. Note: your chicken might not brown up as nicely with this method.
Gravy: Use the drippings to make chicken gravy – I also have a gluten-free gravy recipe here that is Whole30/Paleo.
Homemade Chicken Broth: Don't forget to save the carcass so you can make homemade chicken broth the next day!
Nutrition
Serving Size:
Calories: 228
Sugar: 2.1 g
Sodium: 808.5 mg
Fat: 17.2 g
Carbohydrates: 12.5 g
Protein: 8 g
Cholesterol: 58.2 mg
Keywords: whole roasted chicken
Originally published December 6, 2020.