Oven Baked Ribs are such an easy, fool-proof way to make fall-off-the-bone ribs without a grill or smoker! Cooking ribs in the oven is a great way to feed a crowd or get out of the heat!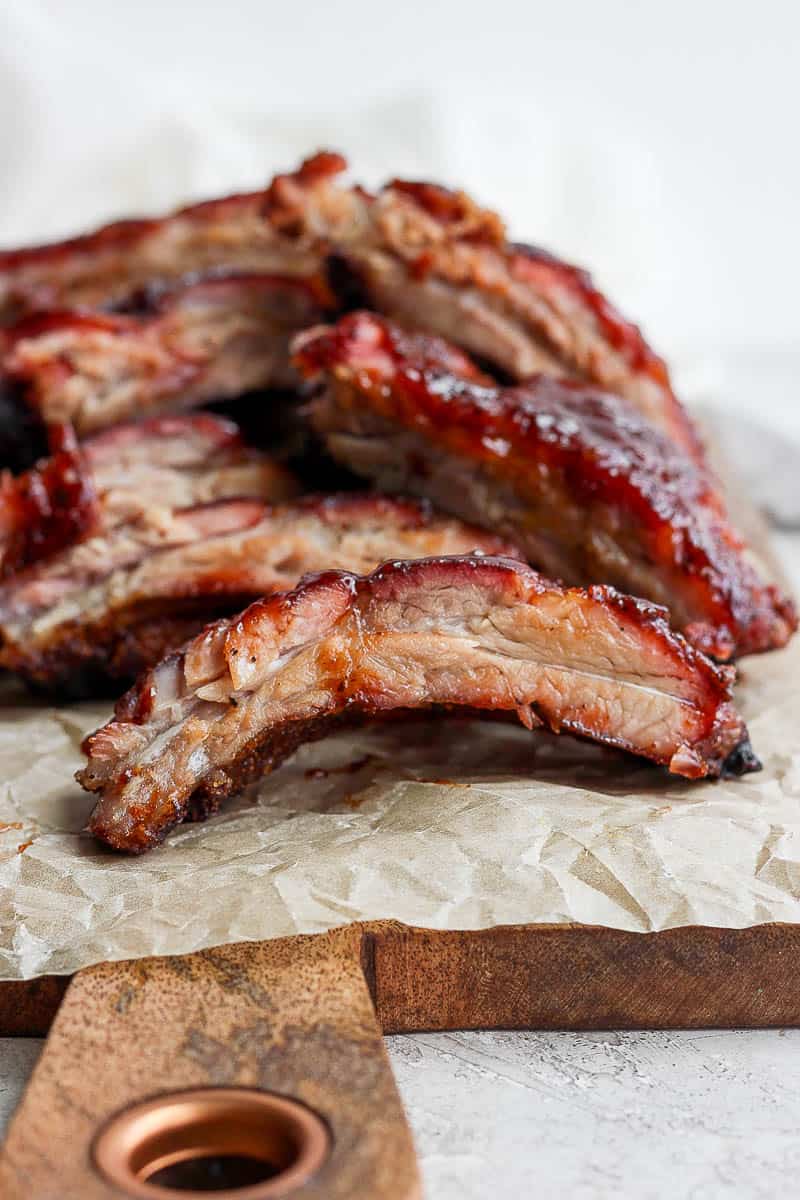 The BEST Oven Baked Ribs
I based this recipe off of my other favorite way to cook ribs (See: Smoked Baby Back Ribs) and they are SO, SO good! I know not everyone has a smoker and this is such an easy way to make ribs in the oven at home that are bone tender and juicy! Feel free to try out our Homemade BBQ Sauce or use your favorite store-bought brand. Some of our favorite side dishes to serve with these are Corn on the Cob, Baked Beans, Creamy Coleslaw and Cornbread Muffins for a delicious meal!
Oven Baked Ribs Ingredients
baby back ribs: we usually use two racks of ribs – leftovers are amazing!
worcestershire sauce + yellow mustard + liquid smoke: these are rubbed all over the ribs and then the dry rub is added and together they make a paste.
One batch of dry rub: I absolutely love our homemade dry rub for ribs which is a combination of spiced like kosher salt, ground black pepper, paprika, lemon pepper, garlic powder, onion powder and a little bit of cayenne.
barbecue sauce: feel free to use any kind of bbq sauce you want – we do have a delicious homemade bbq sauce too!
Do Ribs Need to be Washed Before Cooking
No. Ribs do not need to be washed or rinsed before cooking. According to the USDA, this not recommend as it can increase the risk of cross-contamination.
Should You Take the Membrane Off Ribs
Yes, you should take the membrane off of the ribs before cooking. If you do not remove it, the ribs will be much harder to cut apart after cooking and tougher to eat (see pictures below).
How Do You Remove the Membrane From Ribs
A lot of pre-packaged ribs already have the membrane removed, but if you bought your ribs straight from a butcher, it might be there (but you can always ask them before you buy it and if it is still there, ask them to remove it for you!). The membrane is the thin layer on the back of the ribs that is white(ish) in color. Simply take the tip of your knife and lift of the corner and slowly pull it off! Easy! (See picture below)
How Long Does it Take to Cook Ribs
With this recipe it takes approximately 6 hours to cook ribs in the oven. Ultimately, you are looking for your ribs to reach an internal temperature of 190 – 200 degrees F. Ribs are safe to eat once they reach 145 degrees F, but the meat would be much too tough. Once the meat reaches an internal temperature of 190 – 200 degrees F. the meat is tender and juicy!
Should Ribs be Cooked Covered or Uncovered
Ribs do not need to be covered when cooking. They have enough natural fat on them that the fat self-bastes itself while cooking. You CAN cover them with aluminum foil, but that may impact the cooking time. For this recipe we do not recommend covering with tin foil.
What Temp Do I Cook Ribs On
Ribs are generally cooked between 225 – 275 degrees F. For this recipe, we are starting off low at 225 degrees F. and gradually increase the temperature until it ultimately gets to 275 degrees F. Then, at the end we crank it up to 350 degrees F. to help caramelize the bbq sauce (you can also broil them for a minute or two instead if that is what you prefer)!
Oven Baked Ribs Side Dishes
How to Make Oven Baked Ribs
Remove ribs from packaging and place on a clean surface (like a large baking sheet).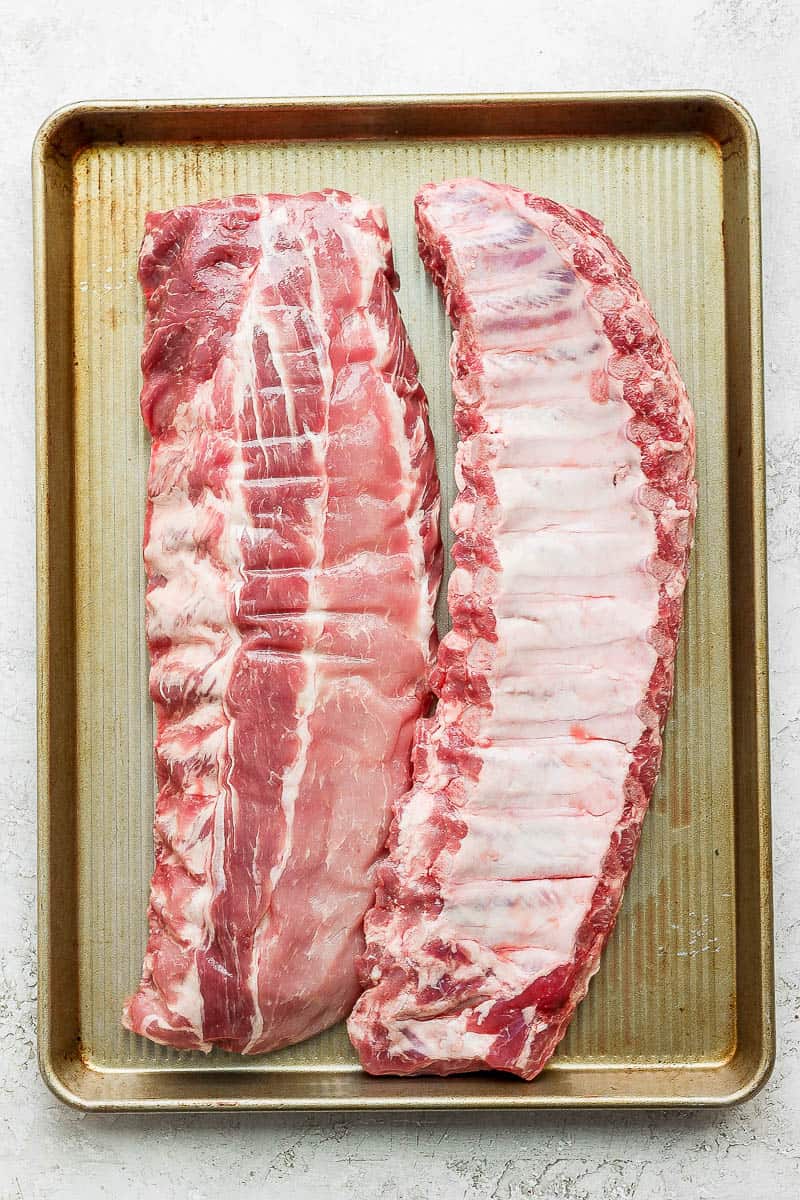 Flip ribs over so the meat side is facing down. If there is a membrane still attached, use a sharp knife to help lift the thin membrane off of the ribs and then continue lifting and pulling until the whole layer comes off.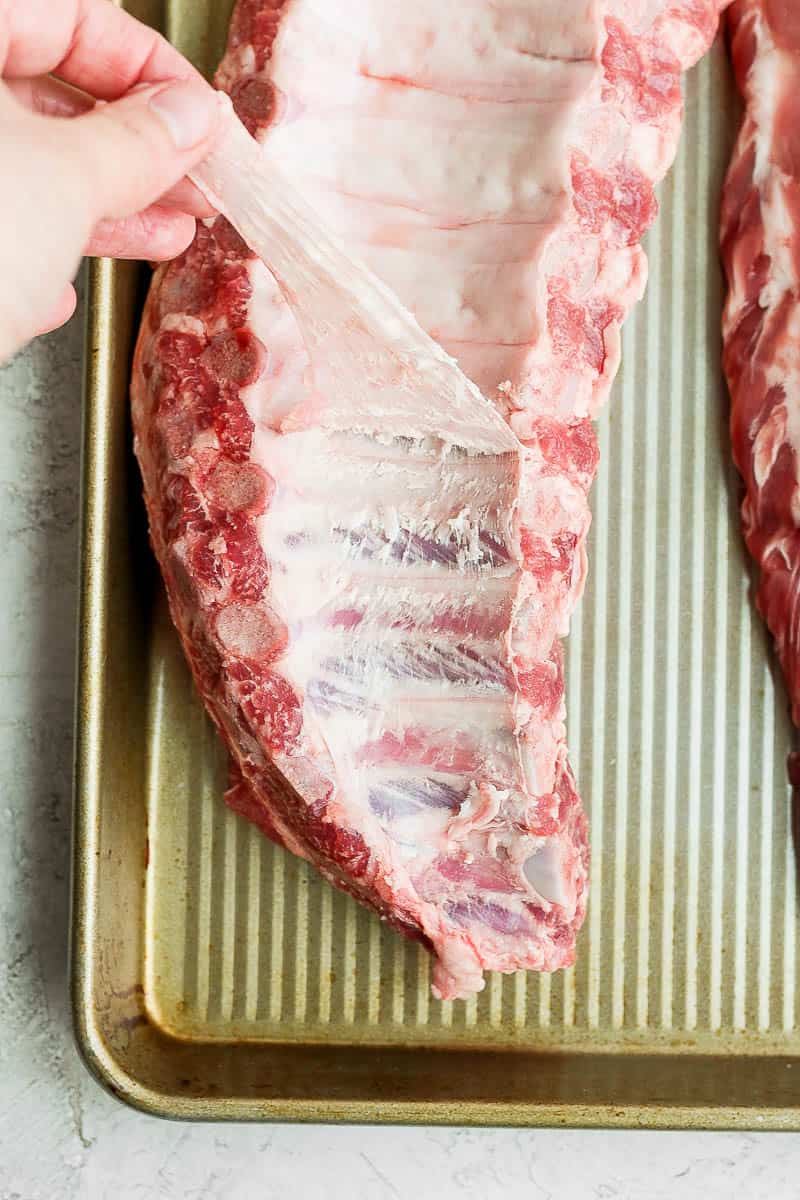 This is what they look like without the membrane attached.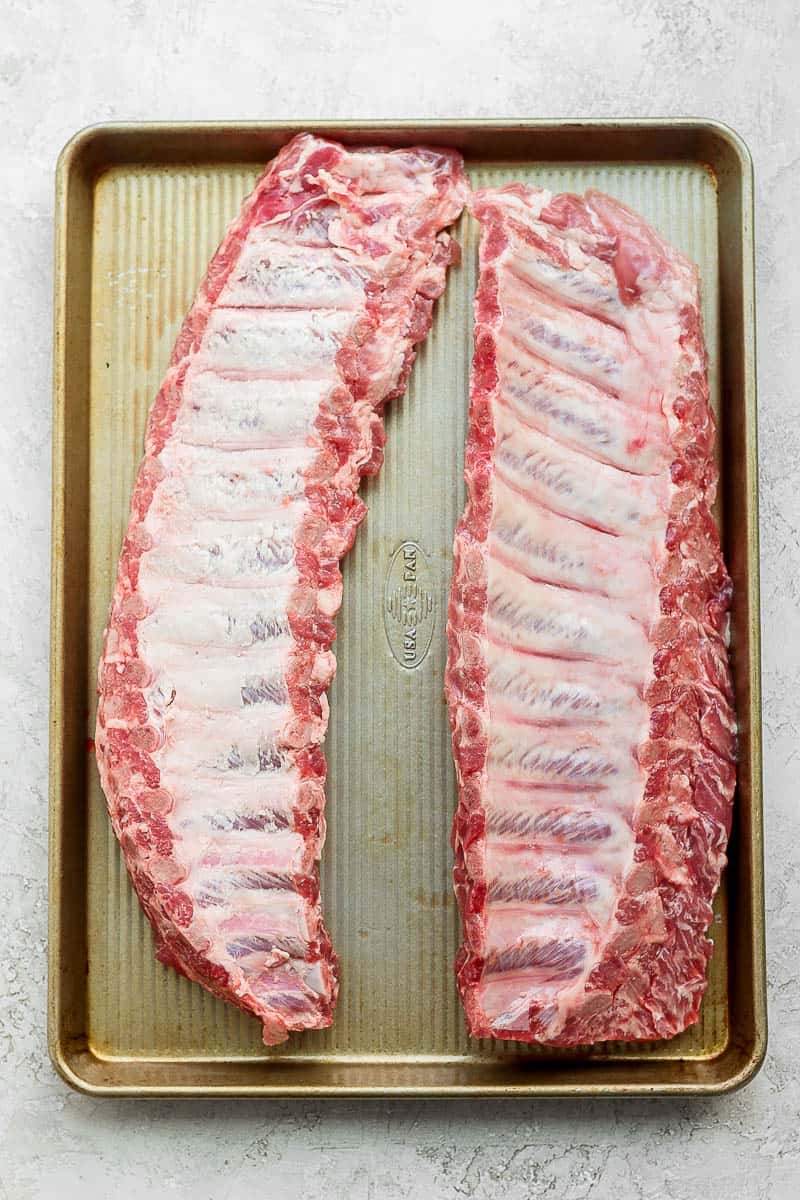 Pat ribs dry all over with a clean paper towel.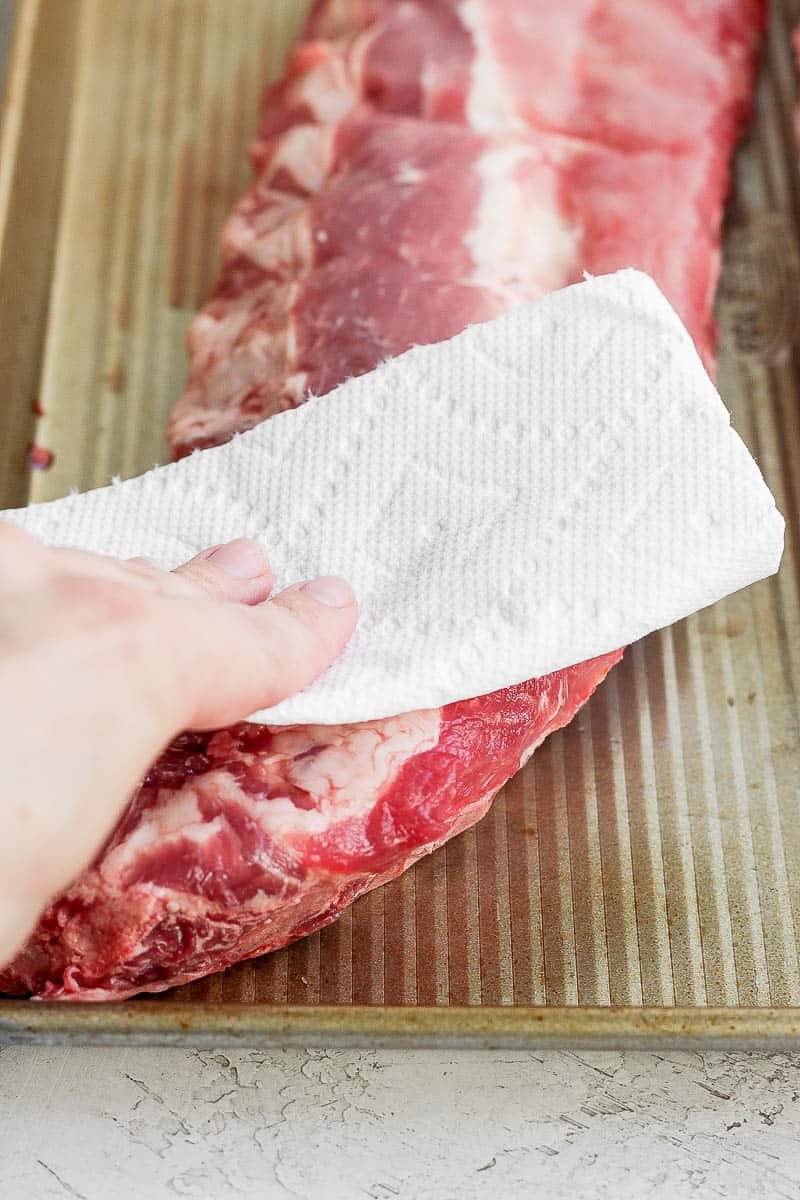 Rub all over with worcestershire.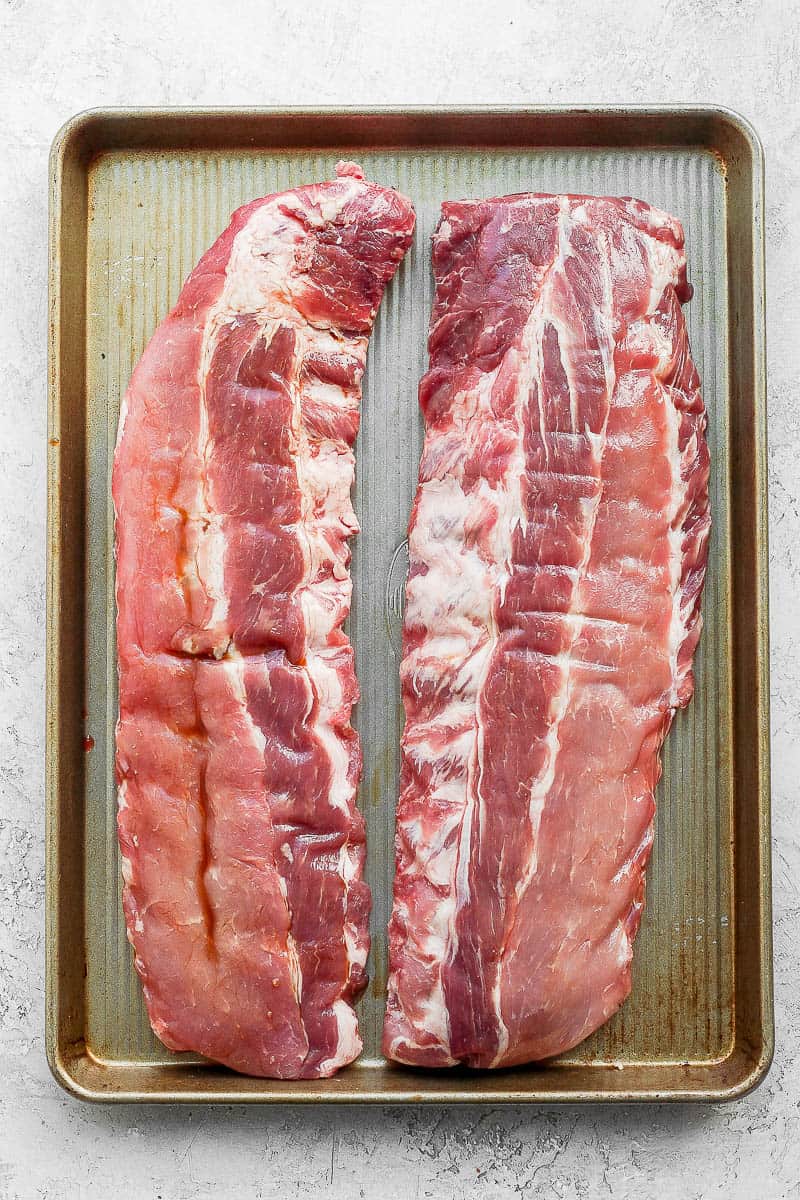 Rub all over with yellow mustard.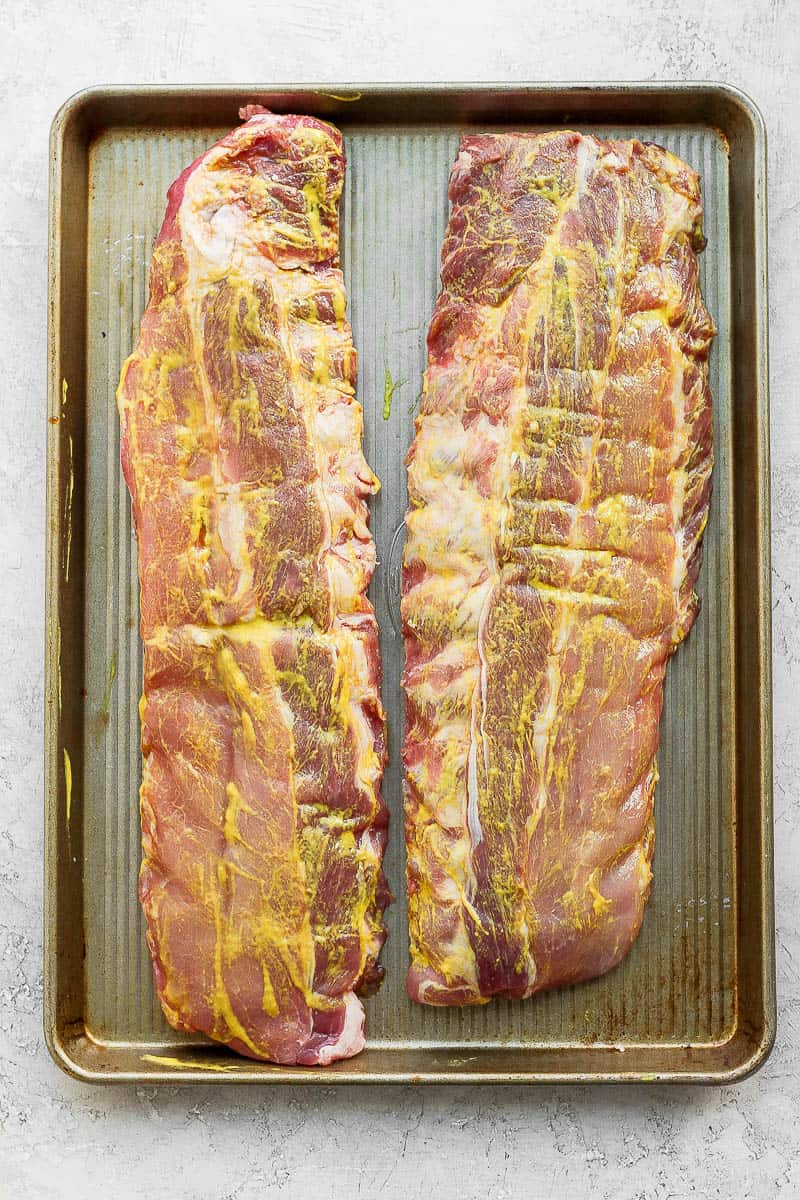 Rub all over with our homemade spice rub.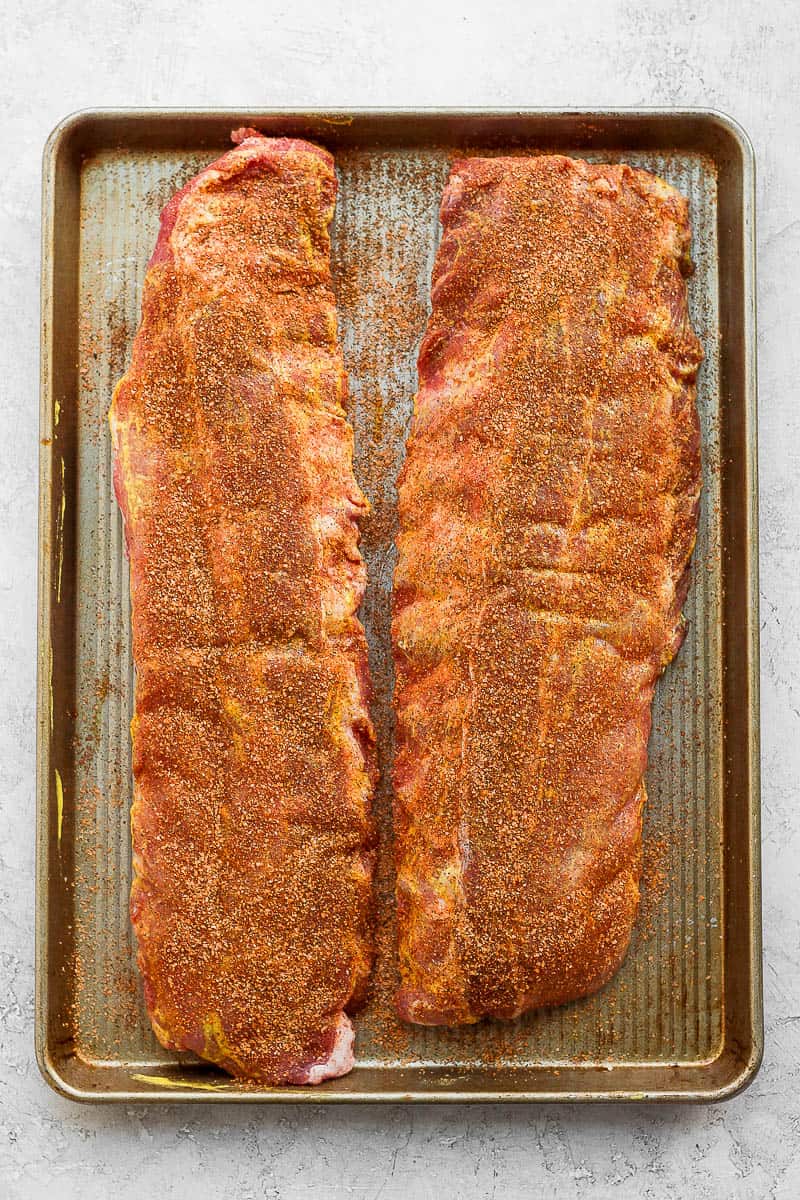 Place on foil-lined baking sheet and cook per the recipe card below! Don't forget to brush on your favorite BBQ Sauce at the end!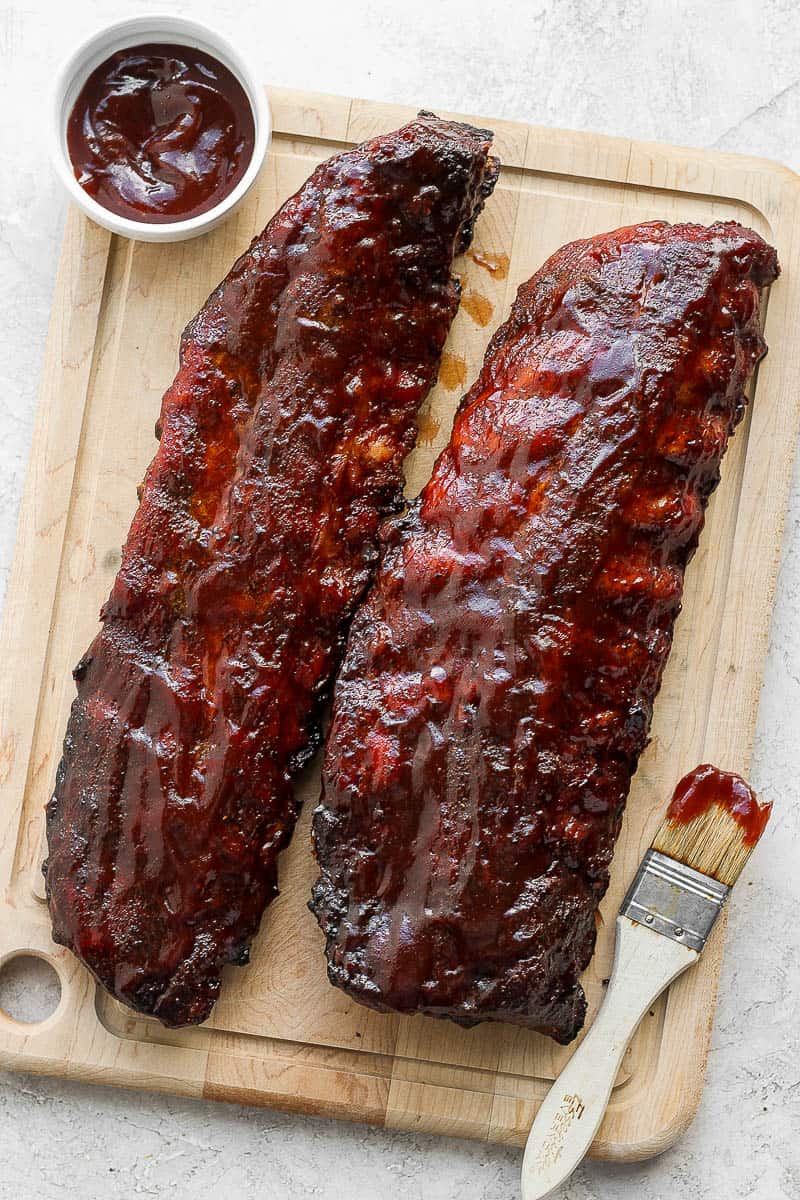 Let rest for 5-10 minutes and then enjoy (cover or wrap ribs with tin foil while they are resting)!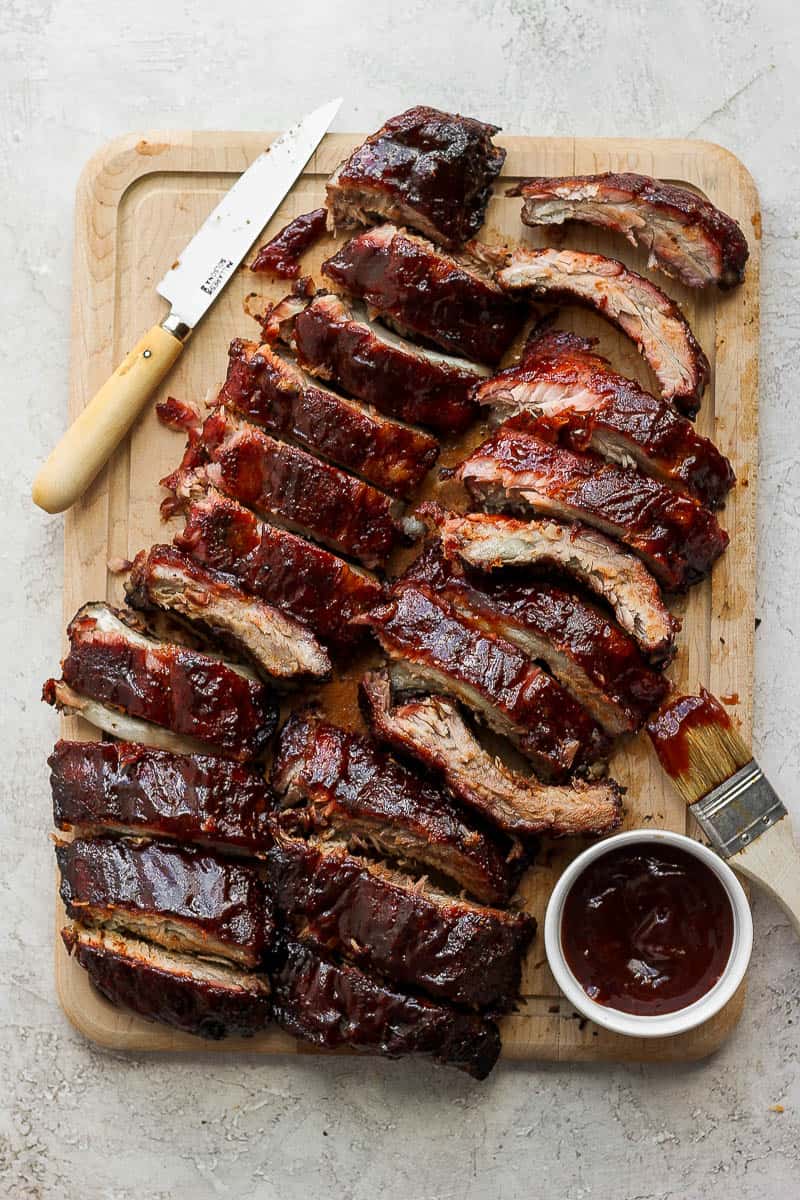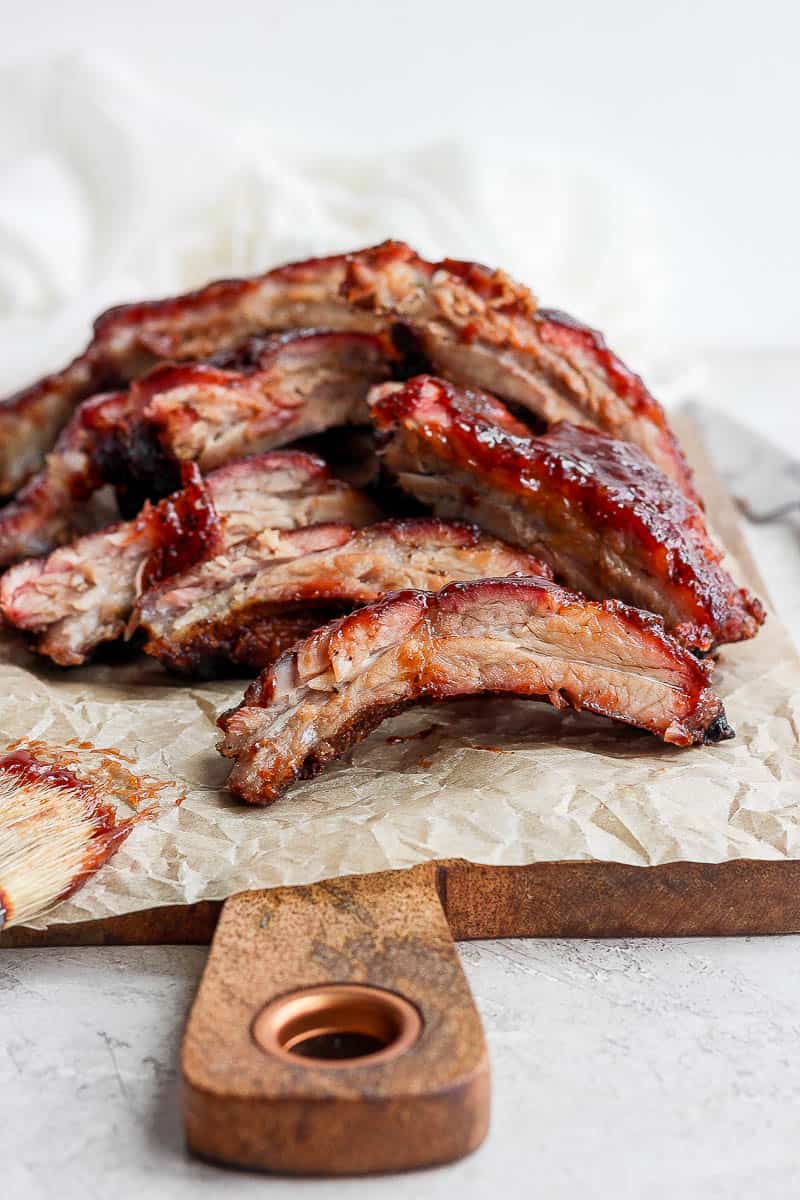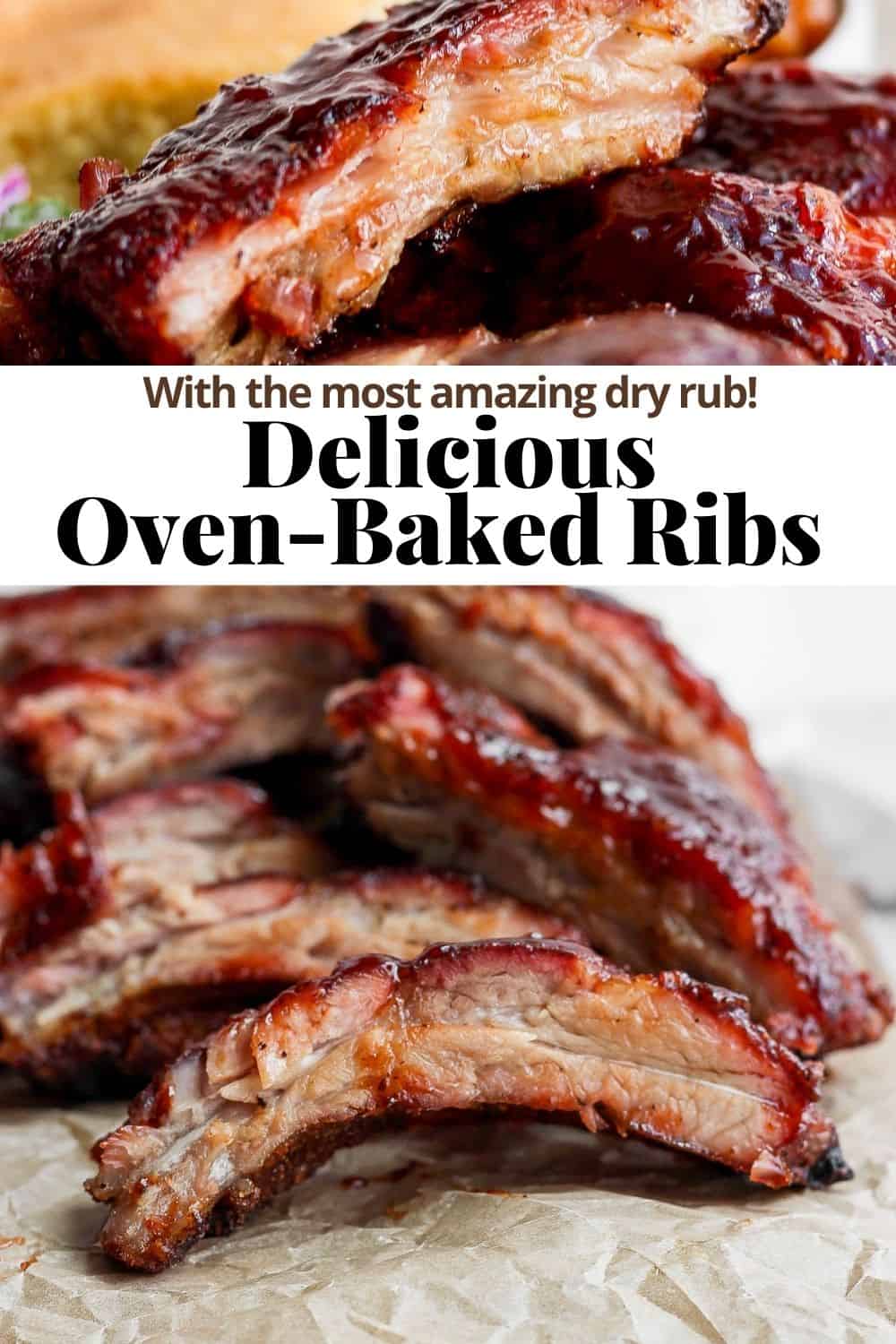 Print
Originally posted May 28, 2021.