Homemade Chicken Soup (aka Sunday Afternoon Roasted Chicken Soup) – The ultimate comfort food, elevated! This has become a Wooden Skillet classic and I am so excited that you all love it as much as I do! Feel free to add noodles I you want, but without it is a delicious Paleo/Whole30 meal your whole family will love!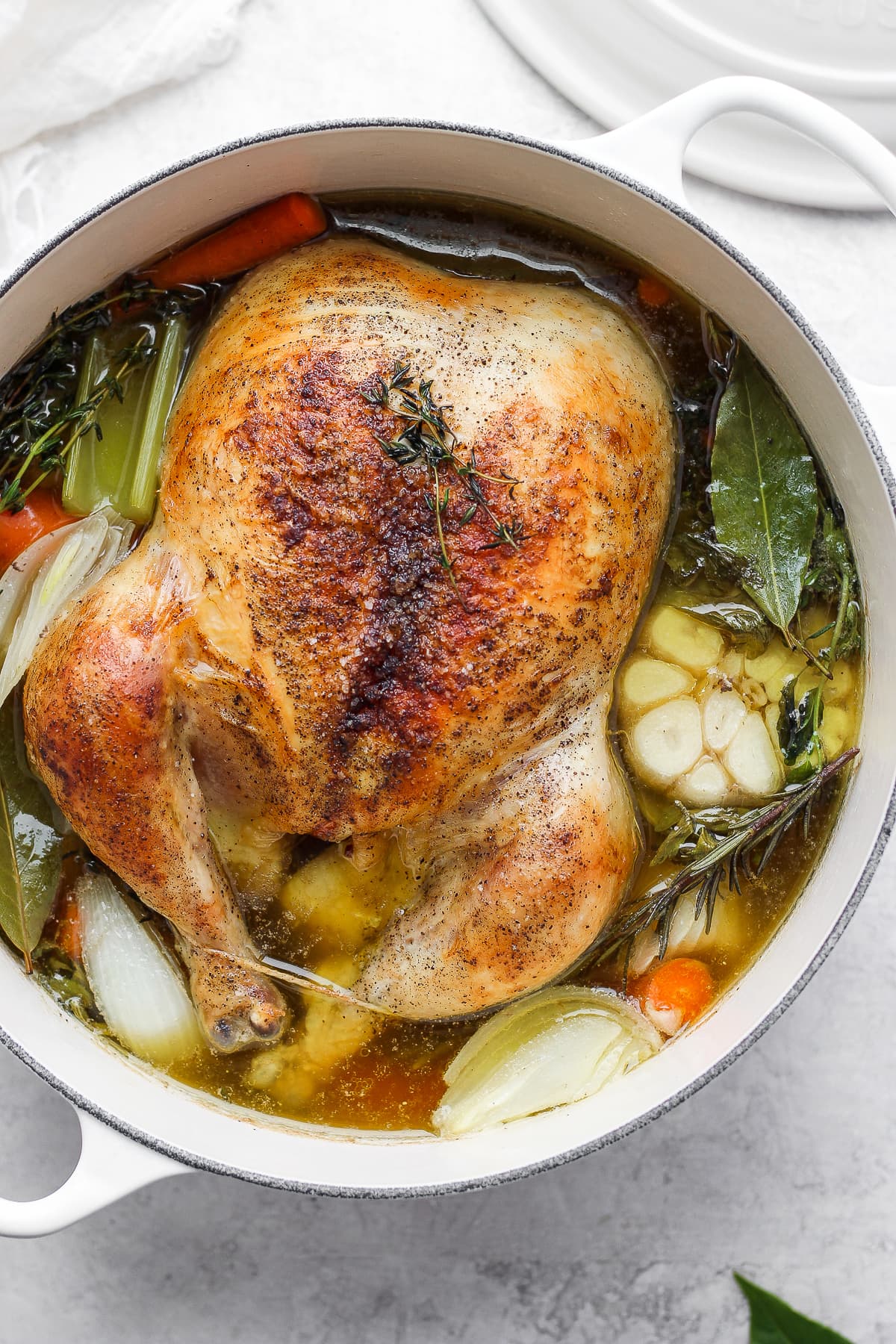 So I am beyond excited to share this Sunday Afternoon Roasted Chicken Soup recipe with you guys – promise me you will make it sometime soon!! Especially if anyone you know is fighting a cold! It combines two of my favorite recipes: roasted chicken and chicken soup!
So you are essentially roasting a chicken in your dutch oven first and then in that same pot and using that same roasted chicken, you are making some wickedly flavorful broth that will be the base of your soup! The depth of flavor is unreal! Comfort food at its finest :). Can't wait for you guys to make some!!
Can you Freeze it
Yes! You can definitely freeze it – simply place in a freezer-safe container and freeze for up to 6 months.
Does it Make Good Leftovers
It makes the best leftovers! I love having this for leftover lunches during the week!
What are the health benefits of chicken soup?
Chicken soup isn't a folk remedy for illness for no reason! It's high in proteins that help the immune system fight off infection; it's a good source of vitamins and minerals (including B vitamins) which boost immunity and digestion; and don't forget its positive emotional and psychological effects, which are proven to help shorten healing time!
How to Make Homemade Chicken Soup
First we roast the chicken and then add in some water/broth….
After you let that simmer for a couple hours, strain it you will have this amazingly delicious liquid leftover!
Add in your soup ingredients.
And add back in the chicken – that's it! So simple and so delicious!
Feel free to add noodles if you want, but make sure and cook them separately so they don't soak up all the broth!
Other Recipes You Might Like:
Feel free to add some noodles if you want – I love the Jovial brand if you are gluten-free!
Don't forget to follow me on Facebook, check out my Instagram account or see what I am pinning on Pinterest!
Love,
E
Print
Homemade Chicken Soup
Author: Erin Jensen
Prep Time: 15 minutes
Cook Time: 4 hours
Total Time: 4 hours 15 minutes
Yield: Approx. 15 cups
Category: Soup
Method: Oven, Stove Top
Cuisine: American
---
Description
Homemade Chicken Soup – The perfect recipe to make on a relaxing, cozy Sunday afternoon – it is seriously the BEST chicken soup recipe! Feel free to add noodles if you want!
---
Broth
(1) 5-6 pound whole roasting chicken (fresh or thawed)
Salt
Pepper
2 Tablespoons soft ghee (grass-fed butter, olive oil or vegan butter would work as well)
1 yellow onion, quartered
1 stalk celery, cut into 4–5 pieces
2 medium carrots, cut into 4 pieces each
1 head of garlic, cut of the top (or smash approx. 5–6 cloves)
1 sprig fresh rosemary
3–4 sprigs fresh thyme
1–2 fresh sage leaves
1 bay leaf
1–2 fresh sprig oregano
1 Tablespoon black peppercorn
Soup
8 cups chicken broth (you can also use 8 cups of water to make broth completely from scratch OR you could do 4 cups broth + 4 cups water. If you use broth your soup will only turn out that much richer. Just check your ingredients on the broth if concerned with Whole30)
Shredded chicken
4 stalks of celery, sliced
6 medium-large carrots, peeled and sliced
1 sweet yellow onion, diced
1 bay leaf
Optional: gluten-free noodles, diced parsnip, diced sweet potato, diced turnip
---
Instructions
Broth:
Preheat oven to 375.
Place chicken in 5 1/2 qt. Le Creuset Dutch Oven and rub all over with softened ghee
Sprinkle with generous amounts of salt and pepper to coat.
Place onion, carrots, celery and garlic around the chicken.
Roast, uncovered, for 1.5 hours.
Remove from oven and place on burner.
Add broth (and/or water) and turn heat up to high.
Add rosemary, thyme, sage, bay leaf, oregano, peppercorn.
Bring to a boil and then reduce to a simmer and cover.
Simmer (covered) as long as possible – if you used chicken broth I would suggest 2 hours – if you used water and broth I would suggest 3-4 hours – if you used all water I would suggest 4-6 hours.
Soup:
Remove chicken and set aside to cool slightly.
Strain broth and discard the cooked vegetables.
Place strained broth back in your dutch oven.
Once chicken as cooled enough, remove all the meat and place it in the broth (Note: depending on how big your chicken is, feel free not use all the chicken if you feel the chicken-broth ratio is off. If you want a thicker, chunkier soup then use it all, but if you want more of a broth-based soup then reserve some of the chicken for another purpose.)
Also feel free to keep the chicken bones to make bone broth!
Once the chicken meat is back in the broth, add your onion, celery, carrots and bay leaf.
Taste and add salt and pepper, to taste, a pinch at a time.
This would also be the time to add any other ingredients you want (sweet potato, turnip, parsnip or noodles.
Let simmer approx. 8-10 minutes or until your vegetables are cooked, but still firm.
Notes
Adaptable: This is one of those recipes that you can adapt very easily to fit what you like! My preferred method is to roast with ghee, use broth, simmer on low 2 hours (but I have also only simmered for 30 minutes – 1 hour and it is still amazing!).
Time Saver: Since the chicken is already fully cooked you can reduce the cooking time in Step 10 of the Broth Instructions to whatever works for you!
Bone Broth: you could add bone broth in Step 7 of Broth Instructions to make it extra gut-healing!
Noodles: If you are adding noodles I would recommend cooking them separately beforehand and then adding to the soup – otherwise as they are cooking they will soak up all of the broth.
Homemade Broth Version: I touched on this in the recipe card instructions, but wanted to highlight again – feel free to use water instead of broth in Instruction #7. It will need to cook much longer and you will need to add additional salt, but you will end up with some delicious homemade broth! If you have the time I highly recommend!
Whole30/Paleo: If you are concerned with Whole30/Paleo just check those ingredients in your broth!
Keywords: homemade chicken soup, Sunday Afternoon Roasted Chicken Soup
Thank you so much for reading & supporting The Wooden Skillet! This post contains affiliate links for products I actually use in my own home and personally recommend. Should you make a purchase using one of these links, The Wooden Skillet will earn a small commission at no extra cost to you, which helps me continue to bring you great original content. Thank you!