7 Ingredient Vegan Chocolate Pudding – naturally sweetened with dates and cocoa powder, this pudding is absolutely perfect for a savory dessert!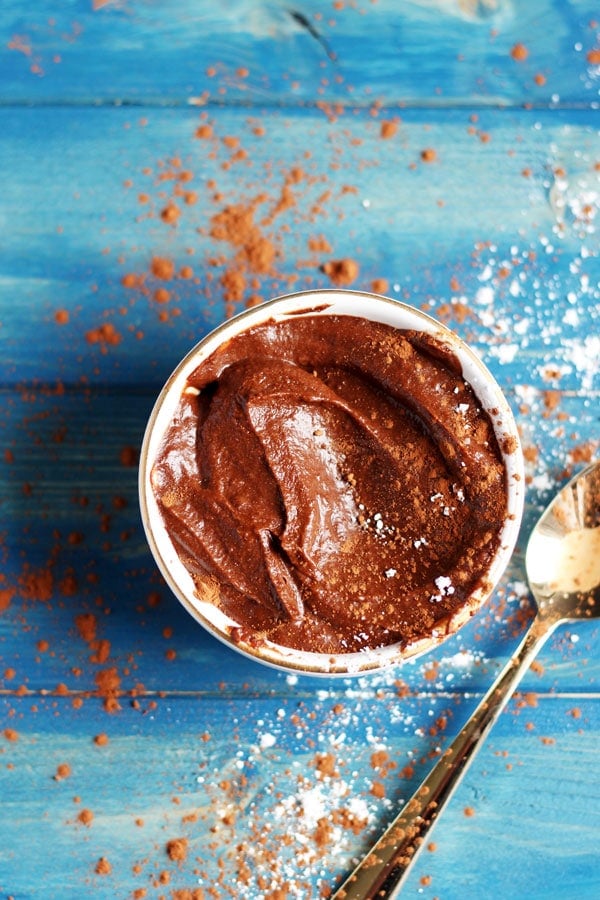 Oh my gosh you guys, this pudding is ridiculous. And its vegan. And guess what – you don't have be vegan to like vegan pudding. The only criteria is that you like chocolate. Do you like chocolate – cause if you said yes, you NEED to try this stuff! It is so rich, smooth and chocolate-ey! And for whatever reason, right now all I can think about is making pudding pops out of it… is that weird?
Backstory: when I made the Easy Chocolate and Coconut Butter Energy Balls (before I added flax and ground walnuts, etc to thicken it up) I had this amazing chocolatey consistency going that reminded me of…. pudding. Well, almost pudding. It was merely pudding-esque at that point. But it got me intrigued. So, a week later I did some experimenting. I re-created that "pudding-esque" consistency (with a few minor adjustments) and then I folded in some aquafaba.
What is acquafaba? It is the water from a can of chickpeas and, if you mix it (like with a hand-mixer) for several minutes, it turns into something similar to meringue from egg whites. I was introduced to it by Dana from The Minimalist Baker (check out her post on it here). It is super easy. You simply pour the "chickpea water" into a mixing bowl, throw in a pinch of cream of tartar and then grab your hand-mixer and hunker down for 5-6 minutes as it thickens up. It's pretty cool.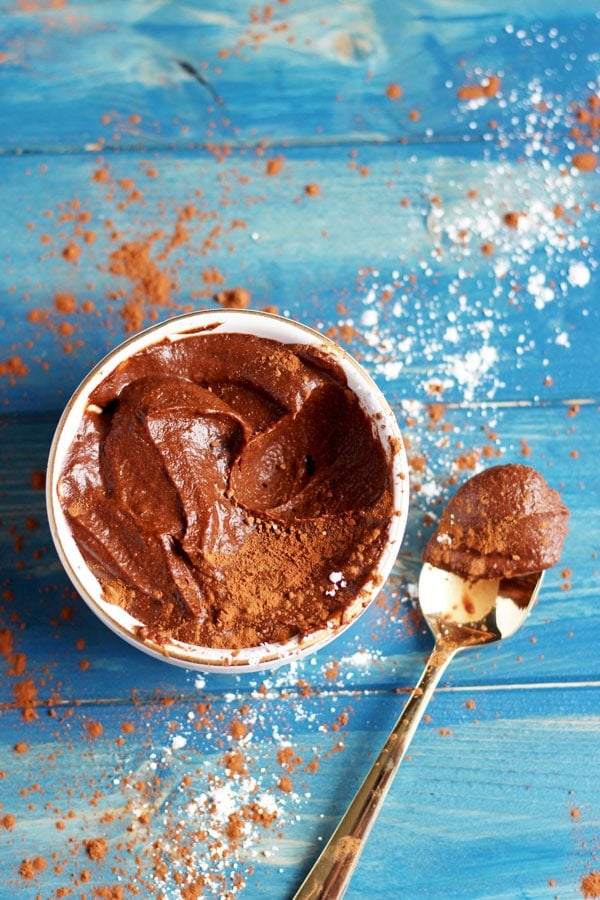 So I folded 2 cups of that into the mixture and then I put it all in the blender along with a little bit more cocoa powder. This is where you get to decide how thick you want it (and how chocolatey). If you want it a little thinner, just add some more almond milk, just a little at a time. Want to amp up the chocolate, throw in some more cocoa powder.
And then toss it in the refrigerator for a good hour or more (preferably overnight).
Take it out, sprinkle it with some more cocoa powder (and/or powdered sugar if you are feelin crazy).
It was so good.
It is kid-approved (yay…. no added sugar!). Aaaand, it is technically Whole30 approved, but I know we aren't supposed to change out treats for compliant alternatives, so I have been staying away from this stuff lately. That being said, I can see myself incorporating a lot of the Whole30 principles into my everyday life and I think this will be a frequent treat, post-Whole30. I believe indulgences are a part of a healthy, balanced diet and this is a great way to indulge! No added sugar, but still tastes exactly like chocolate pudding! Sign me up.
And if you are diggin the "healthy dessert alternatives" then maybe you will also like my Healthy Double Chocolate Zucchini Brownies!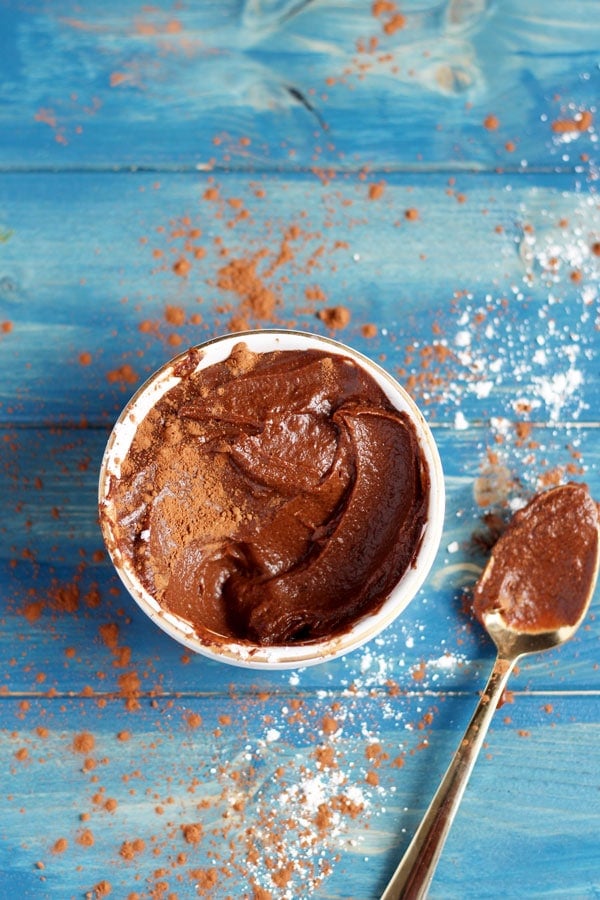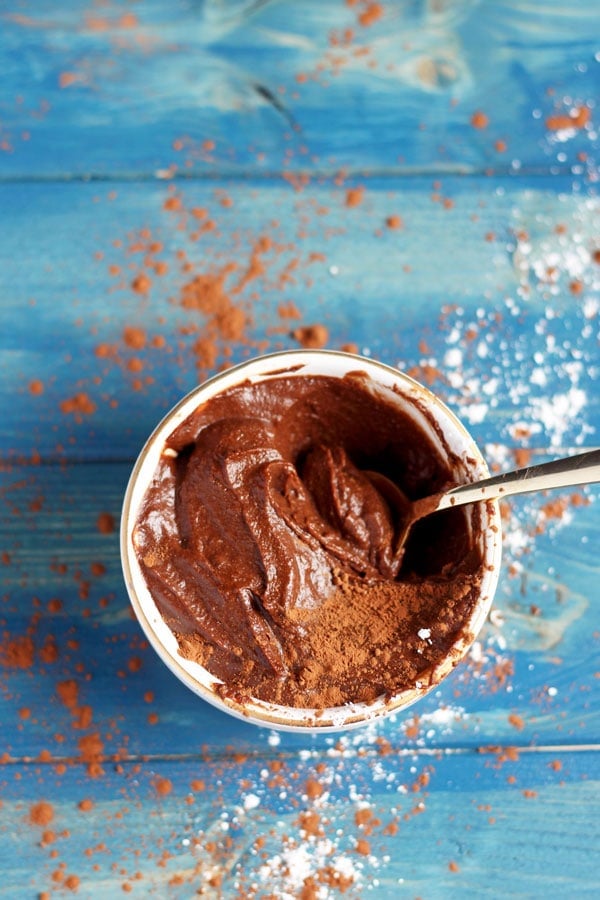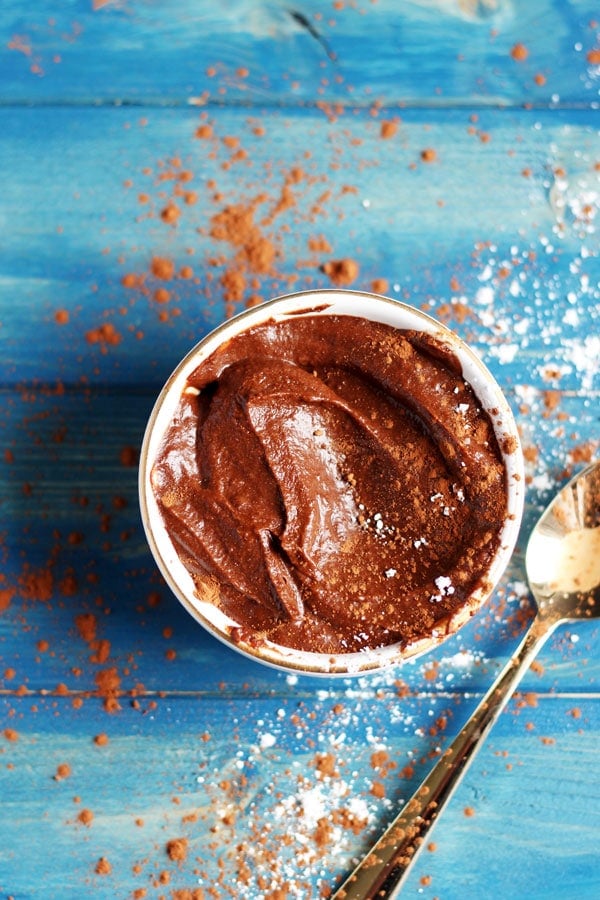 I love seeing when you guys make our recipes, so let me know if you try this one!!!!
Don't forget to check out my Instagram account for some behind-the-scenes action! Or give me a follow on Facebook or see what I am pinning on Pinterest!
Made this recipe and loved it?! We would love it if you would take a minute and leave a star rating and review – it is also helpful if you made any substitutions or changes to the recipe to share that as well. THANK YOU!
Print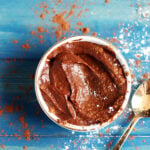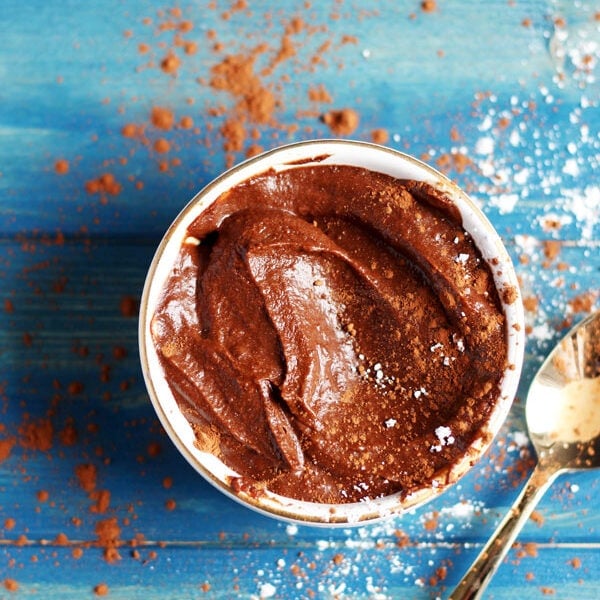 7 Ingredient Vegan Chocolate Pudding
Author: Erin Jensen
Prep Time: 15 minutes
Refrigeration Time: 1 hour
Cook Time: 0 minutes
Total Time: 1 hour 15 minutes
Yield: 2 servings 1x
Category: Dessert
Method: Counter Top
Cuisine: American
---
Description
Naturally sweetened with dates and cocoa powder, this pudding is absolutely perfect for a savory dessert!
---
8 mejool dates, pitted and roughly chopped
1 Tablespoon almond butter
2 Tablespoons coconut butter
1 1/2 Tablespoons almond milk
3 Tablespoons cocoa powder, divided
2 cups aquafaba (water from 1 can of chickpeas + pinch of cream of tartar)
---
Instructions
In food processor, add chopped dates, almond butter, coconut butter and almond milk.
Blend until it turns into a thick consistency.
Add 2 Tablespoons of cocoa powder.
Blend to mix.
In medium mixing bowl, add chickpea water and pinch of cream of tartar, and using a hand mixer, mix on med-high or high for 5-6 minutes or until it makes stiff peaks.
In another medium mixing bowl, pour out date mixture.
Slowly fold in 2 cups of acquafaba.
Add entire mixture to blender and add last Tablespoon of cocoa powder.
Blend for 1 minute.
Taste and add additional cocoa powder to make it more chocolate-y and more almond milk if you want a thinner consistency.
Refrigerate for at least 1 hour, preferably over night, before serving to allow it to firm.
---