Ancho Chile Mole Sauce with Cocoa and Cinnamon
As promised, this is my brief follow-up post to the ever-popular Braised Pork Belly post! My mole sauce was something I took a chance on, not knowing if it would fall flat or be amazing. I actually think it was amazing and I have pretty high standards for myself. I wanted it to be spicy, but not the burning-my-mouth-I-need-some-milk spicy. I wanted it to warm you from the inside with an undertone of chocolate, a hint of cinnamon and a base of pork broth. I wanted it to have body.
I researched many, many, many mole recipes to find out some of the typical ingredients – wow, some of the classic mole recipes have about a thousand ingredients. Okay, a slight exaggeration on my part, but they do have a lot. I didn't want it to be overly complicated as I was already making pork belly for the first time and still wanted to be able to focus on that.
My inspiration
And the end result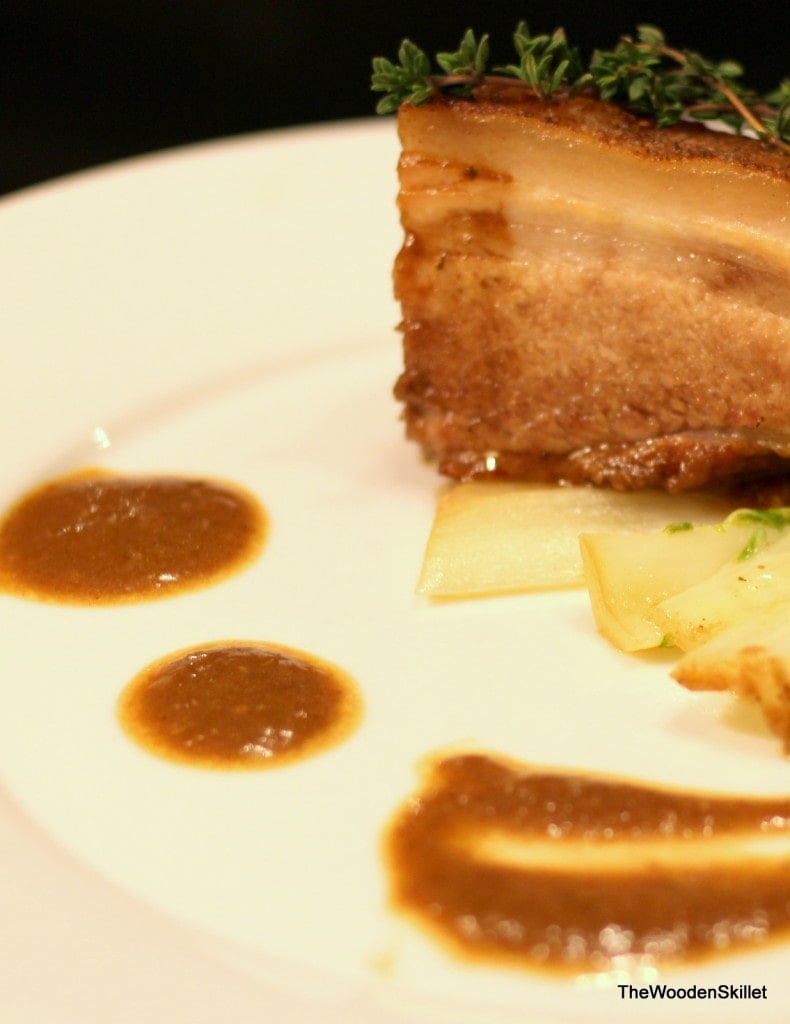 Here is what I came up with – deviate as you see fit! And enjoy!
Don't forget to check out my Instagram account for some behind-the-scenes action! Or give me a follow on Facebook or see what I am pinning on Pinterest!
Print
Ancho Chile Mole Sauce with Cocoa and Cinnamon
Author: Erin Jensen
Prep Time: 20 minutes
Cook Time: 2 hours
Total Time: 2 hours 20 minutes
Yield: 2 cups 1x
Category: Sauce
Method: Stove Top
Cuisine: Mexican-Inspired
---
Description
Ancho Chilis Mole Sauce with Cocoa and Cinnamon – a flavorful and delicious homemade mole sauce you are sure to love!
---
3 tomatillos
1 plum tomato
3 garlic cloves
1 small yellow onion
3 dried Ancho chile
2 Tablespoons toasted pecans
1/4 cup chicken stock
1/2 oz 100% cocoa
1 plantain
1/2 Teaspoon brown sugar
1/8 Teaspoon allspice
1/8 Teaspoon ground cloves
1/4 Teaspoon ground oregano
1/4 Teaspoon ground black pepper
1/2 cup beef broth
1/2 cinnamon stick
2 cups broth from braising the pork belly (or additional beef broth)
1/8 Teaspoon of flour (more or less depending upon desired thickness)
Salt and pepper to taste
---
Instructions
Cut up tomatillos, plum tomato and yellow onion into large chunks.
Place on baking sheet along with garlic cloves.
Broil until everything starts to brown.
Remove from oven and let cool slightly then blend.
Run through sieve twice and place in sauce pan.
Add toasted pecans, chicken stock, cocoa, cinnamon stick and Ancho chiles.
Let simmer approx. 30 minutes.
In a separate fry pan, fry 6 slices of the plantain in a small amount of oil and then mash and add to sauce.
Add brown sugar, allspice, ground cloves, oregano and black pepper.
Continue simmering sauce and remove Ancho chiles after they have been in the sauce a total of 1 hour.
Add beef broth and braised pork broth and continue to simmer until reduced to the desired consistency – the sauce should at least coat the back of a spoon.
Run through sieve twice and return to pot.
Serve when ready.
---
Keywords: Ancho Chile Mole Sauce