Red Enchilada Sauce – learn how to make red enchilada sauce with this easy, step-by-step tutorial! So easy and so delicious!
Homemade Red Enchilada Sauce
This red enchilada sauce is made in just 10 minutes, it is SO SIMPLE! And once you taste the amazing flavors that are packed into this little sauce you will never buy store-bought enchilada sauce again. We kept it flavorful but not spicy for all those kiddos out there, but if spice is your thing you can definitely kick it up a notch. We love using this in our Healthy Chicken Enchiladas or our Chicken Enchilada Casserole!
See Also: Homemade Green Enchilada Sauce
What You Will Need
Olive oil & flour (feel free to use GF flour) – these will go in the pan first to make a little roux to keep some thickness to your sauce.
Chili powder – this is where you can kick up the spice (if you want). Just give it a taste and add more until it is the perfect spice level for you!
Ground cumin, garlic powder, onion powder, & oregano leaves – this combo of spices brings a depth of flavor that is simply amazing!
Kosher salt & pepper – because everything needs a little salt and pepper.
Tomato paste – this is needed for the red color and the tomato base of the red sauce.
Chicken or vegetable broth – this helps to thin out your sauce and if you are making a vegetarian dish you can opt for the vegetable broth.
Apple cider vinegar & lime juice – this touch of acidity really helps bring out all the great flavors!
Tips For Making This Sauce Quickly
We highly recommend that you measure out all of your ingredients before you begin making this sauce! It makes the process much quicker and it just goes so much smoother when everything is on hand and ready-to-go.
Is Red Enchilada Sauce Spicy?
This is really up to you. If you follow the recipe using the 2 tablespoons of chili powder it will not be spicy, it will be full of flavor but mild. If you want it to be more spicy you can easily add more chili powder, cumin, or even some cayenne! Just give the sauce a taste and adjust it to what you like.
What Are The Best Ways To Store Red Enchilada Sauce?
This sauce is perfect for making ahead of time and then store it for later! It makes those busy weeknights even smoother! You can either store it in the fridge or the freezer. Here is more info on each:
Refrigerator: pour the sauce into an airtight container and store it for up to 1 week.
Freezer: pour the sauce into a freezer-safe container and store it for up to 6 months. Just make sure you leave some room in the top of the container because the sauce will expand a bit as it freezes.
What Is The Best Way To Serve This Enchilada Sauce?
There are several different ways to make enchiladas but our favorite is definitely these Healthy Chicken Enchiladas!
How To Make Red Enchilada Sauce
Measure out your ingredients – can't stress this enough! It is so helpful!
Add olive oil to sauce pan and once it is warm you will whisk in the flour.
Whisk in your spices and tomato paste.
Pour in your broth slowly while continuing to whisk.
Bring it to a simmer and then add the apple cider vinegar and lime juice.
Taste and adjust any flavors you need to.
Use right away or store for later!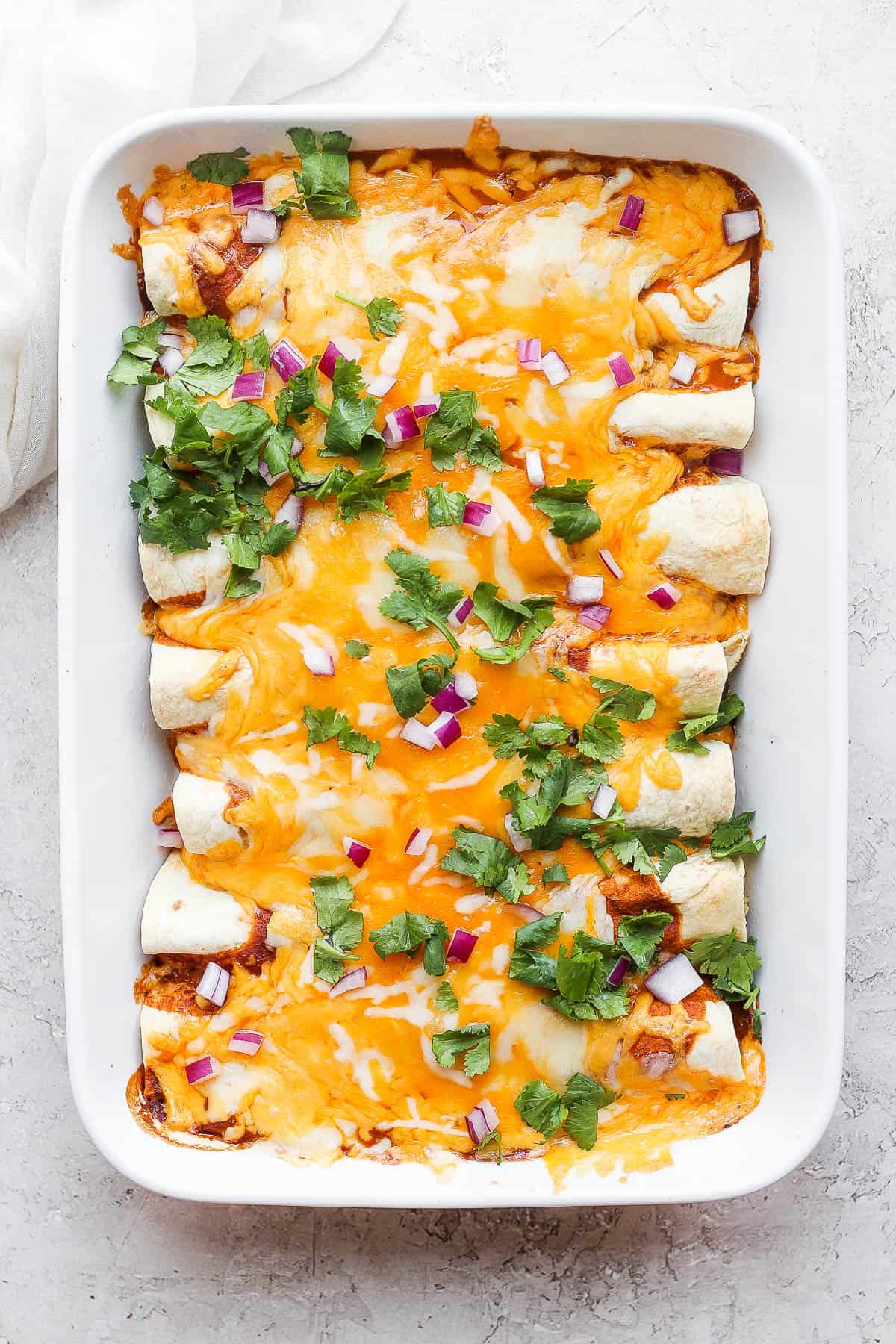 Made this recipe and loved it?! We would love it if you would take a minute and leave a star rating and review – it is also helpful if you made any substitutions or changes to the recipe to share that as well. THANK YOU!
Don't forget to check out my Instagram account for some behind-the-scenes action! Or give me a follow on Facebook or see what I am pinning on Pinterest!
Print
Red Enchilada Sauce
Author: Erin Jensen
Prep Time: 10 minutes
Cook Time: 10 minutes
Total Time: 20 minutes
Yield: Approx. 2 cups
Category: Sauces
Method: Stove Top
Cuisine: Mexican-Inspired
---
Description
Red Enchilada Sauce – learn how to make red enchilada sauce with this easy, step-by-step tutorial! So easy and so delicious!
---
3 tablespoons olive oil
3 tablespoons flour (gluten-free works)
2–4 tablespoons chili powder
1 teaspoon ground cumin
1 teaspoon garlic powder
1 teaspoon onion powder
1/2 teaspoon oregano leaves
1 teaspoon kosher salt
1/2 teaspoon ground black pepper
3 tablespoons tomato paste
2 cups chicken or vegetable broth
1 1/2 teaspoons apple cider vinegar
1/2 teaspoon lime juice
---
Instructions
Gather all your ingredients and measure them out ahead of time + have your broth in a container with a little spout – this will help this recipe go much smoother and very quickly!
Add olive oil to medium sauce pan. Bring to medium-high heat.
Add flour and whisk immediately until fully combined.
Add in chili powder, cumin, garlic powder, onion powder, oregano leaves, salt, ground black pepper and tomato paste into the pan. Whisk to combine.
While you continue to whisk slowly pour in the broth, adding about 1/4 cup or so at a time, then stop and whisk until it is combined and thick. Continue whisking and adding 1/4 cup at a time until fully combined. The sauce should be fairly thick at this point.
Turn up the heat a bit and bring sauce to a low simmer (this will help to continue thickening your sauce).
Add the apple cider vinegar and lime juice. Whisk to combine.
Taste and add additional salt, pepper or other herbs as needed.
After sauce has a simmered 5-10 minutes, remove from heat and let cool.
Use immediately in your favorite recipe, store in the fridge for up to a week or freeze (see notes below.
---
Notes
Prep Ahead: as directed above, I highly recommend measuring out all your ingredients ahead of time so you can add them in quickly – this recipe moves fast and it really helps to have it all next to you ready to go.
Spice: If you don't like things spicy I wouldn't add more than the recommended 2 tablespoons of chili powder, but if you like things with more heat I would increase the chili powder and the cumin – you could also add a little cayenne if you wanted to!
Storage: store in the refrigerator in an airtight container for up to a week.
Freezer: place in a freezer-safe container leaving extra room to allow for expansion during the freezing process. Use within 6 months.
Serving: We love these Healthy Chicken Enchiladas or this Chicken Enchilada Casserole!
Keywords: red enchilada sauce, how to make enchilada sauce