Green Enchilada Sauce – learn how to make this delicious green enchilada sauce recipe with easy step-by-step photos, tips and tricks!
Homemade Green Enchilada Sauce
At our house we love enchilada night (these Green Chicken Enchiladas are SO GOOD)! So many delicious flavors wrapped up in a quick and easy dinner. If you are looking to take those amazing flavors to the next level you definitely need to checkout this homemade green enchilada sauce. I know you are thinking that it would take way too much time, but this recipe comes together in only 15 minutes and the flavor is truly next level! Trust us, you won't regret it!
What You Will Need
Tomatillos & an anaheim pepper – these are not spicy at all and provide a great roasted flavor after broiling in the oven.
Jalapeño – feel free to use more or less depending on how much you like to spice it up!
Garlic cloves & white onion – these also add some great flavors after being broiled in the oven.
Olive oil – just a drizzle to help with the broiling process.
Green chiles – part of the classic flavors that go into green enchilada sauce.
Chicken or vegetable broth – this helps to thin out your sauce and if you are making a vegetarian dish you can opt for the vegetable broth.
Lime juice & apple cider vinegar – this touch of acidity really helps bring out all the great flavors!
Fresh cilantro – it makes every Mexican dish great!
Ground cumin, oregano leaves, kosher salt, pepper – all the great seasonings that really bring this sauce to the next level.
Is Enchilada Sauce and Salsa Verde The Same Thing?
No, enchilada sauce is typically cooked at least a little and salsa verde is just blended with raw ingredients. Also, enchilada sauce is usually thinned by using a broth or stock and salsa verde does not call for broth.
Is Green Enchilada Sauce Spicy?
This is totally up to you! You can omit the jalapeño and it will have absolutely no spice or you can add more jalapeño and really kick up the spice level. It is completely in your control!
What Are The Best Ways To Store Enchilada Sauce?
This sauce is perfect for making ahead of time and then store it for later! It makes those busy weeknights even smoother! You can either store it in the fridge or the freezer. Here is more info on each:
Refrigerator: pour the sauce into an airtight container and store it for up to 1 week.
Freezer: pour the sauce into a freezer-safe container and store it for up to 6 months. Just make sure you leave some room in the top of the container because the sauce will expand a bit as it freezes.
What Is The Best Way To Serve This Enchilada Sauce?
There are several different ways to make enchiladas but our favorite are definitely these Healthy Chicken Enchiladas!
How To Make Green Enchilada Sauce
Place the tomatillos, anaheim pepper, jalapeño, garlic cloves, & onion on a parchment-lined baking sheet and drizzle on the olive oil.
Broil them for 2-5 minutes.
Place them in a blender or food processor with all of the other ingredients.
Blend until smooth.
Use in enchiladas or store for later.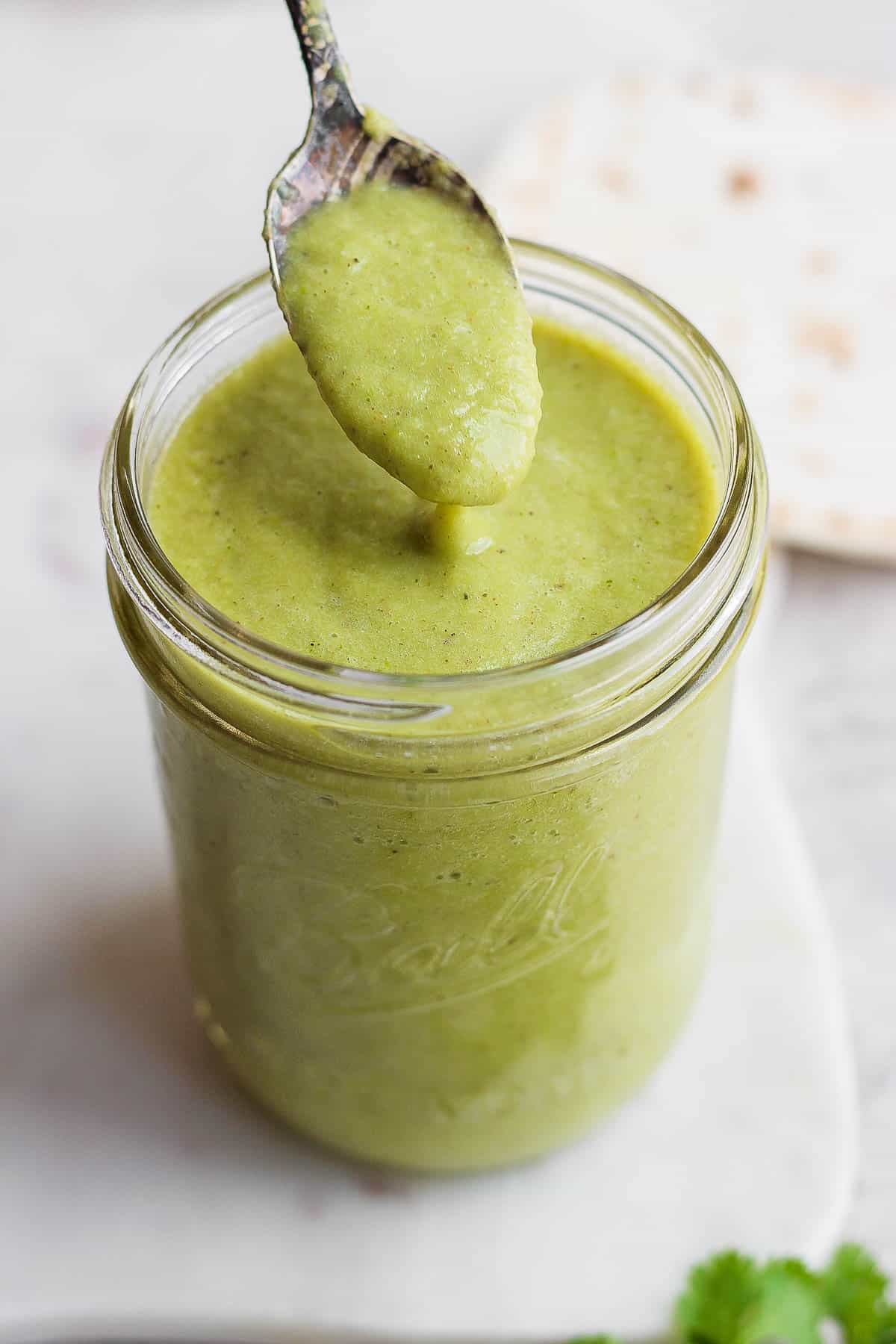 Made this recipe and loved it?! We would love it if you would take a minute and leave a star rating and review – it is also helpful if you made any substitutions or changes to the recipe to share that as well. THANK YOU!
Don't forget to check out my Instagram account for some behind-the-scenes action! Or give me a follow on Facebook or see what I am pinning on Pinterest!
Print
Green Enchilada Sauce
Author: Erin Jensen
Prep Time: 5 minutes
Cook Time: 10 minutes
Total Time: 15 minutes
Yield: Approx. 3-4 cups
Category: Sauces
Method: Oven + Blender
Cuisine: Mexican-Inspired
---
Description
Green Enchilada Sauce – learn how to make this delicious green enchilada sauce recipe with easy step-by-step photos, tips and tricks!
---
1–2 tomatillos, quartered
1 large Anaheim pepper, quartered
1/2 – 1 jalapeno, feel free to remove seeds + membrane for less spice
3 whole garlic cloves
1 small white onion, quartered
olive oil
(1) 4oz can green chiles
1 cup chicken or vegetable broth
1 tablespoon + 1/4 teaspoon lime juice
2–4 tablespoons fresh cilantro
1/2 teaspoon ground cumin
1/2 teaspoon oregano leaves
1/4 teaspoon kosher salt
1/8 teaspoon ground black pepper
1/2 teaspoon apple cider vinegar
---
Instructions
Turn on broiler to HIGH.
Place tomatillos, Anaheim pepper, jalapeño, garlic cloves and white onion on a baking sheet. Drizzle with olive and massage into everything.
Broil for 2-5 minutes or until everything starts to char a little bit.
Add broiled ingredients to blender along with the can of green chiles, broth, lime juice, cilantro, cumin, oregano, kosher salt, ground black pepper and apple cider vinegar.
Blend on HIGH for 1-2 minutes or until the consistency is smooth.
Use immediately or store per directions in the Notes below.
---
Notes
Spice level: of course feel free to use more or less jalapeño depending upon how spicy you like things.
Thicker: if you want the consistency to be thicker you can pour the sauce into a medium sauce pan after blending and let it simmer for a little while until it has reached your desired thickness (remember it will also thicken up after cooling).
Storage: store in the refrigerator in an airtight container for up to a week.
Freezer: place in a freezer-safe container leaving extra room to allow for expansion during the freezing process. Use within 6 months.
Serving: We love these Healthy Chicken Enchiladas!
Keywords: green enchilada sauce