This perfectly grilled Cedar Plank Salmon is a quick and easy way to make juicy and flavorful salmon in a matter of minutes! The whole family is going to love this easy weeknight meal!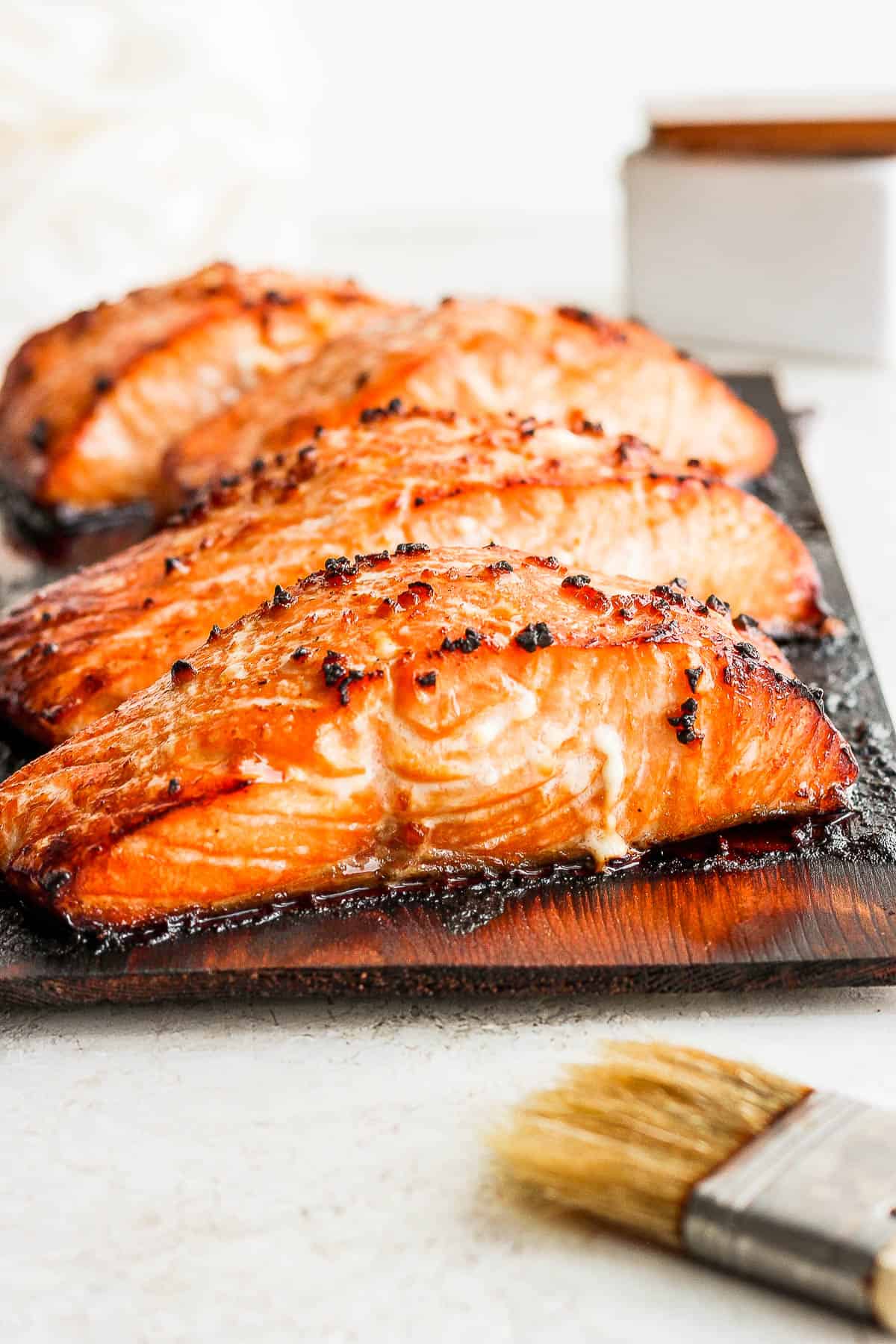 The Best Grilled Cedar Plank Salmon
This delicious recipe combines so many of our favorite things – salmon, grilling, and a flavor-packed marinade! Cooking salmon on a cedar plank on the grill is a great way to grill salmon while also avoiding any sticking to the grates. Now all you have to do is prep some side dishes while the cedar plank soaks and the salmon marinates. To keep cleanup to a minimum we highly recommend using the grill for those too. We love grilled broccoli or grilled potato wedges!
If you don't have a cedar plank, but you still want to grill your salmon, you can follow our simple tutorial on how to grill salmon (with or without the skin)!
What You Will Need
salmon fillets – we love grabbing fresh fillets from the grocery store and they can have the skin on or off, up to you!
cedar plank(s) – these can be found in the grilling section of most stores.
marinade – we have included a simple marinade for the salmon which is amazing! Or you have the option of buying a store-bought marinade, use a salmon seasoning or just stick to salt and pepper – whatever you prefer.
Do You Need To Soak A Cedar Plank For Grilling Salmon
Yes, you will want to soak the cedar plank in water for at least 30 minutes and up to 2 hours before grilling. This will help to prevent some of the burning. When the salmon is ready you can pat the cedar plank dry, place the salmon on top, and then place them on the grill.
What Does A Cedar Plank Do For Salmon
The cedar plank does a few things. It obviously provides a barrier between the salmon and grill grates and therefore prevents any sticking. It also provides a lot of moisture to help steam the salmon as the salmon cooks. Plus, the salmon will take on some of the wonderful cedar flavor in the wood. This results in a perfectly cooked salmon fillet that has a woody and smokey flavor!
How To Prepare Your Salmon Before Grilling
First, we begin by patting our salmon fillets dry and then we love to let it soak in the salmon marinade recipe included in the recipe card below. It has so much great flavor that pairs perfectly with the salmon. You could also drizzle on some olive oil and then keep it simple with some salt and pepper or mix together a salmon seasoning.
How Long Does It Take To Grill This Salmon
Once you have placed the salmon on the cedar plank and the cedar plank on the grill it will need to cook for about 10-15 minutes depending on how thick your salmon fillets are. You can use a meat thermometer to make sure the internal temp reaches 145 degrees F.
How To Cook Cedar Plank Salmon
You will want to begin by fully submerging your cedar plank in water for at least 30 minutes.
Then you can begin prepping your salmon by patting it dry.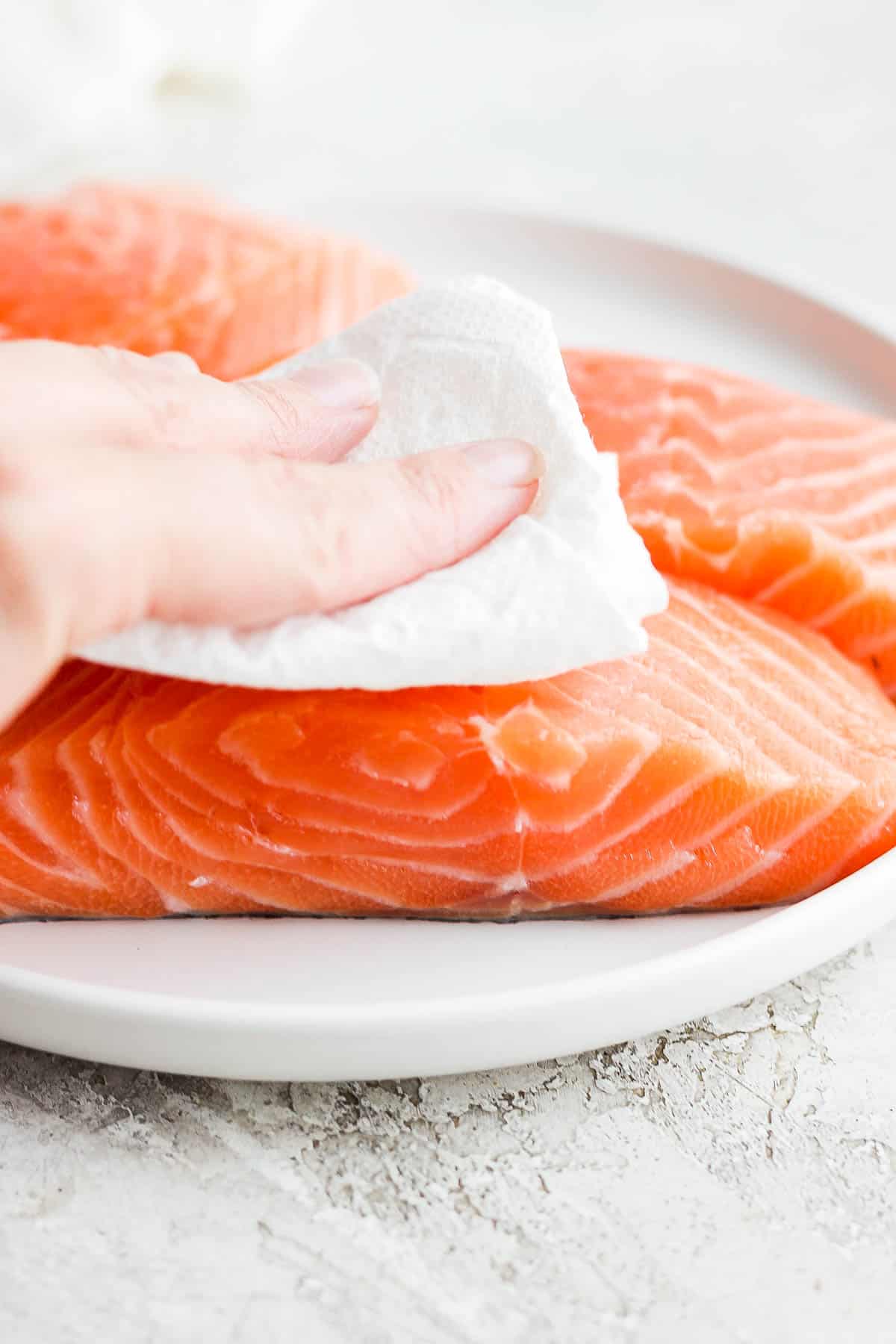 Next, mix up the marinade, pour it over your salmon fillets, and let them marinate for 30 minutes.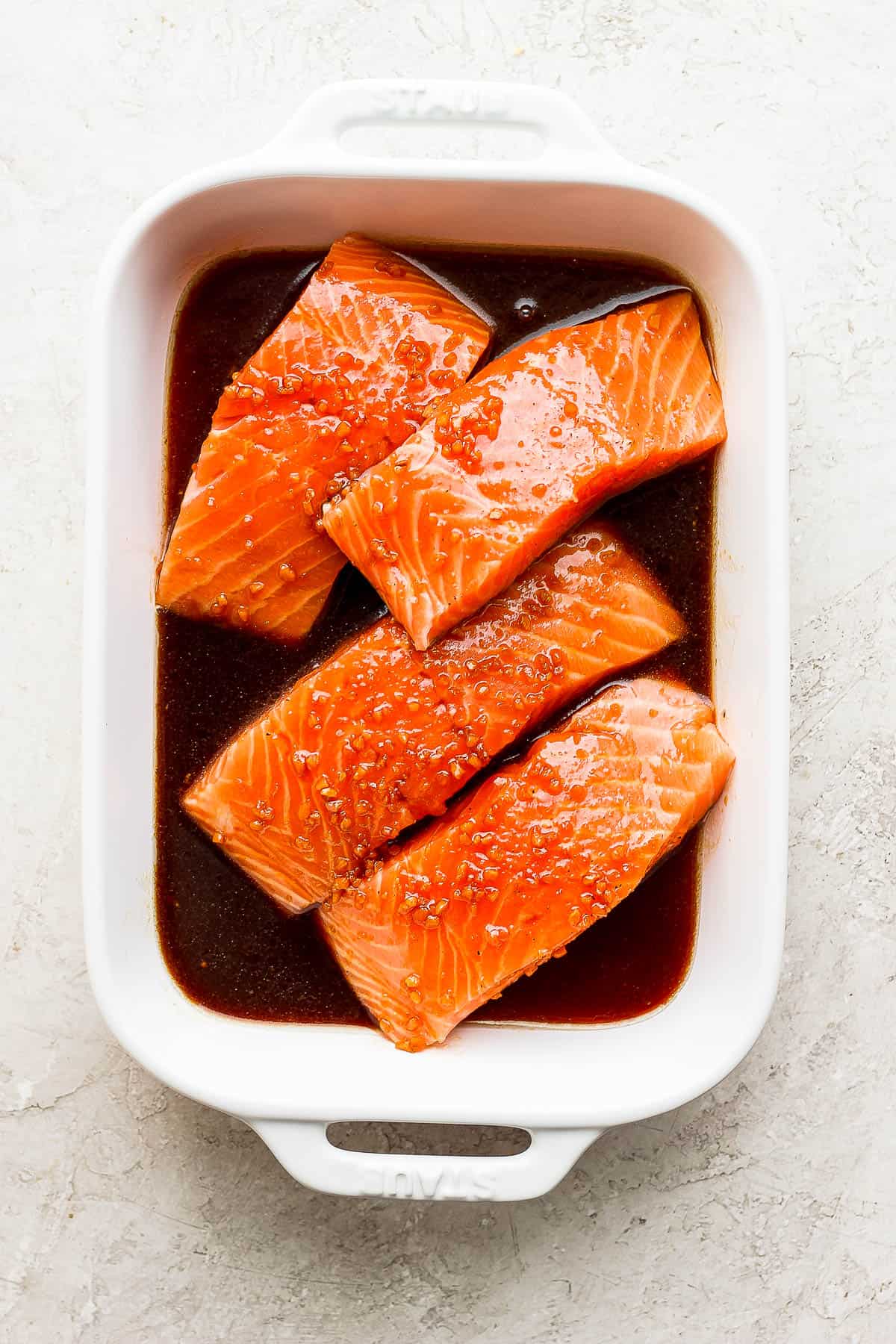 Remove the planks from the water and pat dry – remove the salmon from the marinade and place on the cedar plank (skin-side down).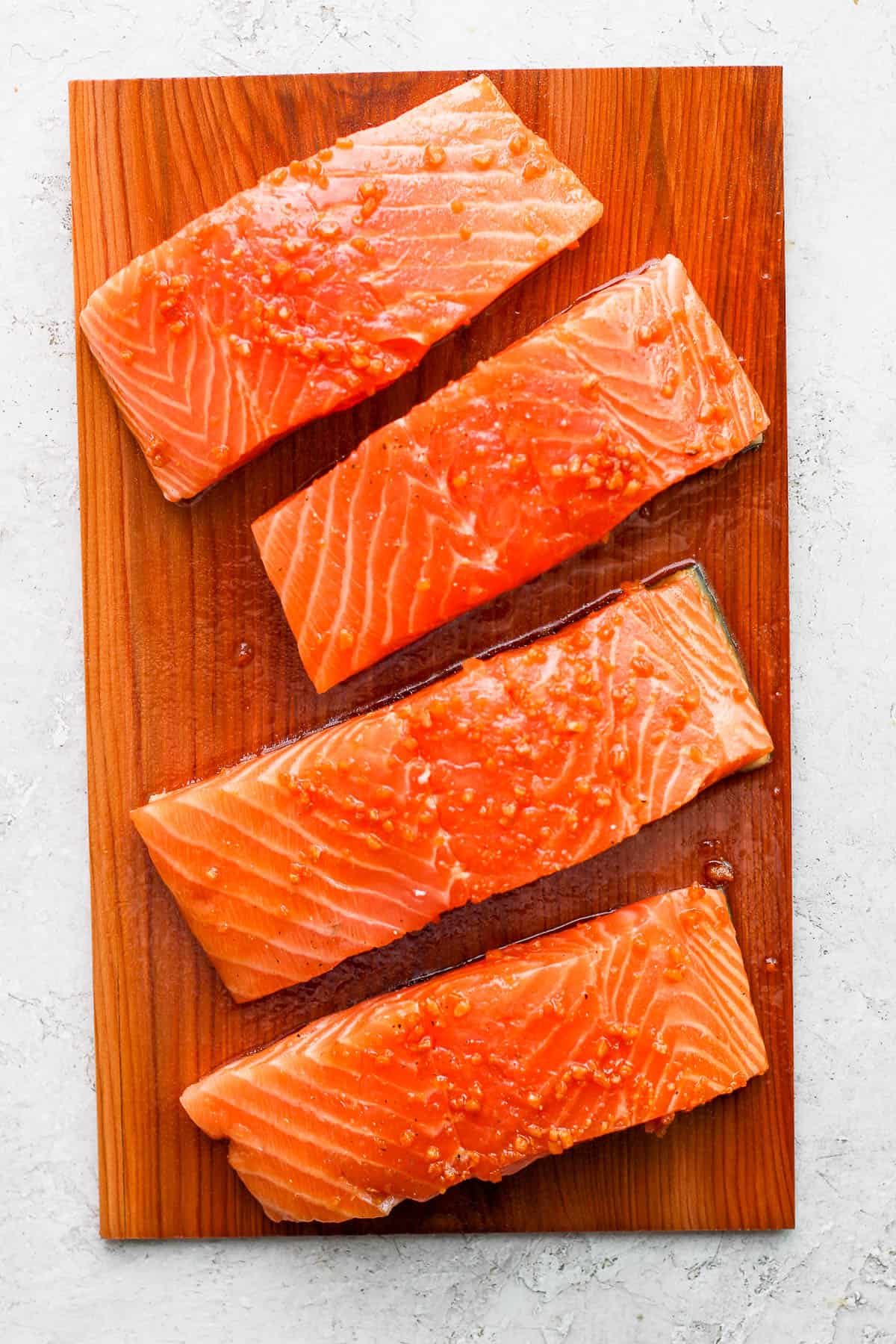 Place the the whole thing on the grill for about 10-15 minutes or until the internal temp reaches 145 degrees F.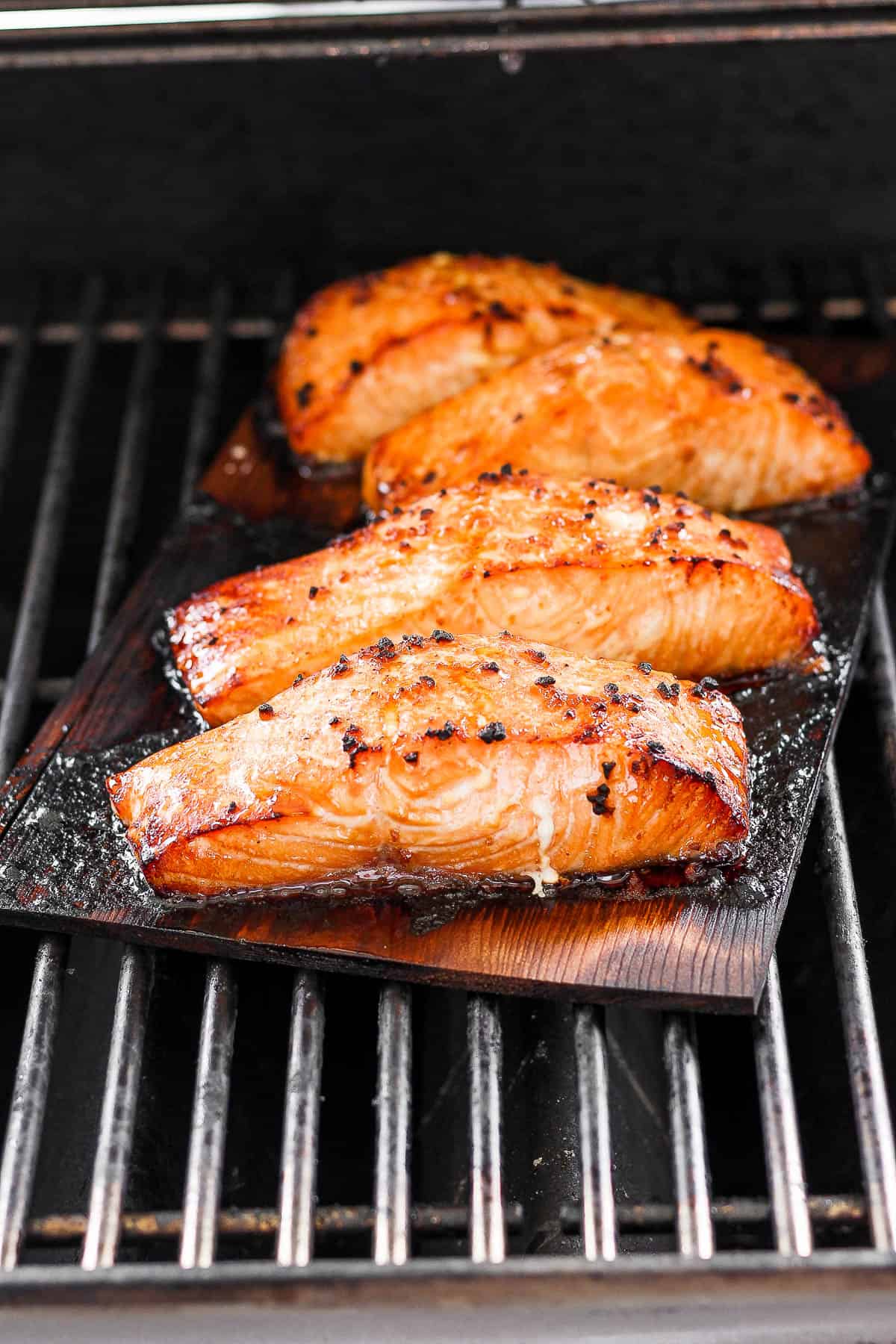 Enjoy!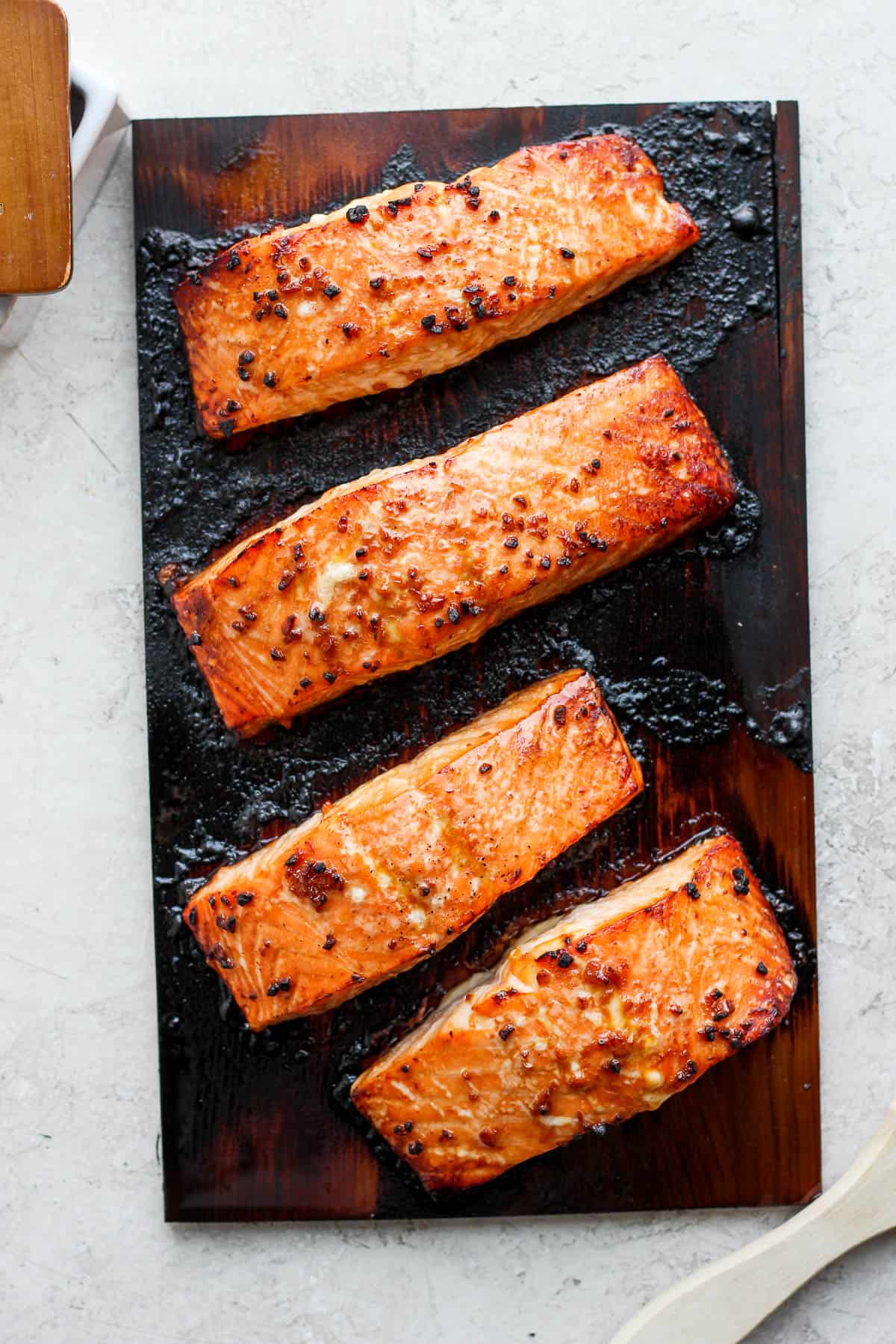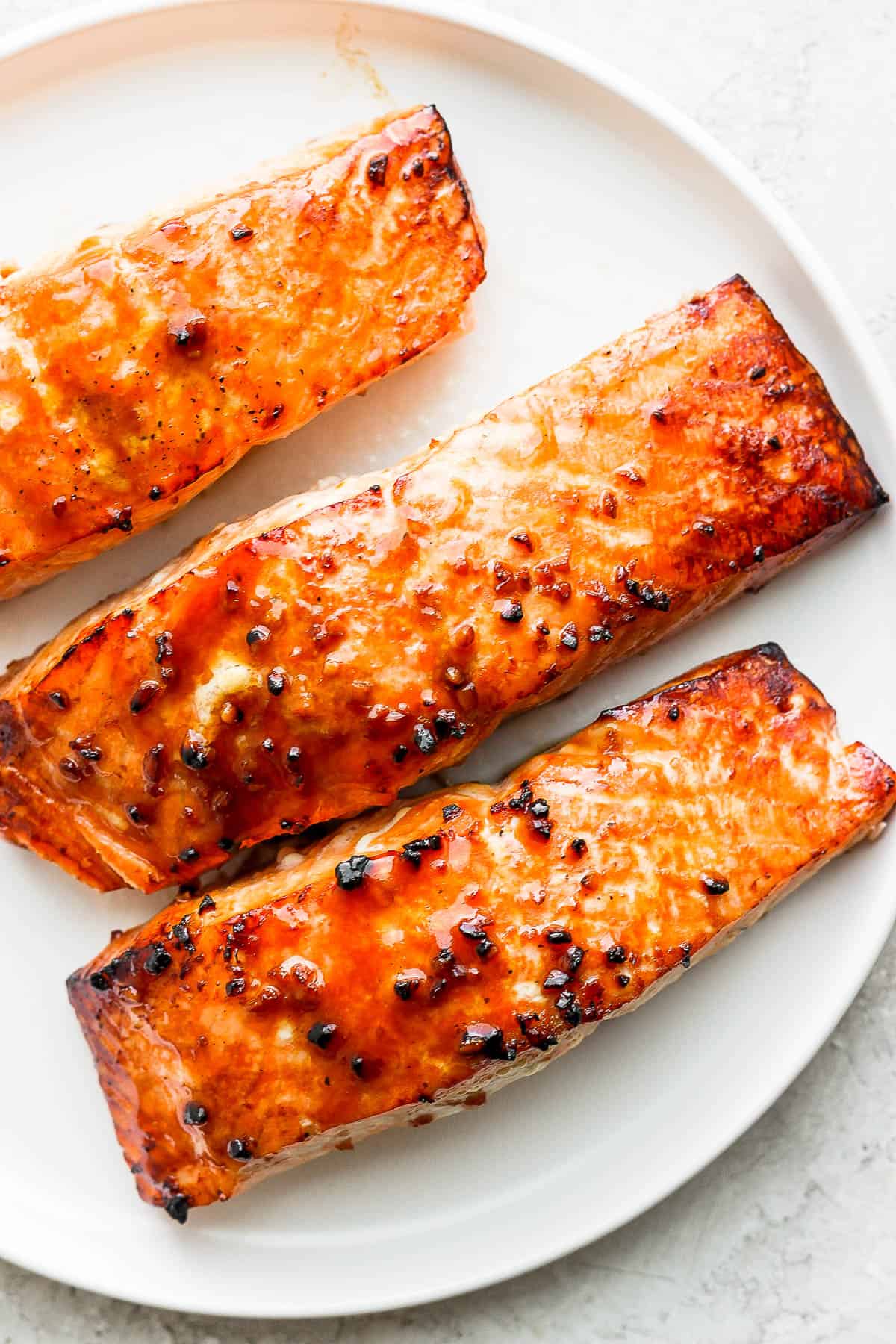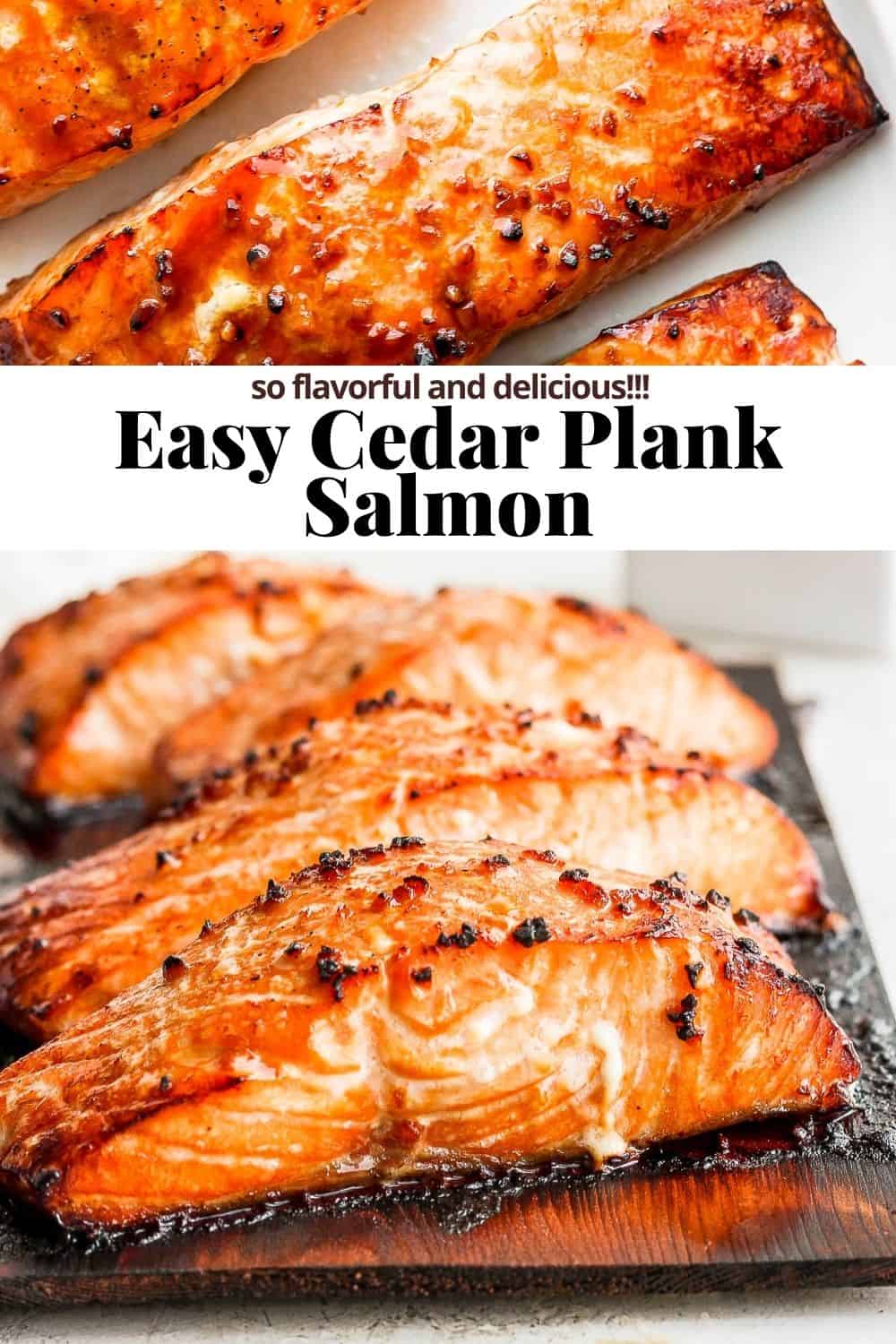 Made this recipe and loved it?! We would love it if you would take a minute and leave a star rating and review – it is also helpful if you made any substitutions or changes to the recipe to share that as well. THANK YOU!
Don't forget to check out my Instagram account for some behind-the-scenes action! Or give me a follow on Facebook or see what I am pinning on Pinterest!
Print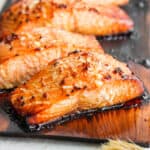 Cedar Plank Salmon
Author: Erin Jensen
Prep Time: 5 minutes
Cedar Plank Soak Time: 30 minutes
Cook Time: 15 minutes
Total Time: 50 minutes
Yield: 4 servings 1x
Category: Dinner/Entree
Method: Grill
Cuisine: American
---
Description
Cedar Plank Salmon – an easy, delicious cedar plank salmon recipe with optional marinade! So easy and perfect for summer!
---
Marinade (optional – see Notes)*
1/3 cup soy sauce (use coconut aminos for gluten-free)
1 teaspoon rice vinegar
2 tablespoon olive oil
1/2 teaspoon balsamic vinegar
1 tablespoon lime juice
2 teaspoons garlic, minced
1 1/2 teaspoon ginger, grated
1 teaspoon sesame oil
1/2 teaspoon fish sauce
2 tablespoons honey (more to taste)
pinch of salt
Salmon
1 large or 2 small cedar planks**
4 4oz pieces of salmon, skin on or off
---
Instructions
Soak cedar plank in water for 30 minutes prior to using.
Ensure gill grates are clean and bring grill to medium-high heat.
Add marinade ingredients to a small bowl; whisk to combine.
Place salmon in a silicone bag and pour marinade over top. Ensure fully coated. Let marinate for 30 minutes. (see Notes for non-marinade option)
Remove cedar plank from water.
Remove salmon from marinade and place on the cedar plank, skin-side down.
Place plank (with salmon on top) over direct heat and close the lid.
Keep a spray bottle full of water on hand just in case the wood does catch on fire – it is soaked in water so it doesn't catch on fire, but sometimes it still happens.
Let cook 10-15 minutes or until fully cooked – total cook time will depend upon how thick your salmon is. Mine were quite thick and took approx. 15 minutes.
Salmon is fully cooked when the meat flakes apart easily and the internal temperature reaches 145 degrees F.
---
Notes
* if you don't want to use the marinade, pat salmon dry and drizzle with olive oil; rub all over. Season generously with kosher salt and ground black pepper. Feel free to add some thin lemon slices or fresh dill to top. You can also use some of our fun salmon seasoning too!
** cedar planks can be found by the grilling section of most stores!
Serving: we love serving with grilled broccoli and grilled potato wedges or brown rice.
Storage: store leftovers in an airtight container in the refrigerator for up to 3 days.
Keywords: cedar plank salmon