Dairy-Free Creamy Chicken Tomato Skillet
Add this Dairy-Free Creamy Chicken Tomato Skillet to you weekly menu ASAP!
My favorite thing about this recipe is how versatile it is! It can be Whole30 compliant if served over cauliflower rice, you can serve it over pasta (here if my fav gluten free brand!) and while I usually make it in my cast iron skillet you can totally throw it in a crockpot and forget about it for a couple hours!
Also, you don't HAVE to use bone-in chicken thighs… I generally use skin-on and bone-in thighs because I think it just adds to the flavor of the dish. But if you want to use boneless chicken breasts, they will totally work too.
Here is what I usually do – I use skin-on and bone-in chicken thighs and cook per the instructions below. Then I pull out the chicken thighs and remove the skin and take the meat off the bones (feel free to save for bone broth!). I place the meat in a bowl that is already full of either cauliflower rice OR pasta and then spoon the sauce over top.
If you are use the crockpot I would really recommend using boneless chicken breasts because after it cooks for so long the thighs would really break down and fall apart making it hard to separate the meat from the bones.
The end result is something between a stew, sauce, soup —- whatever you want to call it, it is SO buttery and delicious and EASY! I would recommend purchasing a digital meat thermometer. I use one every time I cook with chicken. Make sure the internal temp (taken at the thickest part of the chicken) reads 165 degrees before serving!!
If you are looking for other healthy and quick weeknight dinners check out my round-up of 40+ Weeknight Dinners!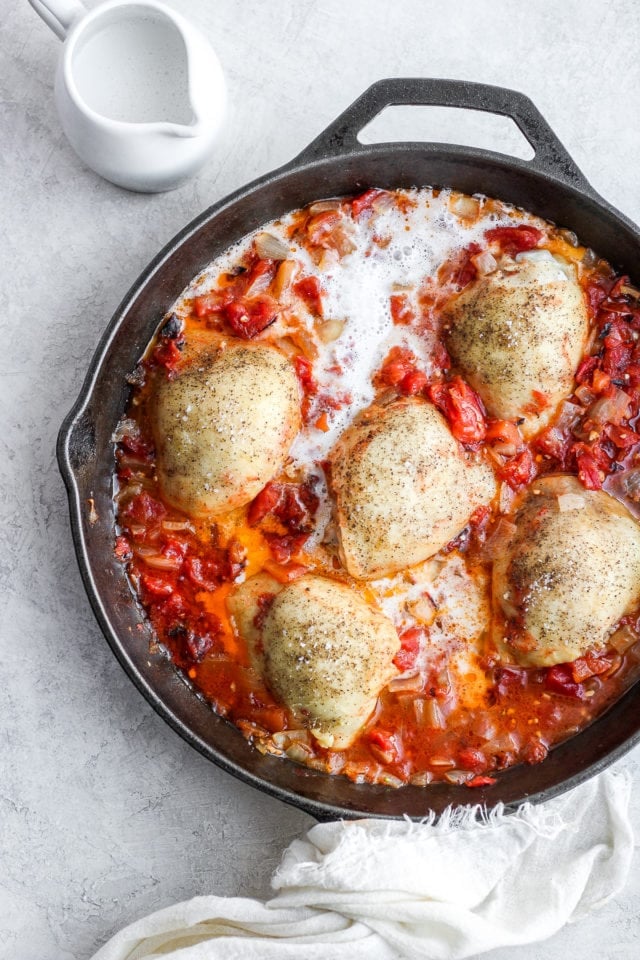 Other Recipes You Might Like
Don't forget to follow me on Facebook, check out my Instagram account or see what I am pinning on Pinterest!
Print
Dairy-Free Creamy Chicken Tomato Skillet
Author: Erin Jensen
Prep Time: 5 minutes
Cook Time: 25 minutes
Total Time: 30 minutes
Yield: 6 servings 1x
Category: Dinner
Method: Stove Top
Cuisine: American
---
Description
Dairy-Free Creamy Chicken Tomato Skillet – An easy weeknight dinner skillet that can be made Whole30 or serve over gluten-free pasta!
---
3–4 ghee (or coconut oil)
1 small yellow onion, diced
2–3 Tablespoons diced garlic
olive or avocado oil
6–8 skin-on and bone-in chicken thighs (you can really use any type of chicken for this – I prefer thighs for the taste, but feel free to use boneless chicken breasts as well)
1 can fire-roasted diced tomatoes
Approx. 1/2 can full-fat coconut milk (don't forget to fully incorporate coconut milk prior to using)
Pinch of salt
(feel free to add a veggie to this as well such as broccoli or cauliflower – I would add at the end about 5 minutes before you serve).
---
Instructions
In large cast iron skillet add olive oil and 2 Tablespoons of ghee and let melt on medium high heat.
Add garlic and move around with wooden spoon until it becomes fragrant, about 1 minute.
Add onion (and a pinch of salt) and cook until it reduces; add another Tablespoon or two of ghee to ensure pan doesn't dry out.
Nestle chicken, cooking 2-3 minutes per side on medium.
Pour can of fire-roasted diced tomatoes (don't drain) over top.
Add coconut milk and stir to combine.
Let simmer uncovered for 15 minutes or until the internal temp of chicken is 165.
Serve chicken and sauce over cauliflower rice if Whole30 or over some gluten-free pasta.
---
Notes
Note: I usually remove meat from the bone-in thigh first and place in a bowl of cauliflower rice (or pasta) and then top with the sauce/tomatoes.
Crockpot Method: you can easily make this in the crockpot, but I would recommend using 3-4 whole chicken breasts instead. Simply cook garlic and onions as directed and then add that, along with the remaining ingredients, to the crockpot. Cook on high for 2-3 hours or low for 4-6 (or until internal temp reaches 165).