These fresh and crunchy breadcrumbs are a staple in our kitchen, and we can't wait to show you how easy they are to make. We invite you to follow this recipe as is, or make it your own by throwing in seasonings to suit your palette or recipe needs.
Easy Homemade Breadcrumbs
Breadcrumbs are a staple that every great cook has on hand. And you might be asking yourself if making them from scratch is worth it!? We might be biased, but yes, they absolutely are. With minimal effort, you'll have preservative free, fresh tasting, and money saving breadcrumbs on hand for any of your favorite recipes.
What You Will Need
bread – cut down on waste and save end pieces of bread in the freezer until you have enough to make a batch.
ziplock bag or reusable bag – this helps to keep your breadcrumbs contained and your kitchen clean.
food processor or rolling pin – use either one of these kitchen gadgets to quickly transform your leftover bread pieces.
What Type of Bread Should I Use To Make Breadcrumbs
We like to use plain white bread, but a variety of breads will work just fine. Sourdough yields a tangy flavor while white and wheat breads are a bit more mild.
How Can I Use My Breadcrumbs
We use breadcrumbs in various meatball recipes, but they're useful to have on hand to add texture to pasta dishes and roasted vegetables, to thicken soup, to coat various proteins, or hold together crab cakes.
Can I Make My Breadcrumbs Gluten-Free
Yes! Simply follow this recipe using gluten-free bread.
How Should I Store Breadcrumbs
Store your cooled breadcrumbs in an airtight container in your cupboard for up to two weeks, in your fridge for one to two months, and the freezer for up to six months. If you live in an especially humid climate, store your breadcrumbs in the fridge or freezer.
How To Make The Freshest Homemade Breadcrumbs
Using a cutting board and serrated knife, cut your bread into cubes.
Spread your cubed bread evenly onto a baking sheet.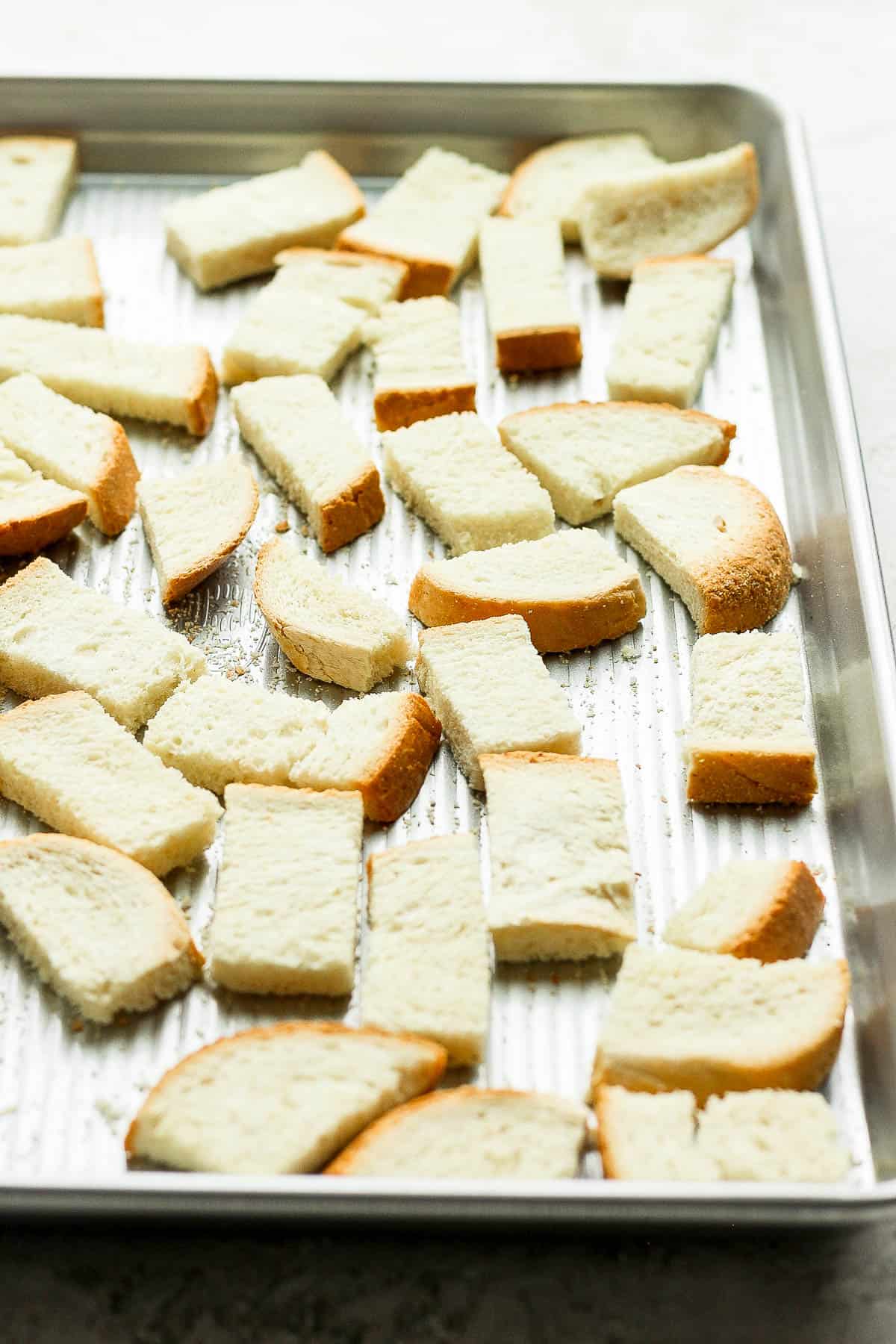 Place your baking sheet in the middle rack of the oven uncovered for 30-45 minutes, flipping half way through.
Remove the bread from the oven and let cool before placing bread chunks into a ziplock bag.
Roll a rolling pin over the sealed bag of bread cubes until bread is crumbled into breadcrumbs.
Or if you prefer, blend the cubed bread in small batches in a food processor.
Pulse the bread cubes until they break down into crumbs.
Store your breadcrumbs in an airtight container in the fridge or freezer.
Made this recipe and loved it?! We would love it if you would take a minute and leave a star rating and review – it is also helpful if you made any substitutions or changes to the recipe to share that as well. THANK YOU!
Don't forget to check out my Instagram account for some behind-the-scenes action! Or give me a follow on Facebook or see what I am pinning on Pinterest!
Print
How To Make Breadcrumbs
Author: Erin Jensen
Prep Time: 5 minutes
Cook Time: 40 minutes
Total Time: 45 minutes
Yield: Approx. 2 cups
Category: How-To
Method: Oven
Cuisine: American
---
Description
How to Make Breadcrumbs – an easy, simple recipe for making breadcrumbs at home! 2 different ways to make them and lots of add-in seasonings!
---
---
Instructions
Preheat oven to 250 degrees F.
Spread out bread cubes on baking sheet.
Place in oven, middle rack and uncovered.
Let cook 30-45 minutes, flipping halfway.
Remove from oven and let cool.
Option 1: place in large ziploc or reusable storage bag. Use a rolling pin to crush dried bread inside bag.
Option 2: in small batches, place dried bread in food processor and pulse until the bread breaks down into crumbs.
Use in your favorite recipes.
---
Notes
*Bread cubes do not need to be uniform and don't have to be very small!
Storage: Place cooled breadcrumbs in an airtight container and store in a cupboard for up to two weeks, a month or two in the fridge, or six months in the freezer.
Gluten-Free: you can easily use gluten-free bread and make gluten-free breadcrumbs!
Add-ins: you can add in Italian seasoning, garlic salt or powder, onion powder, etc. to your breadcrumbs if you want.
Keywords: how to make breadcrumbs