How to Make a Citrus Herb Brine – perfect for a Thanksgiving turkey or a Sunday night roast!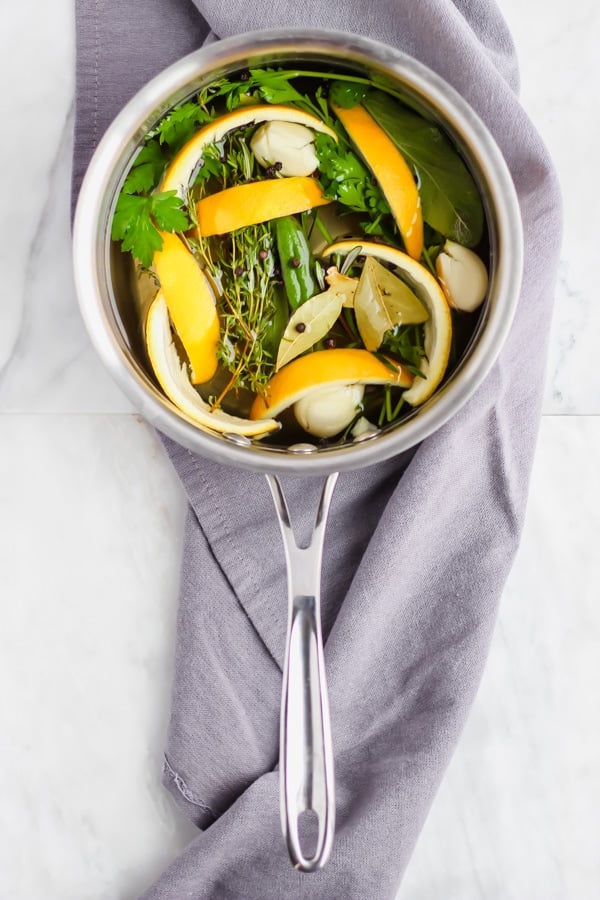 Citrus Herb Brine
This is the perfect brine recipe – full of flavor and simple to make! Perfect for your Thanksgiving Day turkey or just a simple Sunday night roast!
Can you guys believe that Thanksgiving is like a week and a half away!! I am SO excited – although I did a mini Thanksgiving run-through this weekend so I could get some delicious recipes up on the blog for you guys! Hey, it's a tough job, but somebody has to do it!
So this recipe is for a Citrus Herb Brine and then tomorrow I will post the recipe for Roasted Citrus Herb Thanksgiving Turkey (stay tuned! I will give you a little sneak peek below!). Now I love, love, love a classic roasted turkey, (as well as deep-fried turkey) but I also LOVE a citrus herb turkey. There is something about how the citrus flavors combine with all the wonderful fresh herbs and butter (because duh – it's Thanksgiving and this is THE Thanksgiving turkey – you use real butter). All those flavors just come together so beautifully – it is so delicious.
I know there might be a couple questions about brines so here is a little FAQ sesh for us:
What is a Brine
A brine is an age-old preservation technique that has been used more recently as a way to infuse moisture and flavor into proteins, similar to a marinade. Your protein sits in a combination of water and salt, along with other aromatics prior to cooking. It is a lengthy process that requires careful planning, but the results are SO worth it!
What is the water to salt ratio for a brine
Generally, the ratio for a brine is 4 Tablespoons of salt for every 4 cups of water.
How to Make a Brine
Once you get the water/salt ratio down, you need to ensure you have enough liquid to fully submerge your protein. Then, it is all about designing what flavors you want to infuse – basically, you get to pick what aromatics you want to throw in there. This might depend upon the type of protein and/or what else you are serving for dinner. Let your protein soak for 12-24 hours then rinse and discard the brine liquid. Some recommend letting your protein sit for 4-6 after you remove it from the brine. Personally, I have never done this, but I have talked to others how have – some rave about it and some say they couldn't tell the difference. I will let you be the judge on that one!
So, I have made a basic brine here, but I have jazzed it up a bit. First of all, I start out with a very high salt-concentrated water in a saucepan and combine my aromatics. Then, I bring this to a boil to help dissolve the salt and to "open up" my aromatics to allow for full flavor-infusion. This is my secret-ingredient so-to-speak! I then proceed to cover the protein with this mixture, along with the rest of my water and let it soak overnight.
It's so good you guys – and so worth the extra step!!! I promise!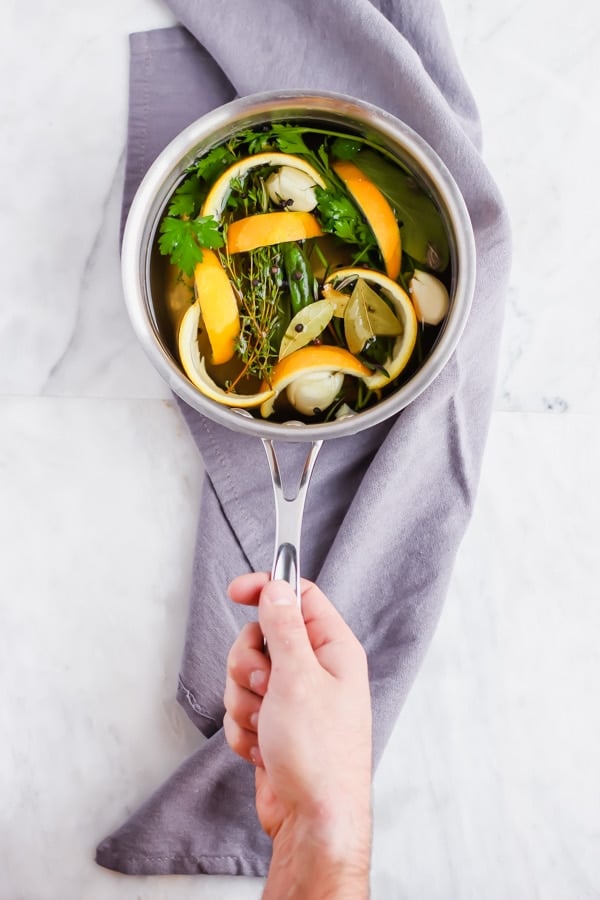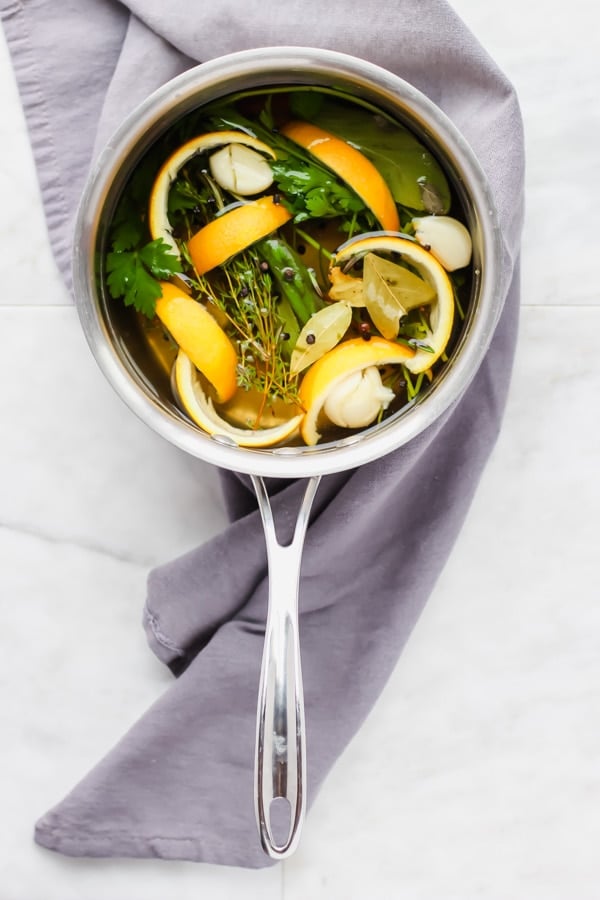 And here is the sneak peek of how I roast the turkey after the brine…..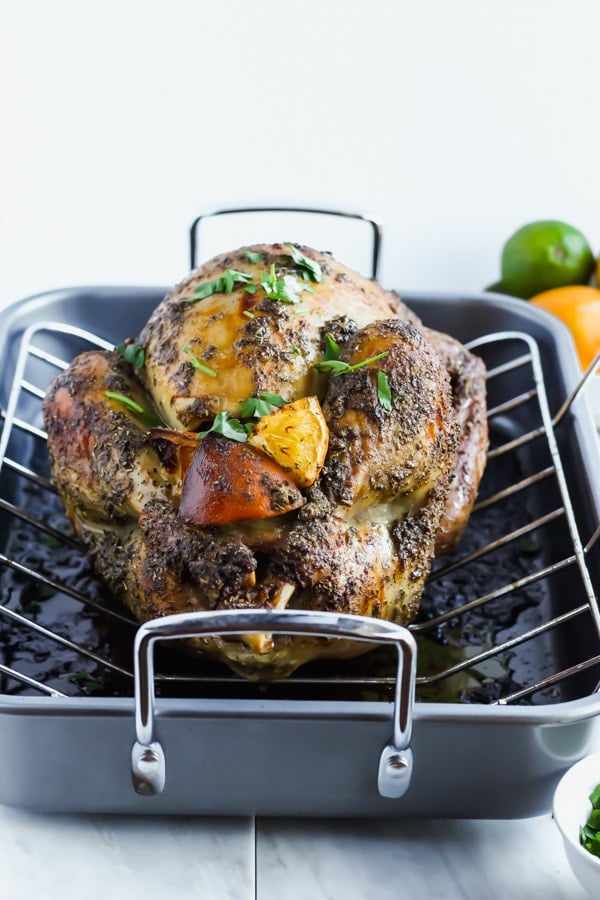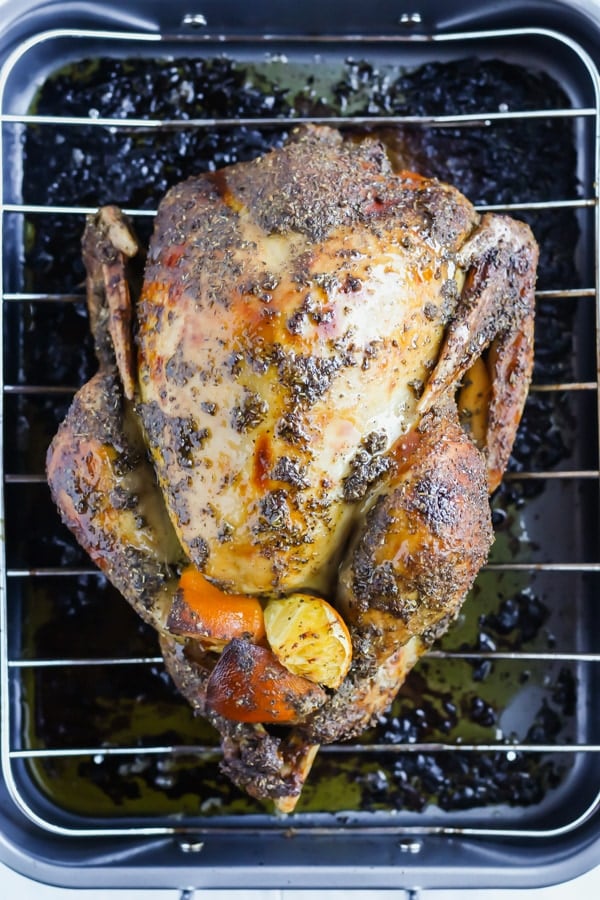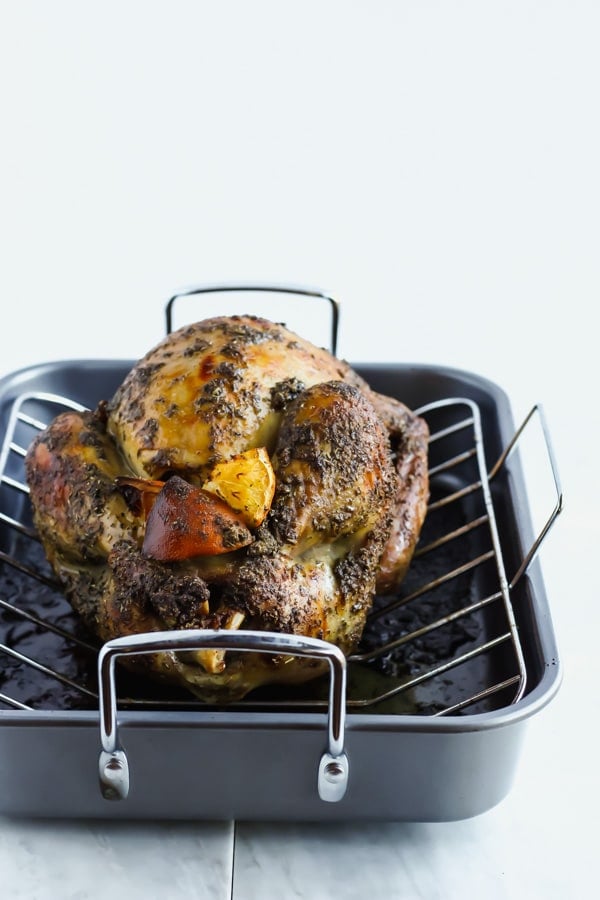 So excited about BOTH of these recipes you guys!!! So, so, so good. Thanksgiving Dinner good.
I have so many awesome recipes coming down the pipe this week and next – I hope you guys have as much planning your menu as I do!! Have an awesome week!
Oh – and future reference – this doesn't have to be used on Thanksgiving only! A classic Sunday-night roasted chicken would be PERFECT with this recipe AND it is Whole30 compliant! Such a great way to jazz up your recipes!
Don't forget to check out my Instagram account for some behind-the-scenes action! Or give me a follow on Facebook or see what I am pinning on Pinterest!
Print
How to Make a Citrus Herb Brine
Author: Erin Jensen
Prep Time: 15 minutes
Cook Time: 12 hours
Total Time: 12 hours 15 minutes
Yield: 1 brine 1x
Category: Brine
Method: Refrigerator
Cuisine: American
---
Description
Step-by-Step Instructions on How to Brine a Turkey using an Herb-Citrus method.
---
*This recipe is for a 18-22 lb turkey. For an approximately 10 pound turkey, simply cut in half.
2 cups kosher salt
28 cups water
6 bay leaves
6 garlic cloves, smashed
1 bunch fresh thyme
8 sage leaves
1 bunch fresh rosemary
2 Tablespoons black peppercorns
2 Tablespoons mustard seeds
peel of one orange
peel of one lemon
---
Instructions
Place 6 cups of water, salt and all other ingredients in saucepan.
Bring to boil and let simmer for 5-10 minutes, stirring to allow salt to fully dissolve.
Remove from heat and let water cool down to room temperature.
Place turkey in brining bag and cover with salt mixture.
Add remaining water.
Turkey should be fully submerged – use a plate to weigh down if you need to.
If additional water is needed, add 1 cup water and 1 Tablespoon salt until fully submerged.
Let sit at least 12 hours, 24 preferred.
Remove from brine, rinse and discard brining liquid.
Roast according to your favorite recipe.
---
Keywords: How to Make a Citrus Herb Brine