Apple Cider Turkey Brine is an amazing spin on your classic turkey brine! Learn how to brine your turkey with this simple recipe!
Easy Apple Cider Turkey Brine
Brining a turkey is such a great way to infuse both additional moisture and flavor into your Holiday turkey recipe! While your typical turkey brine uses water + salt, we will be switching out the water for apple cider to also infuse a touch of sweetness as well! Want to learn even more about turkey brining – check out our How to Brine a Turkey 101.
Turkey Legs: this would also work great on these Smoked Turkey Legs!
Why This Recipe Works
Liquid + Salt Ratio: the classic brine ration is 1/4 cup kosher salt for every 4 cups of water. We are keeping that same ratio here except we are just switching out the water for apple cider (Note: we are NOT using apple cider vinegar.
Sweetness: a lot of brine recipes do include brown sugar … I don't feel like adding any extra sugar is necessary when you have the natural sweetness of the apple cider.
Aromatics: we add in some complimentary aromatics such as rosemary and a bay leaf.
What You Will Need
apple cider: this is our brining liquid base.
kosher salt: the salt is the other half of our brining equation.
ice cubes: in order to get the salt to dissolve we add it to a small portion of the apple cider – that then needs to be cooled down before being added to the remaining brine ingredients and poured over the turkey.
apple: we are adding in some extra apple flavor here!
fresh thyme: love the smell and flavor of fresh thyme and it pairs nicely with the sweet apple flavor.
black peppercorns: this adds just a little bite to the recipe.
bay leaf: this always adds a lovely flavor to any recipe!
Brining Vessel (what to brine your turkey in)
cooler + a brine bag
bucket (food-grade plastic or with a brine bag)
large stock pot (no brine bag needed)
crisper drawer (in your refrigerator) – with or without a brine bag
How to Make Apple Cider Turkey Brine
Place 4 cups of apple cider vinegar and ALL of your salt (see recipe card below for how much salt you will need) in a small saucepan. Bring a simmer, allowing the salt to dissolve. Remove from heat and add ice cubes to cool liquid.
Add the turkey to your brining vessel along with the the cooled apple cider/salt mixture and the remaining ingredients.
Brine for 24 hours – ensure your turkey is refrigerated while it is brining.
Before cooking, remove turkey from brine and pat dry. I love rubbing with some garlic butter and some turkey seasoning and then cook however you want!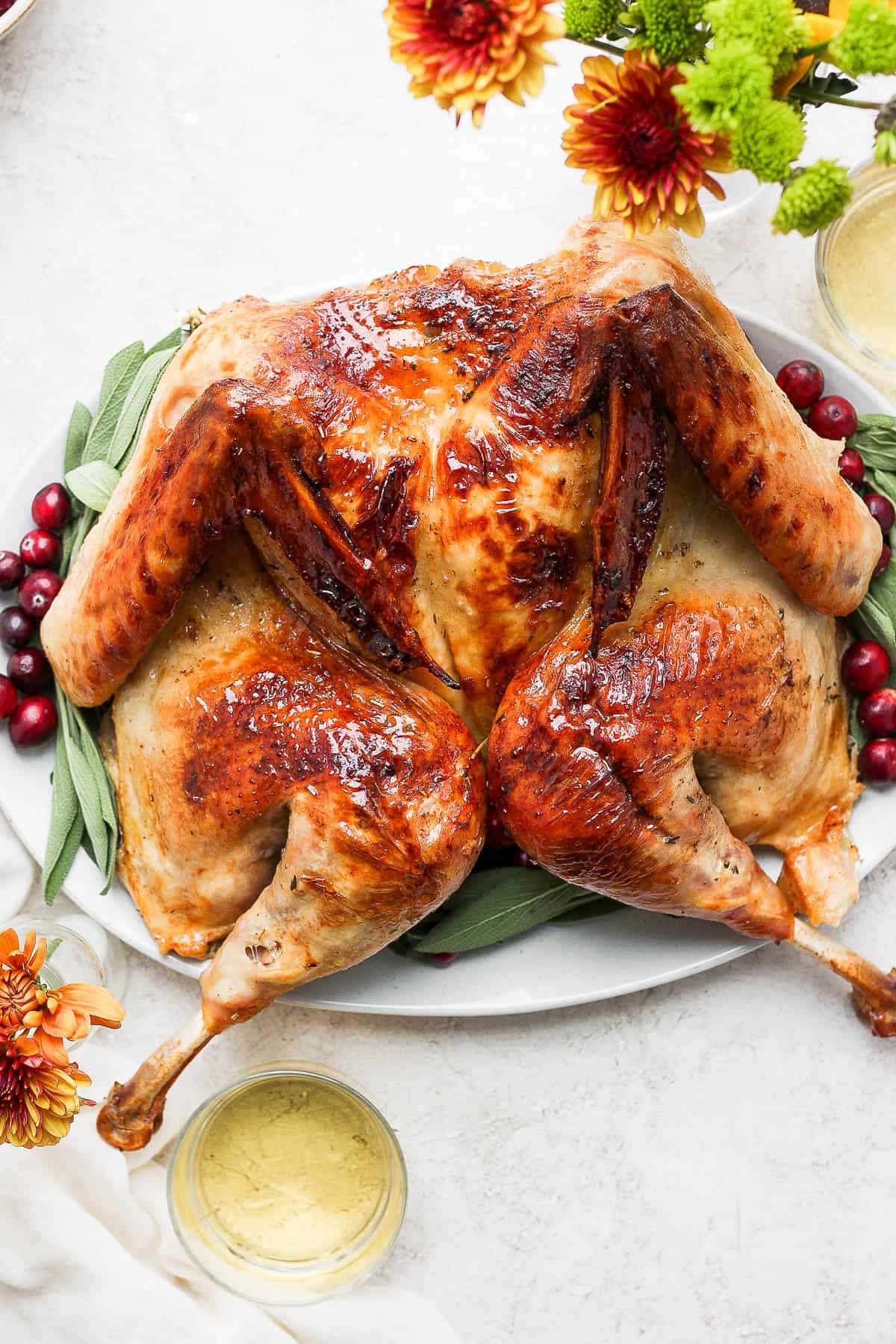 Made this recipe and loved it?! We would love it if you would take a minute and leave a star rating and review – it is also helpful if you made any substitutions or changes to the recipe to share that as well. THANK YOU!
Don't forget to check out my Instagram account for some behind-the-scenes action! Or give me a follow on Facebook or see what I am pinning on Pinterest!
Print
Apple Cider Turkey Brine Recipe
Author: Erin Jensen
Prep Time: 20 minutes
Brine Time: 24 hours
Cook Time: 0 minutes
Total Time: 24 hours 20 minutes
Yield: 1 brine 1x
Category: Brine
Method: Refrigerator
Cuisine: American
---
Description
Apple Cider Turkey Brine – a simple, easy apple cider turkey brine recipe that will work with your favorite turkey recipes!
---
16 cups apple cider, divided
1 cup kosher salt
ice cubes
1 apple, sliced
3–4 fresh thyme sprigs
1 tablespoon black peppercorns
1 bay leaf
ice cubes
---
Instructions
Take 4 cups of apple cider and add to a medium sauce pan along with ALL of the salt.
Bring a to a boil then reduce heat to a simmer. Continue simmering and stirring until the salt and sugar have dissolved.
Remove from heat and add ice cubes. It's very important to fully cool down the water since we will be adding it to the rest of the water/submerging the turkey in it.
While the salt mixture is cooling down, add turkey to your brining vessel along with the remaining water and other ingredients.
Then pour the cooled salt/water mixture into the same brining vessel on top of the turkey.
Stir to combine
Refrigerate (covered) for 24 hours.
Remove from brine (discard brine), rinse (optional), pat dry and cook as planned (we love this Smoked Spatchcock Turkey recipe).
---
Notes
Additional Brine: if you need more liquid to fully cover your bird simply use the formula: 1/4 cup salt for every 4 cups apple cider added.
Apple Cider Vinegar: do NOT use apple cider vinegar as a substitute for apple cider.
Refrigerate: you have to refrigerate your turkey while it is brining.
Keywords: apple cider turkey brine