Turkey Seasoning – a simple, classic turkey seasoning recipe that is perfect no matter how you are cooking your turkey (we love it on this juicy roast turkey breast)!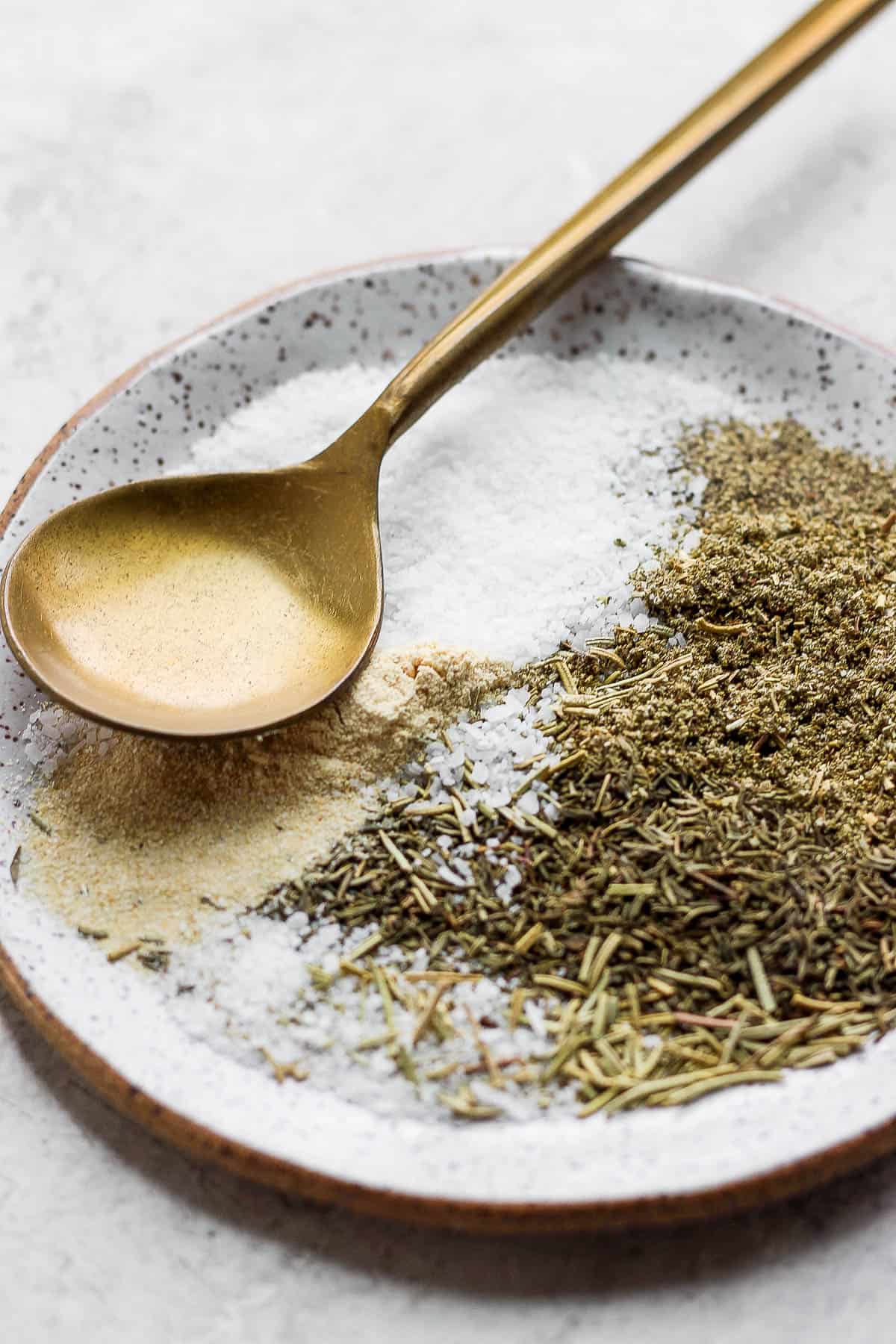 The BEST Turkey Seasoning
This simple turkey seasoning has all of the great, classic flavors and spice you know and love when it comes to making turkey and it is the perfect way to season a thanksgiving turkey no matter how you are cooking it (oven, grill, etc). Plus, it can be used on a whole turkey, turkey breast, or turkey tenderloin! You can even make a double or triple batch and store it in the pantry so that it is handy whenever you need it!
What You Will Need
dried sage, dried thyme leaves, & dried rosemary – the classic combination of herbs come together create a dry rub/spice rub that compliment any turkey and taste amazing! See the recipe card below for full measurements.
kosher salt & pepper – you simply can't have a meat seasoning without them!
garlic powder & onion powder – classic staples for any homemade seasoning.
add-ins: if you wanted to add in a touch of citrus you could add in a little dried lemon peel or fresh lemon zest. A little oregano would also be good!
When Should I Season My Turkey
We typically like to season our turkey the night before cooking, if possible, but you can season it up to 2 days before cooking if you want to. This is true no matter how you cook your turkey or the type/size of turkey you are making. Just make sure you keep the bird refrigerated.
How Do I Season My Turkey
Pat your turkey dry with a clean paper towel. Rub all over with olive oil or avocado oil. If you are seasoning a whole turkey, we highly recommend trying to get the seasoning mixture under the skin. There are spots on the bird where this can be pretty hard but if you can get it in there as much as possible it really adds flavor! Same goes for a turkey breast. If you are making a turkey tenderloin, you can just rub the seasoning all over before cooking.
How Should I Store Turkey Seasoning
This is the perfect seasoning to make 2-3 batches at a time so that you always have some on hand. You can store it in an airtight container in the pantry for up to 3 months. It will last longer than 3 months but some of the flavors might become a bit muted.
How To Make Turkey Seasoning
Measure out your ingredients.
Mix them together.
Rub down your fully thawed turkey!
Made this recipe and loved it?! We would love it if you would take a minute and leave a star rating and review – it is also helpful if you made any substitutions or changes to the recipe to share that as well. THANK YOU!
Don't forget to check out my Instagram account for some behind-the-scenes action! Or give me a follow on Facebook or see what I am pinning on Pinterest!
Print
Turkey Seasoning
Author: Erin Jensen
Prep Time: 5 minutes
Cook Time: 0 minutes
Total Time: 5 minutes
Yield: 3 tablespoons 1x
Category: Seasoning
Method: Counter Top
Cuisine: American
---
Description
Turkey Seasoning – a simple, classic turkey seasoning recipe that is perfect no matter how you are cooking your turkey!
---
1 tablespoon dried sage
2 teaspoons dried thyme leaves
2–3 teaspoons kosher salt
1 teaspoon dried rosemary
1/2 teaspoon ground black pepper
1 teaspoon garlic powder
1 teaspoon onion powder
---
Instructions
Combine ingredients in a small bowl; Stir to combine.
Pat turkey dry with clean paper towel. Drizzle with olive oil or avocado oil – alternatively you can rub all over with softened butter. Season generously with the homemade turkey rub (including under the skin where you are able).
Use in your favorite turkey recipes – we love this Smoked Turkey Recipe or Grilled Turkey!
---
Notes
Salt: I wouldn't recommend using table salt here – stick to kosher salt, otherwise your turkey might be too salty.
Storage: feel free to make a double or triple batch – you can store this seasoning in the pantry for up to 3 months!
Turkey Drippings/Pan Juices: don't forget to use your pan juices that are leftover from your turkey to make homemade turkey gravy!
Turkey Leftovers: got some leftover turkey don't forget to make some Turkey + Wild Rice Soup, some Turkey Salad or a Turkey Cranberry Wrap!
Keywords: turkey seasoning