Smoked Turkey Brine – a classic, go-to wet brine for your smoked turkey recipes that you are going to LOVE! Made with black peppercorns, fresh herbs (like fresh thyme) – this is the perfect brine recipe for any turkey going on the smoker. Love using this for your Thanksgiving turkey!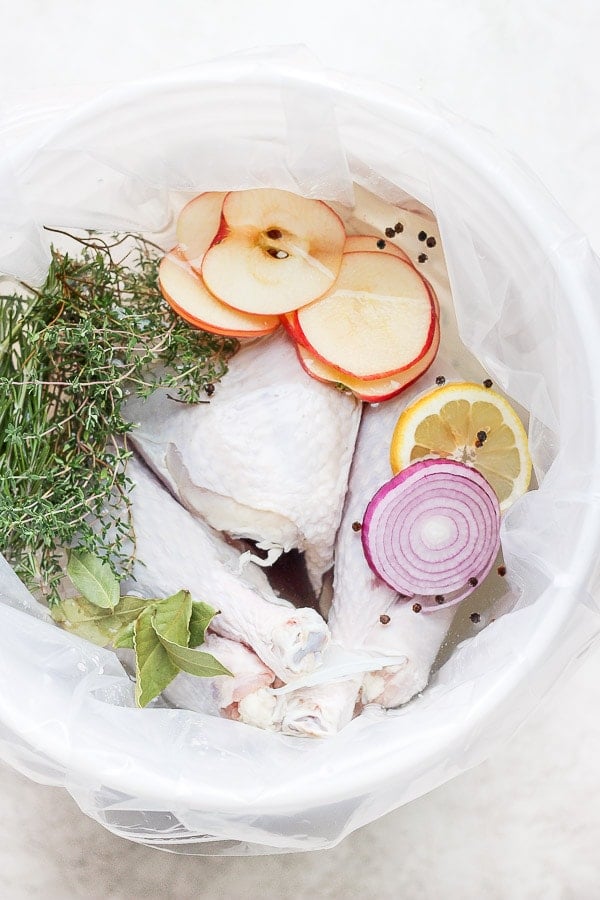 Easy Smoked Turkey Brine Recipe
Your go-to brine for when you want to smoke your turkey!
Smoking a turkey is one of my all-time favorite ways to cook a turkey (especially on Thanksgiving) and brining the turkey beforehand just takes it to the next level! This recipe is classic and delicious with the perfect mix of aromatics and flavors. Enjoy!
What You Will Need
water: lots of water is used to dilute the salt. I usually use a food-grade gallon sized bucket or you can place the turkey in a brining bag and place in a cooler.
kosher salt: it is important to use kosher salt here and not table salt or sea salt!
apple cider: this adds in some acidity.
apple + red onion + lemon: these all add flavor!
fresh rosemary sprigs + thyme sprigs + bay leaves: these are some aromatics + herbs that help round out the flavor.
ground cloves + peppercorn: both add a little punch to the overall flavor. You can also add in a garlic clove if you want!
brown sugar (or coconut sugar) (optional): these add a touch of sweetness, but you can leave out if you want!
How Long to Brine a Turkey
You can brine a turkey anywhere from 12 -48 hours, depending upon personal preference and the size of the turkey. I personally think a longer-brined bird tastes better, so I like to brine mine for close to 48 hours (if using a large bird – 12 pounds or bigger). If you have a smaller turkey (less than 12 pounds) you may want to brine closer to 24 hours or so!
Do You Have to Refrigerate a Turkey While Brining
Yes. You need to refrigerate a turkey while brining otherwise it will go bad. It can be tricky to fit a brining turkey in your refrigerator so you definitely need to plan ahead.
Do You Need to Rinse a Turkey after Brining
No, you can rinse or pat dry your turkey. Rinsing your turkey after brining can lead to cross-contamination in your sink, but thoroughly patting it dry will do the trick!
More About Brining
To learn more about brining check out:
Smoked Turkey Recipe
Here is my go-to Smoked Turkey Recipe and my Smoked Turkey Breast recipe – both are so flavorful and easy!
How to Make a Turkey Brine for a Smoked Turkey
Brining bags are a great thing to have around if you are brining and don't have a great, food-grade vessel to use!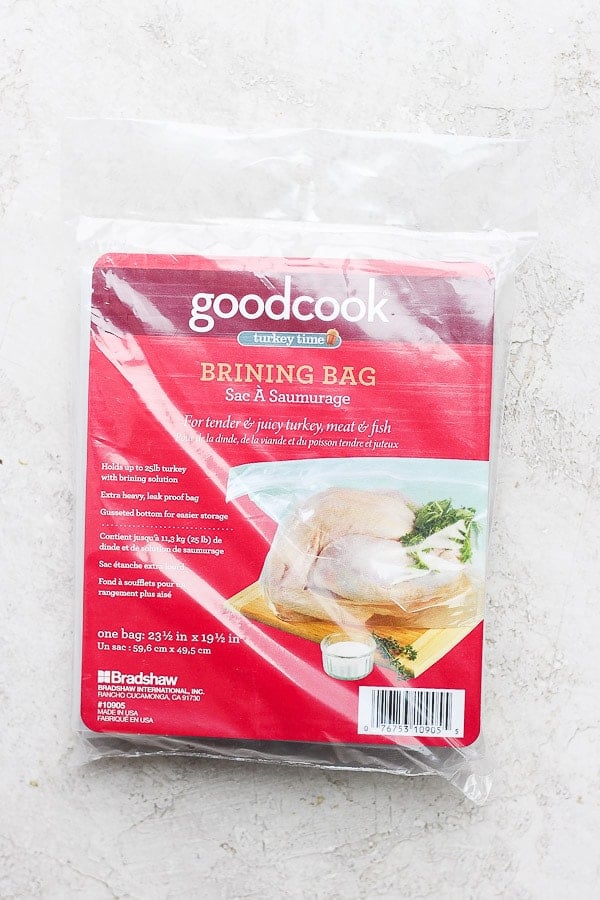 Gather your ingredients.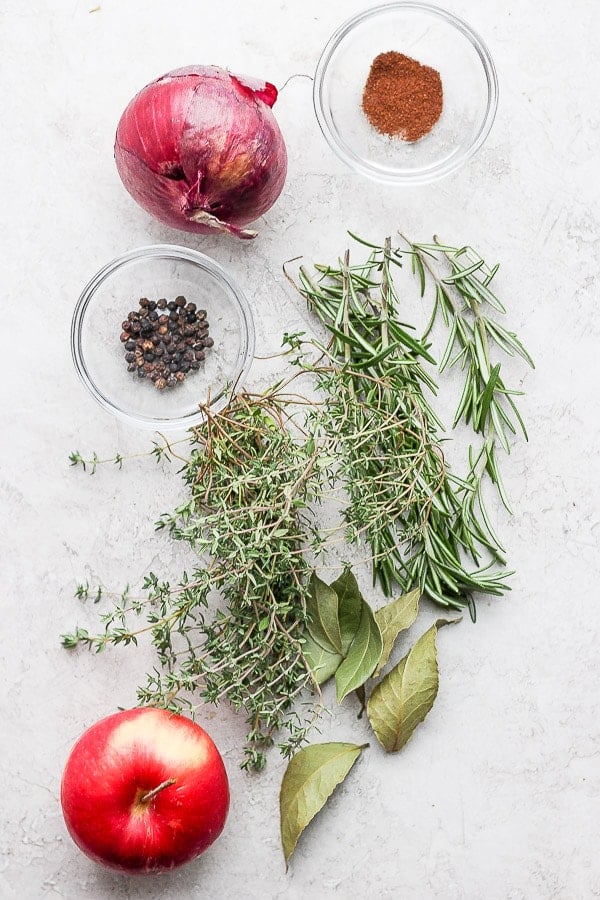 Using just a little bit of the total water needed, combine everything in a saucepan and let the salt dissolve.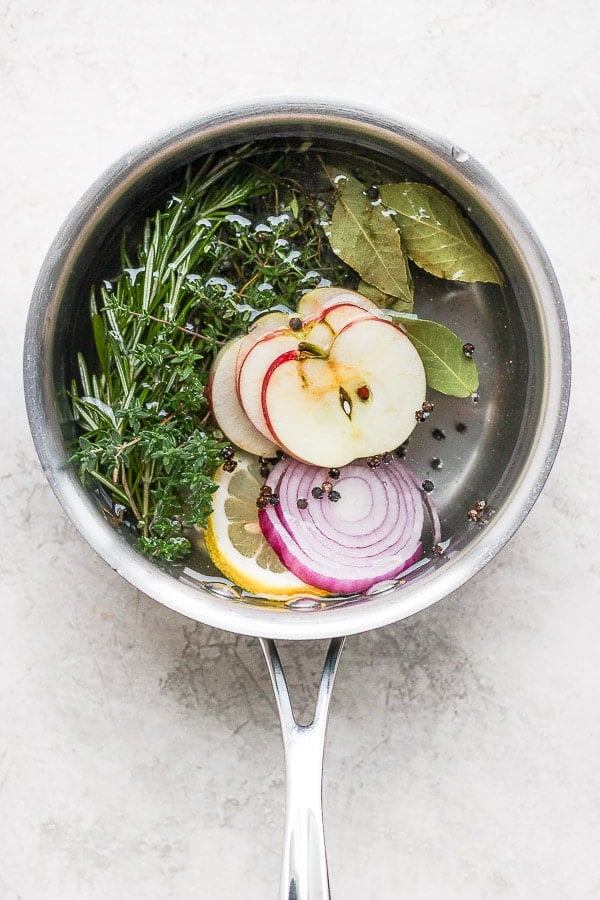 Then make sure the water cools down before adding the saucepan ingredients + the rest of the water into a large container with your turkey. Brine for 12-48 hours. Pat dry and then cook as usual!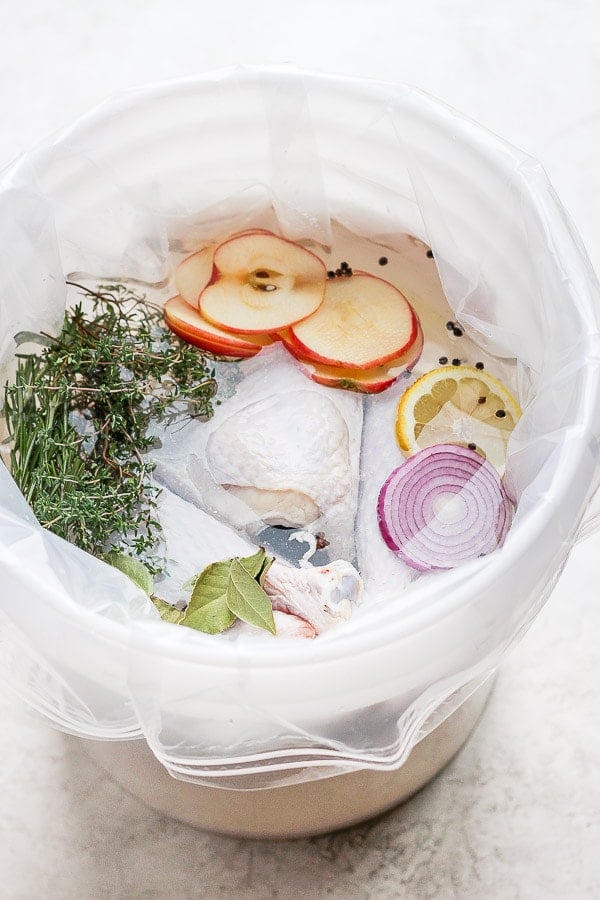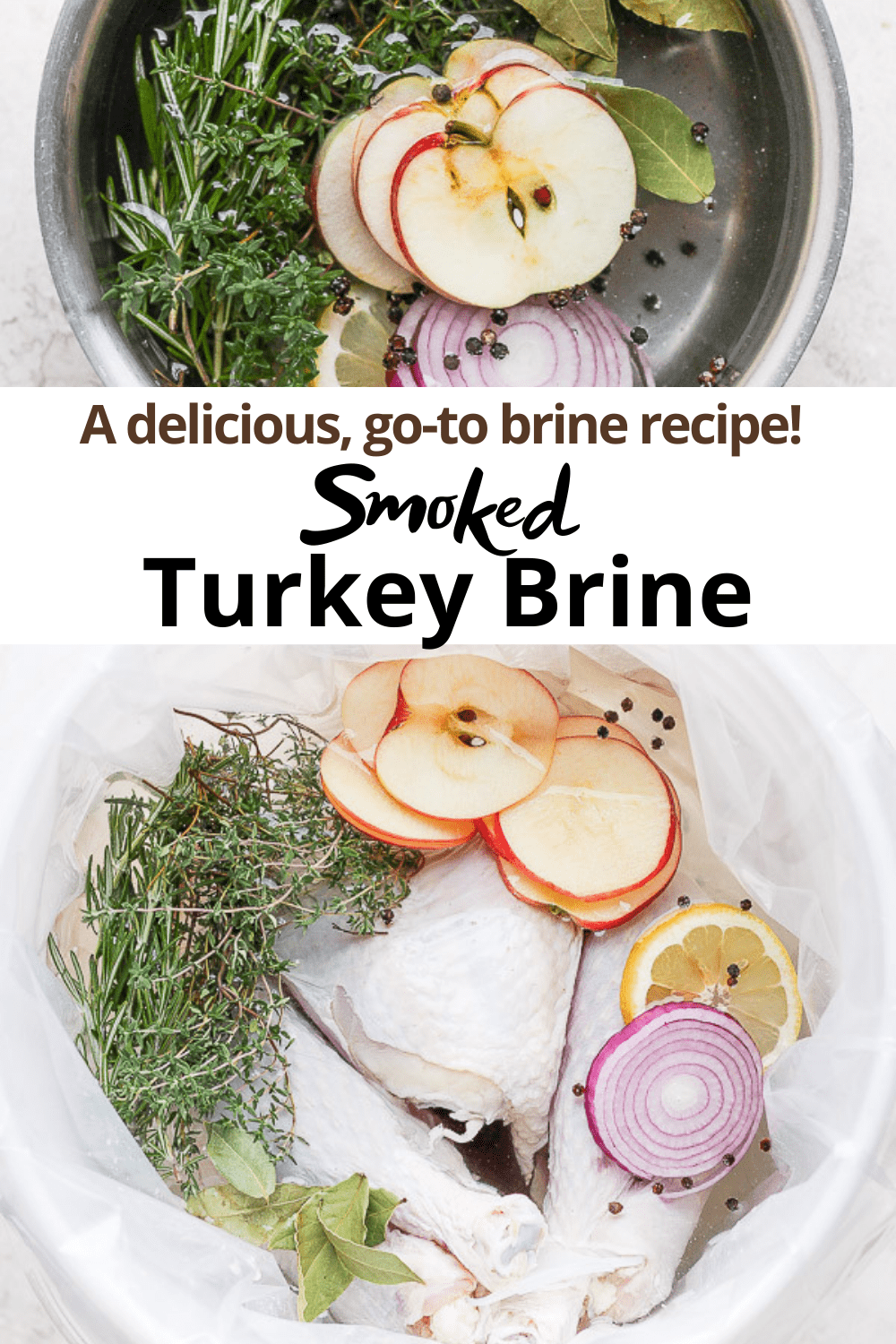 Other Recipes You Might Like:
Don't forget to check out my Instagram account for some behind-the-scenes action! Or give me a follow on Facebook or see what I am pinning on Pinterest!
Made this recipe and loved it?! We would love it if you would take a minute and leave a star rating and review – it is also helpful if you made any substitutions or changes to the recipe to share that as well. THANK YOU!
Print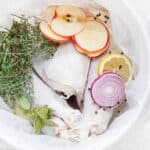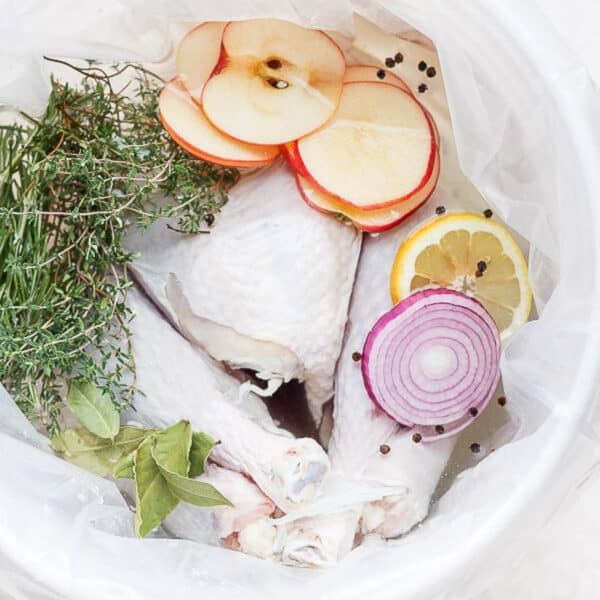 Smoked Turkey Brine
Author: Erin Jensen
Prep Time: 30 minutes
Brine Time: 24 hours
Cook Time: 0 minutes
Total Time: 24 hours 30 minutes
Yield: 1 turkey brine 1x
Category: Brine
Method: Brine
Cuisine: American
---
Description
Smoked Turkey Brine – a classic, go-to smoked turkey brine that is going to leave your turkey juicy, tender and so flavorful!
---
water (enough water to fully submerge your turkey)
kosher salt (use 1/4 cup kosher salt for every 4 cups of water needed)
2 cups apple cider
1 apple, sliced
red onion, peel off outer skin and then slice
lemon, sliced
3–4 fresh rosemary sprigs
5–10 thyme sprigs
4–5 bay leaves
1 teaspoon ground cloves
1 tablespoon peppercorn
1/2 cup brown sugar (optional)
---
Instructions
Determine the amount of water you need to fully submerge your turkey.
Determine the amount of kosher salt you will need: 1/4 cup kosher salt for every 4 cups of water.
Take 4 cups of the water and add to a medium sauce pan or pot along with ALL of the salt and any sugar you are using.
Bring a to a boil then reduce heat to a simmer. Continue simmering and stirring until the salt and sugar have dissolved.
Remove from heat and add ice cubes. It's very important to fully cool down the water since we will be adding it to the rest of the water/submerging the turkey in it.
While the salt mixture is cooling down, add turkey to your brining vessel along with the remaining water and other ingredients.
Then pour the salt/water mixture into the same brining vessel on top of the turkey.
Stir to combine.
Refrigerate (covered) for up to 48 hours.
Remove from brine (discard brine), rinse (optional), pat dry and cook as planned.
---
Keywords: smoked turkey brine