Meatballs and Dumplings pairs pillow-soft dumplings with meatballs simmered in a flavorful tomato sauce. Perfect comfort food recipe that is easy enough for a weeknight meal!
Wow – these meatballs and dumplings. Just. Wow. If pillow-y, dough-y, scrumptious-y dumplings are your thing (and why wouldn't they be) then keep reading. And if you like pillow-y, dough-y, scrumptious-y dumplings cooked in a homemade tomato sauce that hand-made meatballs have been simmering in…. also keep reading.
This is absolutely one of my all-time favorite recipes. It is consistently served on weeknights at our house and yes, it is kid-friendly my friends. (I also throw in a tip for when you don't feel like making homemade tomato sauce……) So, basically, this is just the best recipe ever. There. I said it.
I am so excited to be (finally) sharing this recipe with you guys! It is just so good! Not going to lie, I almost feel like I should never share the dumpling recipe …. I am having a Gollum in the Lord of the Rings moment … But I love you guys too much so I am spilling the beans!
First thing is to make your tomato sauce, which is really just tomato paste, water, petite diced tomatoes, sugar and salt.
Next, make your meatballs.
Add in your sauce.
Simmer.
Next make your dumpling dough.
Then take a large spoon and drop about 2 Tablespoons-sized chunks of dough all over your meatballs.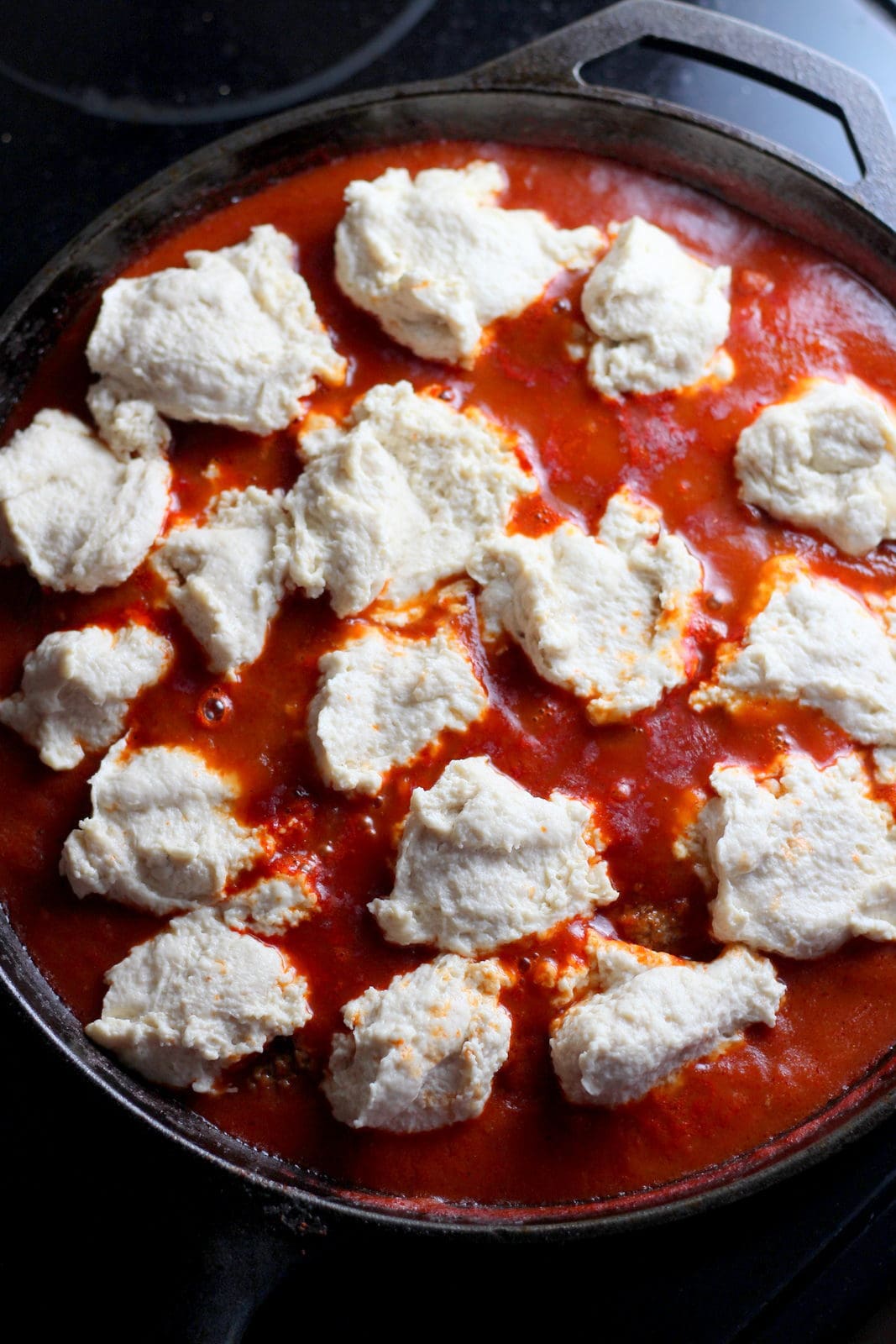 There isn't a wrong way to do this – I swear.
Cover.
Voila. Dinner is served.
Don't forget to follow me on Facebook, check out my Instagram account or see what I am pinning on Pinterest!
Print
Meatballs and Dumplings
Author: Erin Jensen
Prep Time: 10 minutes
Cook Time: 35 minutes
Total Time: 45 minutes
Yield: 6 servings 1x
Category: Dinner
Method: Stove Top
Cuisine: American
---
Description
Meatballs and Dumplings – a cozy dish that is major comfort food! Fluffy dumplings with amazing meatballs in a tomato sauce!
---
Meatballs:
1.5 lbs ground beef
1/2 Teaspoon Kosher salt
1/2 Teaspoon ground black pepper
Tomato Sauce:
2 6oz cans tomato paste (and 4 cans of water)
1 14.5oz can petite diced tomatoes (do not drain)
1/4 Teaspoon ground black pepper
1 Tablespoon sugar (coconut sugar works)
2 Teaspoons + 1/4 Teaspoon kosher salt
Dumplings:
2 cups flour
4 Teaspoons baking powder
1 Teaspoon kosher salt
1 cup unsweetened/unflavored almond or soy milk (regular milk works as well)
4 Tablespoons olive oil
---
Instructions
Take ground beef and form approx. 22 meatballs.
Place in skillet and sprinkle with salt and pepper.
Cook, covered, on medium heat turning periodically until cooked thoroughly.
Only drain off some of the grease, ensuring there is approx. 1/4 cup or more remaining in the skillet.
In mixing bowl, combine all ingredients listed under Tomato Sauce above and mix thoroughly.
Add tomato sauce to skillet and use a wooden spoon to scrape off all of the meat from the bottom of the pan.
Continue to simmer, uncovered, for 10-15 minutes mixing every so often.
Combine all Dumpling ingredients listed above (note: mixture should be moist – if you feel it is too dry, add additional almond milk 1 Tablespoon at a time).
Take large spoon and drop approx. 2 Tablespoons of Dumpling dough on top of the meatballs.
Cover and simmer for 15-20 minutes. You will know the dumplings are done when you lift the lid and carefully touch the dumplings – they should be firm (not hard, just firm). If you dumplings are really big, then the cook time will most likely be closer to 20-25 minutes. Test periodically to check firmness and continue cooking in 5 minute increments until they are firm.
Serve immediately and sprinkle with parsley for garnish.
---