Buffalo Chicken Meatballs is a spin on your classic appetizer or a fun and different weeknight dinner! These are perfect for meal-prep and work lunches!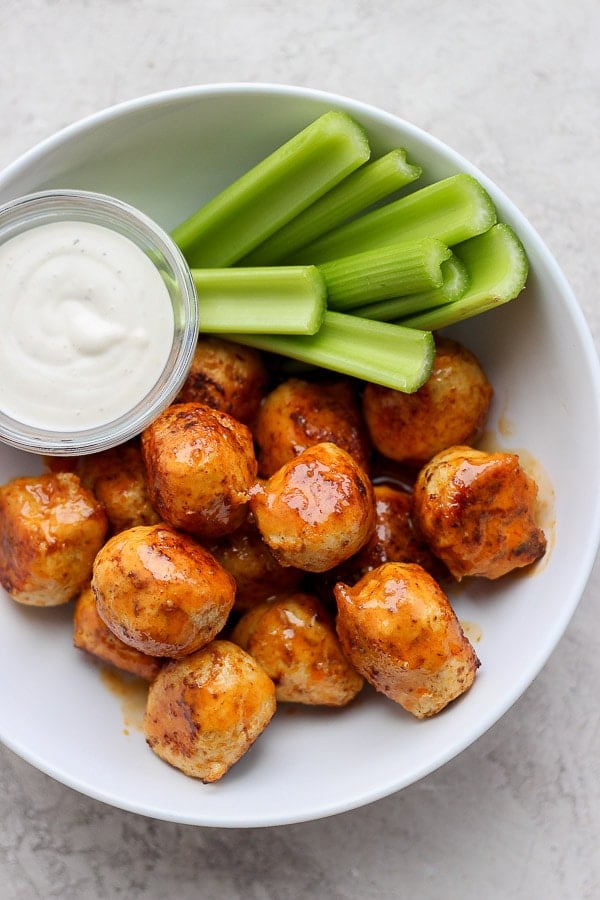 Best Ever Buffalo Chicken Meatballs
I am such a huge fan of all things buffalo, you guys. I swear I could eat buffalo chicken wings every other day – I just don't get sick of them and they always hit the spot! But, I thought I would mix things up today and do a fun spin on this classic dish! Enter: Buffalo Chicken Meatballs. And they are SO good! I cannot wait for you to try them!
What You Will Need
Ground Chicken: love using ground chicken – nice and lean and really takes on different flavors well
Egg: this helps the chicken stay together in a meatball
Almond Flour: this also acts as the binder
Spices: onion powder, garlic powder and ground black, kosher salt and ground black pepper
Oil: for your hands – helps with the sticky ground chicken
Buffalo Sauce: homemade or store-bought (check ingredients for Paleo/Whole30)
Can I Make these in the Slow Cooker
Yes! You could totally make these in the slow cooker! To do this I would make the meatball mix and roll them into balls, as directed, and then I would sear them on the stove top or bake them in the oven on a parchment-lined baking sheet at 375 for about 25 minutes. Then place them in the slow cooker along with your sauce and cook on LOW for 2 hours. Expect some separation when it comes to the sauce, but you should be able to stir to recombine.
What to Serve with Them
Celery is a great side to buffalo chicken meatballs! It gives you a nice break from the spiciness of the meatballs as well as nice crunch! You could also do raw broccoli or even cauliflower!
How to Make Buffalo Chicken Meatballs
Mix everything together in a bowl
Form into balls.
Sear in a hot cast iron, cook on all sides. Add sauce and let simmer as chicken meatballs fully cook.
Place in bowl and drizzle extra sauce on top. Serve with Paleo Ranch and celery!
Other recipes you might like:
Don't forget to check out my Instagram account – Or give me a follow on Facebook or see what I am pinning on Pinterest!
Print
Buffalo Chicken Meatballs
Author: Erin Jensen
Prep Time: 20 minutes
Cook Time: 20 minutes
Total Time: 40 minutes
Yield: 20–21 meatballs 1x
Category: Appetizer
Method: Stove Top
Cuisine: American
---
Description
Buffalo Chicken Meatballs – a spin on your classic appetizer or a fun and different weeknight dinner! These Buffalo Chicken Meatballs are perfect for meal-prep and work lunches!
---
1 lb ground chicken
1 egg
1/2 cup almond flour
1 teaspoon onion powder
1/2 teaspoon garlic powder
1 teaspoon kosher salt
1/2 teaspoon ground black pepper
oil (to help with forming meatballs)
1 batch of homemade buffalo sauce (or approx. 1 cup store bought buffalo sauce)
---
Instructions
Combine: Combine ground chicken, egg, almond flour, onion powder, garlic powder, salt and black pepper in a medium mixing bowl.
Scoop: Use a cookie dough scoop to scoop out approx. 1 1/2 tablespoons of meatball mixture, forming a ball, and place on a large plate. Continue until all of the meatball mixture is used. (See Notes)
Skillet: Take large/medium cast iron skillet and bring to medium-high heat. Add a tablespoon of oil and use a spatula to spread evenly to coat the pan. Add chicken meatballs and sear on all sides, about 3 minutes.
Cover: Turn down heat to medium and then add approximately 1/3 cup of buffalo sauce – then cover the pan immediately as it will splatter.
Simmer: Allow meatballs to cook in the buffalo sauce, adding more as needed, about 10-15 minutes or until fully cooked (165 internal temperature – I recommend using a meat thermometer). Toss meatballs occasionally so the buffalo sauce really cooks into them.
Bowl: Place cooked chicken meatballs and sauce into a large serving bowl and pour additional buffalo sauce on top, as desired. Toss.
Serve: Serve with ranch and celery sticks.
Notes
Ground Chicken: Ground chicken can be very sticky so it helps to have a little bowl of oil next to you when you are making the chicken meatballs. Get a little oil on your fingers and then rub on the inside of the cookie dough scoop before scooping up the meatball mixture. The place directly onto the plate and just reform as necessary.
Homemade Ranch Dressing: this homemade ranch dressing is SO GOOD! Highly recommend!
Store Bought Buffalo Sauce: You can easily use store-bought buffalo sauce instead of homemade! I like this kind and this kind -both are Whole30/Paleo.
Store Bought Ranch: You can also use store-bought ranch for dipping – I like this kind and this kind!
Can I Bake the Meatballs: YES! Just bake the meatballs on a parchment-lined baking sheet at 375 for about 18-22 minutes (or until internal temp is 165). Then toss them in the sauce. I personally prefer the stove-top version, but if you are more of an oven-baked chicken meatball person I totally get it!
Almond Flour Substitutes: If you are wanting these Whole30/Paleo but can't do the almond flour I would suggest a cassava flour or something similar. If you aren't concerned with Whole30/Paleo you can simply use breadcrumbs in place of the almond flour!
Keywords: Buffalo Chicken Meatballs